Recently, Disney debuted its latest take on Epcot's popular Food and Wine Festival: called Flavors of Florida, it runs at Disney Springs until September 2. In a nutshell, the event could easily be called a culinary showcase of the Sunshine State. The theme can be found via a mixture of flavors, aesthetics, and the fact that many of the menu items are produced here in Florida. Twenty participating venues boast featured food and beverage pairings for guests to try, and while these offerings are encouraged to be experienced as a pair, you're able to buy each fare separately, if you'd like. (As a pro-tip when it comes to ordering, I'd suggest heading over to the bar, as I found this especially helpful with maneuvering around the summer crowds.)
Event guides can be found at any participating location and Guest Services, as well as kiosks throughout Disney Springs. So pick one up and allow me to show you the way! Since there are so many items to choose from – some of which are event-specific – I took the liberty of investigating what Flavors of Florida's best and most interesting options are.
1. Prime Rib Slider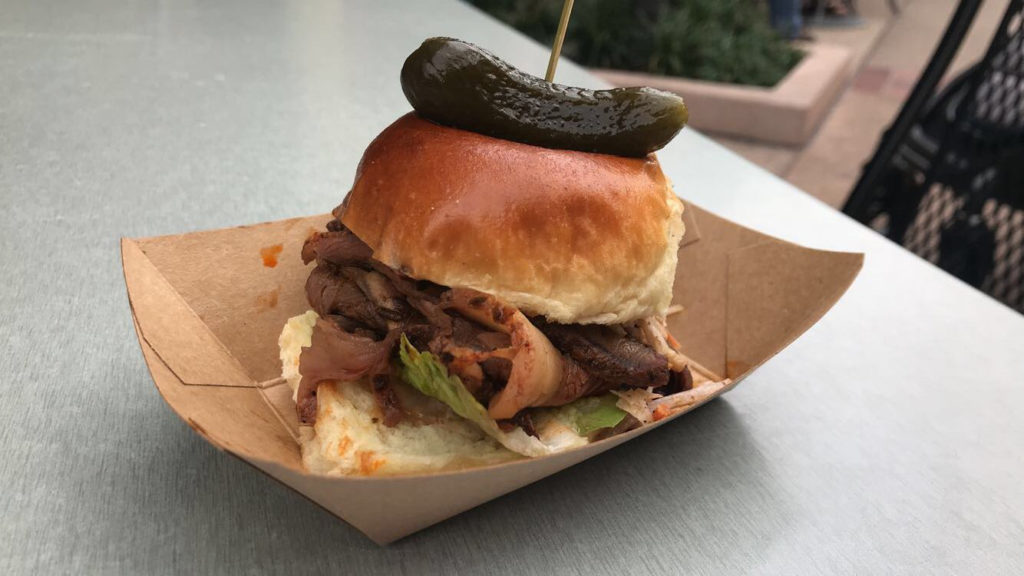 Venue: The Polite Pig
Location: Town Center
Price: $8
Speaking as a born-and-bred Floridian, there isn't anything more Southern than barbecue. My home state is no exception to this, and since The Polite Pig is also a locally-owned business, I'd suggest to start here.
The Prime Rib Slider's serving size is a perfect handful and more than your average two-bite offering at Epcot's Food and Wine Festival. It has a very delicious, smokey taste and a slight kick, providing a fun bite. The prime rib is topped with citrus aioli and a green papaya horseradish slaw, giving you that fresh crunch your taste buds look for to compliment any savory barbecue.
2. Blood Orange Mousse
Venue: Amorette's Patisserie
Location: Town Center
Price: $8
As we move right along, let's treat ourselves at Amorette's Patisserie! This dessert was almost too pretty for me to eat. The Blood Orange Mouse is shaped into a small, boldly-colored, half-domed orange and topped with a sugar-stick straw that evokes an adorable play on orange juice. From your first bite, it takes you on an adventure in texture with the moist lemon chiffon cake and grapefruit gelee hidden inside the mousse. These bring a tartness that, with the Grand Marnier simple syrup, balances out an otherwise-strictly-sweet taste. Typically, I'm averse to sour flavors, but I appreciate how the confection's natural airiness helped to lessen its overall intensity.
As with many of Amorette's offerings, the Blood Orange Mousse is perfectly sized as a tasting for two or as a single serving (though, I admit, I did want to go back for a second order).
3. Blood Orange Madras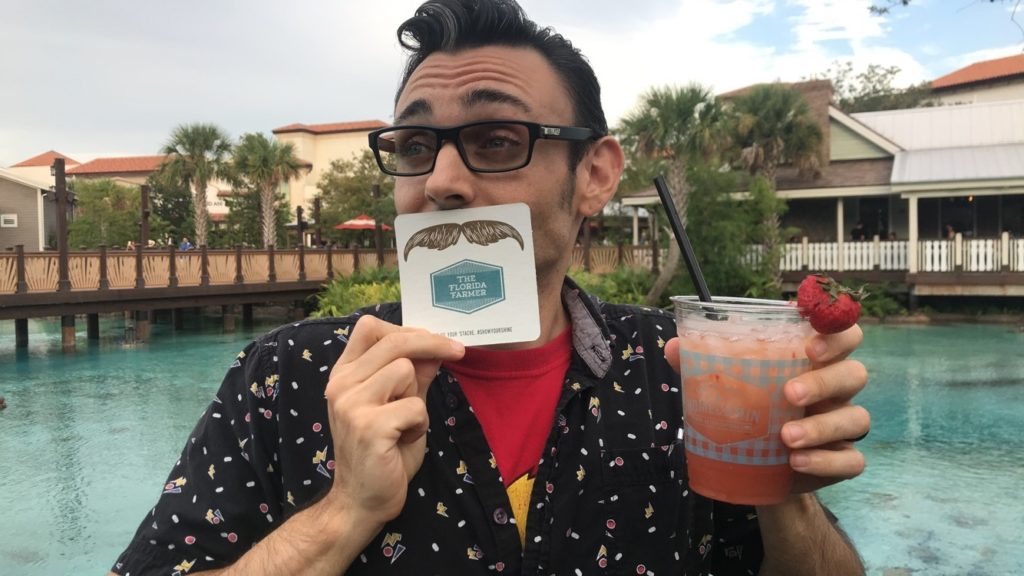 Venue: Chef Art Smith's Homecomin'
Location: The Landing
Price: $12
Crossing over a few bridges, we arrive at Chef Art Smith's Homecomin'. As this was my first time here, I stopped by the patio bar for some familiarity. The restaurant's general theme is Florida-focused Southern comfort. While the bar is full-service, they specialize in moonshine and feature the Blood Orange Madras for the event.
This bad boy is a mixture of blood orange moonshine, freshly muddled strawberries, pineapple puree, and cranberry juice. It's an easy drink that's similar in flavor to the Mummy's Revenge signature drink over at Universal Orlando Resort. It isn't terribly sweet and is a great representation of both the event and the venue.
If you have to narrow your experience to a single libation, you won't regret this being the one!
4. Orange Gator and Waffle Cone/Motorworks Pulp Friction Grapefruit IPA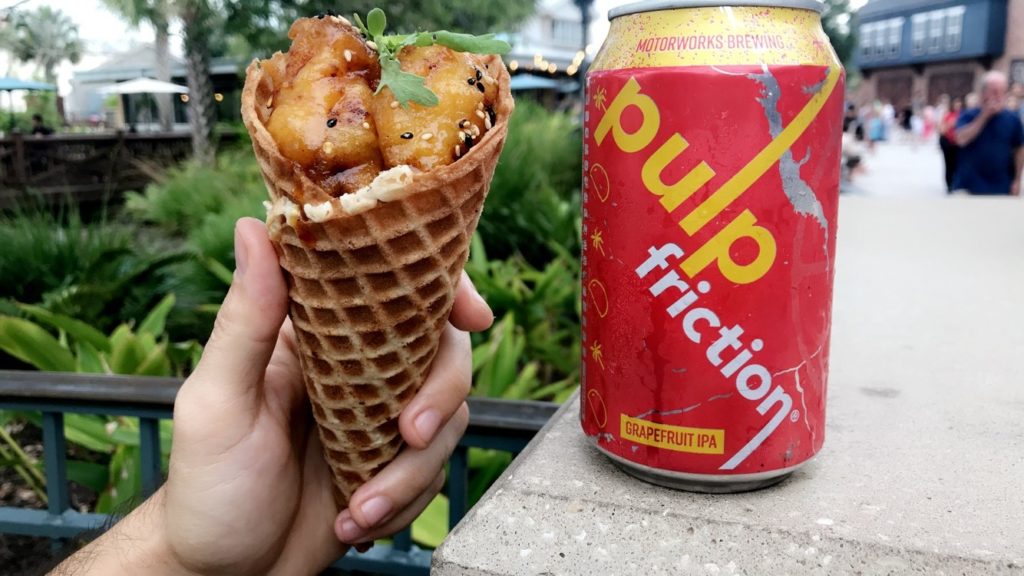 Venue: Morimoto Asia
Location: The Landing
Price: $15 (Gator and Waffle Cone)/$9 (Pulp Friction IPA)
Any foodie can attest – when presented with the opportunity, you can't pass up trying something by an Iron Chef, especially if it's the caliber of Masaharu Morimoto! (Trust me, dear readers – he doesn't disappoint.) The Orange Gator and Waffle Cone serves the fun aesthetics of visiting a beach-side boardwalk in a perfect grab-and-go format. Morimoto Asia maintains the Florida flare by switching out the poultry of orange chicken with savory gator and cradling it lovingly with the sweet and crunchy waffle cone. (Those reading a little more deeply may note the Southern comfort infusion of chicken and waffles present within this, as well.)
I should point out that the gator and waffle cone is a dual serving, making this perfect for two people to enjoy. Personally, I wouldn't pair it with the Motorworks Pulp Friction Grapefruit IPA; the tart fruit flavor doesn't quite compliment it enough for me, but there'd be no judgement if you do. They're each highly enjoyable, and the ale is a surprisingly refreshing, tasty beverage that I could see myself enjoying on a summer afternoon outside of the event.
–
Regrettably, there were some featured treats I didn't get the chance to try, such as the Frozcato Cookie Sandwich and Frozcato with Dole Whip Pineapple from Wine Bar George. These sound incredibly tempting, so I plan on returning for them (and more!) soon.
Of course, you don't have to follow my lead – there are enough choices to do your own research. If you happen to differ, we welcome you to discuss and compare notes in our OI Community Facebook group – for science, of course!
And be sure to follow Orlando Informer on Facebook, Twitter, and Instagram for the latest news and tips at Universal Orlando, Walt Disney World, and other Orlando experiences.