One of the most wonderful times of the year is upon us. Universal's Mardi Gras 2016 is here and with it comes a few new additions including new food and new parade floats. The concert line up for 2016 has already proven successful, and many great headliners will rock the park in the coming weeks. Now that we've had a few weeks of 2016 Universal Mardi Gras under our belt let's take a look at what's new this year and of course review some of the return features that make Mardi Gras so much fun year after year.
New food at Universal's Mardi Gras
The food at the French Quarter Courtyard is typically received with mixed reviews. Some years there is a strong focus on Cajun and Southern flavors, other years more casual, festival food dominates. This year we see most of the menu from last year returning, but there are three new foods added this year.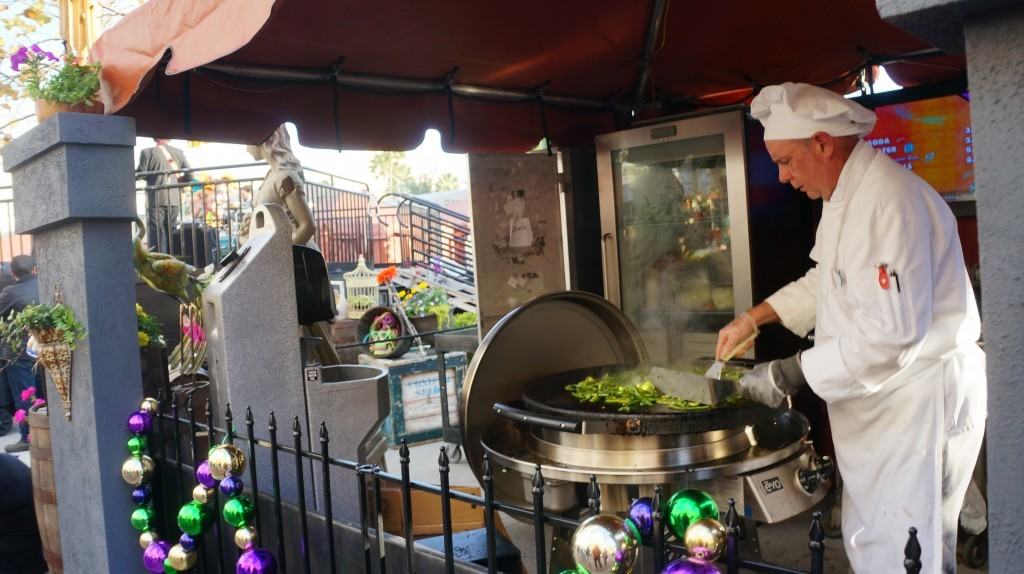 The Grilled Chicken Muffaletta Sandwich can be found near the entrance to the French Quarter Courtyard nearest The Revenge of the Mummy. A muffaletta is a New Orleans area classic sandwich usually made with deli meat like ham and cheese topped with an minced olive salad similar to olive tapenade. Universal's mixed up muffaletta diverts from tradition and makes for a satisfying sandwich ($9.99 with potato chips).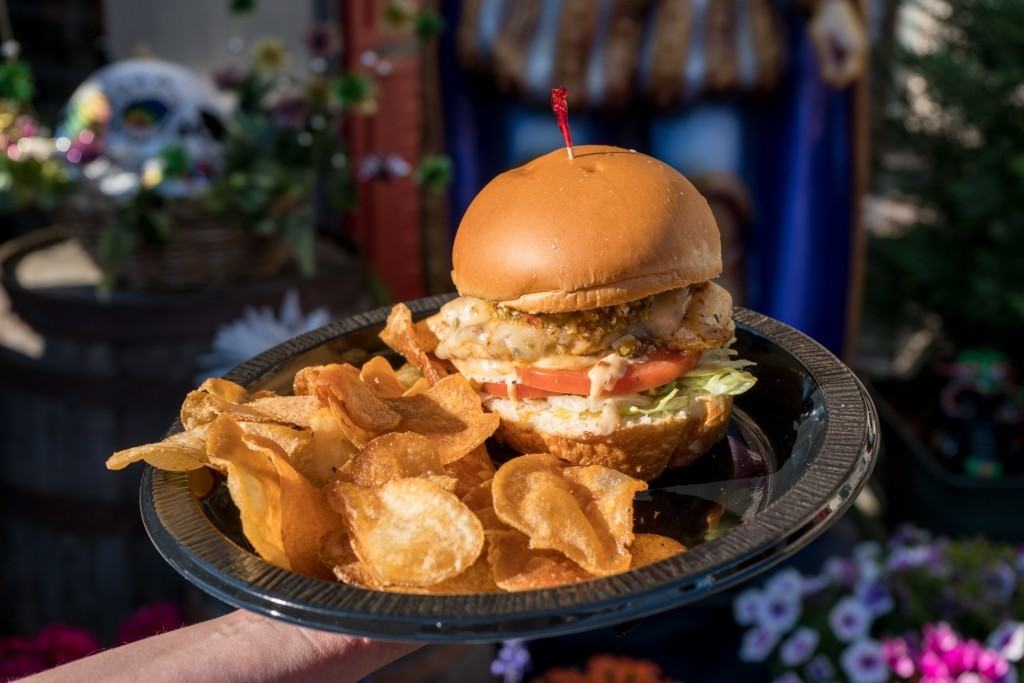 A grilled chicken breast brings a substantial source of lean protein, it is seasoned well, though lacks a little juice since it is cooked in advance and sits under a heat lamp until it's time for a sandwich to be made. The chicken is topped with jalapeno jack cheese (don't worry the heat is mild), fresh lettuce and tomato, the signature olive dressing definitely makes this sandwich (otherwise it wouldn't be a muffaletta). The menu states that spicy mayo caps off the toppings, however, when I tried this sandwich I did not taste any, perhaps it's on there but not overdone.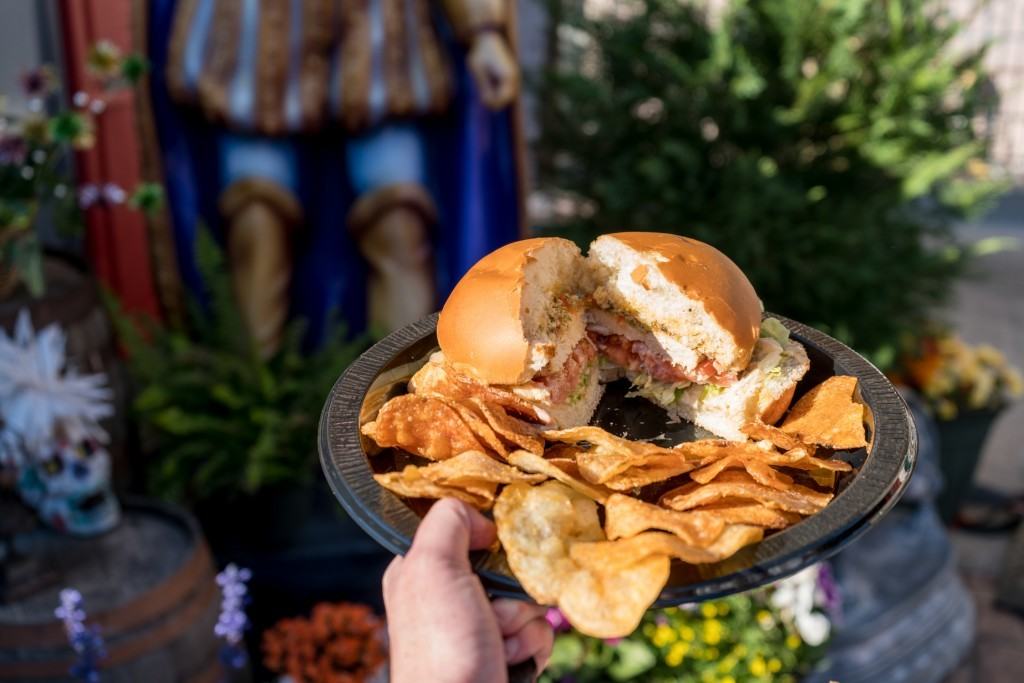 As far as savory food options, the muffaletta is the only new addition. However, those with a sweet tooth can rejoice. Two new sweets can be devoured this year. Let's face it, riding the movies, catching beads, and rocking out to a concert requires a sugar rush. At the Crepes and Coffee stand you can select one of three crepe flavors (or get all three – no judging) or you can sink your teeth into a King Cake Donut!
The King Cake Donut ($5.99) joins the long line of yummy baked goods provided by local bakery Donut King, whose products can be found year-round in Springfield USA. I've never seen the traditional Mardi Gras treat of king cake transformed into a donut, but it works! If you want a piece of traditional king cake it is also available here for $3.29.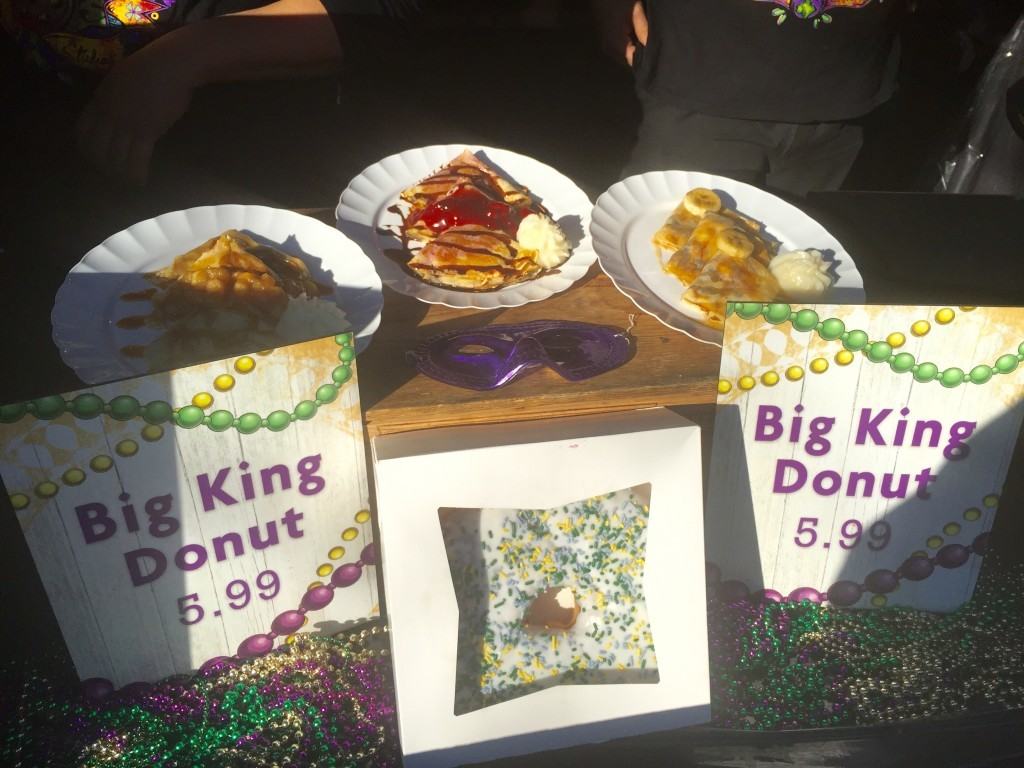 Three scrumptious flavors of crepes make it difficult to choose. Alas I went with the Caramel Cinnamon Apple. If you desire a traditional fresh made crepe you may be disappointed, however, I enjoyed the unique presentation of four crepe corners each filled with gooey cinnamon apple and lightly toasted before being served. Caramel and whipped cream cap off this treat. Raisins are in the cinnamon apple filling, distracting from the sweet succulent apples, though.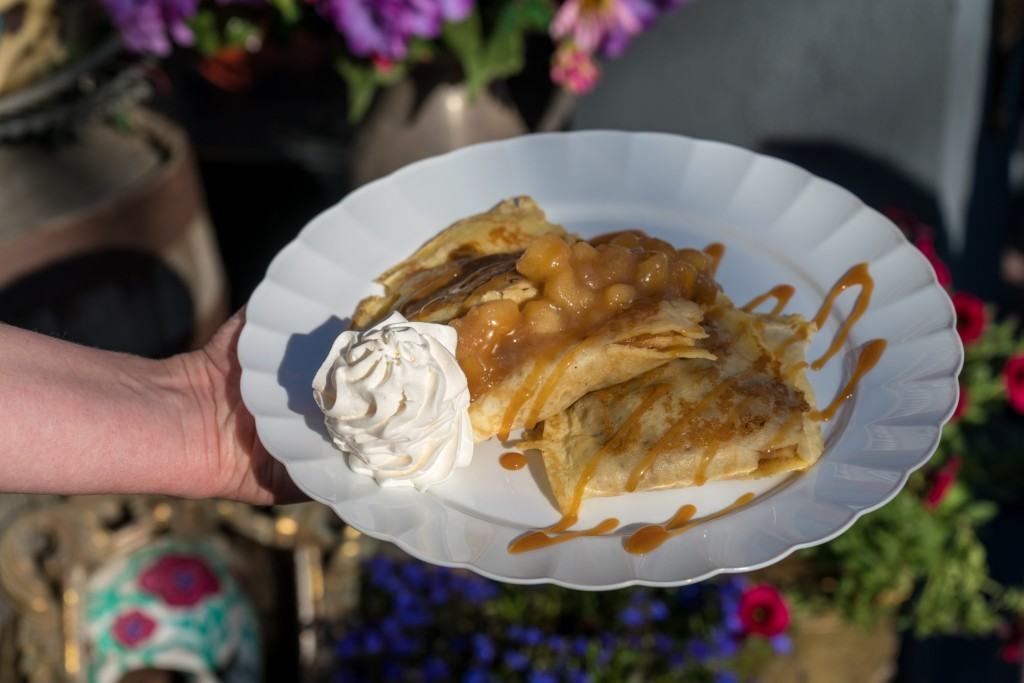 The other two flavors are very tempting, Chocolate Cherry and Bananas Foster. I might just have to make another trip to taste these as well. All crepes are $7.99. If you need something to perk you up even more, this booth also has specialty coffees like Cinnamon Sticky Bun or French Vanilla ($2.49).
New parade floats at Universal's Mardi Gras
This year marks the arrival of four floats that showcase some of the biggest parties held around the world. An Oktoberfest float, a Fourth of July float, a Rio Carnival and a Venetian Carnival debut this year and with them new parade performer costumes. Each one showcases the themes and traditions of the celebrations they represent. My personal favorite is Oktoberfest! My heritage is primarily German and Oktoberfest is one of the most fun, biggest celebrations in the world. The Venetian Carnival float has a romantic air of mystery with its mask theme, an important Venetian tradition.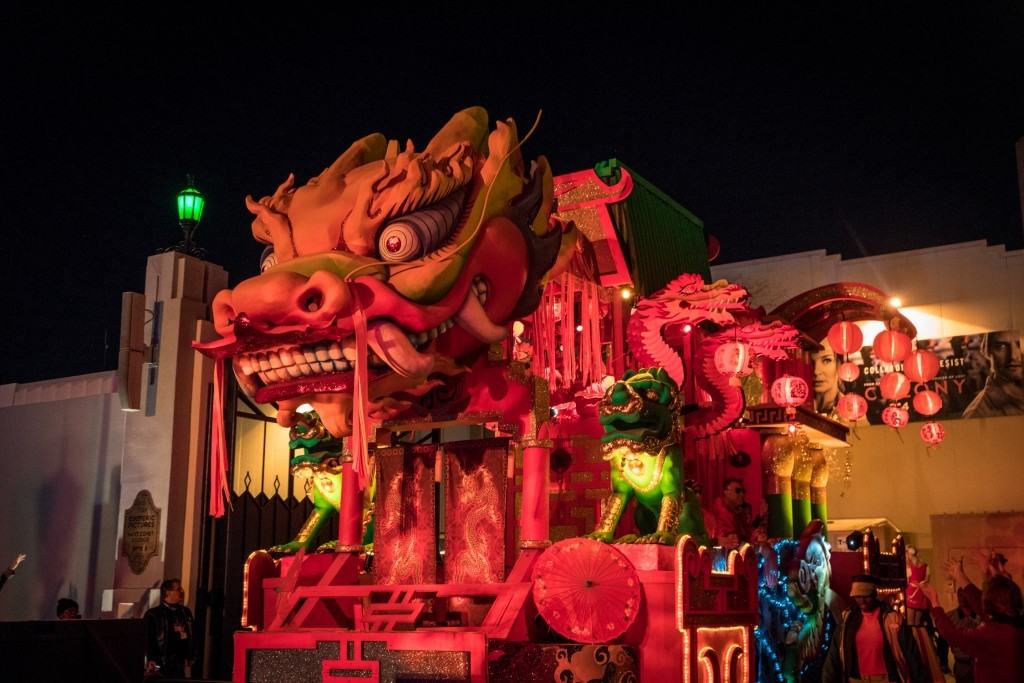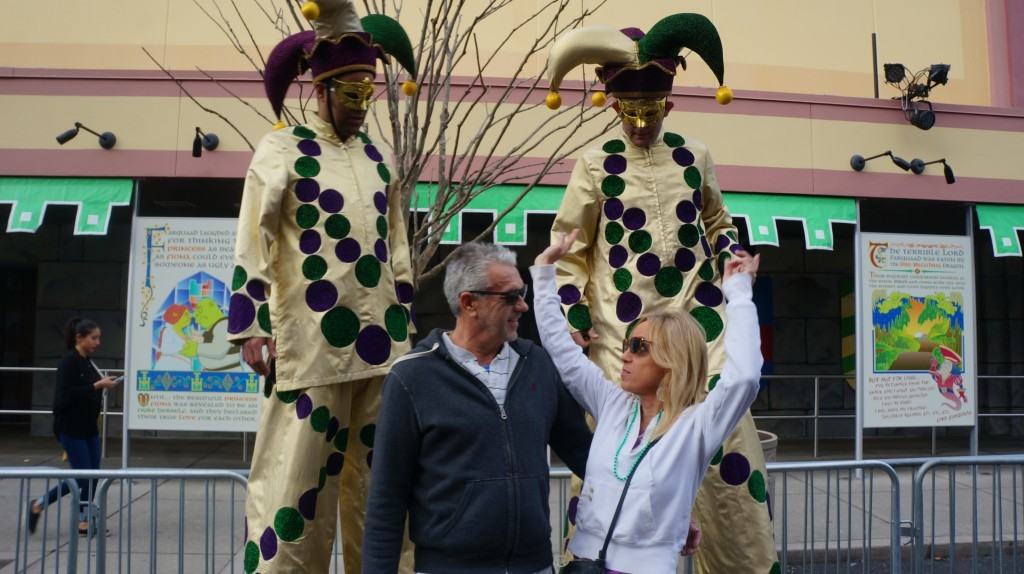 Many of the parade performers' costumes have changed to match the new floats. Stilt walkers that flank the Venetian float wear masks match the theme. The Oktoberfest unit has some of the most talked about costumes in the parade. Ladies are in beer maiden costumes and men are in lederhosen without a shirt. These performers are very popular when they pose for pictures with guests around 4:00 PM or in the streets of the New York backlot. The Rio Carnival screw also stays true to their theme with barely there costumes too.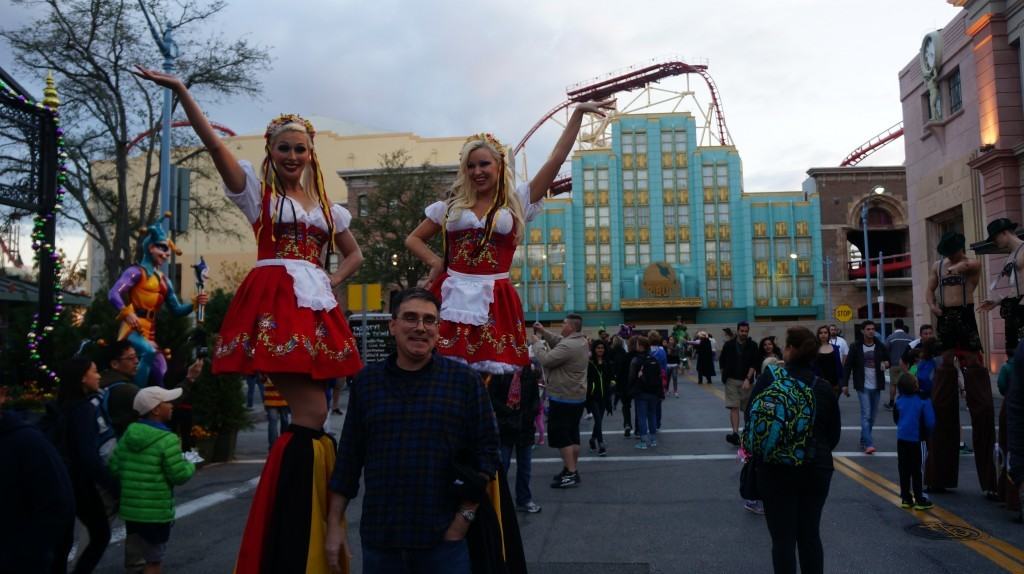 For any long time fans of Universal's Mardi Gras fear not, everything you love about this big easy party remains. The concert lineup is being credited as one of Universal's best. The French Quarter Courtyard has any returning flavors that have become favorites over the years like the Twister Taters, Loaded French Fries, Po Boys, and Gumbo. The jazzy Cajun music that plays throughout the evening is untouched and unchanged, including the parade music.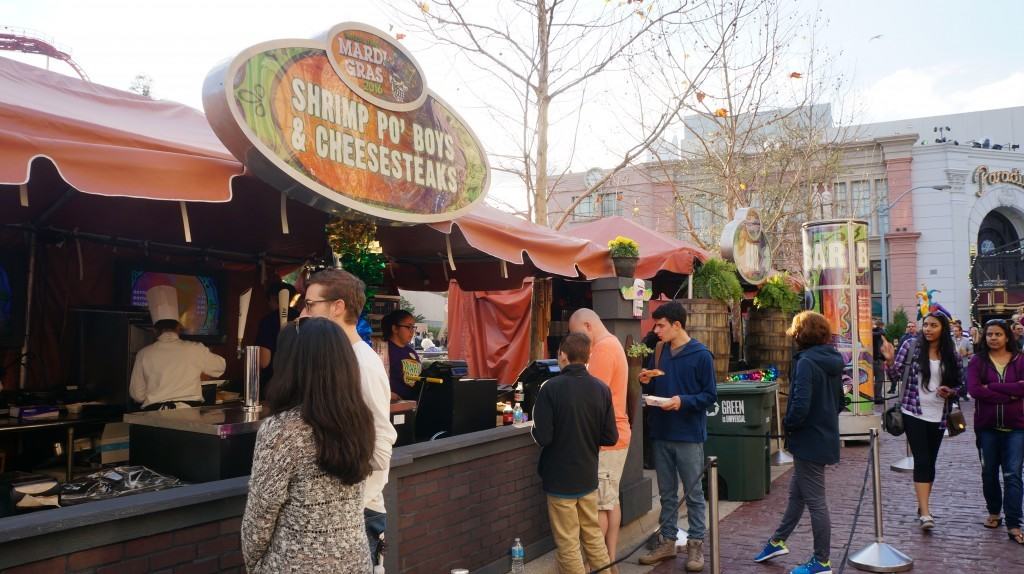 Speaking of music, Universal continues the great tradition of bringing in jazz and zydeco bands straight from New Orleans and neighboring regions. These bands usually perform three sets starting around 4:00 PM, in the middle of the French Quarter Courtyard. It's near impossible to not tap your toes, clap your hands, or at the very least nod your head along to the jazzy beat.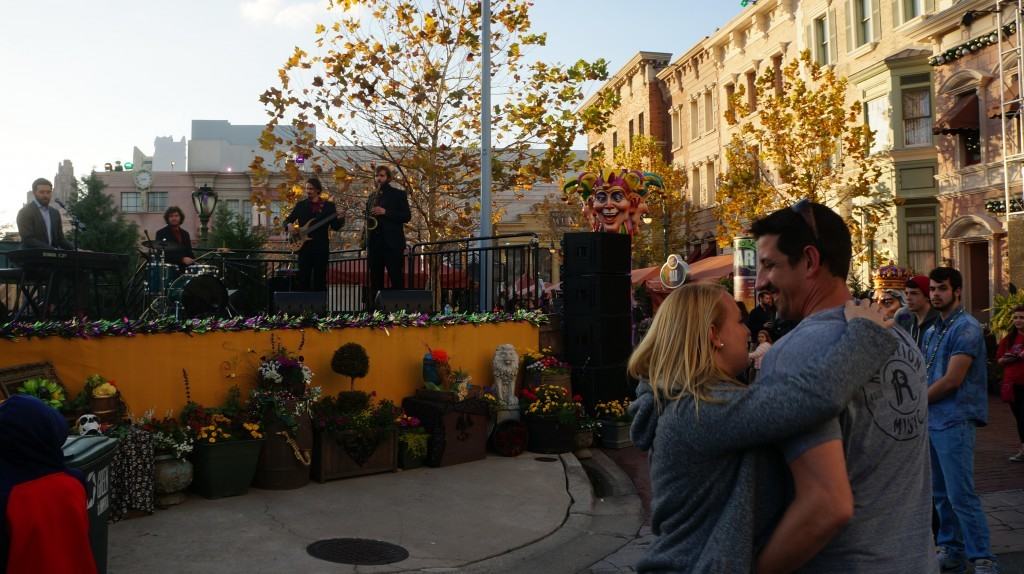 There is also reserved parade viewing areas, one for Annual Passholders and one for Little Jesters (families with little kids). The Annual Passholder area is semi-beneficial, though it has its downfalls. Located in front of Mel's Drive-In, it faces the gate at which the parade steps off, which is a fun place to watch a parade….. usually. The challenge here is beads. Manned by other Annual Passholders and other special guests, the bead tossers are usually nervous and overwhelmed when the parade first steps off, leading to less beads flying through the air and into the hands of those watching the parade. So if you have a desire to bejewel your neck with these little plastic beauties you may want to move down the parade route, perhaps near Production Central.
More importantly, if you want to see both the parade and the concert, you'll need to go ahead and watch the parade from the music plaza, where the concert takes place. The Little Jesters area is further up the Hollywood area, almost directly across from T2 3D. The roped off area is intended for families with little ones so they don't get lost in the crowd of taller Mardi Gras attendees. This area does fill up quickly.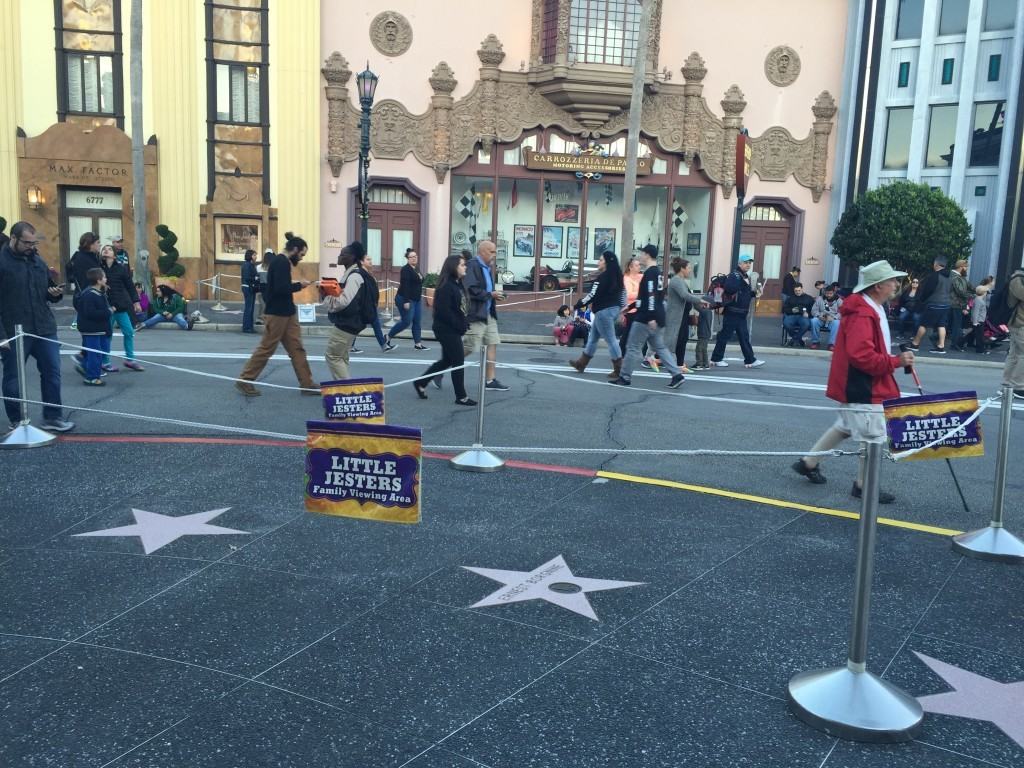 Each year Universal's Mardi Gras seems to get better and this year is no exception. When you ease on down to Universal's version of the big easy be sure to try one of the new foods and take time to appreciate the new parade floats and costumes. And most of all laissez le bon temps rouler – let the good times roll!