Universal Orlando's Mardi Gras celebration is definitely the most kicking "Nawlins" party outside of Bourbon Street. No doubt you've heard all about the big parade (with some gorgeous new floats this year!), and Universal usually manages to book some big-name talent each year for their headlining concerts.
But if you think that's all there is to do during Mardi Gras, you're missing out. Come on down with me to Universal's New Orleans-inspired festival and discover the layers of fun and flavors to be found!
Get photos with parade performers
This is one of the things I love that Universal does and Disney doesn't. Before the big parade, the streets near the Universal Music Plaza and along the New York backlot are lined with energetic and friendly parade performers. Don't be shy – step right up and strike a pose. You are bound to get some of the best photos of your visit!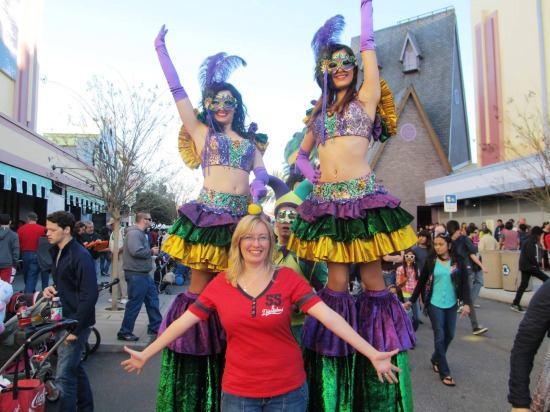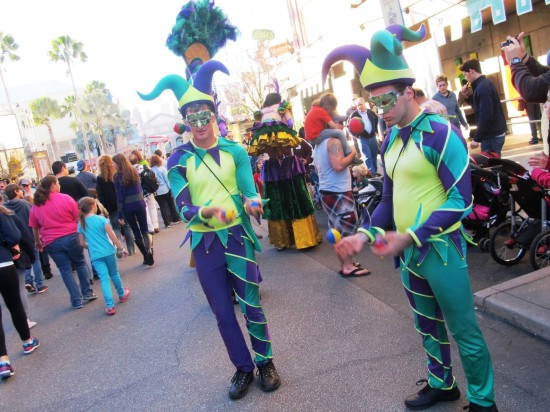 These performers don their full costumers, including stilt walkers and dancers, and this is a perfect time to appreciate the themes and details that go into each one. Surround yourself with a cast of colorful characters, and then see if you can spot your new pals later on during the parade.
Go crazy with some Mardi Gras face paint
Face painting is nothing new to the theme park world, but during Mardi Gras, it gets a little jazzed up. Right next to Monsters Cafe and Shrek's Ye Olde Souvenir Shoppe, step up to the face painting station and select your new jazzy look.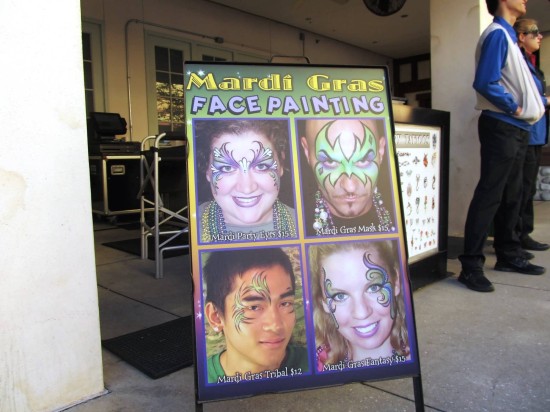 There are four styles to choose from, but most face painters are willing to take one as a framework and personalize it.
Beads, beads & more beads
Pick up some great souvenirs or add some Big Easy to your wardrobe – there's a lot of fun merchandise to snatch up during Mardi Gras.
Personally, I enjoy the premium beads. My husband and I bought a few during the first night of this year's Mardi Gras, and, as Annual Passholders, we love breaking them out each weekend as we visit the celebrations.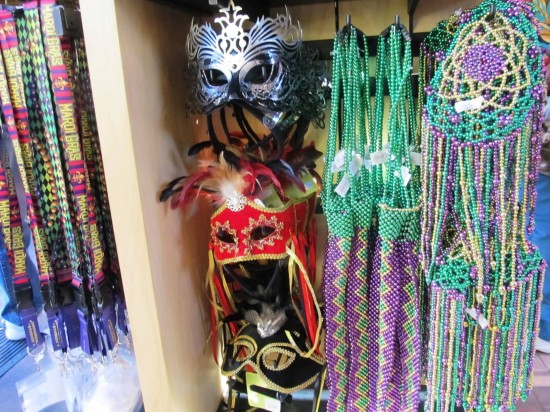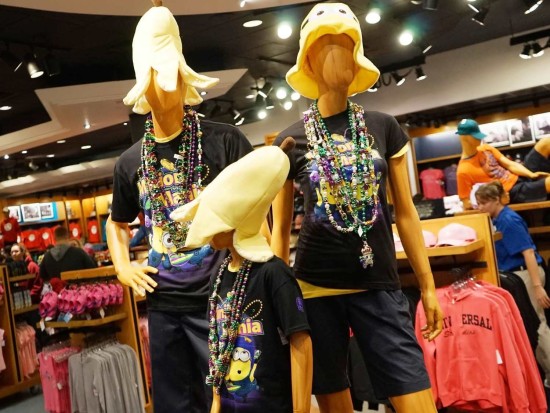 There are also great t-shirts, including one with a tribute to this year's parade theme, "Around the World in 80 days," and an adorable "Minion Mania" shirt.
Party in the streets
One of the things that makes New Orleans a party town is that its citizens are happy to admit that every good party has to have some good drinks. That's why, during Mardi Gras, guests shouldn't be surprised to see roaming cocktail waitresses offering jello shots. They're not afraid to get your attention, either.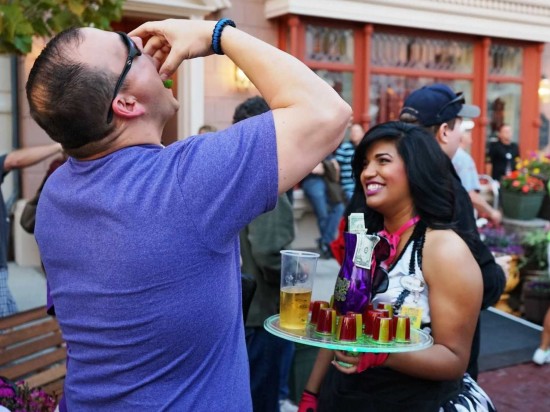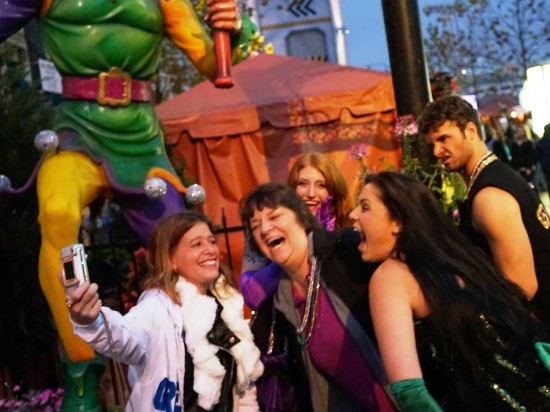 It definitely adds to the party atmosphere. And, if jello isn't your thing, you will have no problem finding one of the many Mardi Gras bars or pop-up beverage stands.
See what the future holds
Although there are fortune tellers in both Universal Studios Florida and Islands of Adventure throughout the year, there is something extra special about getting your fortune told during Mardi Gras; after all, New Orleans has a rich history of voodoo, fortune telling, and other mystical experiences.
Normally, the fortune tellers and Henna tattoo artists are on a corner location in the New York backlot, but during Mardi Gras, they become part of the French Quarter Courtyard, which makes the activity all the more appealing.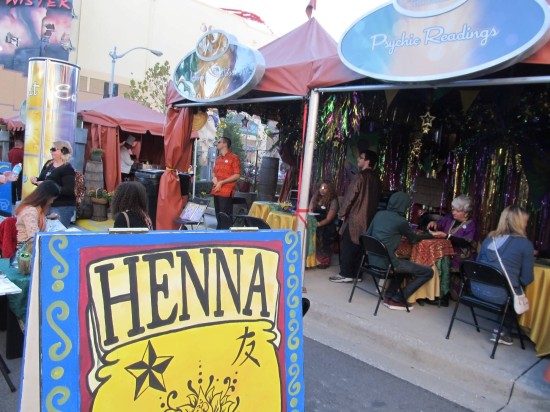 Even if you tend not to believe in that sort of thing, it should make for a fun story to tell, at the very least. Should palm reading seem a little too freaky for you, then perhaps you'd like to pretty-up your palms or another part of your body with a Henna tattoo.
Stroll the French Quarter Courtyard
This is one of my favorite features of Universal Mardi Gras. The French Quarter Courtyard is made for strolling and socializing. Each booth has its own menu of specialty food, much of which is available only during Mardi Gras. I suggest grabbing a few friends, having each order something from a different booth, and sampling from each other.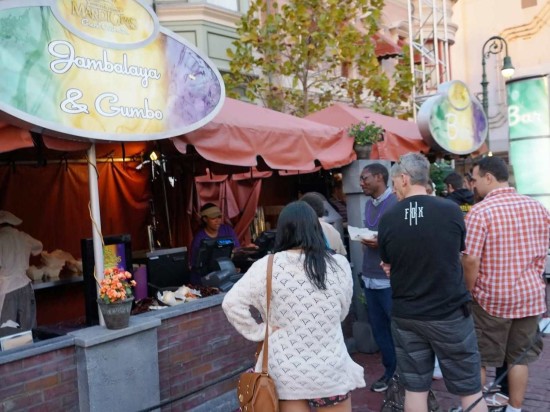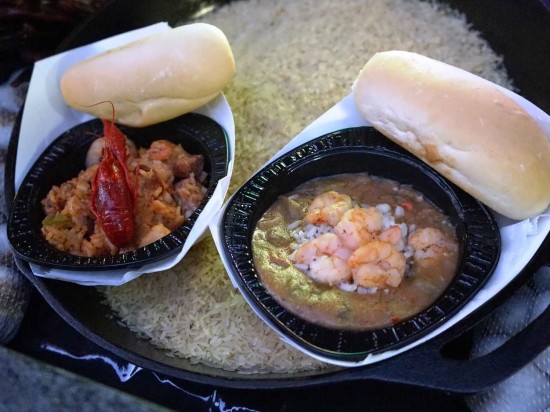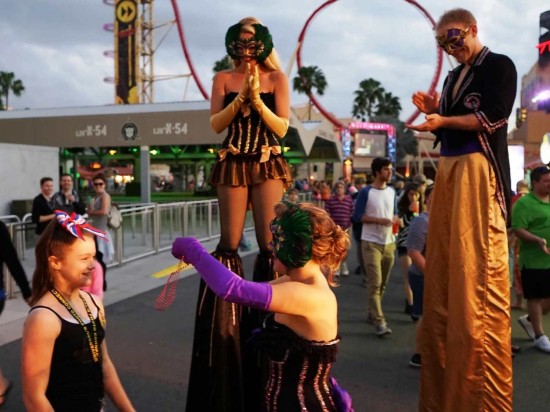 With the jazz music dancing in your ears all through the night, colorful costumes and beads, and delightful Mardi Gras decorations everywhere, your taste buds are bound to crave a little Cajun cooking. Many of the recipes are straight from N'awlins and are authentically awesome.
Even if you don't grab a bite from one of the booths – though I don't know why you wouldn't! – it's still fun to stroll through the courtyard. There's definitely a fun and social energy here.
Boogie down with "local" bands
Adding to the overall fun of the French Quarter courtyard is a stage that welcomes bands who normally call New Orleans home. If you want to enjoy some real, authentic jazz, Southern rock, and even zydeco (a true New Orleans-original style of music), you just can't miss this live music.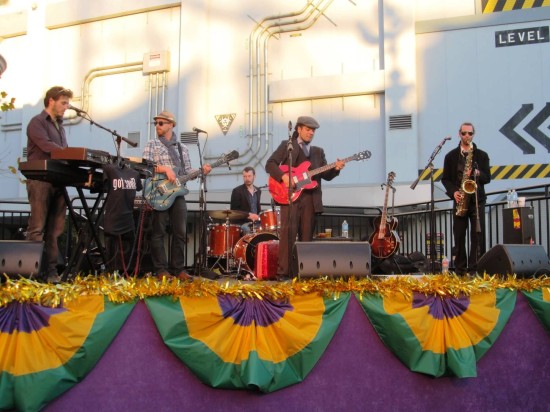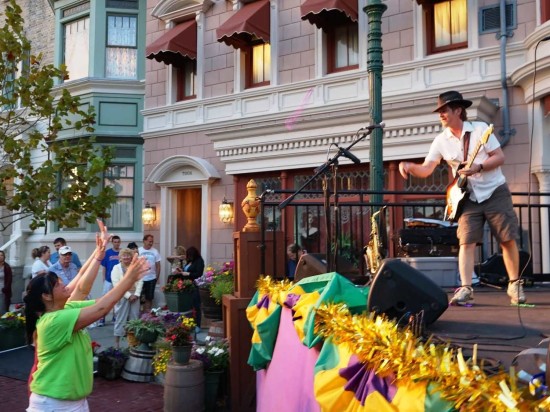 I love that Universal brings in these bands. They could easily have their own in-house musicians play the same music each week – instead, Universal understands how much of an impact these bands have and the level of authenticity they bring. I definitely recommend taking some time to watch and enjoy. It'll be hard to resist tapping your feet and shaking your tail feather. Sometimes, the Mardi Gras parade performers get in on the act, too.
It's easy to focus on the big parade and the headlining concerts of Universal Orlando's Mardi Gras celebration, but there is a lot more to enjoy. If you really want to get the most of your visit, then be sure to take some time to get into the spirit and enjoy the other fun activities. The French Quarter Courtyard opens at 4:00pm on event nights, so plan accordingly.
[youtube_video]brj0xUhZdT0[/youtube_video]
If you'd like to visit Universal's Mardi Gras with even more know-how, check out our complete insider's guide to the event in the OI Universal Center.
Mardi Gras at Universal Studios Florida – photo gallery
Click any image to view it full-screen. When the full-screen image is open, click to the right or use the right arrow on your keyboard to advance through the gallery.
[sws_author_bio user="danidennison" size="105″ authorposts="More OI posts by Dani" name_format="About the author"] [/sws_author_bio]