Halloween Horror Nights might be the crown jewel in Universal Orlando's annual-event crown, and the Holidays festivities might keep inching their way up that treasured slope, but the most dynamic and fastest-growing of the resort's yearly shindigs is undoubtedly Mardi Gras.
Always a fun celebration of food, music, and dance, the emphasis has been steadily expanding on all those elements over the course of the past several years – the food-and-drink component, for instance, has veritably exploded, resulting in a roster that's suspiciously close to HHN's legendary offerings (have you seen the frozen slushy or mimosa lineup?). And, even more recently, Mardi Gras has taken even more pages out of its annual-event brethren's playbooks, adding on some premium dessert experiences and incorporating that new Holy Grail of all Universal showings, the Tribute Store, resulting in a fully themed experience for the first time in the event's history. (Heck, even the Holidays got in on the Tribute action last year, as well, though its entry couldn't quite live up to the gold standard of either the Horror Nights original or the Mardi Gras offshoot.)
But then, of course, 2020 happened. The start of the COVID-19 pandemic landed roughly three-quarters of the way through "Florida's biggest party" last year, resulting in the event's termination some two-and-a-half weeks earlier than expected (March 15 instead of April 2) and the removal of a score of concerts (five, to be exact). The effects the coronavirus disruption had on the resort and its annual offerings have continued ever since: the replacement of Halloween Horror Nights with a more general Halloween celebration; a later-than-usual announcement for Holidays, followed by streamlined proceedings shortly afterwards; an entirely cancelled Rock the Universe 2021; and, now, another delayed press release, this time for Mardi Gras 2021 – which, again, reveals a raft of modifications done in the name of public safety.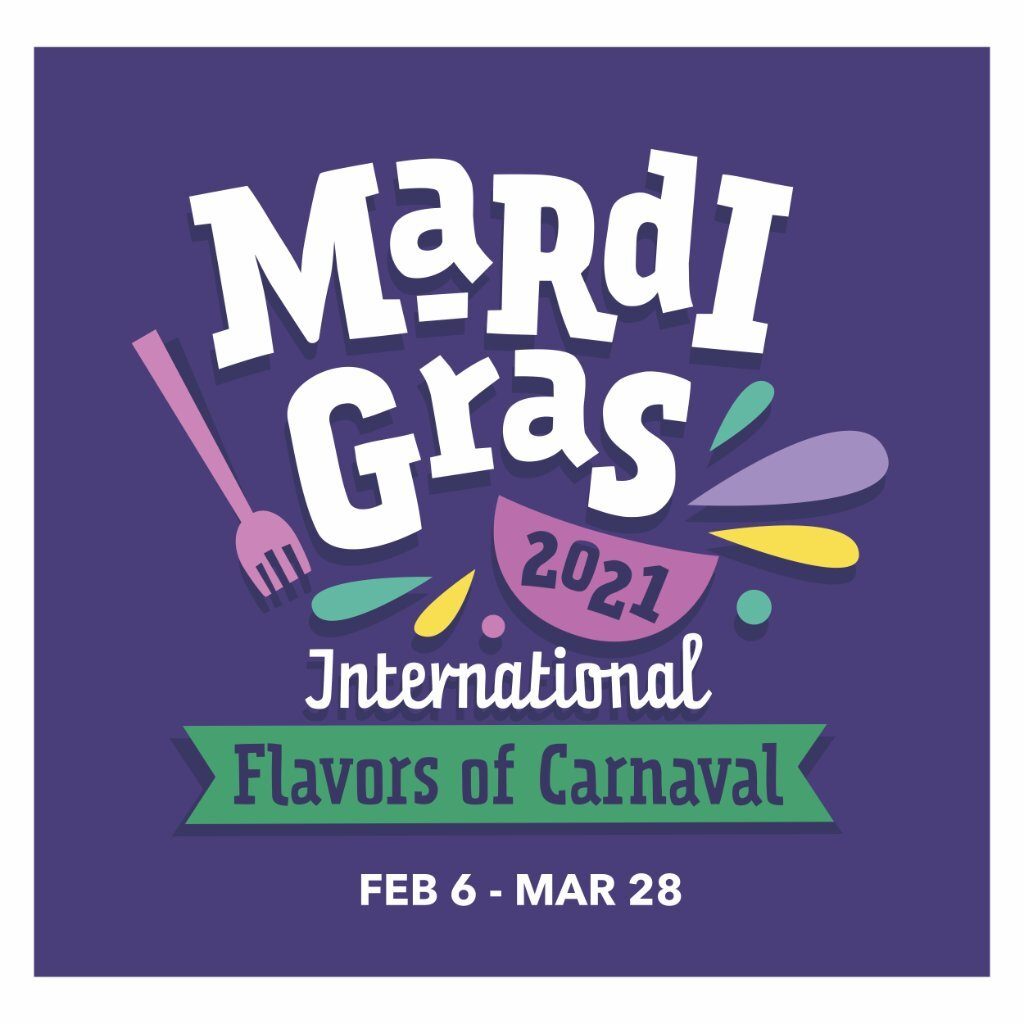 Here's what those changes entail, along with everything else that Universal has revealed about its next Big Easy-in-Orlando festivities:
For starters, the company is heavily placing the emphasis on food, even going so far as to rename the event to Mardi Gras 2021: International Flavors of Carnaval. Expanding the Carnival around the Universe tasting tent that was introduced at least year's event, this year's proceedings will be totally subsumed by that visiting-carnaval-festivities-around-the-world premise, offering up an "eclectic global food fest with more than 70 delectable dishes and beverages" from 13 international locations. These include the returning Brazil, Trinidad and Tobago, Germany, and – but of course – New Orleans; the new destinations consist of Puerto Rico, Spain, Belgium, the Bahamas, Cuba, Canada, Italy, Colombia, and France.
In something of a rehash of the company's Holiday Experience Featuring Macy's Balloons, the floats of the traditional (and highlighting) Mardi Gras parade will be stationed all throughout Universal Studios Florida, enabling guests to admire – and take photos of – them to their hearts' content.
A "Big Easy bash in the streets" will also be had in the theme park, featuring dancers, stilt performers, and roving brass-band musicians.
The Mardi Gras Tribute Store will make its grand return, brandishing three brand-new rooms that are dedicated to a '20s jazz parlor (replete with dueling pianos), a nautical cemetery (for dearly departed sea captains), and a (mysterious) waterfront warehouse. In addition, the flourish introduced by the Halloween 2020 take on Tribute will continue to be represented here, resulting in a variety of pastries and baked goods being on hand.
Borrowing from the Holidays hunt from the past few years (and last year's Halloween celebration, to boot), a Mardi Gras Scavenger Hunt will make its debut, though there is no word as of yet about its contents, locations, pricing, or potential rewards.
If you were worried about your ability to collect beads, don't – Universal promises that there will still be "countless" ones to be had.
And, finally, there will also be carnaval-themed menu items at select locations throughout both CityWalk and the Universal Orlando hotels.
Mardi Gras 2021: International Flavors of Carnaval will run at Universal Studios Florida from Saturday, February 6 to Sunday, March 28. Admission is included with your theme-park ticket or annual pass.
---
Which part of Mardi Gras are you most excited for? Share your thoughts with 110,000+ other die-hard Universal fanatics in our Orlando Informer Community on Facebook.
And be sure to follow Orlando Informer on Facebook, Twitter, and Instagram for the latest news, tips, and rumors at Universal Orlando, Walt Disney World, and other Orlando attractions.