Welcome to THE BIG 5, a definitive top five list of various Orlando related, uh, stuff. THE BIG 5 is wide ranging, and will run the gamut from the top five "Hidden Mickeys" at Universal, to the top five roller coasters in Orlando, to the top five reasons the Dapper Dans should not be singing boy band songs, and everything in between.
To view all of THE BIG 5 posts so far, click here.
This week's list is the Top Five Snack Options at Universal Orlando's Mardi Gras celebration. Mardi Gras is the French term for Fat Tuesday, the last day to enjoy eating rich, fatty foods before the ritual fasting that begins on Ash Wednesday. Longtime readers of THE BIG 5 and have seen us cover the top "Extreme Eats" at the Universal, or the Top Five Snacks of Halloween Horror Nights, know that our eyes lit up hearing the phrase rich, fatty foods. Here's a look at the five best snack options you can ingest while waiting for beads to be thrown off your favorite Mardi Gras float
#5 – Beignets
When people think of Mardi Gras, they think of New Orleans — and nothing says N'awlins more than a beignet. A signature dessert of The Big Easy, and the official doughnut of Louisiana, a beignet is pretty simple: fried dough with a whole bunch of powdered sugar on top. They are traditionally served in orders of three. Universal takes it up a notch allowing the customer to have some chocolate sauce drizzled on top of the beignets. ($4.25)
Universal also offers funnel cake sticks, which can be considered an Americanized version of beignets. Also made out of fried dough, the sticks have a small coating of powdered sugar compared to the mound poured on a beignet, and can also have chocolate sauce drizzled on them. ($4.50)
#4 – Red Beans & Rice
Another traditional Mardi Gras dish is Red Beans and Rice. Universal does a good job with this piece of Creole culture having the Red Beans served in a pork-based stock over white rice. Tabasco sauce is available for those that want to add a little more heat to this staple of French Quarter cuisine. Served with a side of bread, this dish is filling and comes pretty cheaply in terms of theme park prices. ($5.00)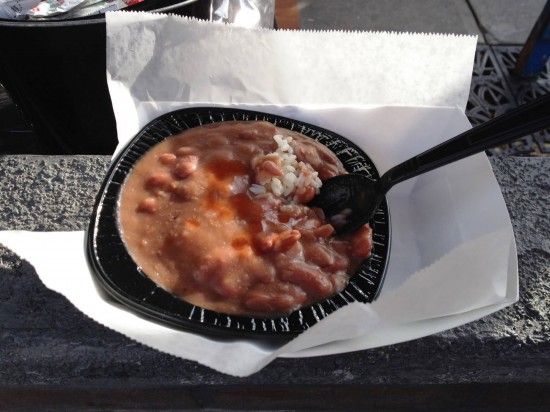 #3 – King Cake
Baked in a design that is meant to evoke the "coming of three wise men bearing gifts for the Christ child," the King Cake is oversized and brightly colored. The perfect snack for the theme park guest who believes in the philosophy of Go Big or Go Home, a piece of King Cake would fit in perfectly with the "monster-sized" versions of food available at Universal's Monsters Café. ($3.25)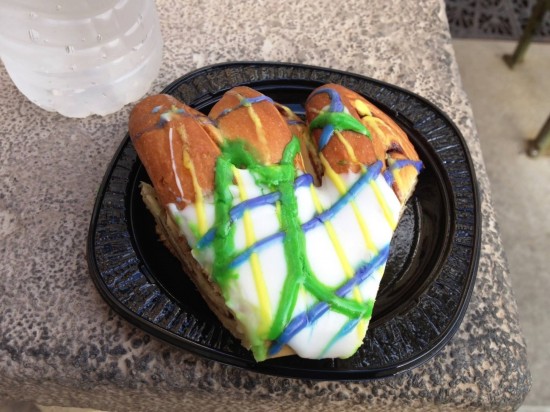 #2 – Voodoo Juice
Available in a souvenir glass, this concoction made out of coconut rum, banana liqueur, Minute Maid orange juice and cranberry juices is good enough to make any guest feel bewitched for one night! ($11.00, souvenir cup can be refilled for $8.00)
#1 – Shrimp Gumbo
The staff at THE BIG 5 likes a good value, and the Shrimp Gumbo just may be one of the best bargains at Universal. A heaping bowl of food whose soup portion has a good amount of Cajun spice in it, but the rice on top has a pinch of salt that works as a perfect counter balance to the heat. A little Andouille sausage, a little bacon and several pieces of shrimp are mixed with vegetables to provide one heck of a meal, and don't forget the bread. ($6.00)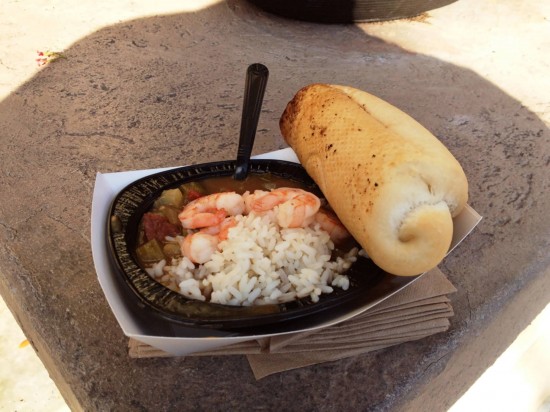 Honorable mention – Fried Shrimp Po' Boy
This simple and simply delicious sandwich is a trademark of New Orleans cooking, and throughout the town it can be found in the tiniest whole-in-the-wall food shacks and the finest restaurants. Strangely enough, then, that the Po' Boy at Universal Mardi Gras can only be found at one food stand: right near the exit to the Shrek 4D gift shop. But don't skip it — and if fried shrimp isn't your thing, the same food stand sells a cheesesteak sandwich too.
As you can see, Universal has done an incredible job making their Mardi Gras celebration as authentic as possible with food selections taken straight out of New Orleans' long standing traditions (and we haven't even talked about the parade!). So whether you're from the bayou or the Big Apple, you're going to get a taste of why Mardi Gras is the party of the year!
That's it for this edition of the BIG 5! If you plan on going to this event at Universal Studios Florida, you definitely want to check out the Complete insider's guide to Universal Mardi Gras 2013 in the OI Universal Center. We'll see ya again real soon.
[sws_author_bio user="derekburgan" size="105″ authorposts="More OI posts by Derek" name_format="About the author"] [/sws_author_bio]