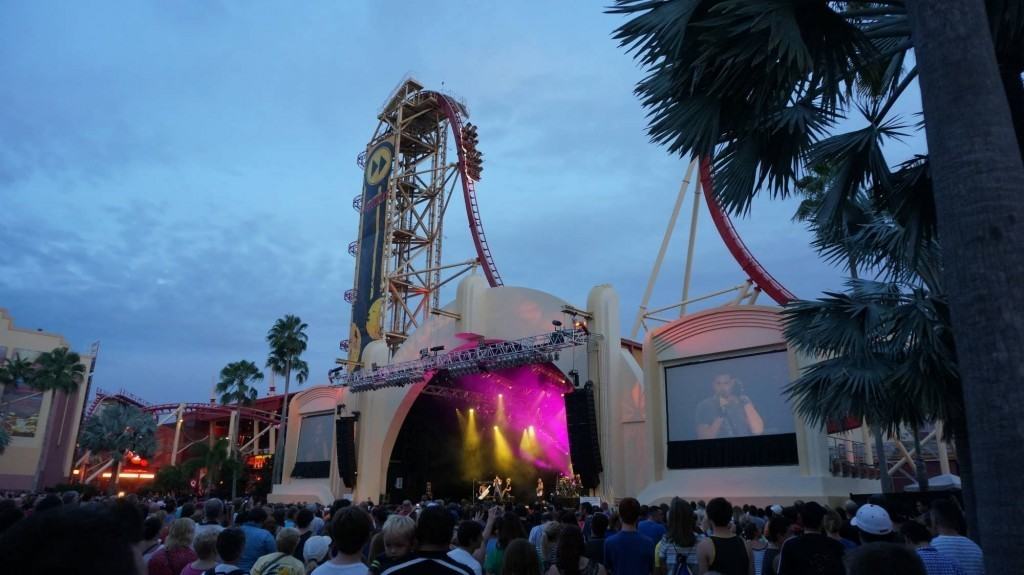 Skip to: Overview | Location | Restrictions | Fun fact | Guest reviews

What is Universal Music Plaza?
In the shadow of Hollywood Rip Ride Rockit, the Universal Music Plaza stage is modeled after the famous Hollywood Bowl amphitheater in Los Angeles and hosts concerts at events such as Mardi Gras and Rock the Universe. If you're looking for a spot to sit and chill out during the day, the fake grass and central location makes Music Plaza a perfect meeting place, but if there is an event scheduled that day, it may be partially blocked-off for queues and/or staging.
Where is Universal Music Plaza located?
In Production Central, which is in Universal Studios Florida.
Universal Music Plaza – height restrictions and other factors
The area in front of the stage is typically open with unrestricted access.
Universal Music Plaza – what you wish you knew before you experienced it
The whole stage area is open to the elements, so if you're planning on attending a show, be sure to check the weather to see if you'll need a jacket or umbrella. The venue is standing-room only, and while some scheduled shows are open to anyone visiting Universal Studios Florida, others are hard-ticket events – visit our event pages to get all the info you'll need to know before you go.
What was Universal Music Plaza's opening date?
February 21, 2009
Universal Music Plaza – OI fun fact
The amphitheater area can hold up to 8,000 concert-goers, and since its opening in 2009, Florida native Pitbull has played on the Music Plaza stage 16 times.
Universal Music Plaza – real guest reviews
Universal Music Plaza
Average rating:
6 reviews
May 26, 2014
Music Plaza review & some tips
Date Of Last Visit:
3/08/2014
I was at the Music Plaza for the Harry Potter Celebration Movie Tribute on January 24, 2014. The actual event began at 7 pm, but people were lining up pretty early. I started lining up at 5:30 pm, and I got pretty close to the front.



There are a few TV screens that are showing what / who is on stage for people who can't see far in the back, which helps a lot if you are one of those people.



If you are planning on going to an event, for example, a Mardi Gras performance, and you want to be as close to the front as you can, you should line up early. Take some blankets to sit on - and don't worry, the ground is fake grass - if you want. If you plan on being there a few hours, bring some snacks and water and a book to read because it can get pretty boring.



The Music Plaza itself is pretty great- it holds a lot of people and the speakers work great.
May 25, 2014
Space Utilized Best?
Date Of Last Visit:
July 14, 2013
Okay, I know I was there when there wasn't a concert happening so I can't really speak about the actual functionality of the space. However, there should be benches that are either removable (for when a concert is happening) or lining the edges more. People were sprawled out like is was a lawn or something. Maybe they could have a stand to rent blankets to lay out on and have lunch or catch some rays or something (plus, it would be another way for Universal to charge for something that many people would want). It just feels like a waste of space when there aren't concerts.
May 24, 2014
Looks Great, Sounds Great, What else could you ask for?
Date Of Last Visit:
September 7th, 2013
I went there to see TobyMac for Rock the Universe 2012, and had a great time. The sound levels were a little loud, but it is a concert stage, so that was to be expected. You should get there early, and get a seat, because I was way at the back. It is great to see it when walking through Production Central, and it fits in with the theming. It does its job well.
Mar 24, 2014
Rock the Universe Music Plaza
Date Of Last Visit:
9/6/13
I went to Universal for the annual Rock the Universe Christian event and was, per usual, delighted with the Music Plaza. The location is great and has a bunch of space for everyone to see the stage. The sound system is fantastic and I'm going to see Skillet on April 5th and I'm sure they will light up the stage!
Aug 10, 2013
Universal Music Plaza
Date Of Last Visit:
05/17/2013
I have never actually seen a concert here, but I have walked around it and it is one of the most beautiful portions of Universal Studios Florida. It has views of Rip Ride Rockit, and If you look carefully, Islands of Adventure. I hope to see some kind of concert here!
Do you have a question about the information on this page, would like to provide feedback, or did you spot an inaccuracy? Please let us know by posting in our
Orlando Informer Community
on Facebook.