Preview this Page
Overview
Trek through our ranking of some of the wildest thrills at Busch Gardens Tampa Bay. Start your coaster count by purchasing discounted tickets to Busch Gardens here.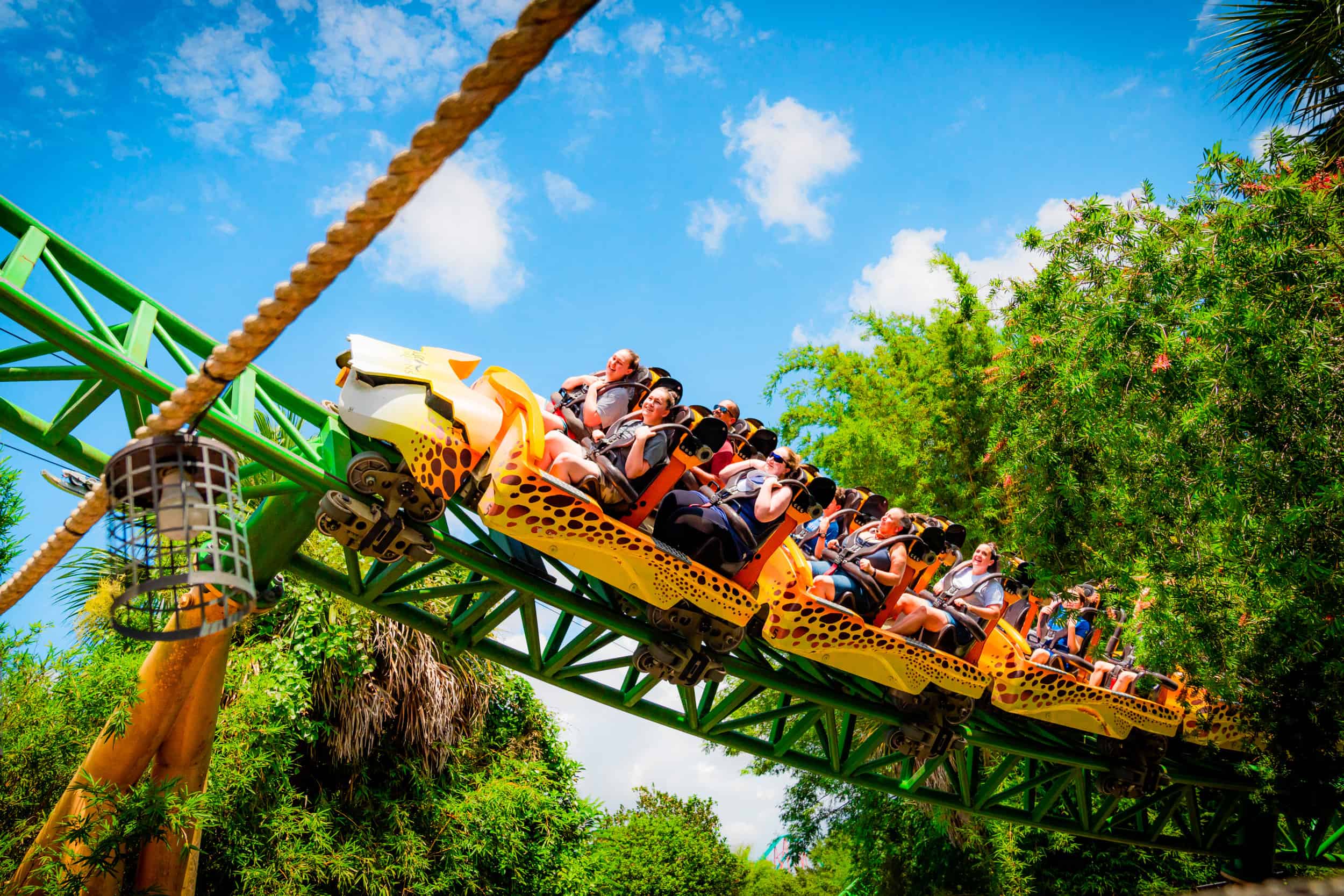 There's no doubt about it – Busch Gardens Tampa Bay knows their thrill rides! While it wasn't the park's original focus, over time they've become experts on the matter and home to a number of unique and award-winning roller coasters. Anyone considering adding a trip to SeaWorld Orlando's sister park while visiting Orlando should do so, especially with the premiere of their newest thrill ride, Serengeti Flyer! On that note, it's worth stepping back for a better look at what they offer in the name of thrills – namely, roller coasters.
Busch Gardens Tampa Bay features 10 roller coasters across its property. While those like Sheikra or Cheetah Hunt can seem intimidating, the park offers a level of coaster for just about everyone. It was actually here that this author was indoctrinated as a roller coaster fan. As such, along with the rankings, I'll guide any readers who may still be on their path to coaster fandom. The coasters will be ranked in descending order of their Thrill Factor – that is to say, each coaster's intensity – with the lowest ranking being "1" and "5" as the highest, naturally. It's worth highlighting that the level of thrill doesn't determine the overall enjoyment of each attraction, as every ride promises a truly memorable experience.
Now then, strap in and join us on the safari!
Iron Gwazi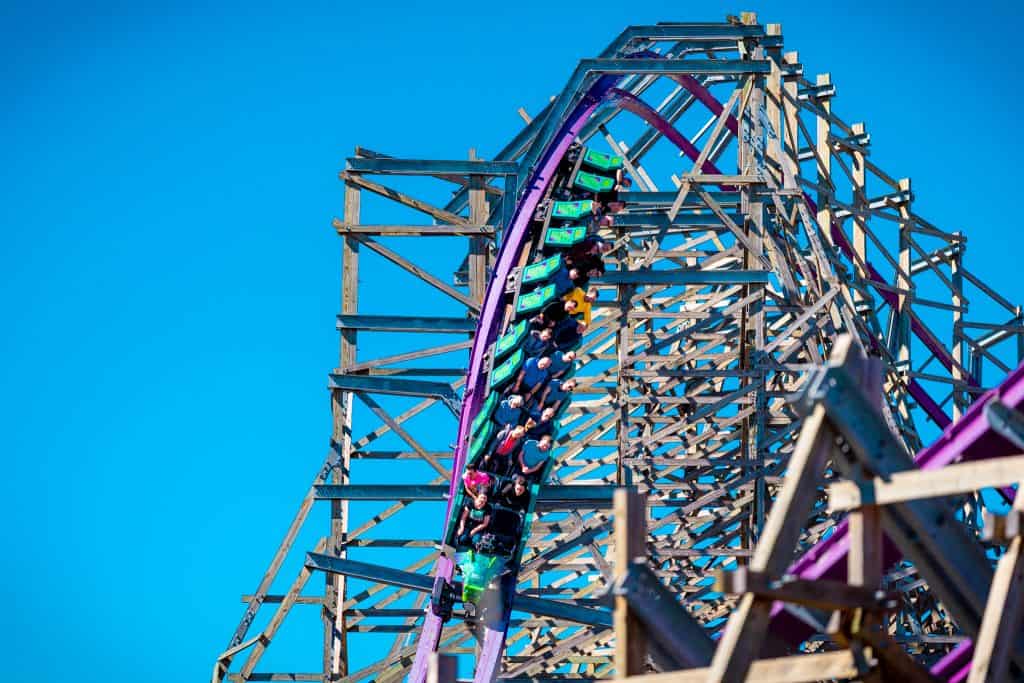 Location: Morocco
Peak: 206 feet
Max Speed: 76 miles per hour
Thrill Factor: 5
Between 1999 and 2015, Gwazi was a dual-track, all-wooden coaster inspired by a "battle between a lion and tiger." The coaster's trains followed similar paths to each other in opposite directions in a "dueling" fashion until its closure in 2015. Flash forward to 2022, and after much anticipation, Busch Gardens confirmed its return as Iron Gwazi.
Iron Gwazi received several upgrades from its former state. It is now a wooden-steel hybrid with hefty increases in its speed, peak, and overall track length. As it sits, its current stats earn it the title of tallest hybrid coaster in the United States. Although it's tied for that same ranking globally, it does stand as the fastest, steepest coaster of its kind in the world. This makes perfect sense, given its introductory 91-degree drop from its 206-foot peak! Upon its redesign, Rocky Mountain Construction added in a few new additions to its feats, such as a zero-g stall and a downward barrel roll, the latter of which helps Iron Gwazi in staying true to its bestial theme of a crocodile. As Busch Gardens is all about conservation efforts, the queue features related data and information about the aquatic reptile.
This thrill maintained a spot among the Top 50 rankings for Top Wooden Roller Coaster in its former state between 2002 and 2007 and again in 2010. When it officially reopened, Iron Gwazi received Amusement Today's Golden Ticket Award for Top Steel Roller Coasters of 2022.
Sheikra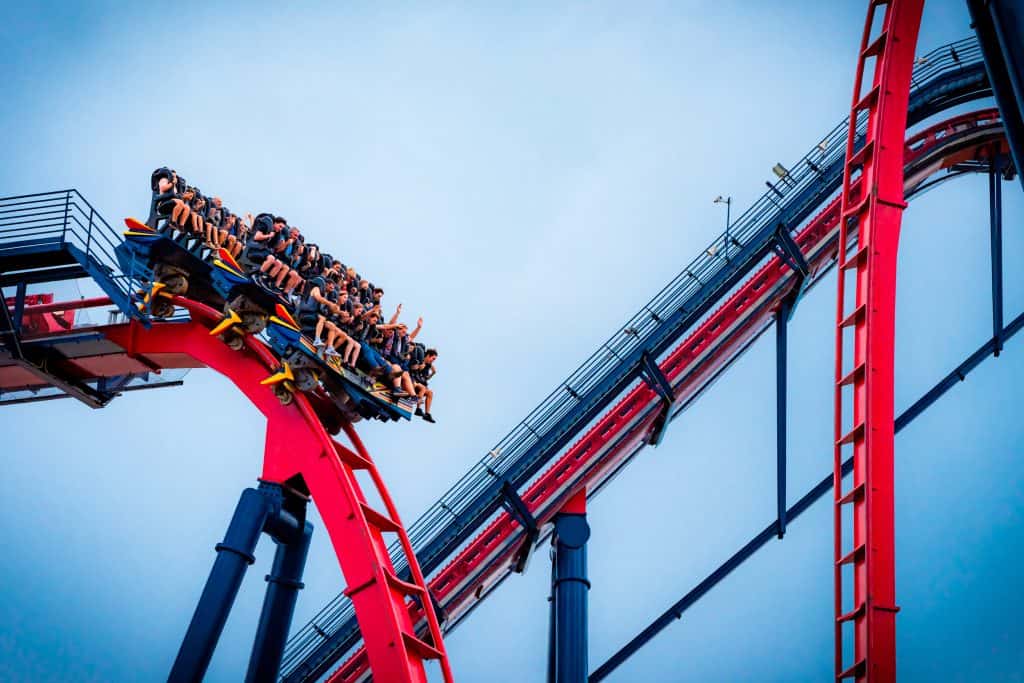 Location: Stanleyville
Peak: 200 feet
Max Speed: 70 miles per hour
Thrill Factor: 5
If you ever find yourself in Stanleyville at Busch Gardens Tampa, it's likely that you've come within inches of being soaked from a certain hawk-themed coaster. Sheikra would be that culprit, and you'd be remiss not to get seated on the giving end of that trailblazer. The dive coaster's namesake, "Shikra," is a hawk known for its downward dive upon its prey, which the ride mimics wonderfully.
After boarding the train, the floor drops as it begins its climb to the 200-foot peak, where guests are dangled precariously in Sheikra's talons. The train is then released 195 feet at a 90-degree angle into its flight. The experience features an Immelmann loop, deep curves, a tunnel descent, and an all-too-familiar splash-down finale. Oh – did we mention you endure a 90-degree plummet twice?
Sheikra is an exhilarating roller coaster and not for the faint of heart. Since opening in 2005, it tied for 4th as Amusement Today's Best New Ride and has been consistently found among the Top Fifty Steel Roller Coasters between 2005 and 2014. Stanleyville's star attraction is also considered to be North America's first dive coaster and, in turn, the first to feature a 90-degree drop. It also introduced splash-downs, which are common among water rides, to the coaster genre. When it opened in 2005, Sheikra stood as the tallest, fastest, and longest dive coaster ever built and only lost that title in 2007 to Griffon at the park's Williamsburg sibling.
Montu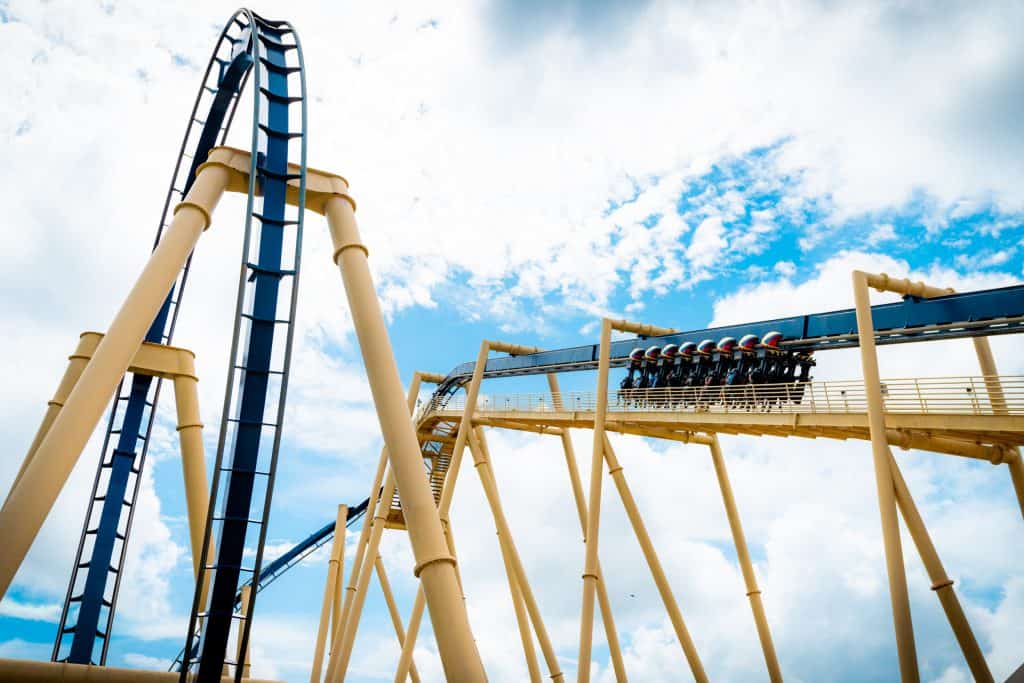 Location: Egypt
Peak: 150 feet
Maximum Speed: 60 miles per hour
Thrill Factor: 4.5
Montu draws its name from the Egyptian Falcon-God of War. While it's difficult to mimic anything resembling a diety, especially one meant to represent war and the burning rays of the Sun God Rah, this ride hits the marks to do its namesake poetic justice. As it's a floorless coaster, Montu makes its riders feel as if they're soaring above an Egyptian village.
The track begins at the ride's 150-foot peak, descending into a 128-foot drop. Guests will endure seven inversions, including a 90-foot Immelmann loop, a unique 60-foot batwing inversion, two vertical loops, a zero-g roll, and a corkscrew. Its movements portray a protective warrior patrolling over its people. While that's clearly in a figurative sense, Montu is sure to give its guests a breathtaking experience.
Upon its debut, Montu broke records and won the hearts of park-goers almost immediately as it won Third Place as Amusement Today's Top 50 Steel Coasters. It opened in 1996 as the world's tallest, fastest, inverted coaster and was the first coaster to incorporate an Immelmann loop into its scheme. Since Amusement Today's inaugural issue over 25 years ago, Montu has even been found among its top thirty Steel Coasters, giving it a bit of a legendary status among its peers.
Cheetah Hunt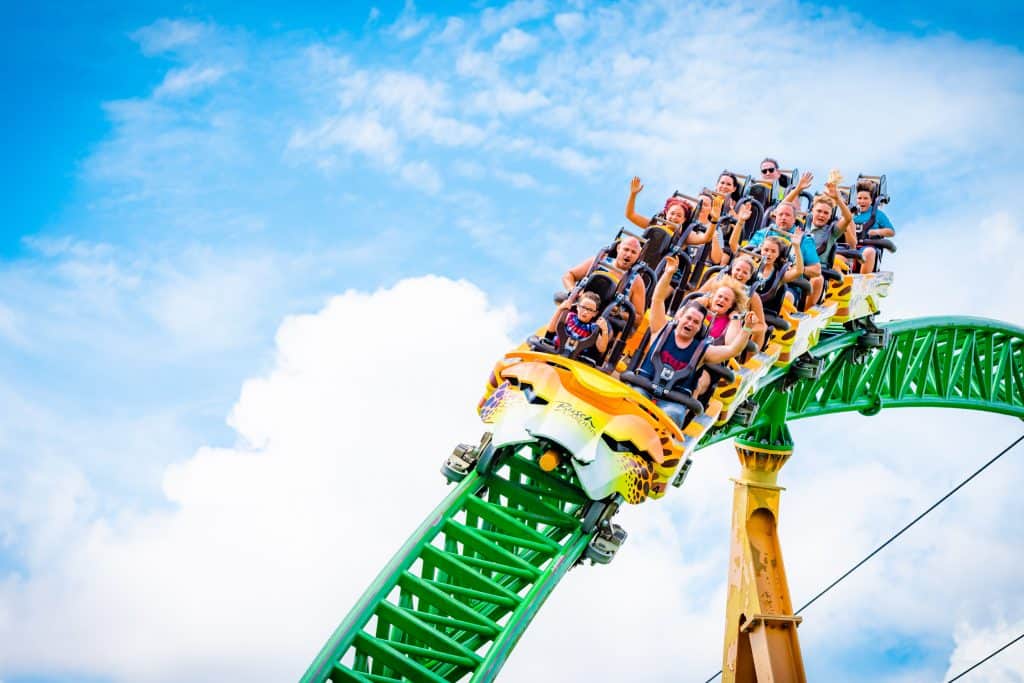 Locations: Edge of Africa
Peak: 102 feet
Maximum Speed: 60 miles per hour
Thrill Factor: 4
Cheetah Hunt is a multi-launch coaster that utilizes a Linear Synchronous Motor system (put simply, anyone unfamiliar with it can think "magnetic launch system."). From the beginning, guests are propelled into the ride experience at 30 miles per hour, then to the ride's maximum of 60 miles per hour to reach its windcatcher tower segment, and once more from 25 to 40 miles per hour thereafter. The roar of a Cheetah signals each launch and occurs across 4,425 feet of track, part of which crosses into the Serengeti Plain portion of the park.
Moving on to the technical aspects, Cheetah Hunt performs several S and over-banked curves as well as a heartline roll, which allows it to mimic a cheetah on the prowl. Towards the end, the train sways across a shallow embankment as if imitating a cheetah chasing its prey across a shallow embankment that was once part of the former home to Rhino Ralley.
Cheetah Hunt is a solid intermediate-level coaster as it holds some impressive accomplishments: It placed Second as Amusement Today's Golden Ticket Winner for Best New Ride of 2011 and has ranked among the prestigious magazine's Top Fifty Steel Roller Coasters from 2014 to 2019 and again in 2021. It's also one of two roller coasters in existence to feature a windcatcher tower as part of the ride's track.
Kumba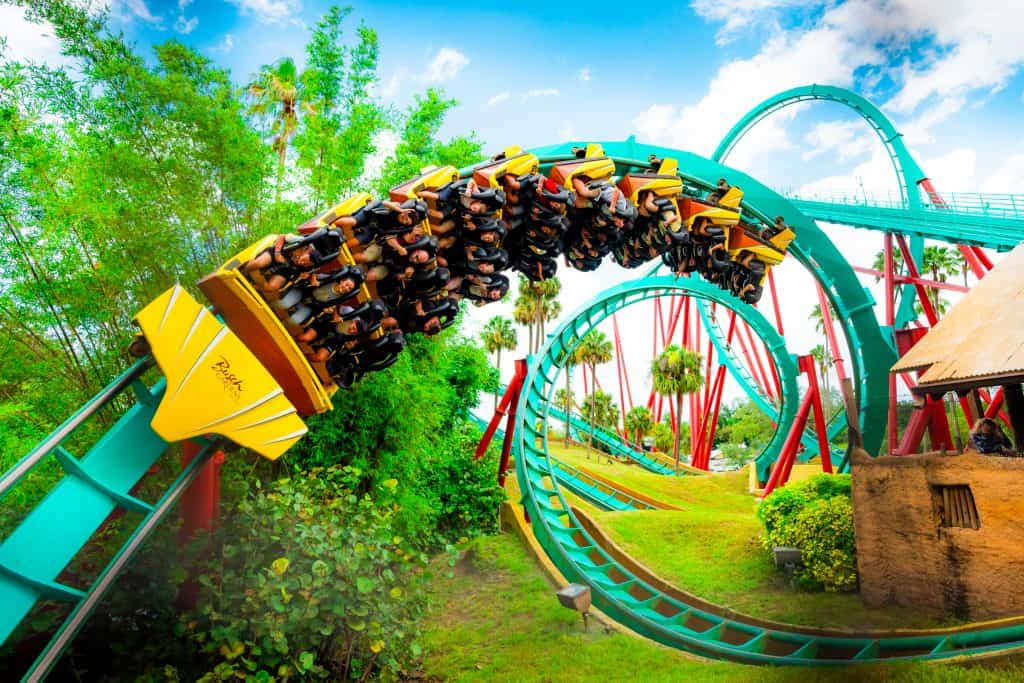 Location: Congo
Peak: 143 feet
Maximum Speed: 60 miles per hour
Thrill Factor: 3
When Kumba was first announced in 1993, Busch Gardens Tampa's goal for their third roller coaster was to set standards within the industry– and boy did it! Upon opening, it featured seven inversions and held the industry record for the tallest vertical loop at 114 feet found in a roller coaster for its time and debuted as Florida's tallest, fastest, and longest roller coaster. Kumba held these titles until the opening of Montu a few short years later. Among its list of inversions, riders will partake in a cobra roll, a zero-g roll, interlocking corkscrews, and a helix. As if that didn't satisfy your inner adrenaline junkie, Kumba's ride experience also includes moments of weightlessness.
Aside from its physical traits, Kumba has an impressive reputation that precedes it. After it opened, park attendance increased by about 13%, and park management praised it highly as it also consistently maintained high placements in the rankings among its peers. It took Fourth Place in Amusement Today's Top 50 Steel Roller Coasters the year it premiered and can often be seen among their Top 30, similar to Montu.
Comparing it to its siblings, Kumba can be called an intermediate coaster. It's not very intense but still holds some exciting traits, which makes it the perfect crossover for anyone wanting to take their coaster fandom to the next level.
Tigris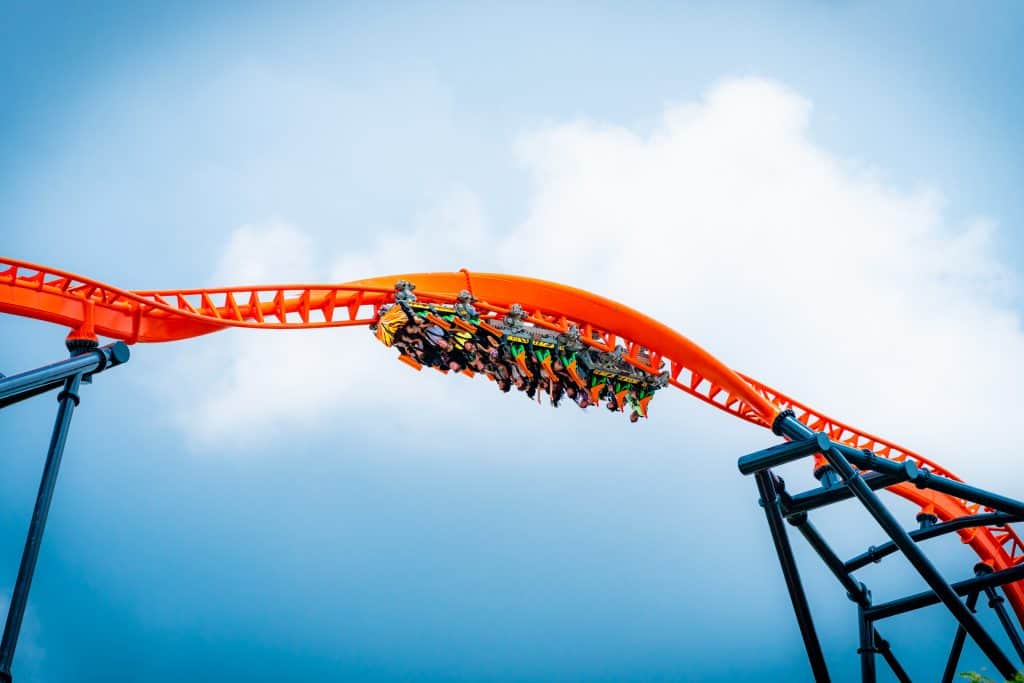 Location: Stanleyville
Peak: 150 feet
Maximum Speed: 62 miles per hour
Thrill Factor: 3
Tigris is the youngest coaster among its siblings and offers a simple, yet enjoyable experience for park guests. It utilizes a launching function and back-and-forward motion to propel their guests through an in-line twist and non-inverting loop. The attraction provides a fun experience as it completes its loop in either direction, the reverse of which feels as if you're being sent into the thrilling unknown.
When it was first built in 2019, Tigris stood as the tallest launch coaster in Florida. While that isn't the case any longer, it still holds a very close second, given its 150-foot peak. This would be a great beginning coaster for anyone venturing out of the "family-friendly" genre and wanting something just a little more thrilling.
Cobra's Curse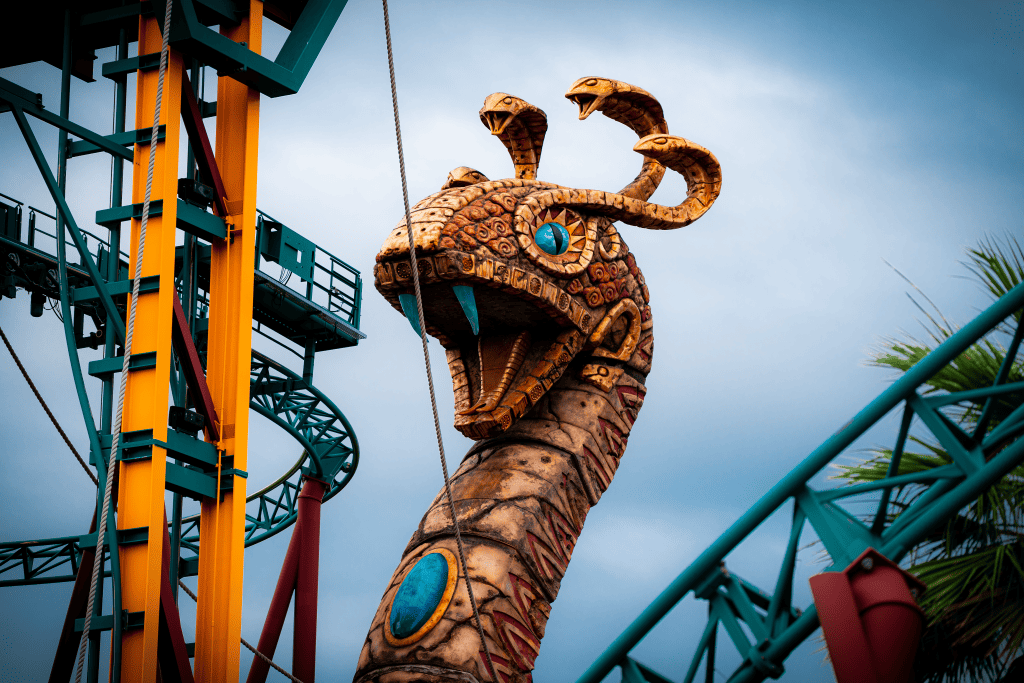 Location: Egypt
Peak: 70 feet
Maximum Speed: 40 miles per hour
Thrill Factor: 2
As one of the park's latest thrill attractions, Cobra's Curse is Florida's first family spin coaster and is unique in its own right. It's likely the most heavily themed attraction on the park's property as it features its own backstory based on King Venymyss. Put simply, Venymyss was the snake king who ruled over his kingdom benevolently. He provided his people with many blessings and was beloved until he eventually became corrupted. His people turned on him, breaking the magical statue that imbued him with his power leading him to curse anyone who would rebuild it. Flash forward to the current day and, as per theme park lore rules, guests have found themselves on an archeological expedition to do just that!
Where Cobra's Curse's family-friendly focus lacks in intensity, it more than makes up for in just about all of its other stats. In addition to its heavily themed queue, the ride's housing includes a 400 cubic foot section meant to educate visitors about snakes. This can be found in the same projection room where King Venymyss narrates the ride's backstory. After entering the ride, guests face with an 80-foot tall, 30,000 pound likeness of the snake king before enduring his curse. Once on their perilous journey, the trains' unique spinning capabilities rely on the weight distribution within each cart, making every ride experience distinct from the other.
Since it is a family coaster, this is a great introductory ride for those visiting the park with the little ones or anyone looking for low-level thrills. It provides an incredibly fleshed-out backstory and an experience that can be different each time guests ride.
Scorpion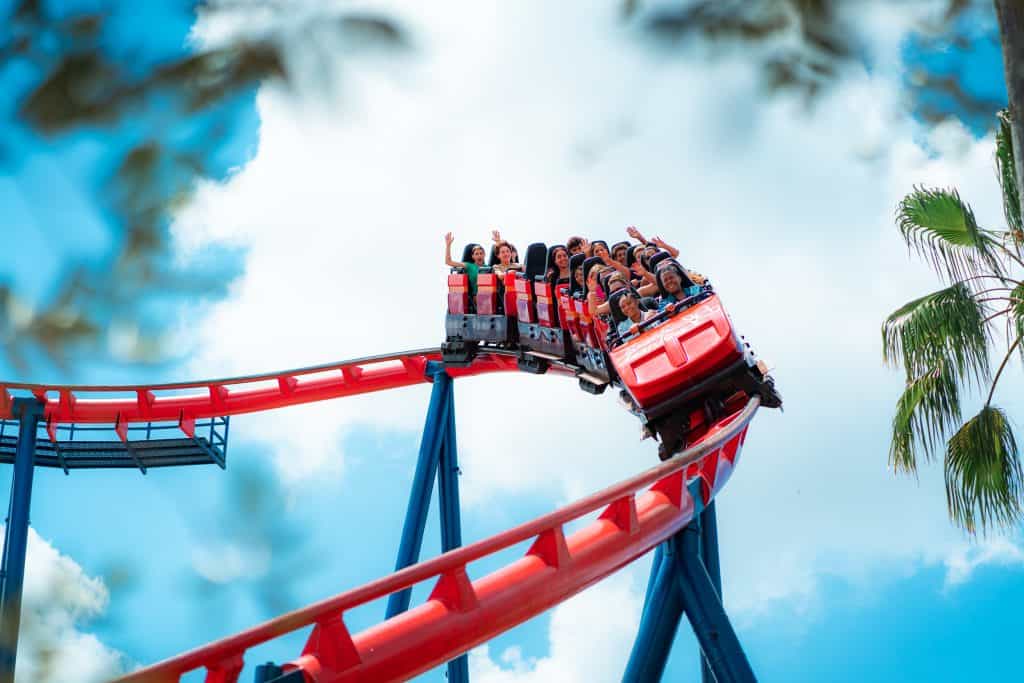 Location: Pantopia
Peak: 61 feet
Maximum Speed: 41 miles per hour
Thrill Factor: 2
Scorpion holds the title as the park's oldest standing roller coaster as it's been in operation since 1980. This gives it a legacy as Pantopia's opening attraction back when the park section was known as Timbuktu. Considering its age, Scorpion has always maintained a status as a guest favorite, which makes sense. The Pantopian beast features a 39-foot vertical loop and self-entwined pretzel twists as well as a 900-degree helix, all of which impressively within its compact footprint of 1,818 feet.
I may be biased on this one as it was where I dipped my toes into the thrill-ride fandom, but Scorpion is arguably the perfect beginner-level coaster. Its ride duration isn't very long, or too extreme as it only has a single inversion, a fun helix, and the speed will match the car ride home. If one of these attractions were to welcome you into being a coaster fiend, this would be the one to do so.
Air Grover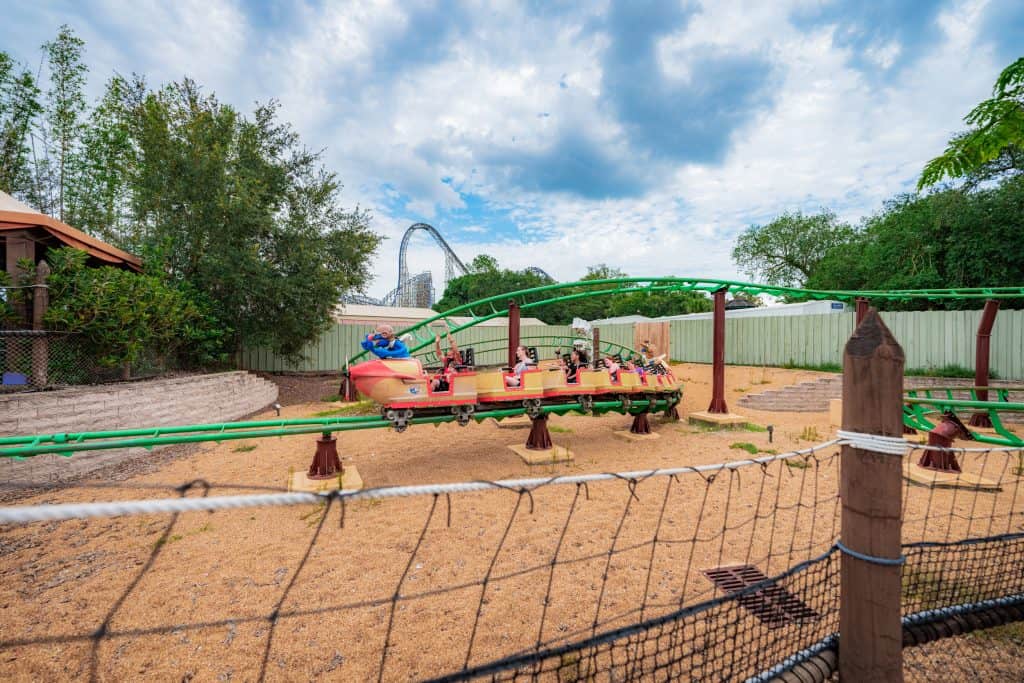 Location: Sesame Street Safari of Fun – Africa
Peak: 24 feet
Maximum Speed: 22 miles per hour
Thrill Factor: 1
Located in the park's Africa section, guests and their families will find the Sesame Street Safari of Fun. Within that division is a junior coaster themed after everyone's favorite self-described "cute, fuzzy little monster" – Air Grover! Take flight with the little ones and Grover as your trusted pilot as you embark on a fun jaunt over the desert plains. After departing the hangar, the biplane-themed train ascends to the ride's 24-foot peak and begins its tour. The track has some fun curves and tricks in its short duration. Guests will experience a 22-foot drop, tight turns at a 45-degree angle, and two helixes at 540 and 360 degrees, respectively.
It tickles me that it features Grover giving a "thumbs-up" at the head of the train as if reassuring us despite his well-intended-yet-erratic nature. As there are zero inversions and goes at a tame speed, this is another excellent family coaster attraction.
---
Create your own ranking of Busch Gardens Tampa Bay coasters by experiencing them for yourself with discounted admission purchased from Orlando Informer!
Be sure to follow Orlando Informer on TikTok, Threads,  Facebook, Twitter, and Instagram for the latest news, tips, and more at Busch Gardens Tampa Bay, Universal Orlando, Walt Disney World, and other Orlando attractions.