Preview this Page
Overview
Looking for some family-friendly holiday fun this season? Look no further than SeaWorld's Christmas Celebration, happening at SeaWorld Orlando until January 3, 2023. With so much to do, we divulge the details and break down the options for your SeaWorld holiday adventure this yuletide!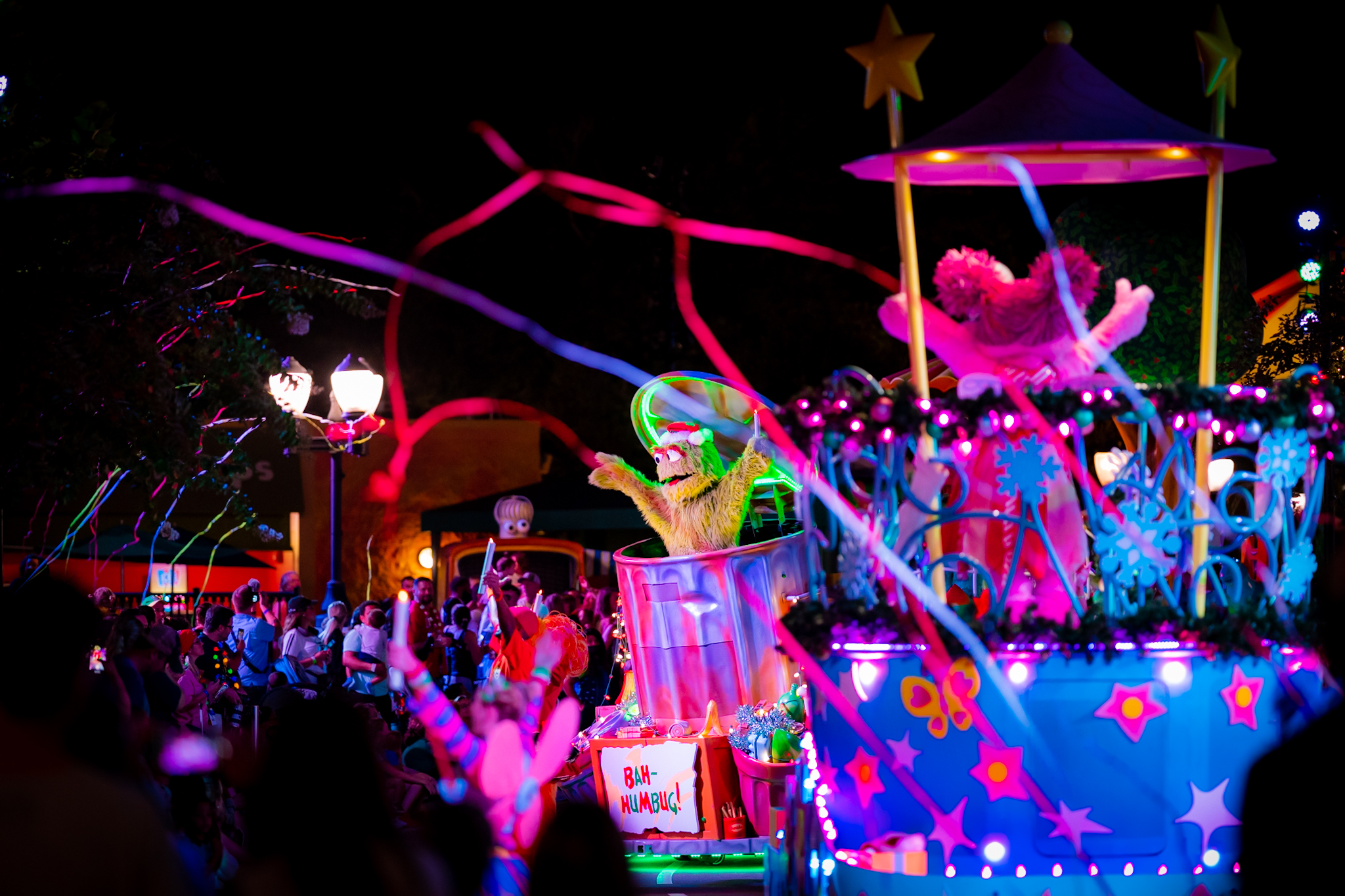 No park does the holidays like SeaWorld Orlando. Their annual Christmas Celebration is full of experiences that are sure to bring out the holly jolly spirit of their guests. Among the holiday happenings, there is a slew of festive features at SeaWorld. Annually, guests can take in the sights of millions of lights, experience snow flurries at the Waterfront Shopping Plaza, nightly fireworks at park closing, meet-and-greets with Rudolph and friends, and even chat with Santa Claus himself!
While some of these are at an additional fee, many of the park-wide experiences during the event are included with the day's admission. Since there's so much going on, we felt it worth sharing some of our favorites with you.
Christmas Town's food and beverage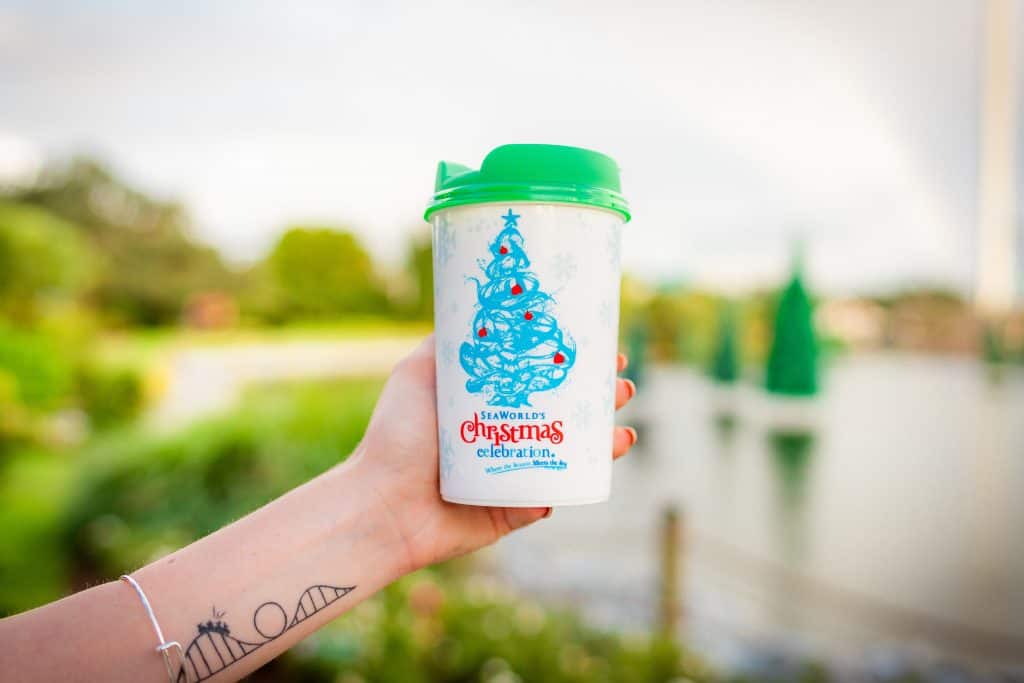 Going off the spirit of their Seven Seas Food Festival, SeaWorld has delivered an exceptional food and beverage menu across 14 market stations for the season. If you've been to this event before, you may notice the return of some old favorites and the introduction of new and enticing choices to enjoy. For instance, guests can choose a specialty flavoring of peppermint, gingerbread, or toasted marshmallow along with traditional hot chocolate. New to the beverage options this year are two choices of eggnog – at Claus Cookie Co. a frozen version can be found that the entire family can enjoy and Donut Open Till Christmas Featuring Shaka Donuts offers a "Holiday Peppermint Eggnog," a cheery twist on the beloved, yuletide beverage.
Using that as a springboard, there are four new holiday-spirited cocktails as well as a festive mocktail available. The Sugarplum Delights station's cocktail, Tis the Season, presents guests with warm notes of vanilla, butterscotch, and cola that mingle with apple cider to bring out a sensory profile reminiscent of an apple pie in a cup. Those wanting something a little more adventurous will want to set their sights on their Caramel Mule, which is essentially a Dark and Stormy cocktail with caramel and lime.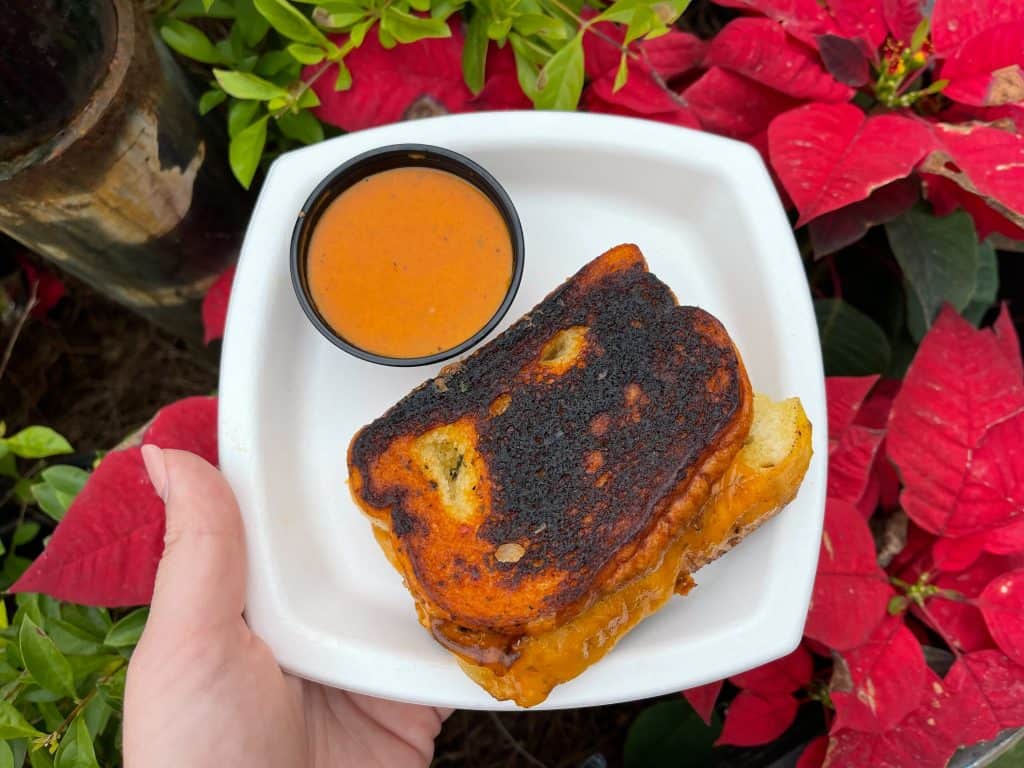 SeaWorld doesn't shy away from bringing out its best in the realm of food. This year, park-go-ers looking for a comforting meal needn't go further than the All Grown Up Birria Grilled Cheese. Its smoked and sharp cheddar cheeses are served on Texas Toast and paired with tomato dipping soup. Alternatively, The Main Event, a Thanksgiving dinner of turkey breast, Andouille sausage stuffing, cranberries, and brown gravy, offers a festive meal that warms the soul. Guests with a taste for the sweet and savory will want to stop by the Tis the Season Beignets stand. Not to be confused with the libation of the same name, it specializes in the namesake fritter and offers three different types: a savory shrimp option, as well as sweet s'mores and turtle choices.
If you're thinking there are way too many options to choose just one dish or drink, we're right there with you. To that, we'd suggest getting the Food and Brew Sampler and the refillable souvenir holiday mug. The Food and Brew Sampler offers formats of five or ten items of your choice for $40 and $55 plus tax, respectively, and are sure to be the best bang for your culinary value. Turning our focus to the holiday mug, this endearing drinkware comes with the purchase of hot cocoa at $9.49 plus tax and can be refilled at the discounted rate of $3.99 plus tax. Anyone returning to the event can do so even in the following years, so get your holiday refill on!
Shows and activities for the family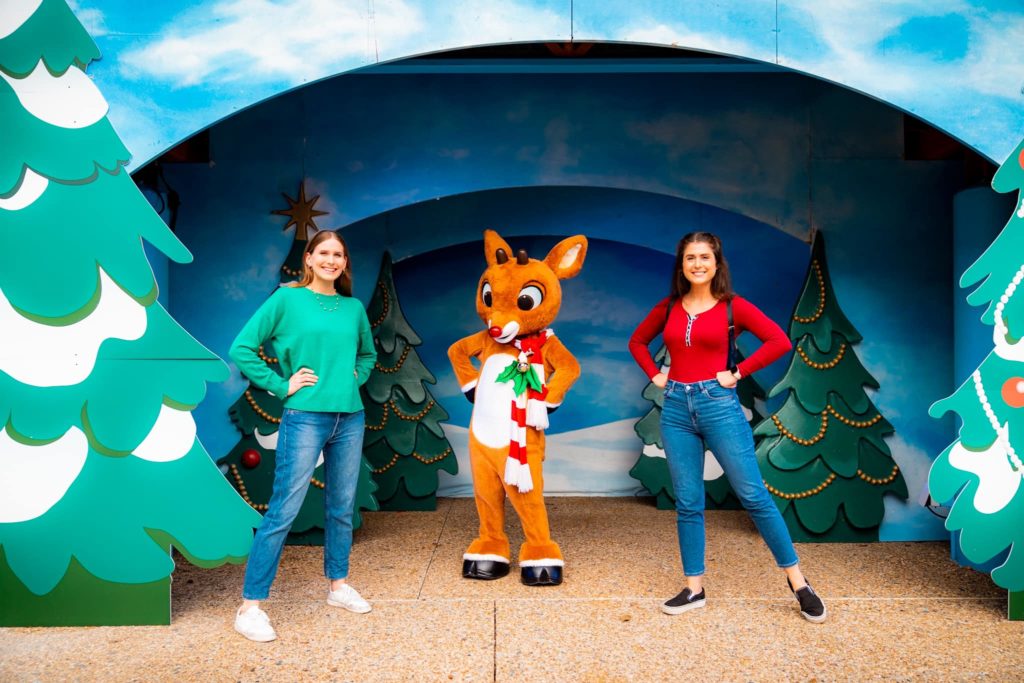 It isn't the holiday season at SeaWorld without meet-and-greets and a show or two. In Rudolph's Christmas Town, families can pass through storybook vignettes of the famous reindeer's tale as they make their way to see Rudolph, Bumble, and their friends. Visitors wanting to tell Santa what they want this year will want to traverse to the Waterfront Shoppes where he can be found among the occasional snow flurry.
SeaWorld has some amazing shows and sometimes it's not easy to see them all. If choices must be made, we'd suggest Winter Wonderland on Ice, O'Wondrous Night, and the Sea of Trees. Over the years, these shows have successfully become staples for the park's Christmas festivities. Times for the shows and meet-and-greets may vary, so it's best to check the site or app when planning your visit. Of course, you'll also want to know a little about them –
The Sea of Trees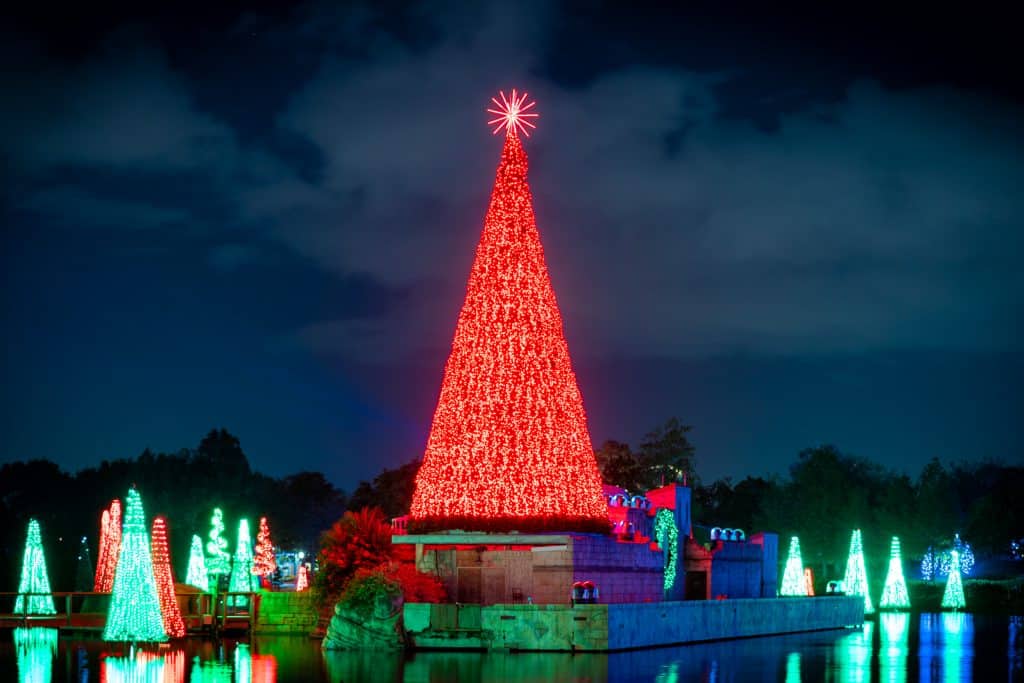 Guests from all over travel to SeaWorld at this time of year to bask in the glow of their seventy-four Christmas trees that line the park's lagoon. Their wondrous LED-lined water forest will dazzle your eyes and ears as their light displays dance to yuletide favorites. The show lasts around twenty magical minutes and occurs various times throughout the day. When I attend with my family, we'll usually settle into a spot on one of the bridges so we feel immersed in the trees, but there are plenty of great spots to see them throughout the park.
Winter Wonderland on Ice
SeaWorld's professional ice skating show takes place at Bayside Stadium and is, humbly stated, one of the best shows in any Orlando theme park. In 2021, it received the IAAPA, the global association for the attractions industry, Brass Ring Award for Excellence in Entertainment and Creativity in a Sports or Stunt Show as per the IAAPA site. Putting aside the well-deserved clout, we enjoy this show because it's a heartfelt and captivating performance. The pre-show features a violinist, and the main event incorporates the sea of trees behind the stage as well as a waterworks display while professional ice skaters perform to the notes of holiday classics. I'd recommend arriving early as it's very popular. Extra kudos to those who take in Winter Wonderland on Ice with a hot chocolate (with or without the "Jolly" added) during the night's last showing just before the park's Fireworks Finale.
O'Wondrous Night
Back by popular demand, guests can once again witness the story of the Nativity in the Nautilus Theater, as re-told through the eyes of the manger animals who were there for the first time since 2020. The biblical stage show features thirty carols sung by a live choir, live animals, and life-size puppets. SeaWorld is the only theme park in Orlando whose Christmas festivities include a show like this one. It's a charming, light-hearted, family show that guests will always remember.
Ice Skating at Bayside Stadium
If you thought Bayside Staidum's ice stage looked welcoming, you're certainly not alone. During this year's holiday season, SeaWorld brought back the opportunity for their guests to take center stage. For $15 plus tax, which includes the rental of a pair of ice skates, guests can skate where the stadium's famous show takes place for twenty minutes. Our know before you go is that gloves and crew-length socks are required to partake in this activity, and skates cannot be brought from home. If you do this in the spur of the moment, don't fret! You can purchase these items when checking in for your reserved time slot.
Christmas in Sesame Street Land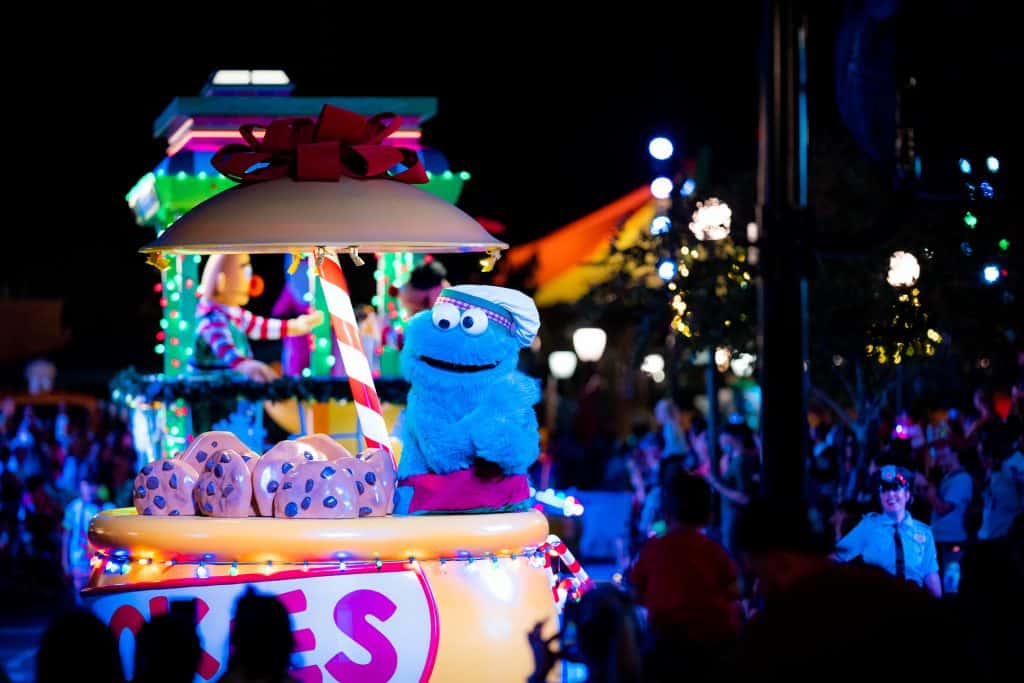 Parades aren't just for the daytime hours! As part of the Christmas Celebration's kid-friendly activities, Sesame Street Land's energetic and festive Christmas parade features everyone's favorite characters from the brand, such as Oscar the Grouch and Big Bird. During their visit, guests and their kiddos can catch Elmo's Christmas Wish starring Elmo, Cookie Monster, Grover, Zoe, and Rosita as they help Elmo find what he wants most for the holiday. It's a heart-warming show that will sure to put your family in the Christmas spirit.
SeaWorld Orlando's Christmas Celebration is going on until January 3rd. You can get your discounted admission tickets to SeaWorld at Orlando Informer. You can also discuss vacation planning with our SeaWorld Community on Facebook!