Preview this Page
Overview
Serengeti Flyer lands at Busch Gardens Tampa Bay on February 27! Read our thoughts below and purchase discounted tickets to experience it for yourself!
Jump to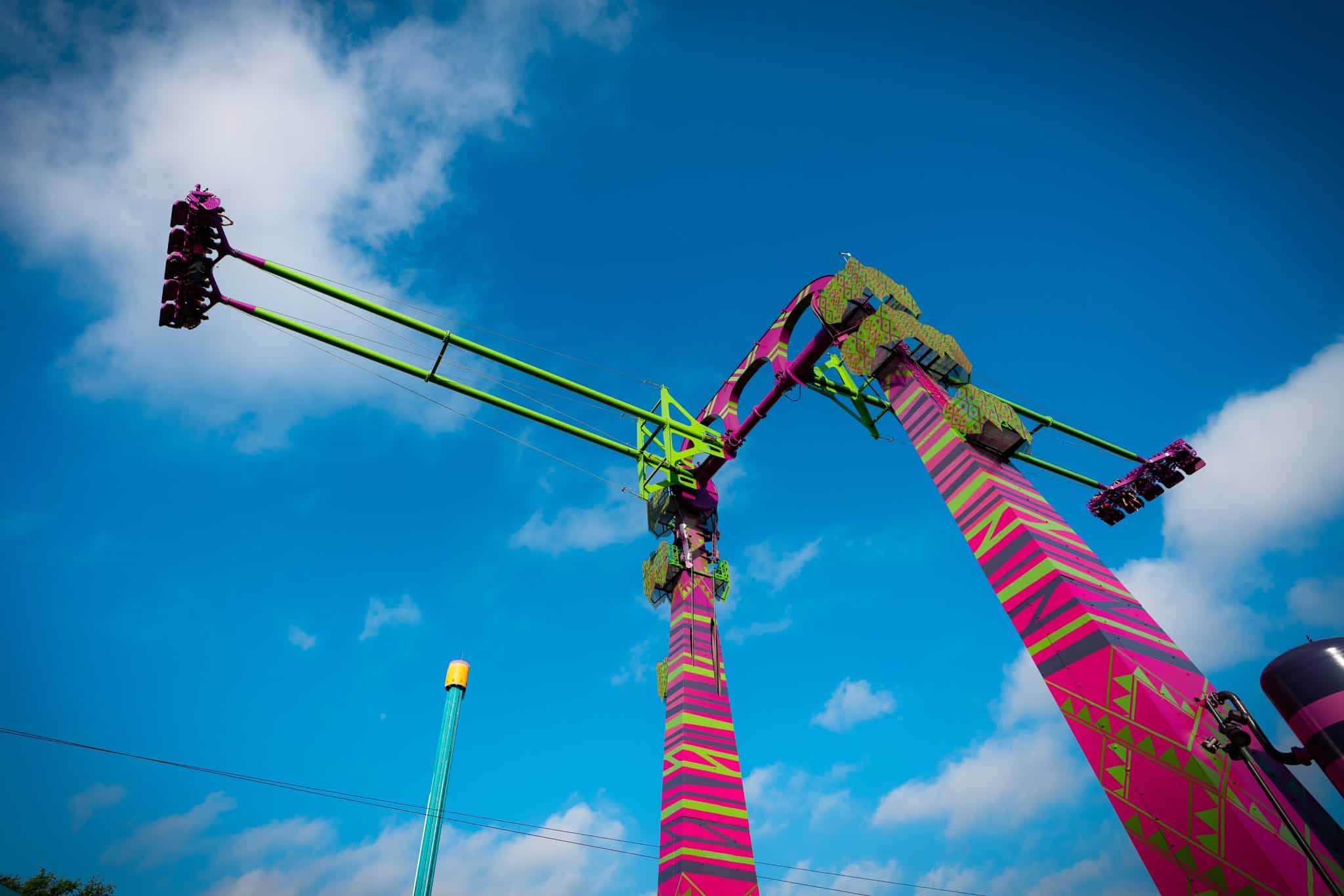 Busch Gardens Tampa Bay's newest thrill, Serengeti Flyer, will be opening on February 27 to offer a swinging good time over the Serengeti Plain. This experience was officially announced in October 2022, and we have patiently waited to soar above Busch Gardens since. We at Orlando Informer had the opportunity to fly high in the sky and check out this attraction before its official opening so we could divulge all the details about this wild ride for you!
Serengeti Flyer Stats & Experience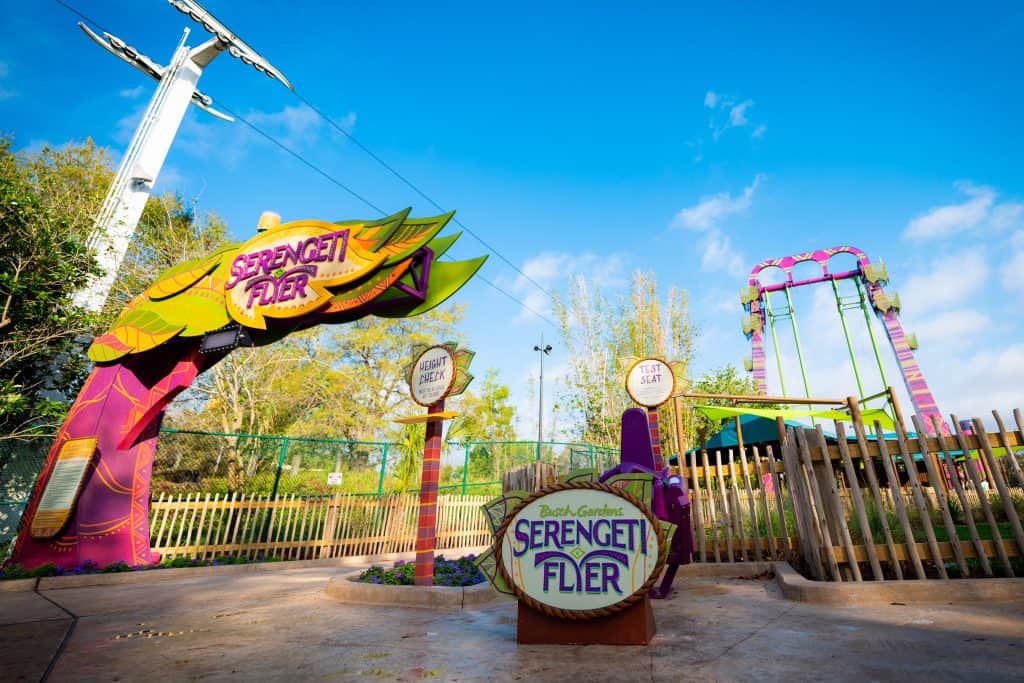 You'll notice that this ride stands tall in the skyline of Busch Gardens Tampa Bay, with its purple frame and green dueling arms that achieve a maximum height of 135 feet and reach 68 miles per hour at its peak. With back-to-back seating across the two gondolas, Serengeti Flyer can simultaneously hold 40 guests who are over 48". Once strapped in, you will begin your journey toward the sky with the attraction's movement replicating a childhood swing. With each smooth, back-and-forth motion, you venture higher and higher while experiencing negative g-force multiple times throughout the ride's duration.
Our Thoughts on Serengeti Flyer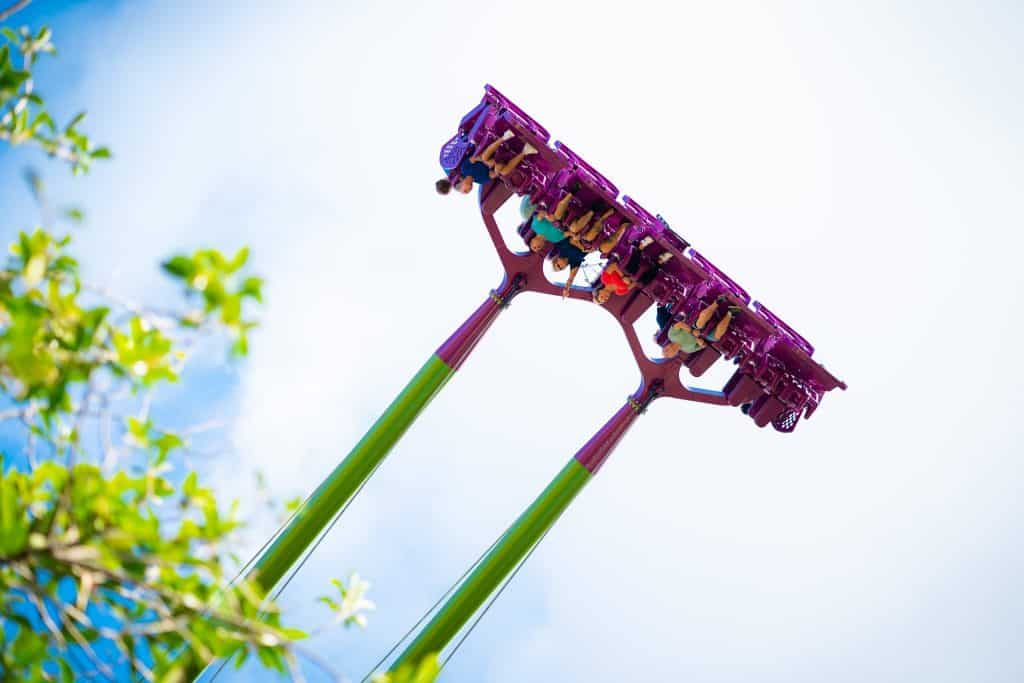 We loved this experience and are excited that this ride brings even more variety to Busch Gardens Tampa Bay's lineup. This is an excellent option for guests craving thrill but do not gravitate toward coasters like Cheetah Hunt or Tigris. Guests can clearly see the ride's path, which doesn't include any stomach-turning twists, loops, or surprises. You may be astonished when you look straight ahead and are horizontal to the Earth, but this won't last long as you will be grounded shortly following this sensation.
Your position on the ride's gondolas also slightly impacts the ride experience. Facing away from Serengeti Flyer's attraction entrance, you will get a breathtaking view of the Serengeti Plain and its residents. However, sitting in the opposite direction, you will get a new perspective of Busch Gardens Tampa Bay. This is a great excuse to ride again and again!
Serengeti Flyer is the second attraction that Busch Gardens Tampa Bay has opened within the span of a year, as award-winning Iron Gwazi opened on March 11, 2022. With two imaginative creations revealed to the public in close proximity to one another, Busch Gardens has proven that the sky is the limit when it comes to innovation.
Want to try Serengeti Flyer out for yourself? Purchase discounted admission to Busch Gardens Tampa Bay through Orlando Informer!