Back in what feels like centuries ago, I was sorted into Ravenclaw by Pottermore. I'd wanted Gryffindor, but the more I researched and learned, the sorting made sense. Ravenclaws value wisdom, cleverness, and wit, and it isn't unheard of for members of this house to be a bit eccentric or a maybe even an oddball, making them one of the more accepting houses by nature. It's no wonder, then, that the blue, silver, and bronze colors would resonate within me. Given this and my love for Universal Orlando Resort, I wanted to rediscover The Wizarding World of Harry Potter in a new way. More specifically, appreciating it as a true Ravenclaw would.
Now, it's unwise to just run into these things. Even the most jubilant occasion has to have a carefully thought plan in order for it to be successful. So, how does one experience The Wizarding World of Harry Potter as a proud Ravenclaw? Of course, you could simply go all-in on merchandise; purchasing hoodies, pins, scarves, and everything in between; and enjoy the parks, content in your fandom. That'd be fine as we all love showing our house spirit. However, for those wanting a deeper relationship, there are ways to better know The Wizarding World of Harry Potter. Before we get too ahead of ourselves here, preparations are in order.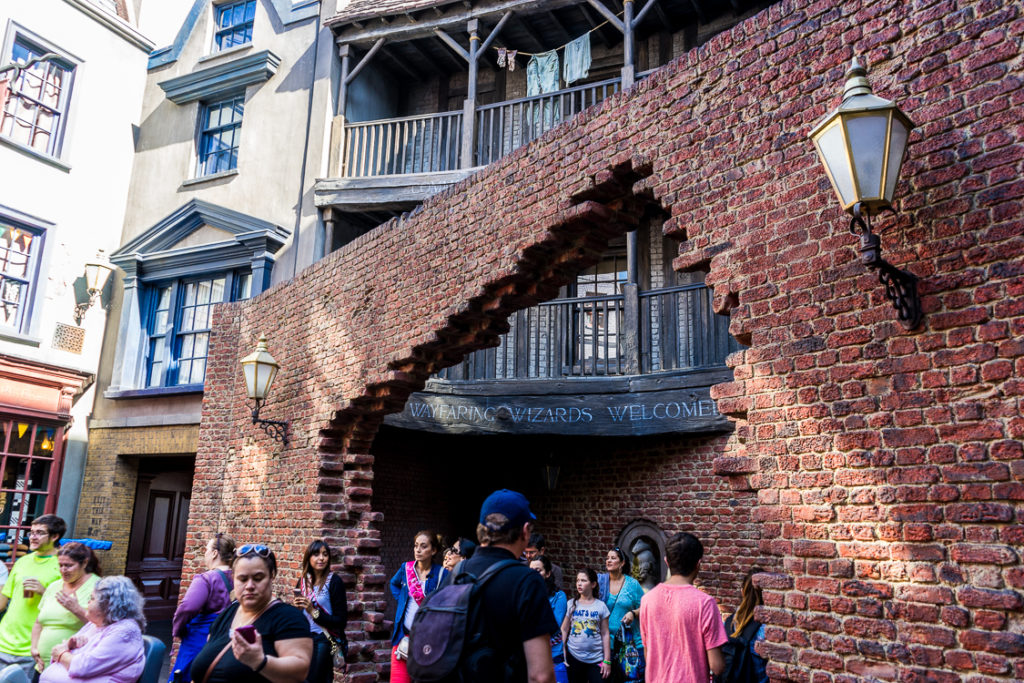 Experiences for Ravenclaws
What: Fun Facts; Easter Eggs; Spellcasting; Hagrid's Magical Creatures Motorbike Adventure
Location: Hogsmeade and Diagon Alley
As Ravenclaw students, we're an eccentric, studious lot who are inclined to know every detail about The Wizarding World. Though this would include factoids like the 7,456 bricks that make the entrance wall to Diagon Alley; the 62,000 crystals of Gringott's 4 chandeliers — the meticulous counting of each I'll neither confirm nor deny having personally done — and the fact that the Knight Bus near King's Cross is an actual movie prop from Harry Potter and the Prisoner of Azkaban, that's not what we're here for today. We're wanting the kind of brain candy that strengthens the bond with our house.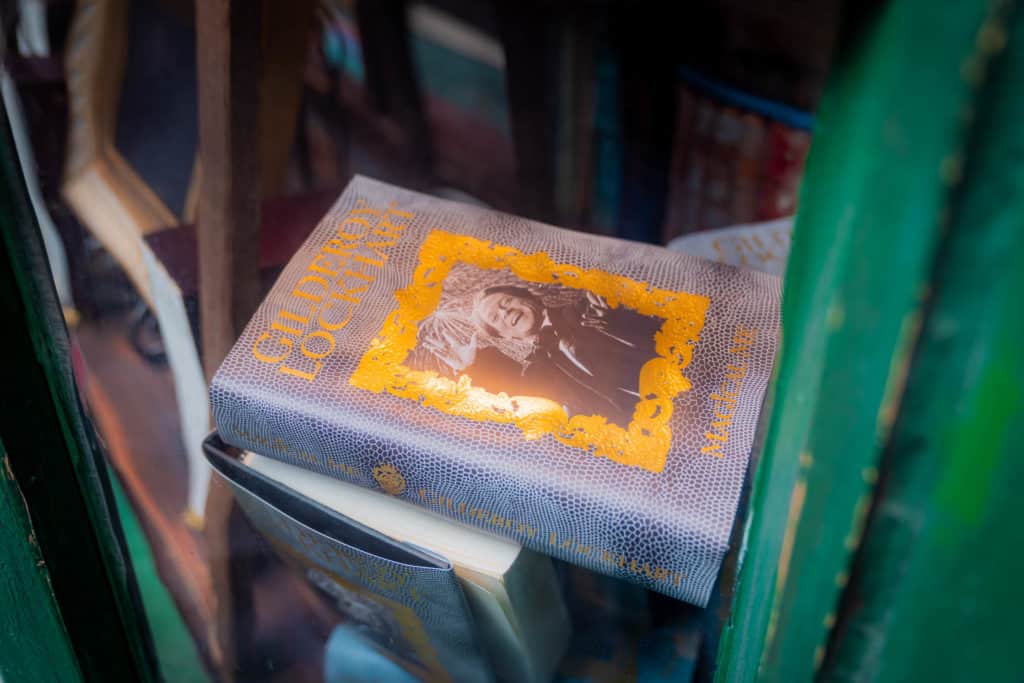 On this list is making sure to not miss items such as Ravenclaw Alum Gilderoy Lockhart's book in Dervish and Banges shop display, Moaning Myrtle playfully haunting the washrooms in Hogsmeade Village, or Rowena Ravenclaw's living portrait (the latter which can only be visited by those who take the walking tour of Hogwarts Castle). Some of these may be a little less adventurous than others, but all of them are worthwhile endeavors true to the silver and blue.
Now, here is where those interactive wands come in — as we know, throughout the grounds of both Hogsmeade and Diagon Alley, you can find golden symbols in the form of what are essentially magic compasses to show you how to use your wands to interact with The Wizarding World. The symbols will show you how to use your wand, and we know that Ravenclaws will work to cast the perfect spells. Each of Ollivander's interactive wands comes with a map depicting the 25 spell locations throughout The Wizarding World, and a stop to Knockturn Alley will reveal two, lesser-known, "secret" locations (or you can refer to our easy-to-follow guide). There's simply no better way to enjoy The Wizarding World of Harry Potter than memorizing each location by heart and becoming a master spell-caster. My favorite spell is Reparo, which can be cast on the suit of armor at the Blacksmith Shop in Diagon Alley, but there are so many that you'll easily find yours in your adventures.
Of course, no visit to Universal Orlando Resort is complete without the inclusion of a ride or show. My top recommendation would be Hagrid's Magical Creatures Motorbike Adventure. This story-coaster doubles as a special Care of Magical Creatures class conducted by the beloved half-giant and a thrilling attraction with plenty to absorb through the queue. Ravenclaws will love soaking in the queue details, which features class equipment statistics, creature information, and even tracking down the hidden pixies in each room. The ride is a fun misadventure where you'll encounter and learn about all sorts of fantastic beasts. As the perfect way to end your day, don't forget to catch The Nighttime Lights at Hogwarts Castle. This breathtaking projection show embellishes the castle with not only the colors of Ravenclaw, but each of the school's houses, showing us that no matter your sorting, Hogwarts is nothing without each house (a notion that every Ravenclaw shares).
Shopping for Ravenclaws
Where: Scribbulus; Madam Malkins Robes for All Occasions; Ollivanders Wand Shop
Location: Diagon Alley
Most will tell you Dervish and Banges in The Wizarding World of Harry Potter – Hogsmeade is famously your one-stop shop for buying all things "Wizarding." There's nearly nothing they don't have in terms of Harry Potter merch and you can even snag a poster of The Quibbler, The Wizarding World's alternative magazine published and edited by Luna Lovegood's father, Xenophilius Lovegood. However, the busy crowds found in this store could hold us back from our studies or moving about our day. On busy days like that, I recommend visiting Madam Malkin's Robes for All Occasions and Scribbulus over in The Wizarding World of Harry Potter – Diagon Alley. Sure, they're separate stores, but they're a short walk from each other and you'll find everything you need more efficiently. Fashionistas can purchase perfectly fitted school robes, seasonal attire, and even Rowena Ravenclaw's diadem at Madam Malkin's. Over at Scribbulus, you'll find quills, stamps, parchment and other academic essentials for the notes you'll assuredly take during our journey through the parks.
Finally, we need to acquire our most important item — a wand! Garrick Ollivander, The Wizarding World's most notable wandmaker, has a shop in each park. Both are just as reputable as the other, but those wanting to follow Harry's journey will want to visit the main branch in Diagon Alley. Not only is this location larger, providing a more comfortable and smoother experience, but this is also where the store is canonically located. Our house wands are limited to either Luna Lovegood or Cho Chang; but since the shop is literally owned and operated by a former Ravenclaw, whichever your favorite is will suffice. Whether the wand you choose — or, more likely, chooses you — is a birthday or limited edition wand, just be sure that it's an interactive one. Now, with our supplies gathered, it's time to fuel up.
Food and Drink for Ravenclaws
Where: Three Broomsticks, Honeydukes, Sugarplum's Sweet Shop, Hog's Head Pub
Location: Hogsmeade and Diagon Alley
The Wizarding World offers an array of culinary options suitable for any Ravenclaw to maintain our immeasurable perception. If a proper mid-day meal in the parks is what you're looking for, the rotisserie smoked chicken with corn on the cob and roasted potatoes at Three Broomsticks is the smart choice. It provides enough rounded nutrition for the day without completely befuddling us. One of my favorite snacks is a tin of Bertie Bott's Every Flavor Beans. Each flavor is different and you never know which you'll get next, adding a fun perk while taking in the sights or waiting to board the next attraction. Another quintessential treat would be a Cauldron Cake. Its size makes it perfect for a quick, delectable break between attractions and can be easily consumed on-the-go. I like to think of its reusable, silicone cauldron framing as a cheeky representation of our bookish tendencies and I love that it comes with the recipe so you can remake it at home. Either of these can be found at Honeydukes or Sugarplum's Sweet Shop for your enjoyment.
Enjoying a mug of Butterbeer is essential when you're visiting The Wizarding World of Harry Potter. However, as much as the parks do their best, obtaining this fan-favorite specialty drink can be a hassle. My time-saving hack is getting mine from the Hog's Head Pub in Three Broomsticks in Hogsmeade. They are rarely very busy and their staff is exceptionally friendly. Alternatively, if timed right, the Hopping Pot in Diagon Alley can be a more rewarding option. There may be a mild line, but you can grab your favorite type of Butterbeer here. Bonus points from this writer will be awarded to the students who opt to have their Butterbeer served warm in a souvenir tankard, as is canon in the stories.
---
Be sure to also check out our other guides for each Hogwarts House as well as our Universal Orlando Vacation Planning Guide. Follow us on Facebook, Twitter and Instagram for the latest news, tips and more at Universal Orlando, Walt Disney World and other Orlando attractions.