There's plenty to cover at Busch Gardens Tampa Bay. So much, in fact, that we've outlined the rides and attractions here for you to look over. Busch Gardens is known for its big coasters and high thrills, but the park has so much more to offer than that. There's an entire land dedicated to Sesame Street, which is predictably full of little rides and charming shows that delight guests of all ages. Visitors can also take a break between rides to view animals up close and learn about them from the knowledgeable Busch Gardens staff. Peruse this guide page to see which rides and attractions are must-do's on your trip to Busch Gardens Tampa Bay!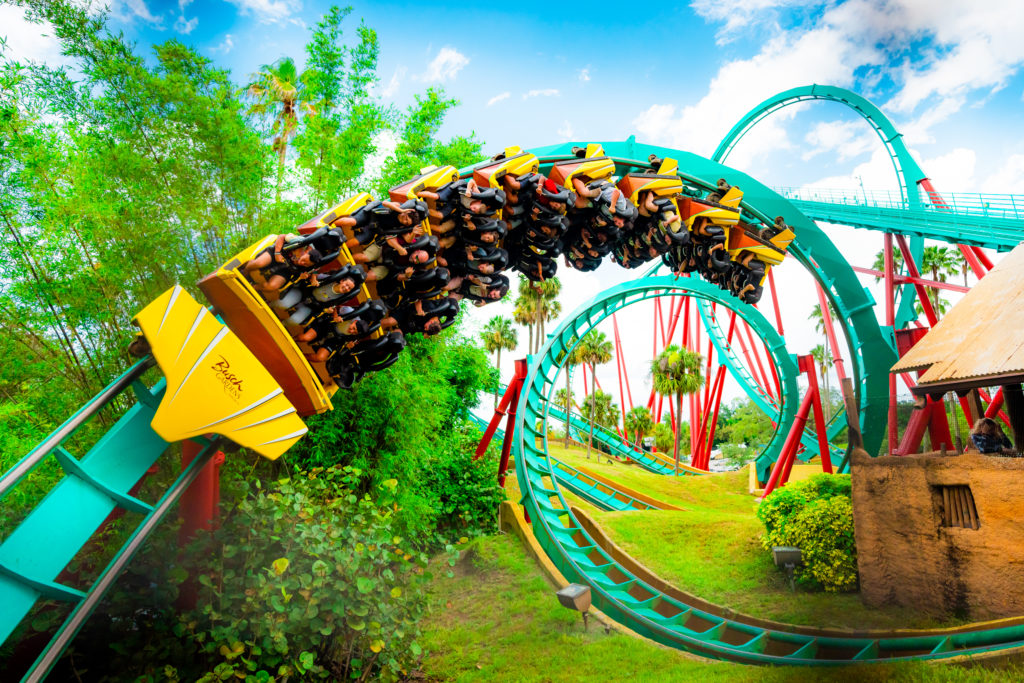 Morocco
Myombe Reserve
Here, you can come face-to-face with Chimpanzees and Gorillas, our closest ape relatives! Learn about their behavior and the challenges they face in the wild during your walkthrough of the Myombe Reserve.
Iron Gwazi
Iron Gwazi combines wood and steel in its coaster design to plummet riders from a peak of 206 feet at speeds up to 76 miles per hour.
Sesame Street Safari of Fun
This is the best place in the park to take your little ones. With kid-friendly activities and attractions, Sesame Street Safari of Fun delivers on every level.
Air Grover
Air Grover is the perfect starter coaster for the youngin' in your family. Riders must be at least 38" to ride.
Elmo's Treehouse Trek
Kids of all ages can play in the treeline in Sesame Street Safari of Fun. Infants must be accompanied by someone 14 or older. It's a great deal of fun!
Elmo's Safari
Join in on a sweet carousel ride with Elmo and his friends. All ages are permitted, but infants must be accompanied by someone 14 or older.
Rosita's Djembe Fly Away
A small carousel swing, this ride is perfect for little ones to tackle on their own. Kids must be 42" to ride, and no infants are allowed.
The Count's Zambezi Rally
The Count's Zambezi Rally is the perfect race track for your little ones. Children must be under 56" to ride. Infants not permitted on the race track!
Big Bird's Whirly Birdie
Those under 56" can hop on Big Bird's Whirly Birdie and ride around in a bucket seat. No infants permitted.
Snuffy's Elephant Romp
Hop on an elephant to go up and down on Snuffy's Elephant Romp. Children must be between 36" – 56" to ride unaccompanied. Children under 36" must be accompanied by someone 14 years of age or older.
Zoe-Patra and the Hippos of the Nile
The Hippos of the Nile is a short and sweet water ride. With one hill, it's the perfect starter for your little one to see if they are ready for some bigger stuff! Children must be between 36" and 56" to ride.
Bert & Ernie's Watering Hole
Bring a change of clothes! With no height or age restrictions, this splash pad is the perfect place to spend your afternoon at Busch Gardens Tampa Bay.
Telly's Jungle Jam
A smaller playground area, little ones can enjoy Telly's Jungle Jam without any age or height restrictions. Come play in the shade!
Cookie Monster Canopy Crawl
Climb through tunnels and traverse rope bridges in Cookie Monster's Canopy Crawl. Infants are not permitted, and adults must be accompanied by a child.
Cookie Monster Cloud Bounce
This giant bouncing area is completely covered and shaded – and when we say it is a giant bouncing pad, we mean it! Children must be under 56" to play in the bounce area, and infants are not permitted.
Stanleyville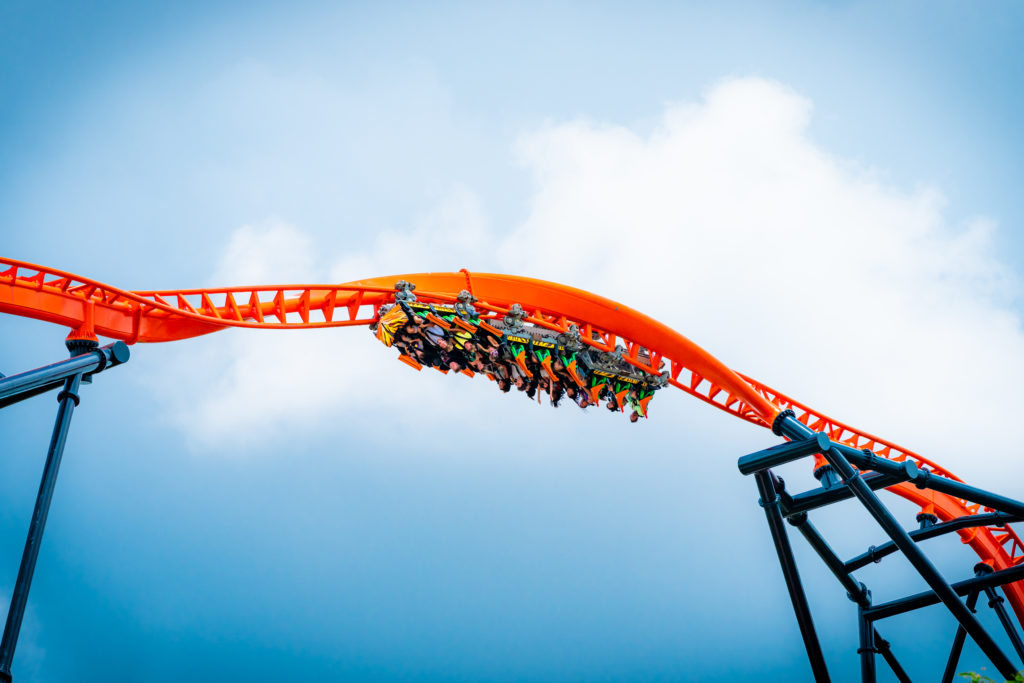 Tigris
Named after the jungle cat, but sharing a name with the famous river in the Fertile Crescent, Tigris sends you on an adventure. Forward and backward motion (and twisting loops) provides one of the more unique experiences at Busch Gardens Tampa Bay.
Stanley Falls Flume
Stanley Falls Flume is a log flume ride that's perfect for guests looking to have a little fun without having to embark on a big thrill ride.
SheiKra
This is the floorless coaster famous for its 90-degree drop from 200 feet up. If you're a thrill seeker, this is the one for you!
Congo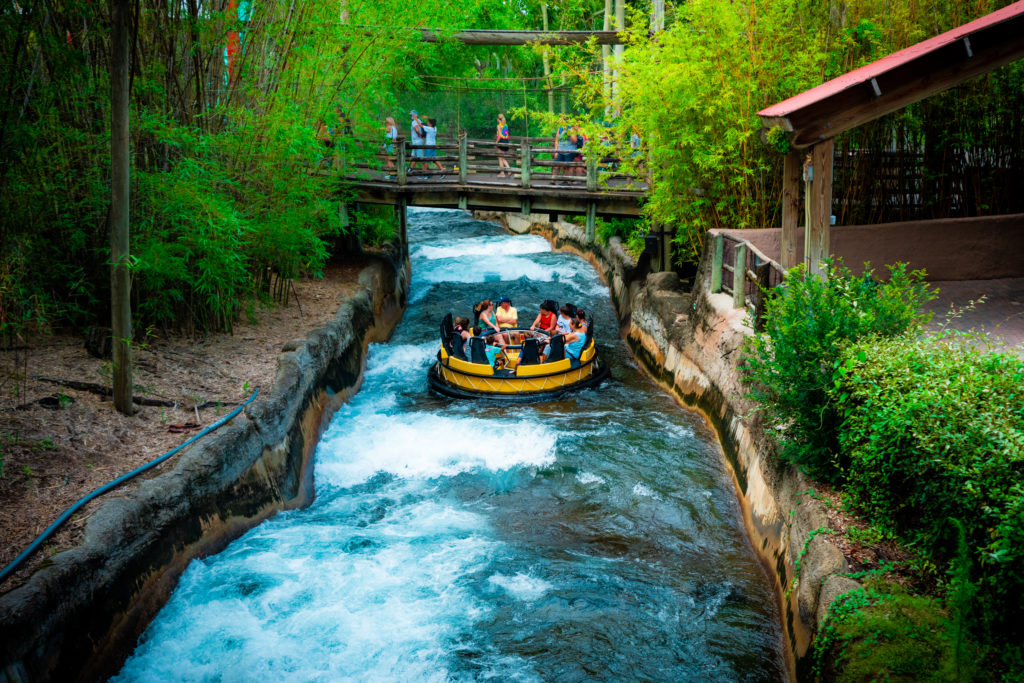 Congo River Rapids
A classic raft river adventure, Congo River Rapids is the best way to cool off in the middle of the day at Busch Gardens Tampa Bay.
Kumba
One of the top-rated coasters in the world, Kumba puts guests through a diving loop that gives a feeling of complete weightlessness for 3 seconds.
Pantopia
Falcon's Fury
Mark it as the scariest ride in the park. Guests are taken – slowly, slowly – up 335 feet before they are pivoted to be face-down. After a few agonizing seconds, you are dropped back to earth. 
Phoenix Rising – Opening Spring 2024
Hop on this family-friendly, suspended coaster that'll have you reaching speeds of up to 44 miles per hour while covering a distance of 1,831 feet. Phoenix Rising will be the first Busch Gardens Tampa Bay coaster to feature onboard audio that will have you riding to a one-of-a-kind soundtrack.
Serengeti Flyer
Soar above the Serengeti Plain with each swing of Busch Garden's Tampa Bay's newest attraction. You'll reach speeds of 68 miles per hour and experience multiple negative-G moments as you reach a maximum height of 135 feet.
Scorpion
Boasting a classic (but these days, rare) 360-degree loop, Scorpion takes guests on a short but sweet spin.
Serengeti Outpost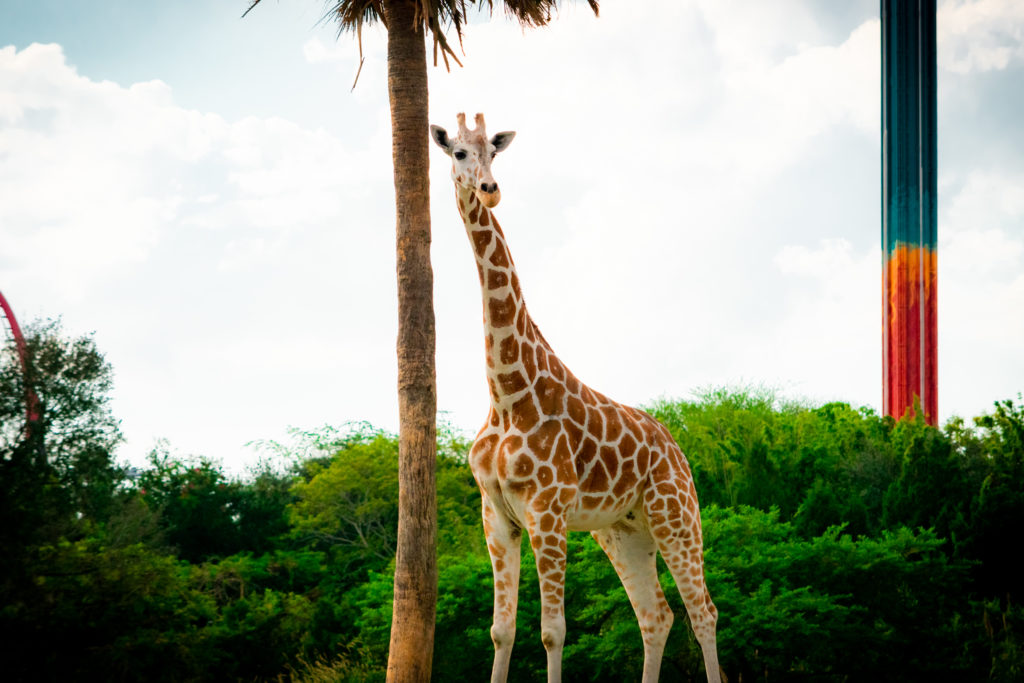 Serengeti Plain
The Serengeti Plain houses a number of animals for guests to see while on their train tour. Lions, giraffes, zebras, and gazelles are all some of the animals that call Busch Gardens home. This is a separately-ticketed attraction, and guests must purchase tickets and make reservations online. Ticket prices range from $39.99 – $69.99.
Egypt
Montu
Named after an Egyptian God with a hawk's head, this coaster reaches heights of 150 feet and speeds of 60 mph. Hang on!
Cobra's Curse
If you're looking for a ride you won't forget – this is the one! With a unique ride mechanism, Cobra's Curse is both thrilling and enthralling.
Skyride – Temporarily Closed
This cable car lift ride is a classic ride vehicle and a great way for the whole family to see the park. With loading and off-loading between Egypt and Congo, this is also a good way to get across the park and rest your legs.
Cheetah Hunt
The longest coaster at Busch Gardens Tampa Bay, Cheetah Hunt boasts 3 launches to mimic the speeds and energy of a cheetah on the hunt.
Nairobi
Serengeti Express (in addition to stations in Congo and Stanleyville)
Nairobi is a quaint section of the park that houses the Myombe reserve. Here, guests can see gorillas and tortoises. The Serengeti Express has a station here in addition to having stations in Congo and Stanleyville.
---