Vegetarians and vegans rejoice! This year's Halloween Horror Nights brings frights, fun, and the most extensive variety of vegetarian and vegan food to date. This guide will help you quickly navigate through your options so you can satiate your hunger and continue on your HHN journey. After all, it is never a good idea to scream on an empty stomach!
Prepare for your night of fear by purchasing discounted admission to Halloween Horror Nights through your pals at Orlando Informer!
Vegetarian Dishes
Mozzarella Arepas – $8.49
Music Plaza, Food Trailer
For a great snack to take on-the-go toward your next scare zone or haunted house, try the Mozzarella Arepas, which are cornmeal cakes filled with shredded mozzarella, mayo-ketchup, and cilantro.
Twisted Taters
Gramercy Park, Near Park Plaza Holiday Shop
Twisted Taters are a classic Halloween Horror Nights treat, and we are ecstatic that Universal Studios Florida has three delicious vegetarian options this year! Enjoy this iconic spiraled-potato snack with either Garlic Parmesean or Sour Cream & Chive for $8.99. If you want to add a bit of spice to your twisted taters, try the Fiery Twisted Tater with Queso for $9.99!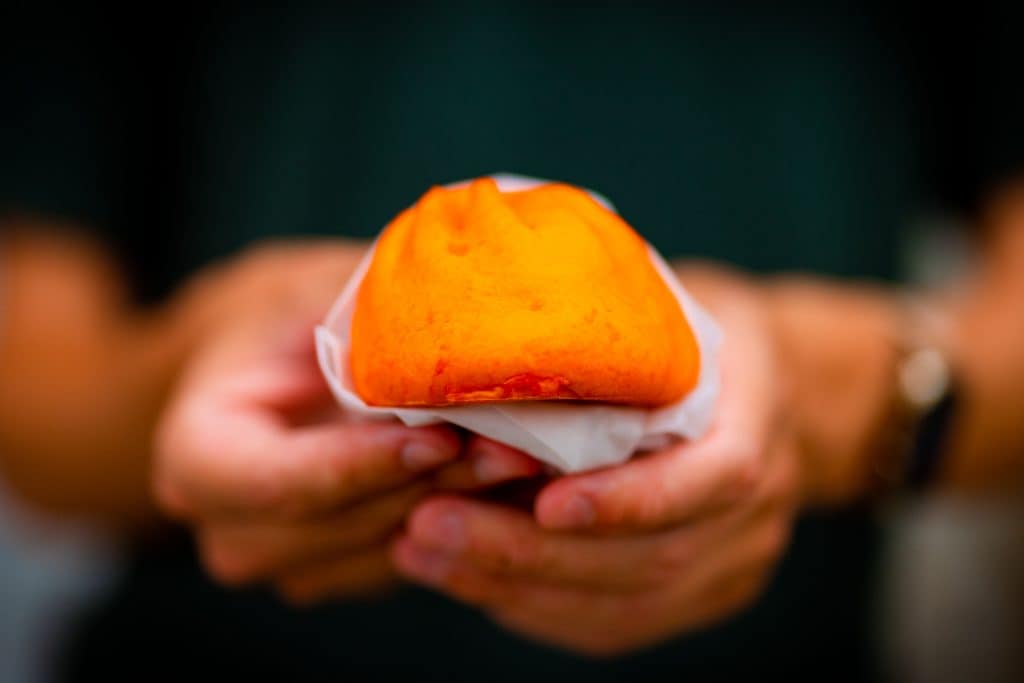 Lil' Boo Spicy Pumpkin Bun – $6.49
Gramercy Park, Near Finnegan's Bar & Grill
Dedicated to our favorite little pumpkin, this Lil' Boo-inspired snack is a bao bun with a spicy butternut squash filling that makes for an easy handheld treat traveling through HHN.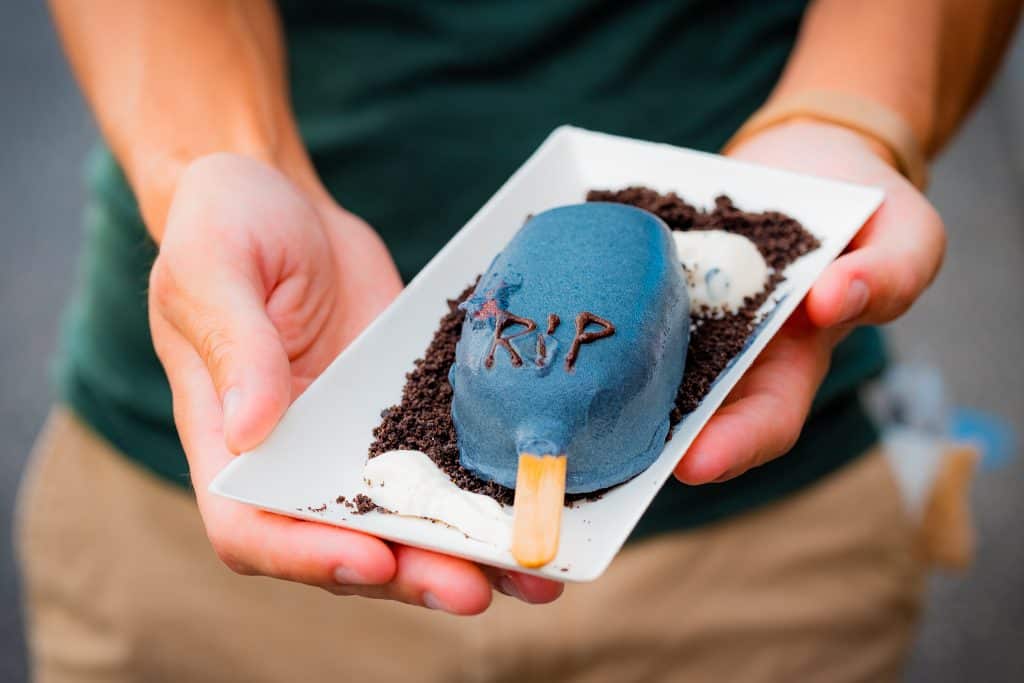 Tombstone Red Velvet Cake Pop – $5.99
Gramercy Park, Near Finnegan's Bar & Grill
Wanting to satisfy your sweet tooth? This red velvet treat in a tombstone shape takes the cake with its classical Halloween theming and delectable taste.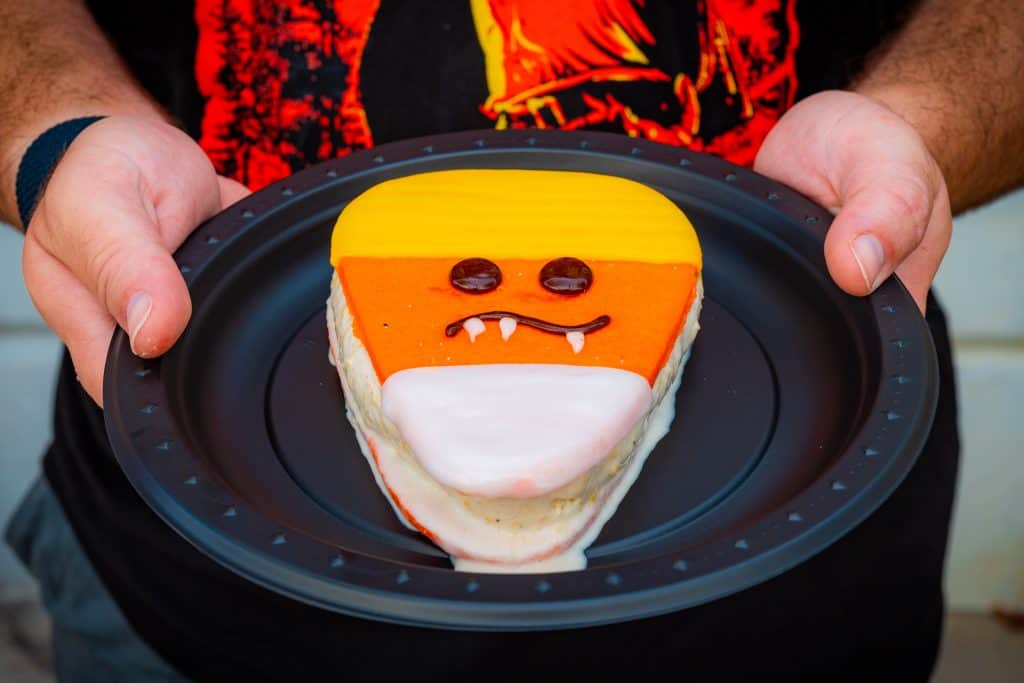 "Major Sweets" Ice Cream Sandwich – $6.99
Gramercy Park, Near Finnegan's Bar & Grill
This adorably personified, candy corn, ice cream sandwich is another delicious vegetarian-friendly dessert offering. While the temperature still tends to rise in Central Florida well into the autumn months, this is a great option to cool yourself down and stay in the Halloween spirit.
Fried Oreos – $9.99
Gramercy Park, Near Bone Chillin'
Next on our list of Halloween Horror Nights fare is a traditional fair treat! Take a bite out of these vegetarian-approved fried oreos for a quick snack.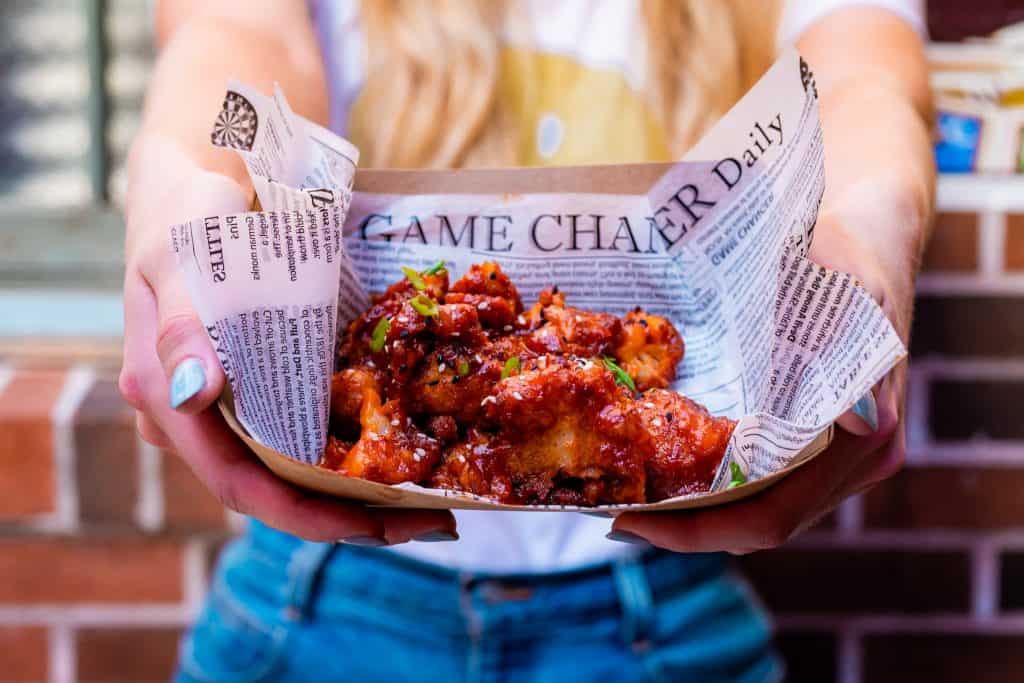 Fried Zombie Brains – $8.99
New York, Meetz Meats
Don't let the butcher-inspired decor of this stand fool you! One of our favorite dishes from this year's festivities is the Fried Zombie Brains from Meetz Meats. Devour these cauliflower florets tossed in gochujang sauce and topped with sesame seeds and scallions.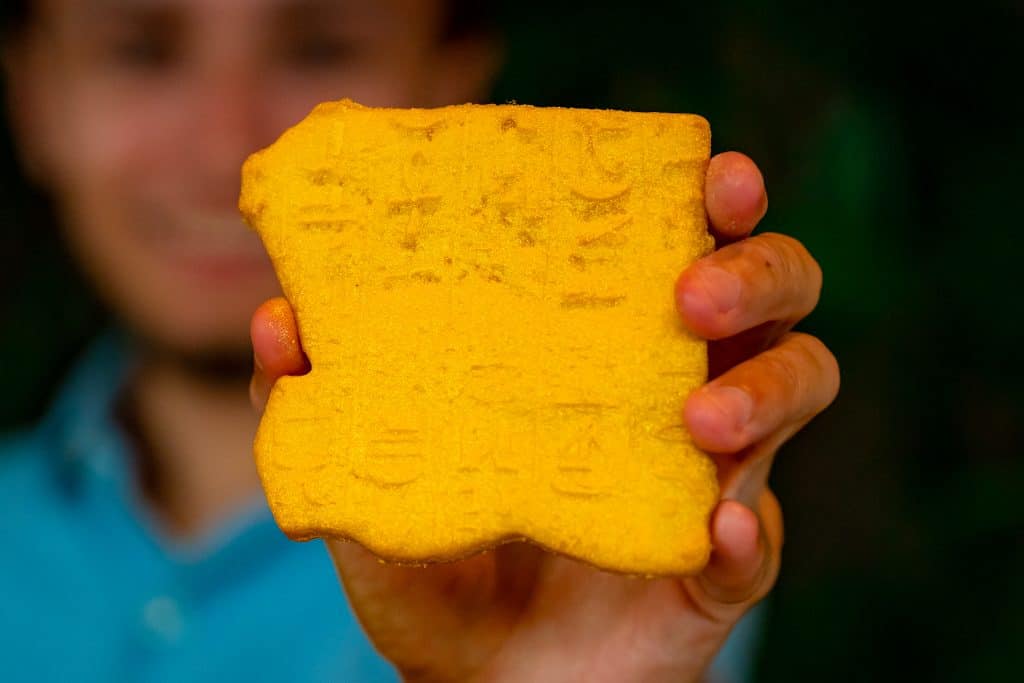 Mummy's Curse Tablet Cookie – $3.75
KidZone, Universal Monsters
This dessert is a perfect pairing with the haunted house, Universal Monsters: Legends Collide. After watching the scrimmage between The Mummy, The Wolf Man, and Dracula, pick up this cookie to keep in the Universal Monsters spirit.
Vegan Dishes
No "Chance" in Hell PB&J – $14.99
Gramercy Park, Near Bone Chillin'
Returning from the 2021 season, the No "Chance" in Hell PB&J is back at Halloween Horror Nights with a vegan twist. The hot honey that was previously included in this item has been swapped for maple syrup, making this dish plant-based friendly.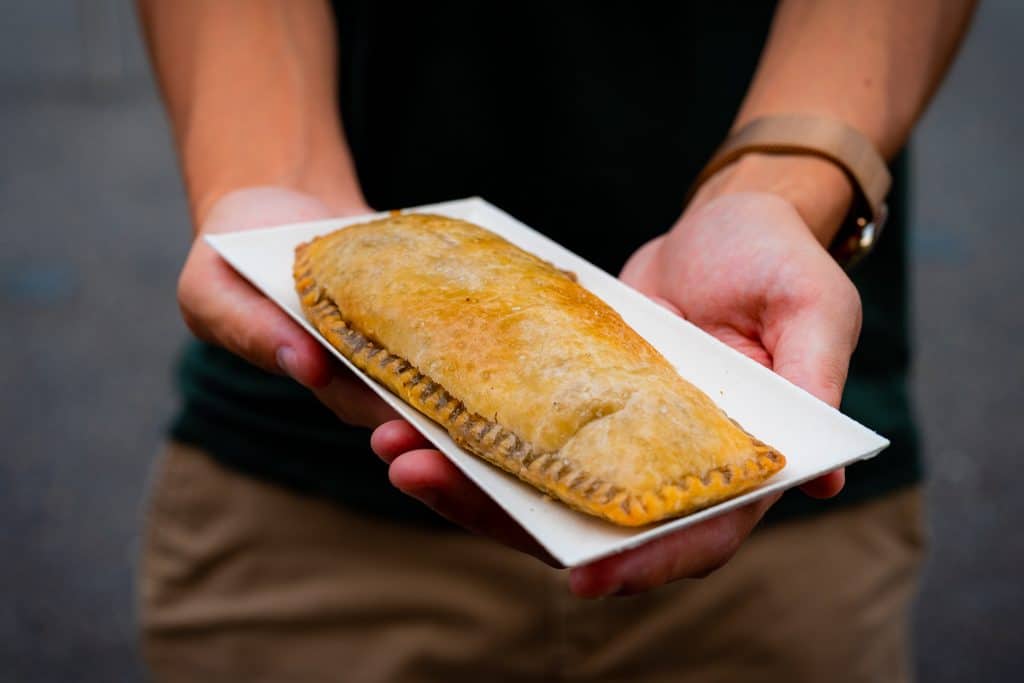 African Lentil & Potato Sambusa Coffin – $6.99
Gramercy Park, Near Finnegan's Bar & Grill
Enjoy a savory treat during your evening of screams with a coffin-shaped pastry filled with African lentils, potato sambusa, carrots, onions, and garlic.
Twisted Taters – $8.99
Gramercy Park, Near Park Plaza Holiday Shop
As mentioned previously, Twisted Taters are a staple Halloween Horror Nights dish. Vegan options are available this year with two topping choices. My plant-based friends, you are welcome to choose between salt or ghost pepper if you want to walk a bit more on the spicier side.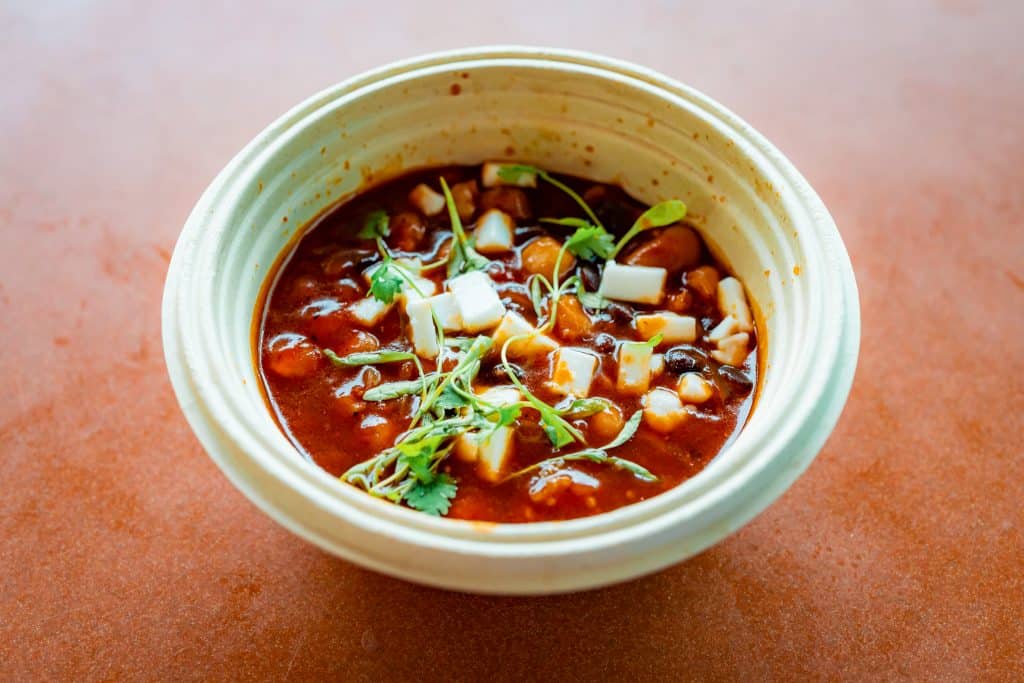 Chili Lee Ray – $7.49
Springfield, U.S.A., Chucky
This vegan chili is a hearty and filling option to enjoy during your night of horror with its combination of quinoa, hominy, and vegan cheese.
Vegan Pizza Fries – $10.99
KidZone, Kidzone Pizza Company
What is Halloween Horror Nights without pizza fries? We are thankful that the chefs at Universal Studios Florida have created a plant-based option for vegan guests to enjoy in this HHN tradition as these French fries are topped with vegan cheese, pepperoni, and sausage crumbles.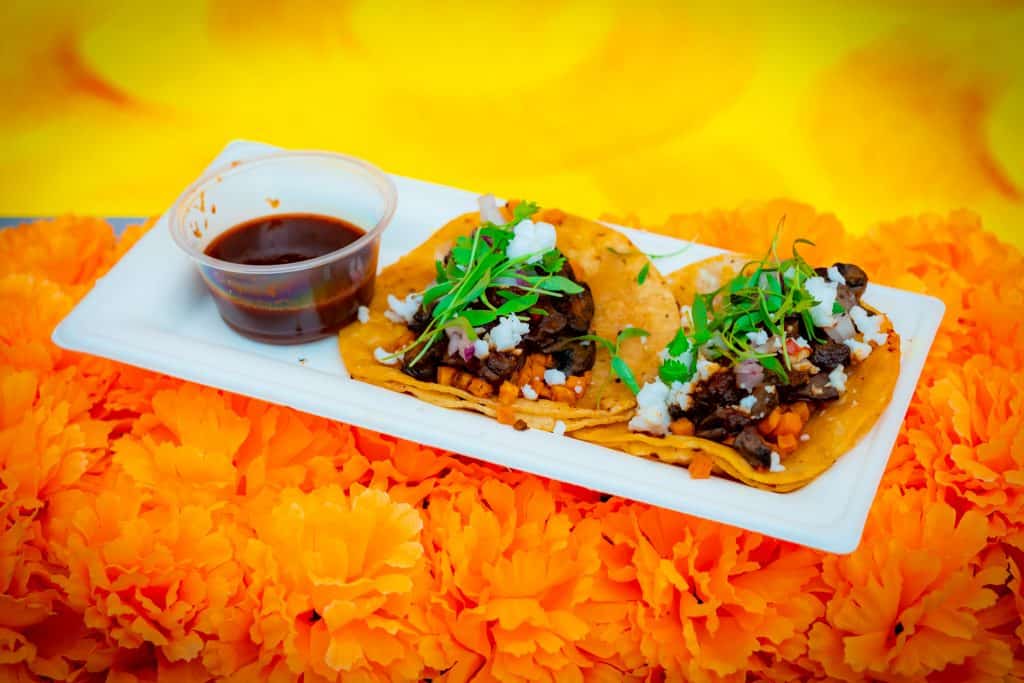 Roasted Sweet Potato & Mushroom Street Tacos – $8.29
Hollywood, Día de los Muertos
A must-stop for HHN vegan visitors is the food stand near Café la Bamba. This stand has the largest variety of plant-based offerings available for your event evening at Universal Studios Florida. These tacos are filled with roasted sweet potatoes and mushrooms and topped with vegan cheese and cilantro.
Día de los Muertos Popcorn – $24.99
Hollywood, Día de los Muertos
Looking for a unique Halloween Horror Nights souvenir? Pick up this spicy popcorn served in a beautiful skull-shaped popcorn bucket.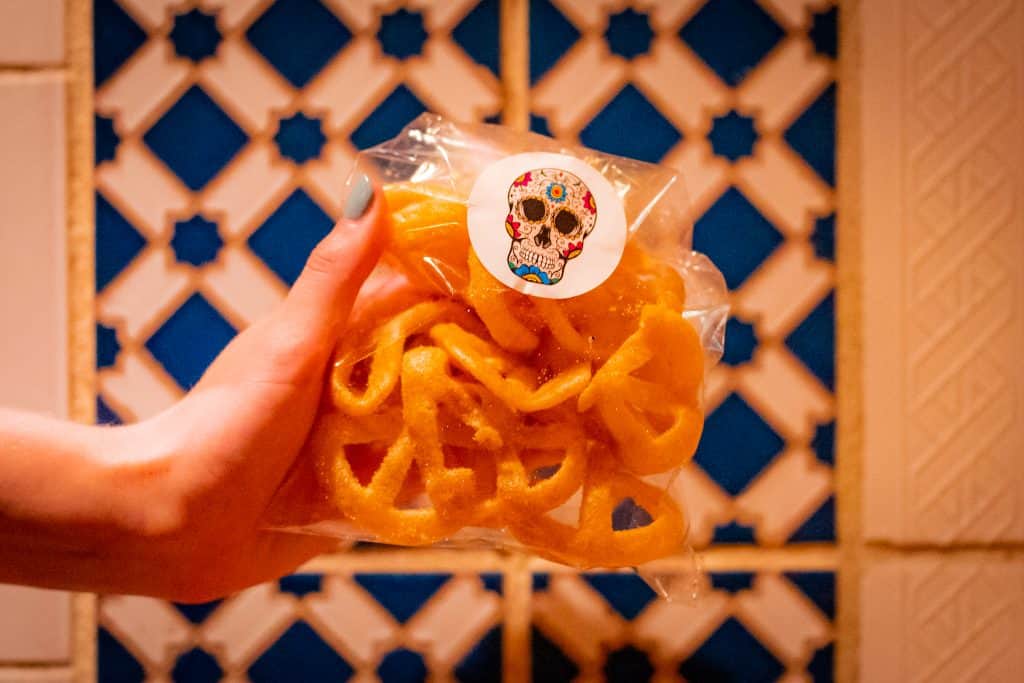 Chicharrones de Harina con Azúcar y Canela – $4.29
Hollywood, Día de los Muertos
Deep fried and tossed in sugar and cinnamon, these pinwheels are a delicious, sweet snack option to munch on while enjoying a stroll through a scare zone.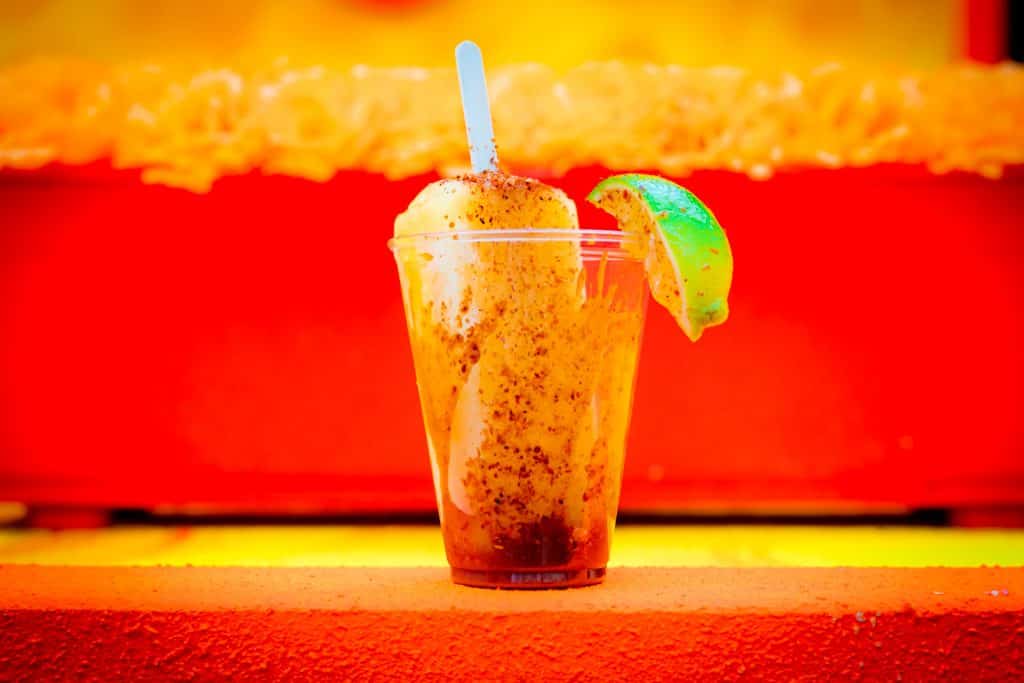 Magnolia Popsicle – $5.49
Hollywood, Día de los Muertos
Sweet and spicy are a perfect match in this mango popsicle topped with tajin spice. The chill of the mango popsicle will cool you down during a toasty Florida evening, while the tajin spice brings some of the heat!
We hope you enjoy the expanded list of vegetarian and vegan options for Halloween Horror Nights 2022! For a full summary of food and beverage offerings, you can visit our Halloween Horror Nights Food Guide.
Discounted tickets to Halloween Horror Nights are available to purchase in advance via Orlando Informer.