I recently spent a visit at Busch Gardens in Tampa, FL. I visit the Orlando parks on a weekly basis, but since moving to Orlando I haven't taken the trip to Busch Gardens. Being just over a one hour drive from the Orlando attractions, it seemed like making this trip was past due.
I had a goal in mind to visit every major animal attraction and ride in one day. It was just my wife and I traveling so we skipped the kid rides/attractions for the most part. In order to accomplish my goal, I designed what I thought to be a pretty comprehensive touring plan for the park — to view a PDF copy of our plan, click here.
Being roller coaster enthusiasts we wanted to get to Cheetah Hunt first thing. We got on right away, and since it's relatively close to the entrance to the park it was a sensible choice. Cheetah Hunt is a very good coaster; in fact it's probably the smoothest coaster I've ever been on. It features three separate speed boosts throughout, reaching speeds of 60 mph, and is much longer than it looks.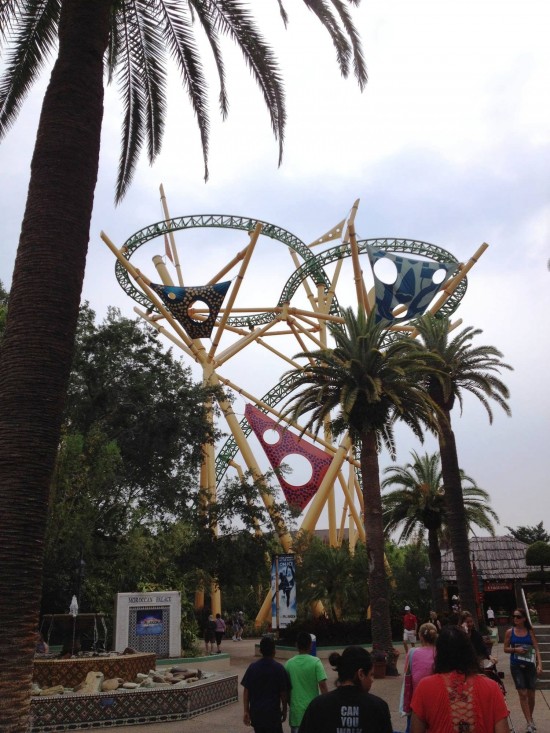 From there we moved across a good section of the park to SheiKra, the fastest and in my opinion best coaster in the park. This ride reaches speeds of 70 mph which definitely tops any other coaster's speeds in the Central Florida area. The signature drop on SheiKra is a 90 degree angle and as you get ready to drop the coaster stops and hangs you over the edge facing the ground for about 5 seconds before abruptly dropping you into a free-fall. For thrill-seekers this coaster is not to be missed!
After riding two coasters to start the day we moved onto an animal area – Jungala. There are two sections in Jungala of note: the Orangutan Outpost and the Tiger Trail/Lodge. The Orangutan Outpost is an indoor air conditioned area that allows for up close viewing of the orangutans in their habitat. They have a few levels that orangutans can access including one below the floor where there is glass to allow for a pretty cool view.
The Tiger exhibit is one of my favorite animal exhibits in the park. The Tiger Lodge is indoors and similar to the Orangutan Outpost, it's air conditioned, and has some decent views of the tigers. There are multiple white and orange Bengal Tigers in the exhibit. The crown jewel here though is the Tiger Trail, which is outdoors but circles around the tiger's habitat. It allows for many up close views and I was able to get within six inches of a tiger on multiple occasions for a very cool experience. There is also a pretty nifty "pop-up window" area where you climb a small ladder and the floor of the tiger's exhibit pops up here to allow for your head to be inside of the exhibit while enclosed in the pop-up. Generally there are multiple tiger's right there allowing for a surreal and awesome up close and personal interaction with one of the coolest and most beautiful animals on the planet. There is a small queue area for the pop-up so you can't spend too much time there hanging with the tigers.
From here we made our way to the Congo area for Kumba, a slightly older but still fierce coaster. This one reminds me of a faster, wilder version of IOA's The Incredible Hulk. It reaches speeds up to 60 mph and definitely has a bit more thrill than the Big Green in IOA. It's similar in its style of a multitude of loops including sharp turn and drops. I thoroughly enjoyed this coaster even though I felt a bit beaten up afterwards, a must for thrill seekers!
From Kumba we made our way to Ubanga-banga bumper cars. It's exactly what you would expect bumper cars to be, and still just as fun as they were when I was a kid.
After bumper cars we stopped in Timbuktu for a quick snack, and made our way to Sand Serpent. It's a kiddie coaster, similar to Disney's Primeval Whirl in Animal Kingdom. It doesn't have the spinning of Primeval Whirl, but has similar sharp turns, and better drops. It was a surprisingly good kiddie coaster, although a bit jarring. Next we did Phoenix, a classic boat ride that swings back and forth until going upside down a few times … I enjoyed these more when I was younger, but still fun. We followed with Scorpion, an older coaster that takes you through a 360 degree loop and reaches speeds of 50 mph. One thing my wife noted is that this is the only coaster she's ever been on where it does a loop and has no shoulder harness, only a lap bar. This one beat me up a bit, as it was a little jerky, probably one I'll do every so often, but not a must-do.
From Scorpion we headed over to Nairobi for Rhino Rally. This is somewhat similar to Animal Kingdom's Kilimanjaro Safari's although sadly after doing Kilimanjaro just a week or two before this wasn't even close to being as good. The story is bad, you only see a handful of animals, it's pretty short, and the views are worse. Unless it's a walk-on like it was for me, skip this one. Something else to note is that a lot of the animals seen on this attraction are visible elsewhere in the park in other exhibits that give better views.
After Rhino Rally we made our way back to Jungala to eat at Bengal Bistro. It was a pretty simple counter-service place, but still good. We had a fish wrap, and a meatball sub. Slightly different than your normal theme park grub, which was definitely a welcome option for me.
After lunch we were still on schedule from my plan, and it was time for some water rides. We made our way to the Congo River Rapids first, which is a typical white water raft ride. We got soaked as expected. I'd rate this one better than Kali River Rapids at Animal Kingdom, but worse than Bilge Rat Barges at IOA. The theming wasn't great, but the rapids, falls, etc. were decent.
From there we did Tanganyika Tidal Wave, which is somewhat-like Jurassic Park River Adventure at IoA, but with little to no theming and a slightly worse drop. We got a bit more wet on this one than Jurassic Park River Adventure, but outside of the one drop at the end you basically just float along to no theming. Stanley Falls Flume would've been our next target, but it was closed during our visit for renovations.
After that we went to the car to change into some dry clothes and made our way back to the park. Since most of what we had left was along the base of the park (Egypt, Morocco, and Bird Gardens) this allowed for an easy path during the second half of our day. We focused on Cheetah Run first, which is the Cheetah animal exhibit that is next to Cheetah Hunt. Here we were able to get some up close shots of the cheetahs. Roughly four times/day the caretakers present facts on the cheetahs and actually show them off where they have a line with a mechanized object for the cheetah's to chase, this allows you to see the cheetah's running in action. There is also a dog as part of the exhibit who was the companion for the baby cheetah Busch Gardens took in before the attraction opened in 2010. The dog and cheetah grew up together and can be seen at times when visiting the attraction.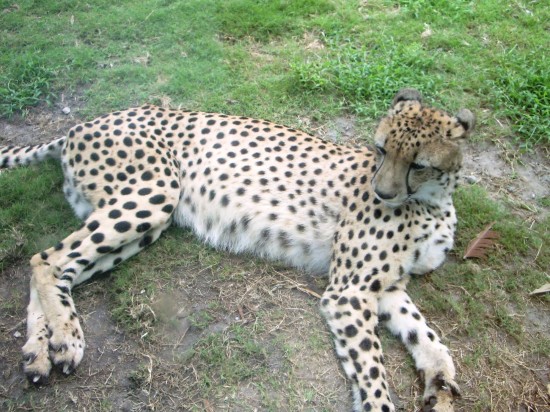 Following Cheetah Run we made our way to Montu in the corner of the park in Egypt. Montu is a steel floorless coaster with seven inversions throughout and was the first coaster in the world to incorporate an Immelman loop (a combo loop and roll). Montu reminded me a bit of Dragon Challenge at Universal's IOA.
After Montu we did a bunch of animal attractions in the Egypt/Nairobi area. Edge of Africa was our first area which is a walking path including a variety of animals. The lion's habitat was under construction so they were not present which was a slight disappointment was for us. We did get to see the meerkat's in action though as there was a black snake in their enclosure they were hunting down as a group. This was a pretty cool thing to see as they cornered the snake.
From Edge of Africa we went to the Animal Care Center, where you can watch veterinary procedures being done if there are any scheduled. There were none when we went so we moved on. We saw Curiosity Caverns next, a cave-like exhibit with creatures that prefer a darker living area. We were able to see some newborn lemurs here which were very cool as well as bush babies, snakes, bats, sloths, monkeys, and more.
Following that we did the Elephant Interaction Wall, which allows close viewing of the elephants while they eat and ultimately perform. Their performances aren't coordinated, but as you watch them grabbing a branch with their trunk and flailing it about, or throwing a coconut against a rock to get at the insides it truly does feel like a performance. There are a few scheduled times each day where the trainers will do presentations on the elephants and also put food out.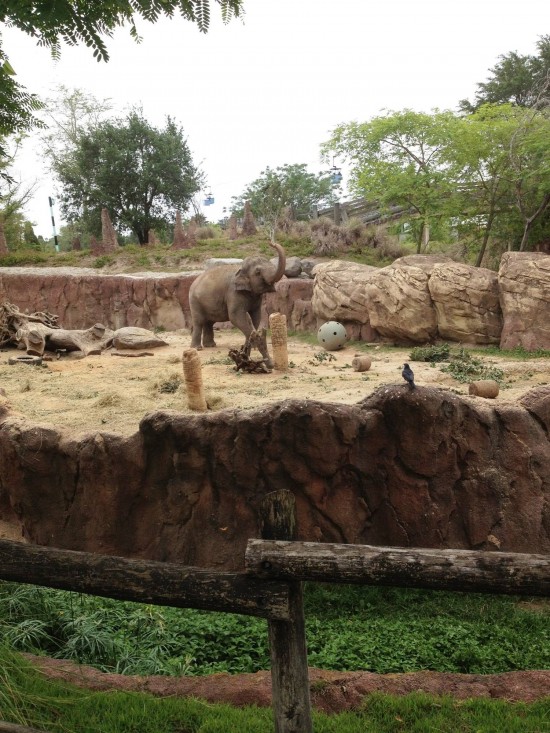 Jambo Junction was our next exhibit which features a large variety of animals. We saw a baby aardvark, lemurs, various snakes, exotic frogs, lizards, birds and more. There were quite a few animals in this exhibit and we spent a good portion of time here. On the way out there are otters in a tank along the path area that you can see as well. They are super playful and cute, making them some of the most fun animals to watch.
After Jambo Junction we made our way to Myombo Reserve which houses Chimpanzees and gorillas. This is another area similar to the tiger exhibit where you get multiple up close window views of the animals within.
After doing a bunch of animal exhibits in a row we made our way to Gwazi, the only wooden roller coaster at Busch Gardens. Gwazi features more passes than any other "dueling" coaster. There is a "Lion" side which is curvier, and a "Tiger" side with more drops. Unfortunately for us only "Lion" was open on our visit as "Tiger" was undergoing refurbishments. It was a jittery ride as both my wife and I had slight headaches when getting off, but it was still a blast.
From there we made our way to the Bird Gardens, a screened in area with a multitude of various birds to see. Next we did what was probably the best animal attraction of the day, Walkabout Way. Within Walkabout Way is "Kangaloom," an interactive kangaroo, wallaby, an exhibit where you can get up close and personal being able to feed and pet the kangaroos within. The feeding portion happens four times per day and costs $5 for the food, lasting for an hour each time. Being able to interact with such unique animals was a lot of fun for me, and since there are probably over 50 in the enclosure it's not hard to be able to reach them.
From Walkabout Way is Lory Landing another interactive exhibit, this time with birds. There are many different kinds of birds here and you can buy nectar for $5 to feed them as well. The "Lorikeets" are the most prominent birds here and are very brightly colored. They will land on your heads, hands and arms, so be ready for some very up close and personal interactions with them.
From Lory Landing we did the 4:30 showing (check the daily park map for show times, or the Busch Gardens website for show times up to a week in advance) of Critter Castaways. It is similar to Seaworld Orlando's Pets Ahoy and was very good. There were condors, macaws, dogs, cats, rats, a pig and more doing all sorts of crazy tricks and stunts all to the act of shipwrecked group of people. I highly recommend it, especially if you love animals.
After this we ate dinner at Crown Colony, the restaurant most consider to be the best in the park. There is a pub and café section on the second floor, but we elected to eat at the sit-down section overlooking the Serengeti Plain on the third floor. The cool thing about this is the ability to see giraffes and other animals while eating your dinner. The food was quite good and reasonably priced (~$15-$20 entrees). I enjoyed my coconut shrimp and hush puppies, while my wife enjoyed her salmon.
Following dinner we went to the 6:30 showing of Iceploration, Busch Gardens Tampa's newest show. It tells the story of a grandfather showing his grandson how to enjoy nature and get outside. They visit a variety of continents, each one including dazzling figure skating (the stage is coated in ice to allow this) and stunts by the "animals" involved. There are a few live animal appearances as well, including Siberian Huskies, which was extra special for me since I own a Siberian Husky, and they're my favorite dogs. After the show I took a moment to meet one of the Siberian's they brought out to meet the spectators.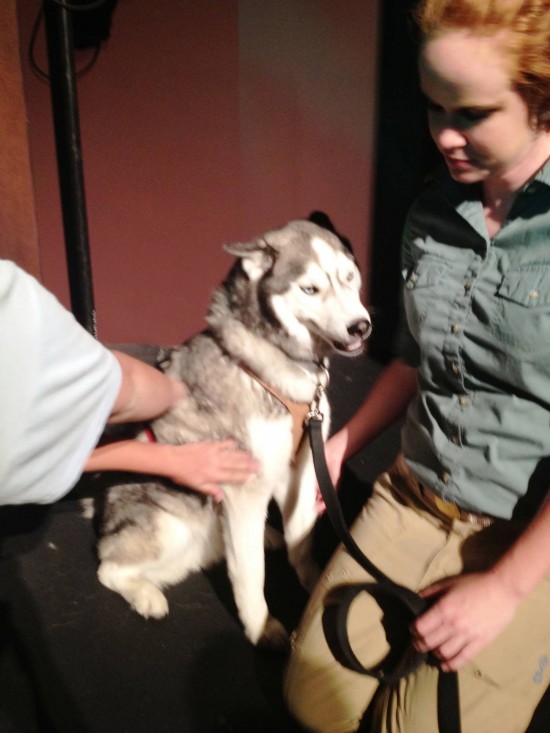 With just under 1-hour left we made our way over to the Skyride entrance next to Cheetah Hunt to get aerial views of the animals and the park. This is a cable-car style ride where you get in your own car that runs along a cable overseeing various areas of the park. It allows for some great views of the animal's habitats.
To end our day we squished one last ride in, the kiddie coaster Air Grover. I personally feel a need to ride any coaster-type ride I find so I didn't want to miss it. Since the Skyride exit from getting on at Cheetah Hunt is in Stanleyville, this allowed us to walk right by to squeeze Grover in. It was a typical kiddie-coaster, but enjoyable nonetheless.
Following Grover, our day was finished. We ended up getting to see loads of animals, and enjoy some great rides. I would also go as far to say that Busch Gardens Tampa has the best selection of thrill rides in Central Florida at any one park, and also includes the best "zoo." Considering this great park is just over one hour from Disney, Universal, and SeaWorld, it is definitely worth it to add to your itinerary when visiting Orlando. Plus, if you visit Discovery Cove on your trip you can choose to go to Busch Gardens Tampa as many times as you like over the following 14 days from your Discovery Cove visit. For SeaWorld annual passholders, it is also very economical for you to upgrade your annual pass to include Busch Gardens for, it's only $43!
We were able to see all that Busch Gardens had to offer in a single day, and by following this Busch Gardens Touring Plan (PDF File) I created, you can too. A main point to note is that we encountered virtually no lines on our trip and long lines would definitely hamper the ability to see everything in one day. If you are visiting at a busier time (President's Day, Spring Break, summer, Thanksgiving, or Christmas), I would alter the plan to do the main ride attractions first-thing and then move to the animal attractions from there as they don't typically involve waiting.
Official site: http://seaworldparks.com/en/buschgardens-tampa
Busch Gardens Tampa – photo gallery
Click any image to view it full-screen. When the full-screen image is open, click to the right or use the right arrow on your keyboard to advance through the gallery. If several thumbnails are missing, try reloading this page in your browser.
[sws_author_bio user="JTorrenga" size="105″ authorposts="More OI posts by JT" name_format="About the author"] [/sws_author_bio]