At the beginning of May, my wife and I were fortunate enough to visit Epcot's newest dining option – Tutto Gusto, in the Italy Pavilion. Tutto Gusto is a "wine cellar" that also includes a menu for "small plates" of Italian cuisines. Various meats, cheeses, pastas, and tapas-like options, panini and desserts are the featured food offerings. There are also over 200 wines to choose from, six beers on tap, and a fully stocked bar as well. We were looking for a light meal and a drink so this was a perfect spot for us to stop.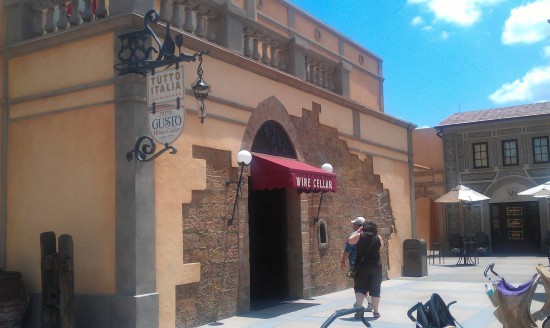 We got there around noon and were quite excited to visit the new location. It was cozy, but there was enough space to still be comfortable. It is next door neighbor to the newly reopened Tutto Italia, Italy's premier dining option in Epcot, with direct access between the two restaurants. There was some room at the bar, a few larger tables for bigger parties, and some high tables for smaller groups. They also had a section with a fireplace and more comfortable seating.
After evaluating our options, I went with the Blue Point beer on tap and my wife chose a Chardonnay. We also ordered the Cozze (mussels in white wine and tomato), Rughetta e Patate (pasta with arugula, potato, pancetta, pecorino cheese and tomatoes), and two paninis (prosciutto di parma, and bufala mozzarella & pomodoro).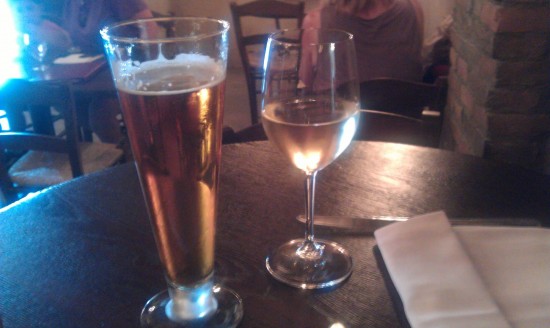 We had to wait a little longer than we expected for our food and drinks, but considering the wonderful surprise we were about to get it was well worth it! When our food was brought out, not only did the three small plates we order arrive, but multiple other items were delivered as well — compliments of the house! They brought out three additional plates: a cheese, meat and cracker platter; a Bruschetta di Capri; and Insalata di Mare Trapanese. This came completely unexpectedly and we were thrilled to get the opportunity to try so much of the menu at half the cost.
One thing to keep in mind about the food portions is that they are not exactly cheap and the portions are not big, they are indeed more of a snack sized portion of food per plate.
Now for the food! Everything we ordered was wonderful and we were happy with our choices. The Cozze (mussels) were delicious, tender and flavorful, and a crouton was waiting, absorbing the juices in the bottom of the bowl; it was a delightful surprise. The Rughetta e Patate was well seasoned and the pasta was perfectly al dente. The combination of flavors and textures — chewy pasta and tender potato, salty pancetta and romano, spicy arugula, slightly sweet tomato — was divine. My wife won't stop talking about it! The panini was tasty — the ingredients were fresh and well paired (though don't expect a pressed hot sandwich, these are on an interestingly shaped Italian-style roll).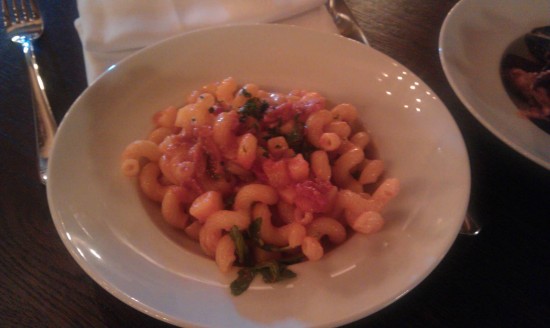 The food that was brought out as compliments of the house was also fantastic, and while I don't know if any of it was definitively better than our choices, it is all definitely worth ordering. The cheese, meat and cracker plate was basic looking, but the flavors of the meat and cheese went very well together. The Bruschetta di Capri was typical of what you would expect of a caprese-style dish- wonderful and flavorful. The Insalata di Mare was probably the best of the complementary items. It was a truly delicious combination of tender shrimp, squid, and octopus, complemented by lemon, olive oil, parsley, basil and capers. Many other items on the menu looked equally wonderful, and we look forward to trying them on our next visit!
All in all it was a delightful experience. We truly enjoyed Epcot's newest offering and will absolutely be returning. It's a wonderful way to get out of that hot Florida sun and enjoy that homey feeling Italy is famous for. If you find yourself at Epcot feeling the need for a break, small bite to eat, or a refreshing drink in a cozy Italian atmosphere be sure to check out Tutto Gusto wine cellar.
Tutto Gusto Wine Cellar – map & links
Click any marker to display the attraction or venue name. To scroll or zoom, use the controls on the top-left of the map. You may also switch to different map views by using the buttons on the top-right of the map.
Official website: http://disneyworld.disney.go.com/dining/tutto-italia-ristorante/
[sws_author_bio user="JTorrenga" size="105″ authorposts="More OI posts by JT" name_format="About the author"] [/sws_author_bio]