January is Pass Holder appreciation month at Busch Gardens – each annual pass can get a guest in for free this month! That news sent us scurrying to pick up the grandparents for a full day of fun at the park.
Last time we were at Busch Gardens, an Animal Care employee in Lory Landing told us to visit the exhibit early in the morning because the birds were hungrier then and more interactive. So we tested that advice, and it proved to be more accurate than we could have imagined. Not only were the birds hungrier, but we also found the Animal Care Team was handing out cups of nectar for free (usually $3 each). So the entire family found themselves with nectar cups in their hands, and birds all over them. They jumped on our arms and heads, and sometimes we even found ourselves with multiple birds on our arms fighting over the nectar. What a delight!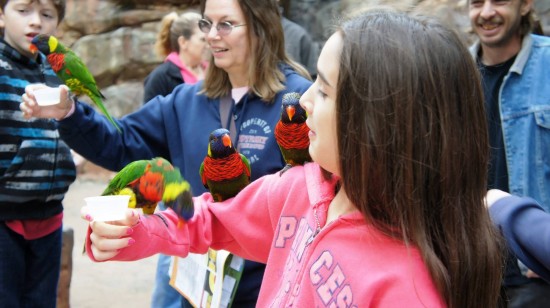 [wptouch target="non-mobile"]Remember, you can click any image to view it full-screen. And don't miss the complete photo gallery with 38 new full-screen images at the bottom of the post.
[/wptouch]
As we continued our journey through the park, we found signs of construction in unexpected places. The Stanleyville train station has a large section surrounded by construction walls – no signs said what was coming there, so that was quite the surprise to us. We also found the pool that fuels the SheiKra's tidal wave effect had been significantly lowered. A staff member nearby informed us it was due to the cold weather.
But the biggest construction we saw during our visit was the expected: Falcons Fury. The column sections providing the height are now all in place, and this thing is massive! You can see it from anywhere in the park, and it absolutely looms over every other ride.
We noticed that crews have scaffolding in place that surrounds the tower itself, and it raises and lowers up the tower as they work on it, much like a window washer's workspace on a high rise building. We could not only hear the sounds of construction when we were right next to it, but the bangs and clangs can be heard throughout the park as well.
In addition, everywhere we went we could hear guests talking about it, and opinions ranged from the amusing versions of "no way will I ride it" to the excited "I can't wait!"
[youtube_video]y4uKOsogphs[/youtube_video]
Stopping for lunch at the nearby Desert Grill proved to be quite the treat for our pocketbooks. With the 30% discount for Pass Holders this month, our lunch for seven people only cost us $60.00!
And for that $60.00 we got plates piled high with delicious food, including a turkey club sandwich and the big corned beef sandwich I mentioned in November's trip report.
After eating, we decided to let our food settle before attempting any more coasters, so we walked to several animal exhibits.
To our surprise, we found out that Jambo Junction actually housed unique animal exhibits; we had always thought this building, tucked back into the trees, was a restaurant. As we walked through, we even stumbled upon a group that was feeding the flamingos housed there. I've never seen flamingos run towards people the way these birds ran towards this group of people with their metal buckets. A few of the flamingos were checking out the crowd at the rail as well, apparently thinking we'd have some extra food ourselves, and came right up to us. Trying to touch them proved unfruitful though, as they would easily duck our attempts. We all got some good laughs as we tried, and discovered that flamingos are really loud when they're that close to you.
As we walked through the Edge of Africa displays, we came across a group of Animal Care employees standing inside the meerkat exhibit. They explained to us that only one meerkat was on display at the moment as the others were "elsewhere".
Unfortunately, being alone meant the meerkat had no one else to cuddle up with to stay warm in the frigid temperatures that are expected over the next few nights. So they were setting up a warm place for her to sleep. This consisted of a small animal carrier set on the ground filled and surrounded by straw, as well as a warming lamp setup above it.
With our food now settled, it was time for more rides!
The Montu was only a quick 15 minute wait, but we weren't so lucky with Cheetah Hunt. Its wait was over 50 minutes long (and was still at that when we checked 20 minutes before park closing). As we waited, we could see the queue for Cheetah Hunt had even been redesigned to hold more people. Since the redesign consists of temporary plastic barriers, we speculated whether this was a permanent change or just a temporary measure for the recent holiday crowds.
My family has ridden SheiKra many times, but I had never been brave enough to try it. Whether it was the good mood of having such a great day, or possibly the beer I'd consumed, something made me finally decide to go ahead and try this coaster. For those not familiar, it goes up a hill to start, just like any other coaster, but instead of sending you screaming down the hill right away, it has a unique twist: the car reaches the edge of the plunge, then it stops there for five seconds before sending you speeding on your way.
That's five seconds of sitting there dangling over the edge – it may seem like a short time, but when I was hanging there, I got WAY too much time to reconsider my decision to ride this coaster!
[youtube_video]YFrIE8nKUl8[/youtube_video]
If you like the feeling of free fall, you'll enjoy this coaster. It truly felt like I was falling out of the sky as I came down that first hill. While I enjoyed the breakneck speeds and fast twists of this coaster, free falling isn't an experience I enjoy. So I'll let my family continue to ride this one without me from now on.
With my dignity still slightly intact, we left the park as it closed. Having the extra family members made it much more enjoyable, and we're already talking about who else we could bring this month with our remaining free tickets. For other Busch Gardens Pass Holders, if you're interested in getting your free tickets, visit this page. Oh, and if you're a SeaWorld Orlando Pass Holder, they are offering the same thing.
Thanks for reading my trip report! To continue learning about Busch Gardens Tampa, check out the BGT archive on the OI Blog. Or you can catch up on all our trip reports.
Busch Gardens Tampa trip report – photo gallery
Click any image to view it full-screen. When the full-screen image is open, click to the right or use the right arrow on your keyboard to advance through the gallery.
[sws_author_bio user="SalinaBristor" size="105″ authorposts="More OI posts by Salina" name_format="About the author"] [/sws_author_bio]