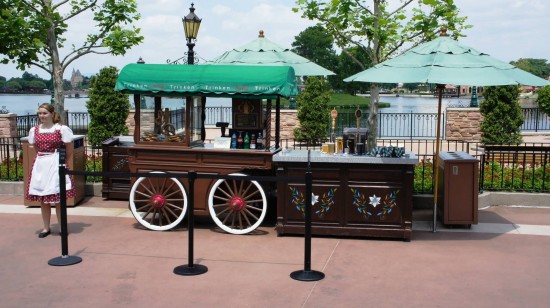 Drinking at Walt Disney World can be expensive, but there are a few ways to minimize the damage to your wallet. Here's some tips for keeping the costs down while still having a good time!
Tables in Wonderland
I've written about Tables in Wonderland before, but just to recap: If you're a frequent visitor to Walt Disney World and you enjoy a cocktail with dinner or a few drinks at your hotel lounge, this is something you'll want to look in to. Tables in Wonderland saves you 20% off of food and alcohol at several locations throughout Walt Disney World Resort. (See my earlier article on the benefits of the card vs. the cost of it to see if it's a good deal for you. Personally, TIW has saved me plenty over the past year.)
Go without the glow cubes
Glow cubes, seen in the image at the top of the page, are a mainstay of several Walt Disney World drinks these days. Sure, they are fun, but did you know you can save about $3.00 per drink by getting a normally glow-cube infused drink without one? With as many drinks as they serve with these ice cubes in them, this can quickly add up. Instead, tell the bartender you don't want the cube when you order. He'll leave it out and discount the price for you.
(If you feel it's just not a Disney trip without a glow drink — and trust me, I know that feeling — get one to kick off the trip and maybe one to end it, but skip the cube on the in-betweens. How many plastic ice cubes do you really need?)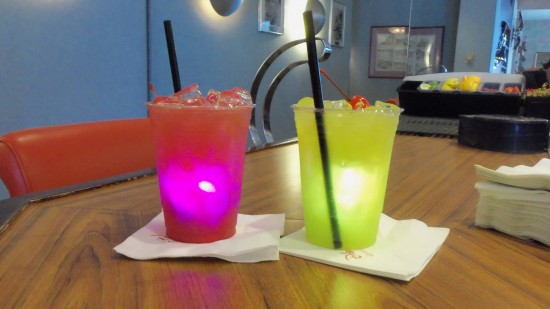 Say no to souvenir cups
Along the lines of the glow cubes, you can save big when ditching the souvenir cups that normally come with some of the specialty drinks on property. Not only can these cups be pricey, carrying them around the park(s) the rest of the day can be a bit of a chore.
In particular, places like the Rose and Crown Pub and Restaurant, the Rainforest Cafe, and T-Rex often put their specialty cocktails and beers in souvenir glasses. If you'd like to skip it, just let your server or bartender know when you order that you don't want the souvenir glass, or in the case of the Rose and Crown Pub specifically, I always request my drink in a to-go cup. By skipping the souvenir cup, your drink will at least be a few dollars cheaper and you won't have to worry about carrying around the glass all day.
La Cava del Tequila's "Margarita Monday" and fan specials
If you find yourself at Walt Disney World on a Monday and you're a margarita fan, be sure to head over to La Cava del Tequila for Margarita Monday. All of their specialty margaritas are $10.00, which is $2.50 less than the normal price. If you haven't had a La Cava del Tequila margarita before, these truly are specialty margaritas in flavors I doubt you'll find anywhere else, like jalapeno, cucumber, and avocado.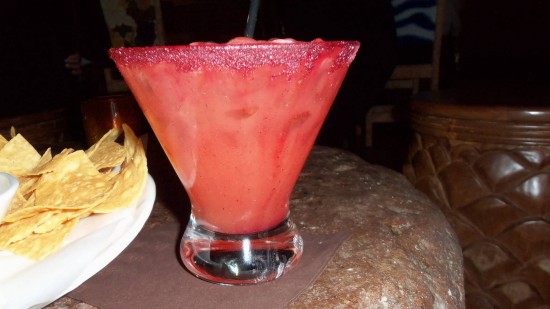 La Cava del Tequila also has other specials for their fans on Facebook and Twitter, like free chips and salsa or $5.00 shots of tequila, which run every day of the week. Be sure to follow them on Twitter (@cavadeltequila) or on Facebook to get the special price.
Happy Hour
There aren't a lot of places at Walt Disney World that offer happy hour, but if you're spending some time in the Downtown Disney area, take advantage of special prices at non-Disney owned establishments like the Hole in the Wall Bar at Raglan Road and House of Blues. Most of the happy hour specials run during mid-to-late afternoon, but House of Blues also has a late night happy hour running from 10:00 p.m. to close, which is great for grabbing a drink after one of the shows at their concert venue.
So those are some of the ways you can save on drinks at the Walt Disney World resort. I hope you can put some of these tips to use on your next trip! If you have any more ideas, leave a comment below.
(Not a Walt Disney World venue, but if you make your way over to Universal Orlando Resort, another favorite happy hour of mine is at Cigarz at Universal's CityWalk. Great prices and a laid back atmosphere. As one might guess from the name, they are a smoking establishment so it may not be for everyone.)
Editor's note: If you like this article, be sure to check out our Disney drinking around the world guides.
[sws_author_bio user="KatSRQ" size="105″ authorposts="More OI posts by Kat" name_format="About the author"] [/sws_author_bio]