Former location
The Wizarding World of Harry Potter – Hogsmeade
Dates of operation
May 28, 1999 (as Dueling Dragons) to September 4, 2017
Former restrictions and access
54 inches; loose articles must be stowed in lockers adjacent to the attraction's entrance; has Express Pass access; also has a front row line for each coaster; guests must pass through a metal detector prior to riding.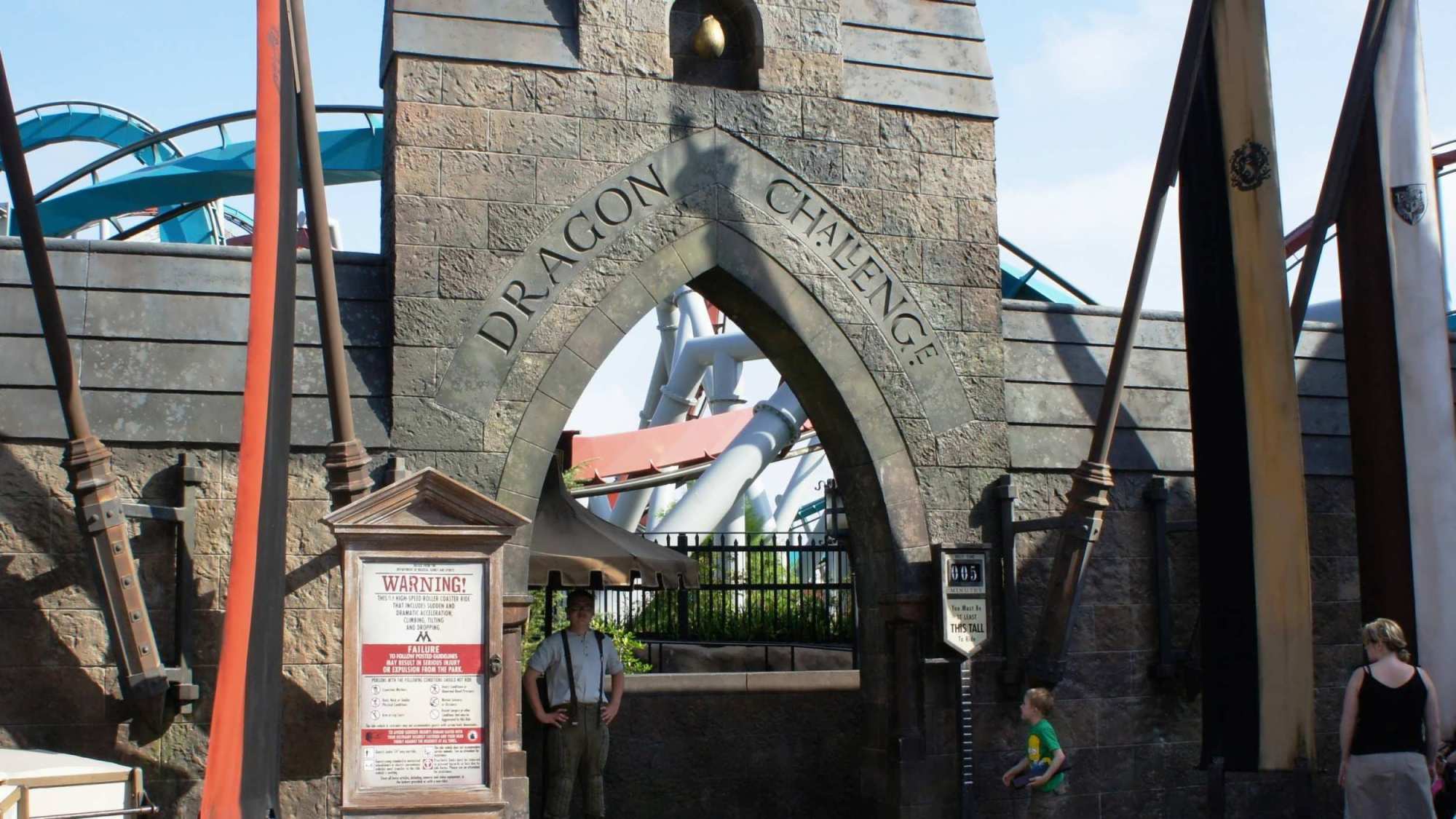 The entrance to Dragon Challenge at Universal's Islands of Adventure
Two-sentence insider summary
This high-speed, outdoor roller coaster is an absolute must for thrill-seekers. Step inside the Triwizard Tournament, choose to ride the Hungarian Horntail or the Chinese Fireball, and test your mettle in the tournament's first contest!
Fear factor
5 out of 5. (But it is worth it.)
What you wish you knew before you experienced it
Many days you will probably spend more time walking from the attraction's entrance all the way up the outdoor walkway and through the castle to the loading area than you will standing in line. Don't forget to check out Ron's car and the various Triwizard artifacts in the queue.
OI fun fact
Before the Wizarding World of Harry Potter, this ride — which is the longest duel inverted roller coaster in the world — was part of IOA's Lost Continent and carried the name Dueling Dragons. Many locals still refer to it by that name.
Insider secrets
This page presents a summary and guest reviews of Dragon Challenge. To learn insider secrets about this attraction, when you're done with this page be sure to visit our Dragon Challenge: Secrets of the queue page, which used to be part of our Insider's guide to WWoHP before its closure.
About the cessation of the dueling coasters
From OrlandoSentinel.com – October 19, 2011:
For more than a decade, the signature thrill of Universal Orlando's "Dragon Challenge" has been the ride's three near-collisions, in which the attraction's two intertwined roller coasters, speeding along their tracks at up to 60 mph, pass within 18 inches of each other.
Riders will never experience that again.
Universal Orlando said this week it has decided to permanently end the practice of launching the two coasters simultaneously. The resort now bills the attraction as a "high-speed chase between two coasters."
That decision follows an internal investigation into two summer accidents in which riders were apparently struck by loose objects while aboard the attraction. One was gruesome: A 52-year-old Puerto Rico man suffered a lacerated right eye and ultimately had to have the eyeball removed, according to his lawyer.
"We believe this is the best path forward for our guests and for the attraction," Universal spokesman Tom Schroder said of the decision to permanently alter Dragon Challenge.
Precisely what happened in the two incidents remains a mystery. Universal will not discuss the findings of its review, though the resort's statements in the aftermath of the two incidents — in which it reminded guests of its long-standing policy to secure all loose items before boarding the coasters — suggest that they may have been caused by items falling out of guests' hands or pockets as the coasters raced along their tracks.
Rumors have always circulated that the dueling will return, only increasing following the addition of metal detectors to the ride. (Note: they never did.)
Why did it close?
Read our analysis here.
What replaced it?
Universal has announced that a new Harry Potter roller coaster, family-friendly though still thrilling, will open in 2019.
Dragon Challenge – HD video
Please note that this video shows the coasters dueling.
Dragon Challenge – photo gallery
Dragon Challenge – real guest reviews
Dragon Challenge
Average rating:
21 reviews
Dec 22, 2014
Great, Underrated Ride
Date Of Last Visit:
12-16-14
I think this is a fantastic coaster. I rode it four times in a row on DEC 16. When it is running smoothly--and it was that day--there's not a better coaster in the parks. The workers and many riders will tell you that the blue coaster has more inversions and the red one is faster. A quick look at the Roller Coaster Database will tell you that they both the the same number of inversions (5) though they are different types, and that the Chinese Fireball goes 60 mph, while the Hungarian Horntail runs up to 55 mph. The second-best coaster in Florida, imho. (Sheikra is tops on my list.)
Oct 13, 2014
Loved this ride/rides.
Date Of Last Visit:
October 6th 2014
I absolutely loved this ride and highly recomend it. I went on the blue side first after being told it wasnt quite as intense as the red. I was so excited after the first ride i almost missed the shortcut back to re-ride. The red side semed to be faster then the blue but i loved the blue side. The que has some cool things to look at while you wait too. Overall i loved everything about this ride and look forward to riding again on the next visit.
Jul 13, 2014
I Miss Dueling Dragons
Date Of Last Visit:
7-12-14
Dueling Dragons isn't what it used to be. Yeah, I know it's called, "The Dragon Challenge" now since the re-theming, but it's still Dueling Dragons. When the ride was still a part of the Lost Continent, the entrance and line cue were fun and imaginative. I always found the ride to be a bit rough, but I thought that the idea of two roller coasters running at the same time and almost colliding was really cool. Unfortunately, for safety reasons, the "dueling" aspect of the ride was removed and the two trains now operate independently. So, while it is a decent roller coaster, the re-theming and absence of the dueling aspect really take a toll on the experience for me. And, to be fair, I am a bit biased because I was a big fan of the ride when it was Dueling Dragons. So, if you weren't a big fan of the original ride and are there to fully enjoy the Wizarding World, you'll really enjoy. It just doesn't hold up for me.
May 27, 2014
Challenge Completed (twice)
Date Of Last Visit:
02/22/2014
These roller coasters are fun. I would recommend not eating prior to riding if your stomach is easily upset. The blue dragon has more twists and loops, and it seemed like the red dragon went slightly faster, but I'm not sure. The queue has a lot of Harry Potter artifacts (like the Ford Anglia), so it keeps Potter fans entertained even while waiting in line, which in my experience typically isn't too bad!
May 26, 2014
Potter or Krum?
Date Of Last Visit:
03/09/2014
Probably my favourite rollercoaster aside from Hulk and Rip Ride Rockit. I love this ride so much, especially the queue- Universal put in so many Potter references to the Goblet of Fire task - it's not even funny. I loveee rollercoasters, and I love that this ride has my feet dangling... I dunno why.



This ride gives me a great view of the Hogwarts Express!



Also, I've heard from Team Memebers that the Red dragon (Chinese Fireball, Krum's dragon) is FASTER, and that the Blue dragon (Hungarian Horntail, Potter's dragon) has more Turns/loops.



Nonetheless, it's a great ride! If you plan on doing each dragon back to back, I recommend using the staircase situated outside the exit once you get outside that leads you back the Ford Anglia (the Weasley Car)in the queue