What are the public spaces at Portofino Bay Hotel?
The original flagship resort hotel of Universal Orlando, Loews Portofino Bay Hotel offers guests an immersive escape to the Italian Riviera, complete with a piazza right on the harbor (aptly named the Harbor Piazza). Take a stroll around the resort to explore the restaurants, shops, and other public spaces that make you feel as if you've been transported to the northwest of Italy and are living la dolce vita.
Portofino Bay Hotel – lobby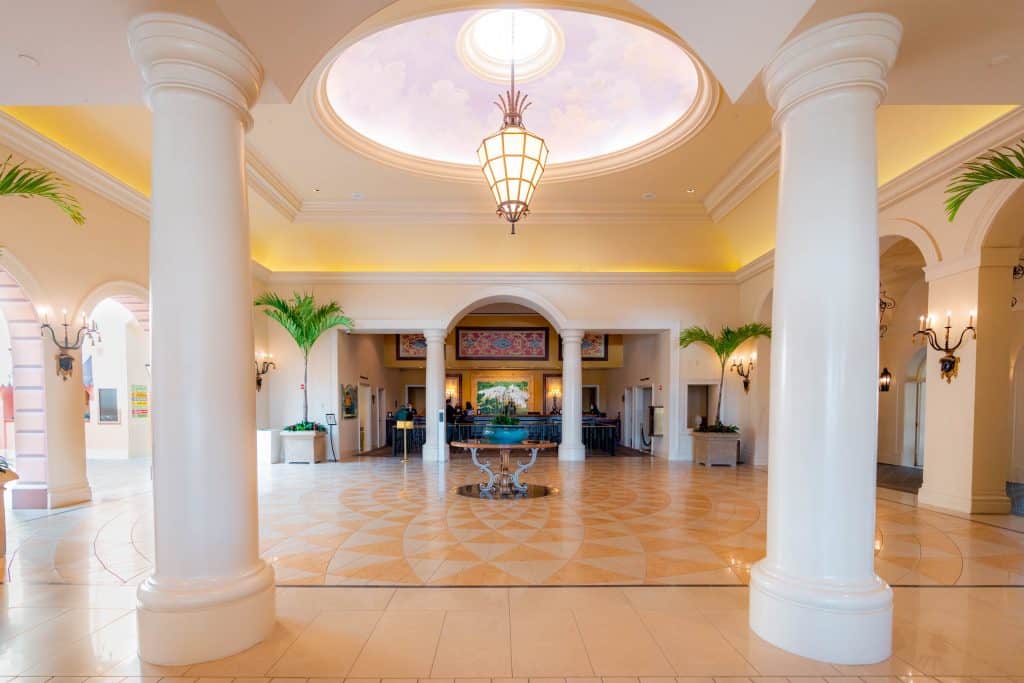 As you enter Portofino Bay Hotel from the circular drive and porte-cochère, don't forget to check out the vintage Italian cars parked near the fountain. Once inside, you'll find recessed ceilings, marble floors, and an interior dome painted to look like the sky – all emulating the open-air architectural style of the northern Italian coast. You'll find the reception desk, guest services, luggage services, a gifts and sundries shop in the lobby, and the full-service Bar American.
What is the Harbor Piazza at Portofino Bay Hotel?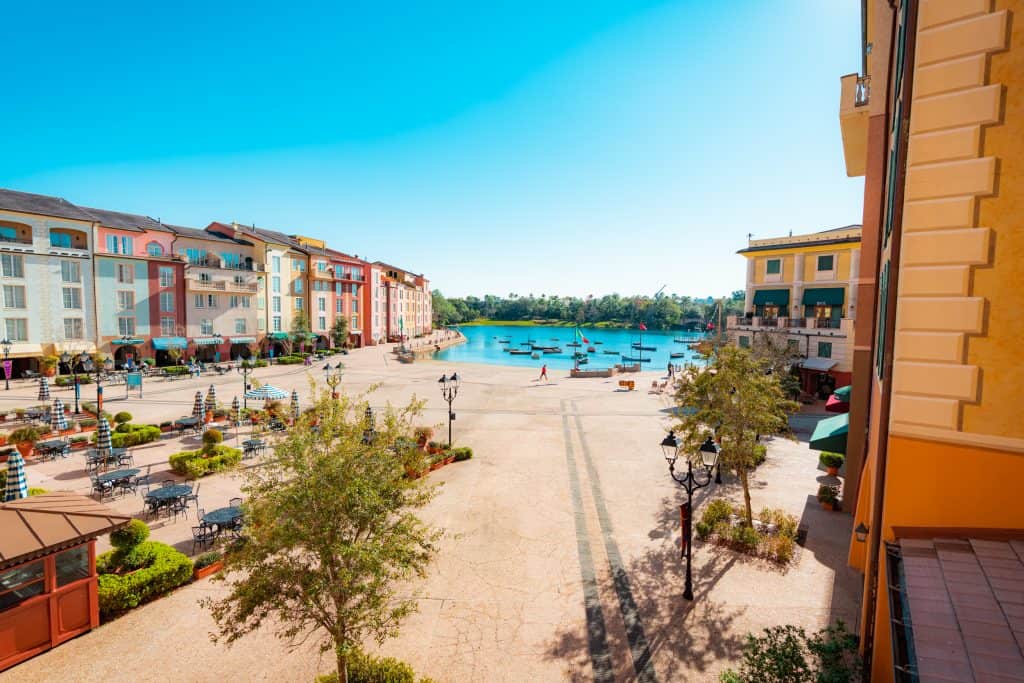 One of the main landmarks of the hotel is the Harbor Piazza, where the guest rooms and buildings of Portofino Bay surround this outdoor bay area. Guests can find many of the shops and restaurants of Portofino located here, and some guest rooms in East and West guest wings look out onto the Harbor Piazza, several of which have full- or Juliet-balconies.
In addition to the Harbor Piazza, there are other piazzas scattered around the hotel, including Piazza Ponte, where a bridge crosses between two of the guest wings, while the Villa Piazza is a grassy area overlooked by the Villa guest wing, and is a beautiful location for weddings or celebrations. The Citrus Piazza provides an outdoor area for the conference wing of the hotel, and the Piazza Centrale is a covered atrium in the lobby area. Finally, the Bus Piazza is – you guessed it – the pickup location for Universal Resort's shuttle bus services.
Portofino Bay Hotel – shopping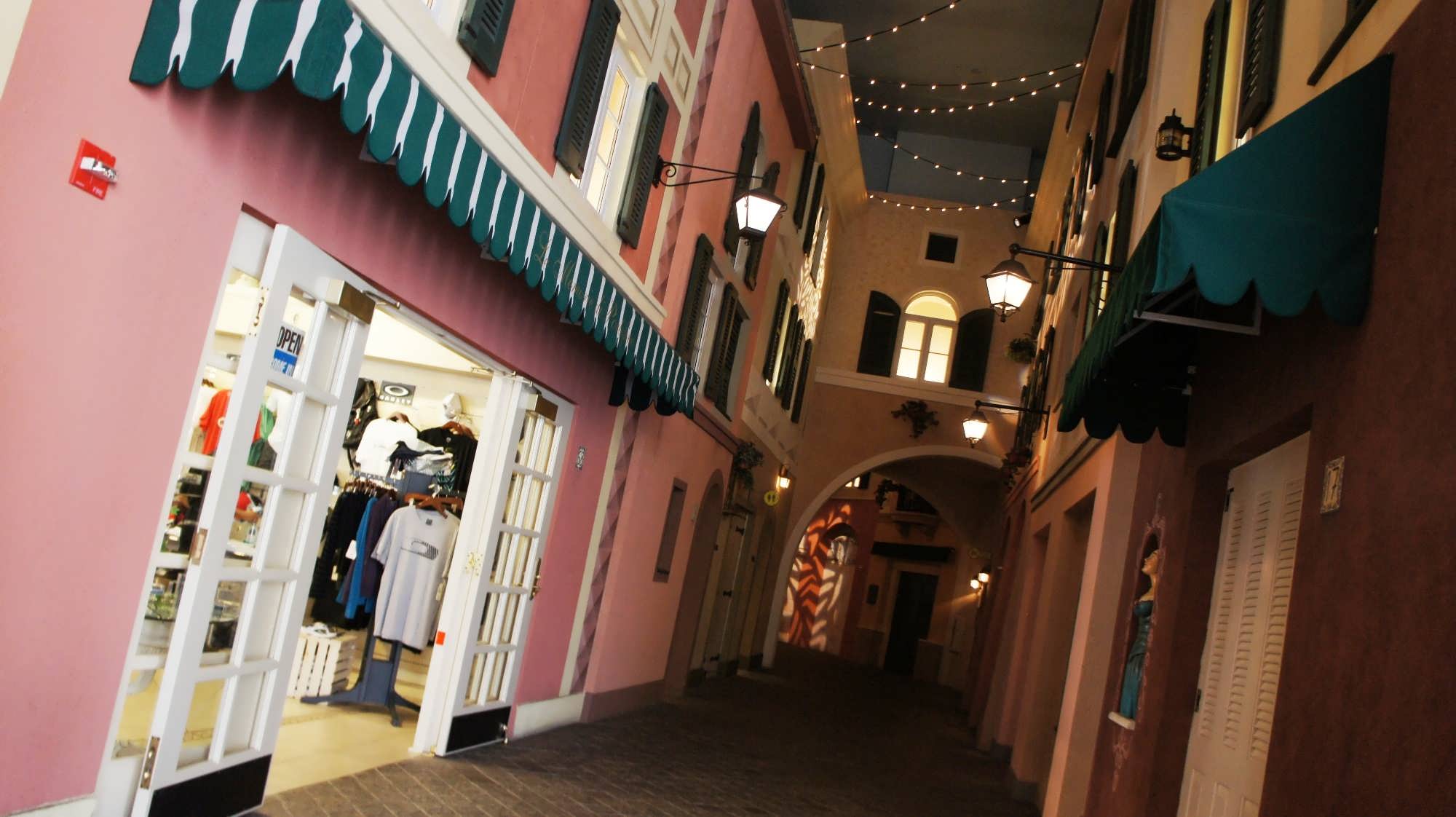 There are six stores located throughout Portofino Bay, starting with La Memories de Portofino, which carries Italian-themed gifts, Portofino Bay gear, sundries, wine, and snacks – located right off the hotel lobby.
For more shopping, wander down to the Harbor Piazza, where you'll find bathing suits and resort wear for the whole family at Alta Moda, nautical-themed souvenirs and apparel at L'Ancora near the Thirsty Fish Bar, fine art at Galleria Portofino, and the usual selection of theme-park and movie-branded gifts at the Universal Studios Store.
In addition to the traditional stores, Portofino Bay is home to Family Art Photography and Printing, where you can enlist the services of a private photographer, to shoot, print, and frame priceless memories of your vacation in this full-service gallery, studio, and print shop.
Portofino Bay Hotel – dining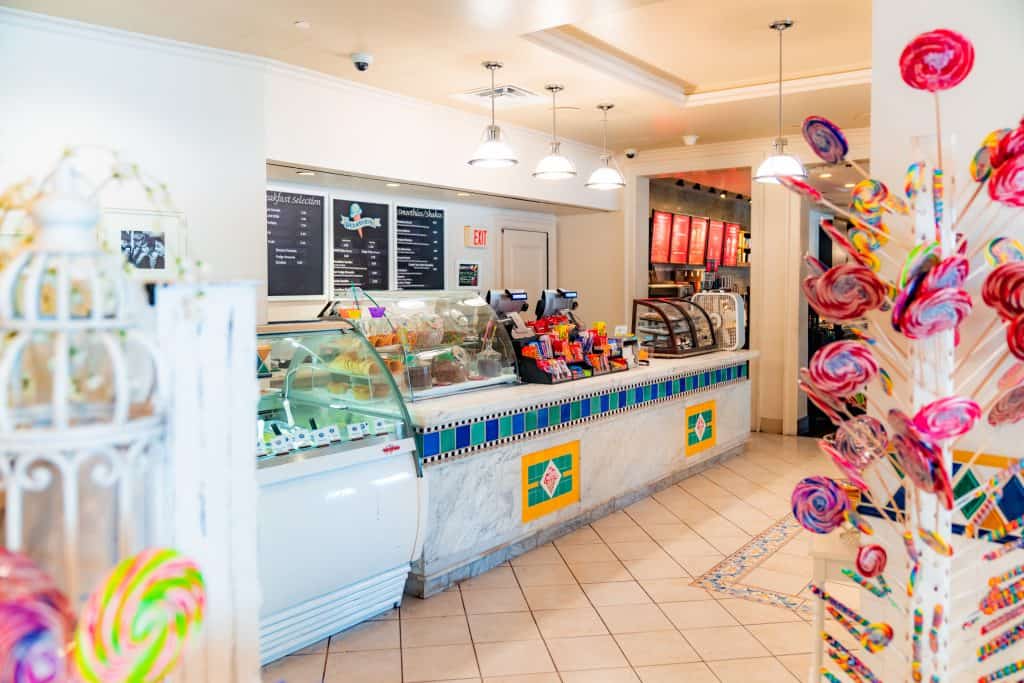 Take a culinary tour across Italy, with a surfeit of flavors at the restaurants and quick-service dining locations at Portofino Bay Hotel. Bice is Portofino's fine dining venue, with white-tablecloth service and homemade favorites from northern Italy. If a family dinner Italian-style is more your speed, head to Mama Della's Ristorante for traditional favorites, including Mama's famous lasagna or fettuccine alfredo. Trattoria del Porto is open for breakfast, lunch, and dinner with a buffet and a la carte items to suit every taste.
For quick-service dining, Sal's Market Deli has grab-and-go snacks and a hot counter with fresh sandwiches, salads, and pizzas made-to-order. If you're hanging by the pool, you can order food and drinks delivered right to your poolside lounge chair from Splendido Bar & Grill, or wander over to the Gelateria for milkshakes, smoothies, bakery items, and artisan gelato. Coffee lovers will find a Starbucks right on the Harbor Piazza (perfect for grabbing a venti latte as you head to the parks in the morning), while the Thirsty Fish and Bar American are the places to get an adult beverage to unwind after a long day at the parks.
For more on each dining location, visit our full guide to the restaurants and lounges of Portofino Bay Hotel.
Does Portofino Bay Hotel have a spa or fitness center?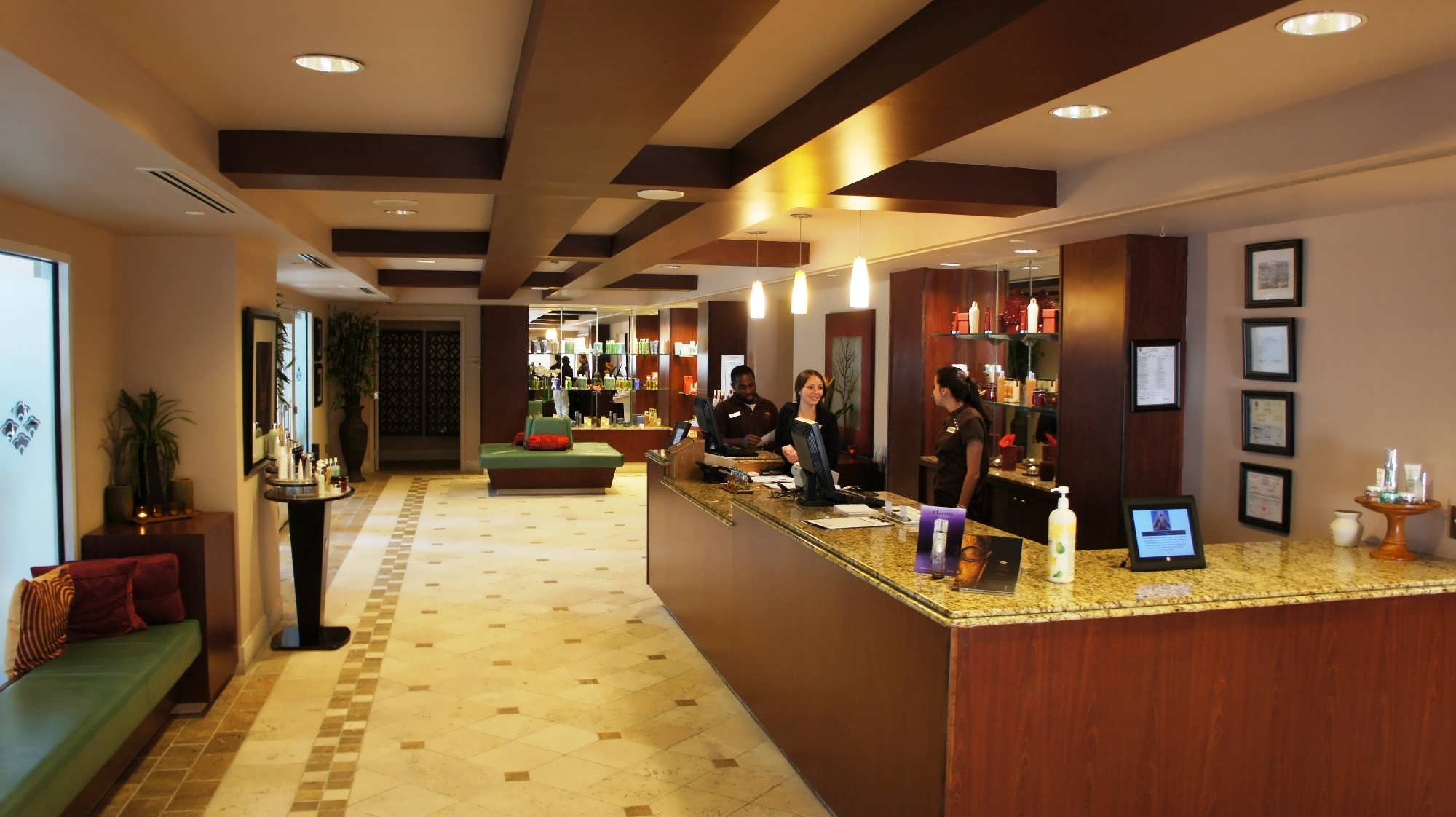 Portofino Bay is home to the Mandara Spa, where guests will find extensive amenities, the fitness center, and spa and salon services. If you prefer to exercise outdoors, Portofino has plenty of walking paths to explore the resort and get your steps in.
Portofino Bay Hotel – game room
Located next to the pool, Portofino Bay's game room has all the newest video games for you to play to your heart's content – or at least until your credits run out!
Portofino Bay Hotel entrance area – photo gallery
Portofino Bay Hotel more public spaces – photo gallery
Portofino Bay Hotel Villa Piazza – photo gallery
Portofino Bay Hotel Piazza Centrale – photo gallery
Do you have a question about the information on this page or would you like to provide feedback? Please let us know by posting in our
Orlando Informer Community
on Facebook.