Skip to: Overview | Trattoria del Porto | Bice | Mama Della's Ristorante | Sal's Market Deli | The Gelateria | The Thirsty Fish | Bar American | Splendido Bar and Grill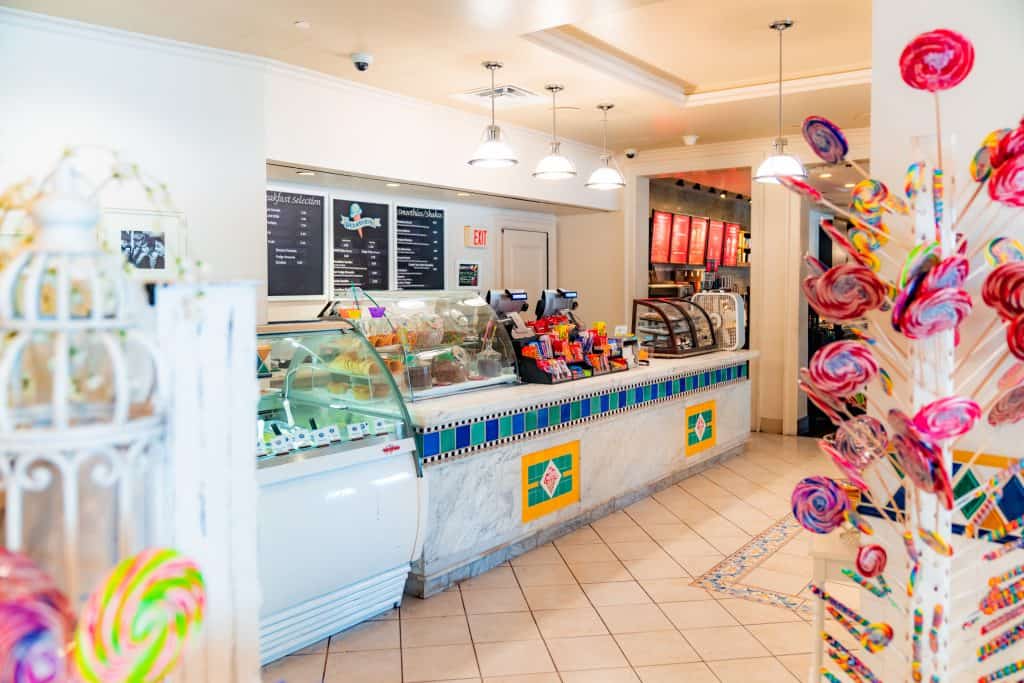 Where can I eat at Portofino Bay Hotel?
Loews Portofino Bay Hotel is a foodie heaven and one of our favorite hotels when it comes to dining options. From fine Northern Italian dishes at Bice, to the warm, southern family style of Mama Della's, there are just so many choices. While most locations have many Italian plates and flavors, you'll also find plenty of popular options and menus, especially for kids. It wouldn't be a Universal vacation without a Starbucks, and you'll find one right on the Piazza Harbor, along with not-to-be-missed homemade gelato over at the aptly-named Gelateria. If you feel like having a night in, guests at Portofino Bay can order food directly to their rooms with 24-hour room service.
Taking inspiration from the festivals that are celebrated throughout the year in Italy's countryside, Trattoria del Porto serves breakfast and dinner each day, featuring popular pasta dishes, antipasti, and scrumptious desserts. This restaurant has both indoor and outdoor seating, as well as a play area just for kids. At breakfast you'll find the typical eggs and pancakes, along with a buffet breakfast featuring fruit, yogurt, pancakes or waffles, eggs, and toast. Dinner brings bruschetta, caprese flatbread, soup, salads, fish, meat, and vegetarian options, along with – of course – pasta.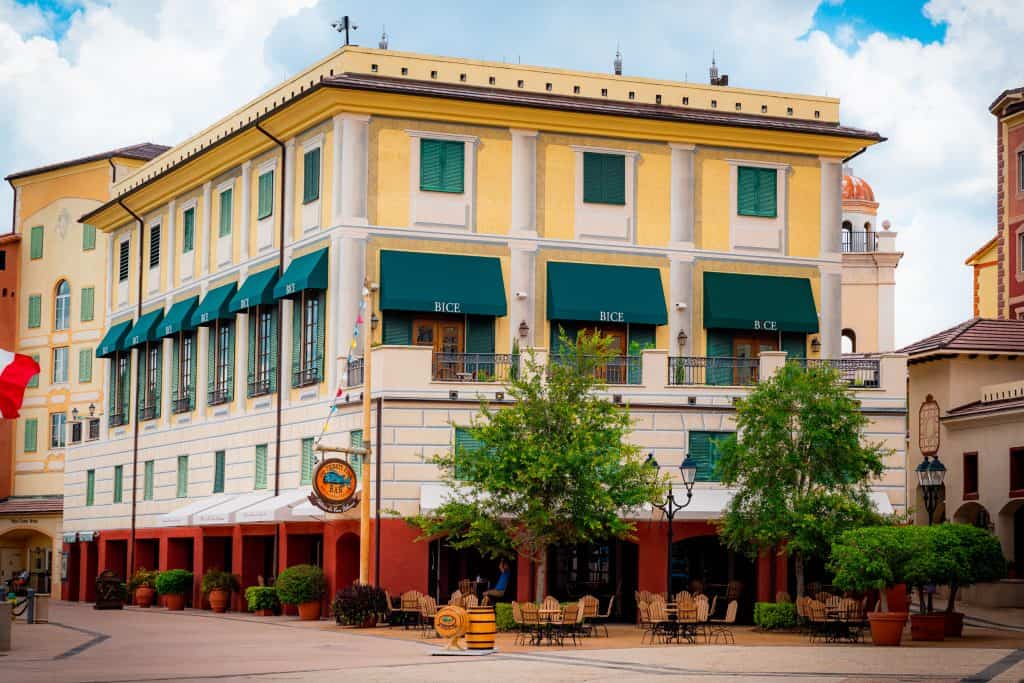 Bice has imported its family traditions from a Milanese neighborhood trattoria directly to Loews Portofino Bay Hotel. One of twelve locations worldwide, Bice at Universal provides a romantic white-tablecloth experience in the heart of the theme park resort. Dine inside or out on the patio on Northern Italian cuisine, including fresh pasta and seafood dishes. The dress code is resort- or business-casual, and reservations are recommended.
When you dine at Mama Della's Ristorante, it's like being invited into her warm, welcoming home. Every room transports you to the Italian countryside, where you can enjoy rustic, Old World specialties like Insalata Caprese, Pollo Marsala, lasagna, and Frutti di Mare, accompanied by the finest wines and strolling musicians.
With plenty of grab-and-go snacks and a hot-food counter for quick service, Sal's offers a sensational assortment of Italian meats, cheeses, antipasto, fresh fruit, fresh-baked pizzas, and salads in a pleasingly rustic establishment. Sit inside or out for breakfast, lunch, and dinner, or just grab a snack for the road.
Across the courtyard from Sal's Market Deli, the Gelateria is the place to go for authentic homemade gelato, decadent pastries, milkshakes, smoothies, specialty coffee, espresso, and more. Grab a treat and enjoy while window shopping along the harbor.
One of two bar/lounges at Portofino Bay, The Thirsty Fish is located on the Harbor Piazza and has live music most Thursday, Friday, and Saturday evenings. Relax with beer, wine, or a cocktail, and munch on some freshly baked pizza or a sandwich. This is the perfect place to enjoy Portofino Bay's regular Harbor Nights events.
This inviting lobby lounge is a great place for guests to unwind with a drink, as the menu features champagne, classic-style martinis, European cocktails, Italian grappas, ports, and tasty hors d'oeuvres. You can't go wrong with a white peach or strawberry rhubarb bellini.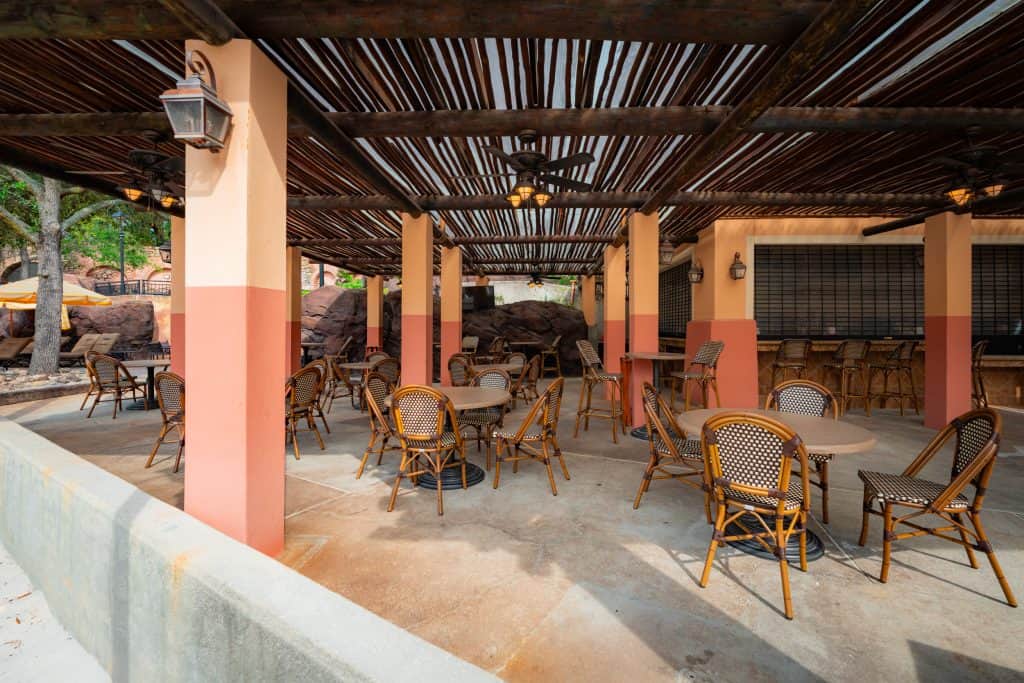 Located in the pool area at Portofino Bay, Splendido Bar and Grill will bring your food and drinks right to your poolside lounger. With an extensive menu of burgers, sandwiches, pizza, pasta, and more, you definitely won't go hungry at the pool. To quench your thirst try one of their unique cocktails such as the "Portofino Bull Breeze" or Splendido's white sangria, or if you're looking for something sweet, try a fresh cookie, decadent brownie, or an artisan popsicle.
Do you have a question about the information on this page or would you like to provide feedback? Please let us know by posting in our
Orlando Informer Community
on Facebook.