Skip to: Overview | Location | Hours | Menu | Guest reviews
What is Splendido Bar & Grill?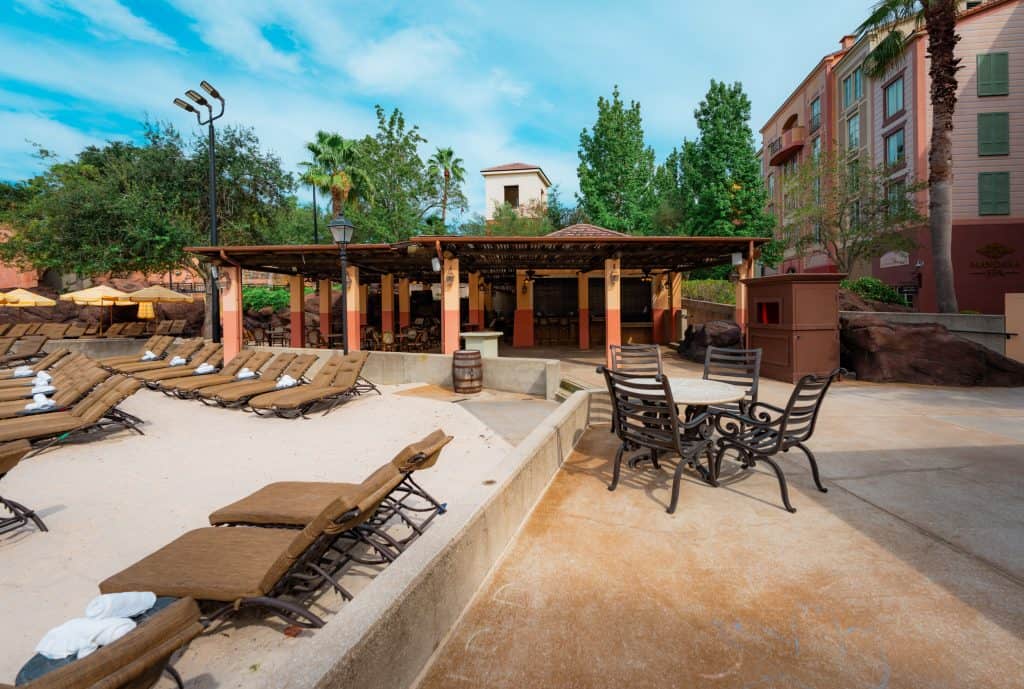 As this hotel's coastal charm transports you to the shores of Italy, sip on a delightful selection of wines, cocktails, and beer or savor a mouthwatering variety of bites without leaving your poolside oasis. Whether you prefer delivery to your chair or traditional table service, Splendido Bar & Grill's options allow you to vacation your way!
Where is Splendido Bar & Grill located?
Next to the beach pool at Loews Portofino Bay Hotel, one of Universal Orlando Resort's hotels.
Splendido Bar & Grill – hours and reservations
Sunday – Thursday: 11:00 AM – 10:00 PM
Friday – Saturday: 11:00 AM – 11:00 PM
Food service is available until one hour before closing, with bar service available until close.
What's on the menu at Splendido Bar & Grill?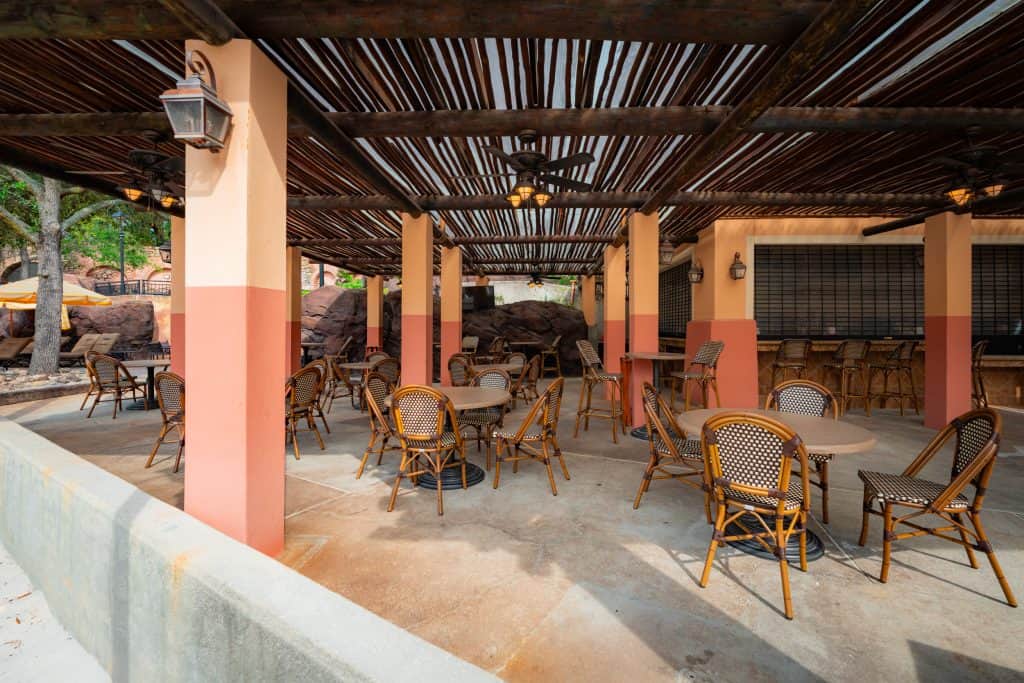 Bites
First Splash
Chips & Salsa – $8.00
Salsa fresca, sour cream
ADD: Avocado Mash | +$4.00
"Splash" Nachos – $16.00
Salsa fresca, black olives, jalapeños, sour cream, avocado mash, cheddar cheese sauce
ADD: Chicken | +$6.00 or Chili | +$5.00
Wings – $16.00
Six wings tossed with your choice of buffalo sauce or BBQ sauce and served with celery sticks with a choice of ranch or blue cheese dressing
Mozzarella Cheese Sticks – $10.00
Six pieces, Parmesan cheese, pomodoro sauce
Dips & Spreads – $16.00
Pesto hummus, lemon hummus, yellow pepper olive caponata, grilled pita bread
Pizza
Cheese – $14.00
Pepperoni – $16.00
Vegetable Flatbread – $18.00
Pesto, grilled zucchini, grape tomato, sweet peppers, pickled red onions, olives, blended cheeses and aged balsamic reduction
Small Wave
Caesar Salad – $15.00
Romaine hearts, croutons, parmesan cheese, Caesar dressing
Caprese – $16.00
Fresh mozzarella, vine-ripened tomato, basil, balsamic reduction
Orchard Fruit Platter – $16.00
Cantaloupe, honeydew, pineapple, watermelon, strawberry, vanilla yogurt
Farmer's Chopped Salad – $16.00
Romaine hearts, spring mix, cherry tomatoes, Kalamata olives, pepperoncini, croutons, red onions, sweet peppers, parmesan, red wine vinaigrette
ADD: Grilled Chicken | +$6.00 or Cold Shrimp | +$8.00
Tidal Wave
Served with a choice of fries, house salad, or fresh fruit. Substitute sweet potato fries for +$1.00.
The Portofino Burger – $18.00
Beef burger patty, lettuce, tomatoes, onions, bacon, pickles, brioche bun and choice of Swiss, cheddar, or American cheese
Beyond Burger – $20.00
Plant-based patty, vegan cheddar cheese, lettuce, tomato, onion, avocado, kosher pickles, Kaiser bun
Turkey Club – $18.00
Smoked turkey, crispy bacon, Swiss cheese, lettuce, tomato, mayonnaise on seeded multi-grain toast
Chicken Tender Platter – $17.00
Five pieces of crispy, boneless and fried tenders. Served with honey mustard and BBQ sauce
Fish Sandwich – $22.00
Grilled local white fish, swiss cheese, tomato, baby green lettuce, pickles, caper tartar sauce
Chicken Caesar Wrap – $18.00
Grilled chicken, romaine lettuce, parmesan cheese, tomato, tossed with Caesar dressing, spinach wrap
Sides
French Fries – $5.00
Sweet Potato Fries – $6.00
Onion Ring – $5.00
House Salad – $5.00
Fresh Fruit – $5.00
Little Wave
Includes kid's beverage and choice of fries, fresh fruit, or house salad. Substitute sweet potato fries for +$1.00.
Ditalini Pasta Mac & Cheese – $12.00
Chicken Tenders – $12.00
Cheeseburger – $12.00
Grilled Cheese Sandwich – $12.00
6-Inch Cheese Pizza – $12.00
6-Inch Pepperoni Pizza – $12.00
Hot Dog – $12.00
Sweet Treats
Chocolate Chip Ice Cream Cookie – $4.00
Nestle Dibs Crunch Bites – $4.00
Nestle Drumstick Ice Cream Cone – $4.00
Strawberry Fruit Bar – $4.00
Cocktails
On the Rocks
Souvenir Glass – $16 .00
Tooters – $5.00
Tropical Sunset
Malibu Coconut Rum, peach schnapps, Amaretto liqueur, orange juice, pineapple juice and cranberry juice
Portofino Bay Punch
Bacardí Gold, banana liqueur, orange, cranberry, and pineapple juices with a splash of Cruzan Hurricane Proof Rum
Italian Raspberry Limonata
Ketel One Vodka, Limoncello, lemon juice, simple syrup and muddled raspberries
Cool as a Cucumber
Tito's Handmade Vodka, muddled cucumber, St. Germain Elderflower Liqueur and lemonade
The Spicy One
Patron Silver Tequila, Cointreau, orange juice, house-made sour and fresh jalapeño peppers
Zenzero
Casamigos Blanco Tequila, Domaine de Canton Ginger Liqueur, Fever Tree Grapefruit Soda
Russamano
White Claw Premium Vodka, Cavit Lunetta Prosecco, St-Germain Elderflower Liqueur, fresh lime juice
Fiore
Hendrick's Gin, raspberry, lime juice, Fever Tree Ginger Beer
Frozen
Souvenir Glass – $16 .00
Tooters – $5.00
Peach Bellini Cooler
Grey Goose Vodka, prosecco, peach schnapps, peach purée and Chambord black raspberry liqueur
The Riviera
Bacardi Superior Rum, mango, piña colada with a strawberry lava flow
Bella Costa
Malibu Coconut Rum, piña colada, Blue Curacao swirl, Myers's Dark Rum float
Bourbon & Berries
Maker's Mark Bourbon, peach schnapps, fresh blueberries and lemonade
Orange Dream
Deep Eddy Orange Vodka, orange and ice cream mixes
Daquiri
Bacardi Rum blended with choice of Cool Breeze flavor: piña colada, strawberry, raspberry, passion fruit, blue raspberry, mango, peach, lemonade, or orange
Mocktails
Strawberry Margarita – $8.50
Strawberry purée, house-made sour mix. Also available frozen.
Electric Lemonade – $8.50
Frozen lemonade and blue raspberry swirls
Smoothies
Strawberry – $8.50
Mango – $8.50
Peach – $8.50
Raspberry – $8.50
Piña Colada – $8.50

Vanilla – $8.50
Chocolate – $8.50
Lemonade – $8.50
Mixed Flavors – $8.50
Create your own using a combination of the above flavors
Beers
Domestic, Import, & Craft
Can – $9.00
Six-Beer Bucket – $45.00
Yuengling
Miller Lite
Coors Light
Budweiser
Budlight
Corona Extra
Heineken
Heineken 0.0
Jai Lai
Guinness
White Claw
Truly
Draft
16 oz. – $9.00
24 oz. – $13.00
Blue Moon
Modelo
Peroni
Stella Artois
Michelob Ultra
Voodoo Ranger IPA
Wines
Sparkling Wines
Lunetta Prosecco – $12.00 | $50.00
Pommery Brut Royal Champagne – $150.00
White Wines
Archetype Chardonnay – $10.00 | $40.00
Archetype Sauvignon Blanc – $10.00 | $40.00
Bertani Pinot Grigio – $14.00 | $56.00
Red Wines
Benziger Merlot – $14.00 | $56.00
Bodegas Caro Aruma Malbec – $10.00 | $40.00
Archetype Cabernet Sauvignon – $10.00 | $40.00
Archetype Pinot Noir – $10.00 | $40.00
Splendido Bar & Grill – photo gallery
Splendido Bar & Grill – real guest reviews
Orlando Informer
Average rating:
0 reviews
Do you have a question about the information on this page or would you like to provide feedback? Please let us know by posting in our
Orlando Informer Community
on Facebook.