Universal has given select newspapers a first look at their new ride coming this summer to Islands of Adventure: Skull Island: Reign of Kong.
The biggest reveal was a picture of the 72-foot taparemple doors on Skull Island that act as one of the initial moments guests witness after boarding the ride. The scene will be bypassed during inclement weather.
Universal additionally confirmed that Reign of Kong will be one of the longest rides it has ever created.
Skull Island: Reign of Kong temple doors. (full resolution)
The story of Skull Island
Universal released a new description for the ride and its surrounding area on Thursday, revealing that the new island is "rife with prehistoric creatures of unknown origin — and the legend of a beast still undiscovered." They go on to explain our role in the story and more:
You find yourself at a campsite of the 8th Wonder Expedition Company, the research team leading your adventure.
Once beyond camp, the menacing terrain shows signs of a native presence; beating drums draw you toward an ancient temple. Moving deeper into the ruins reveals a lost shrine — and proof you are not alone. You ignore warnings to turn back.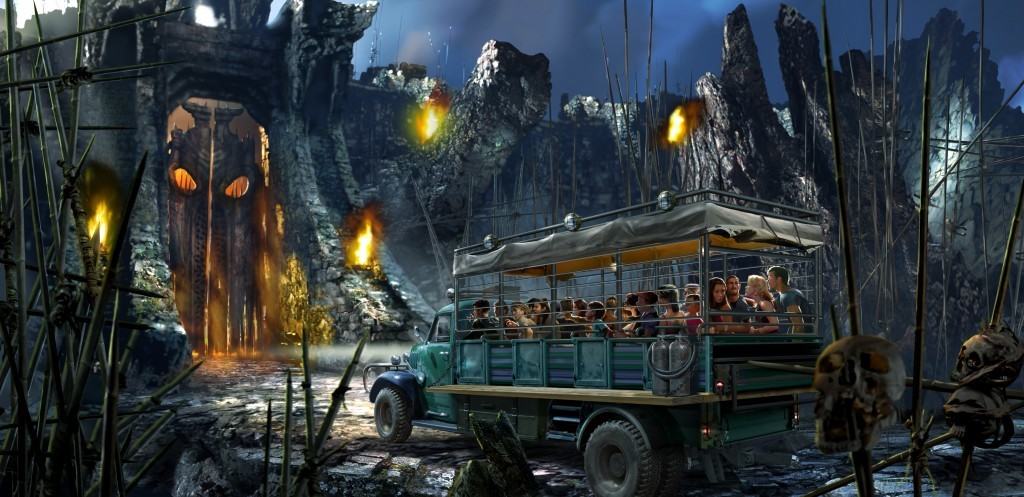 Skull Island: Reign of Kong ride vehicle concept art
You board a specially designed expedition vehicle that will take you deeper into the island. Mysterious sounds pierce the air and you hear chanting. And then you confront an enormous temple wall, complete with carvings and images that seem to pay homage to something you cannot quite comprehend. The temple's massive wooden doors slowly open, revealing a labyrinth of caves.
Inside the caves, you meet your expedition leader — and suddenly find yourself in the midst of a raging struggle between creatures of incomprehensible size and ferocity. Then, as those creatures turn on you, there is an even more enormous, earth-pounding presence — bigger, closer and more overwhelming than you can possibly imagine. It is Kong. But is he friend or foe?
Myth Explorers: The Quest for Kong
In addition to these new details, earlier this month Universal Orlando quietly launched an elaborate website marketing campaign to lead up to the opening of the new attraction. Dubbed Myth Explorer, this web series follows Erin Ryder (co-host of Destination Truth on Comcast's Syfy and Chasing UFOs on National Geographic) and her fictional crew as they "brave an island that doesn't appear on any official map—a rocky, skull-shaped jungle in the Indian Ocean where the story of King Kong originated."
The Myth Explorer website seems to indicate that we can expect 5 episodes of the web series. A season preview has already been released, along with a quick 45-second clip of explorer Erin at the airport.
UPDATE 9:39am: Universal has released episode 1 of Myth Explorer, which is almost 7 minutes long. See it below.
Having traveled to the South Indian Ocean, Erin Ryder and the Myth Explorer crew search the sea for the lost island. For safety, the team splits and their research vessel becomes a floating HQ as Erin and Mike set off to explore a rocky shore and mist-shrouded mountains that could be the actual Skull Island.
Skull Island: Reign of Kong is a part of several other additions coming to Universal Orlando in 2016. Other projects include a complete makeover of the Hulk roller coaster and Universal's next on-site hotel, Loews Sapphire Falls Resort. Both are also scheduled to open in the summer.
Stick with Orlando Informer for full coverage of these additions and how they may affect your vacation!