I'll be the first to admit, I just did not see the big deal about Hello Kitty and the other Sanrio characters. Then I set foot in the brand new Hello Kitty store at Universal Studios Florida and I think I get it now…. sort of. To the dismay of long time Universal fans, the I Love Lucy Tribute walk through attraction took its final bow in 2015. In its place a bright and bubbly shop brimming with all kinds of cuteness has now opened its doors.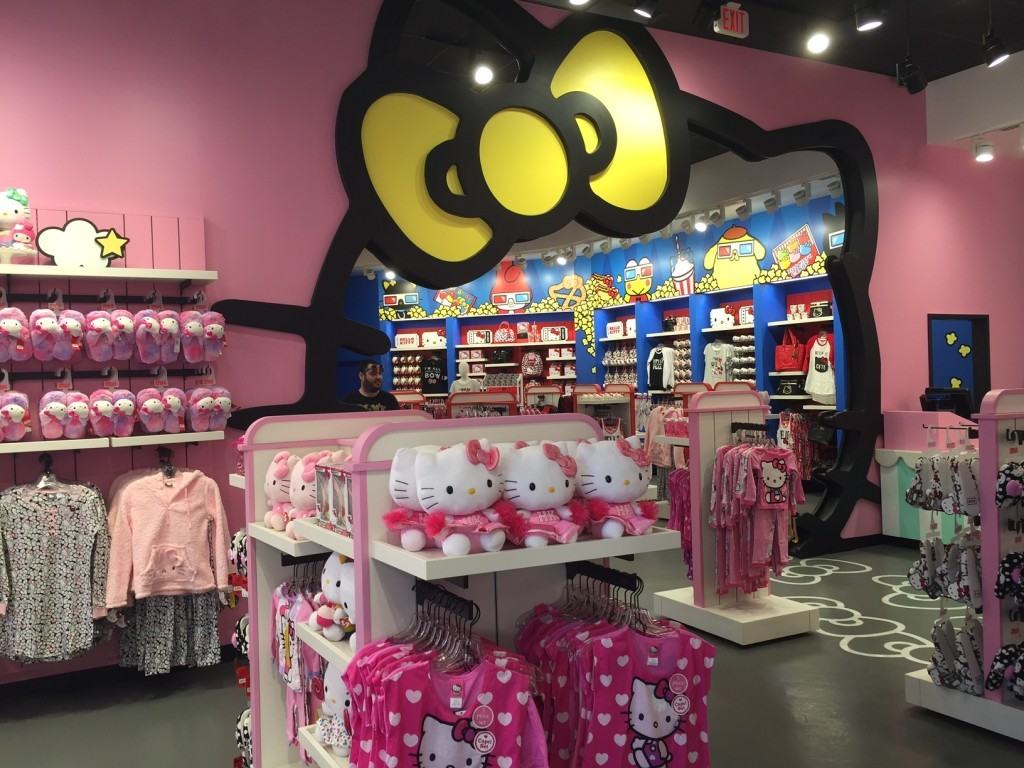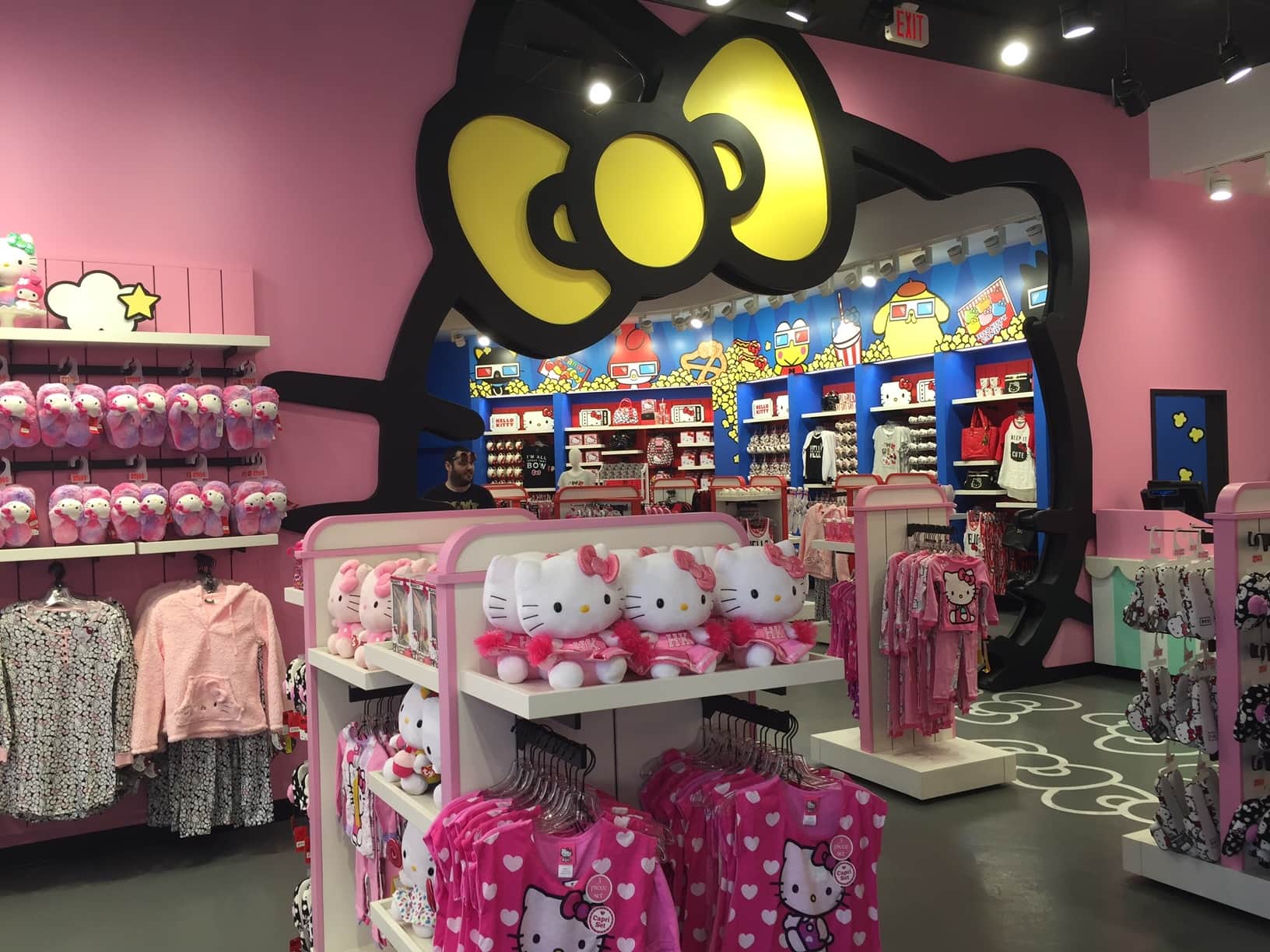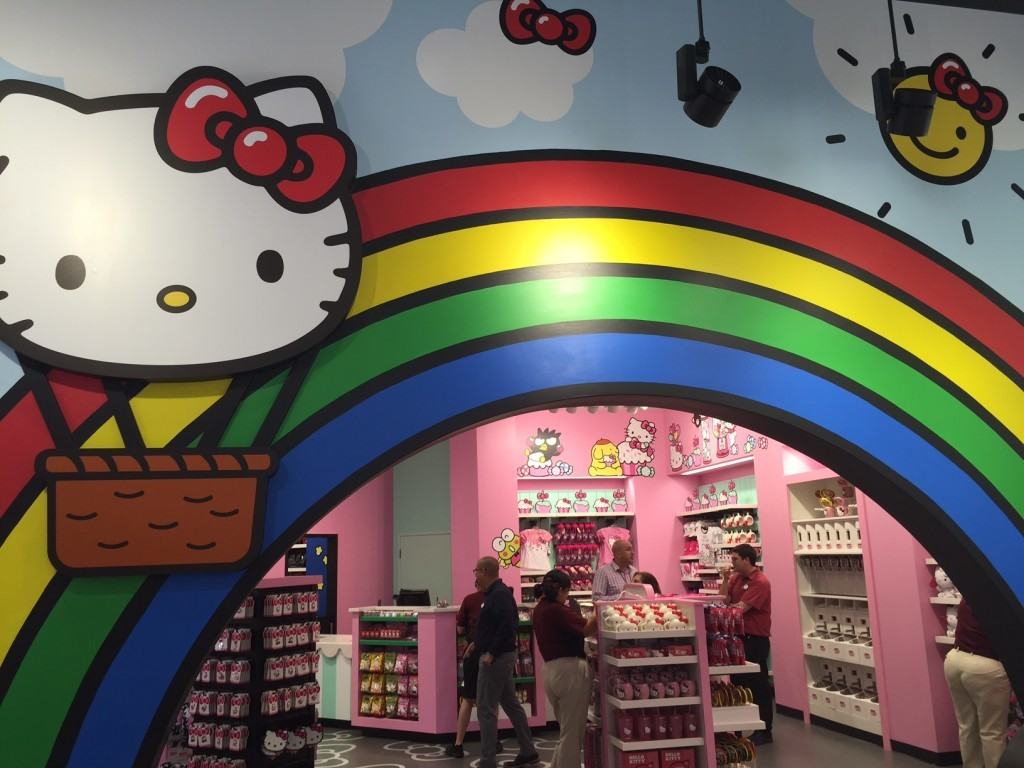 On the day of my visit, the first day of operations for this shop, there was all manner of management and Team Members gathering in every corner of the shop admiring their new domain. I entered through the smaller entrance at the far right end of the building. The shop sits at the corner of the Hollywood area and Production Central.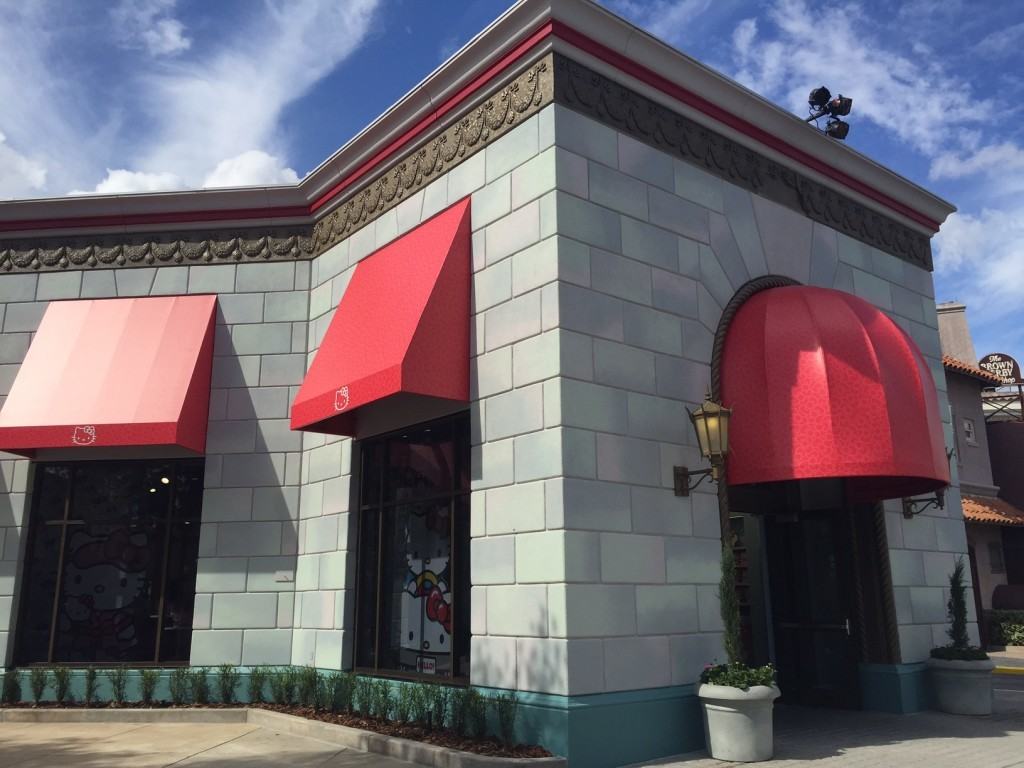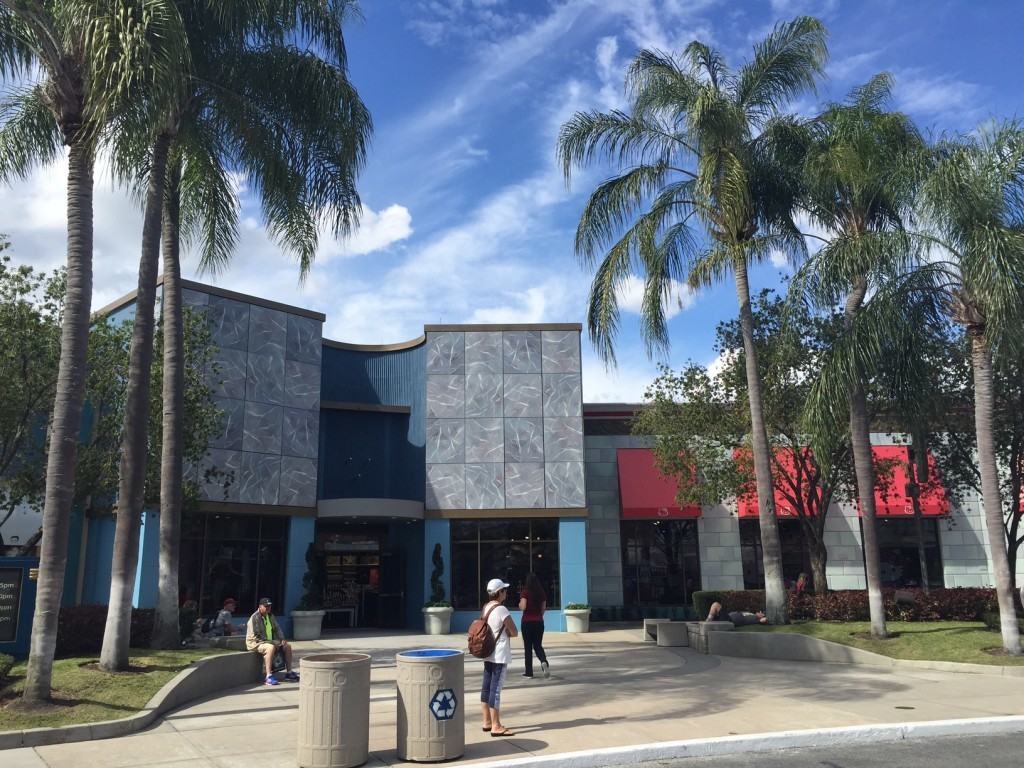 Before you even enter you are sure to notice the brightly colored window displays. I also noticed that the sign on the building had yet to be installed. I love visiting something when it first opens. You'll never see a ride, attraction, shop, or restaurant in that same state as when it first opens and welcomes guests for the first time.
Outside of the far right entrance is a fun little detail. There used to be a large I Love Lucy sign. When it was removed a large rectangular hole needed to be filled, so in true Hollywood style, Hello Kitty's autograph was scrolled into a concrete block. It's a cute touch for anyone who notices it.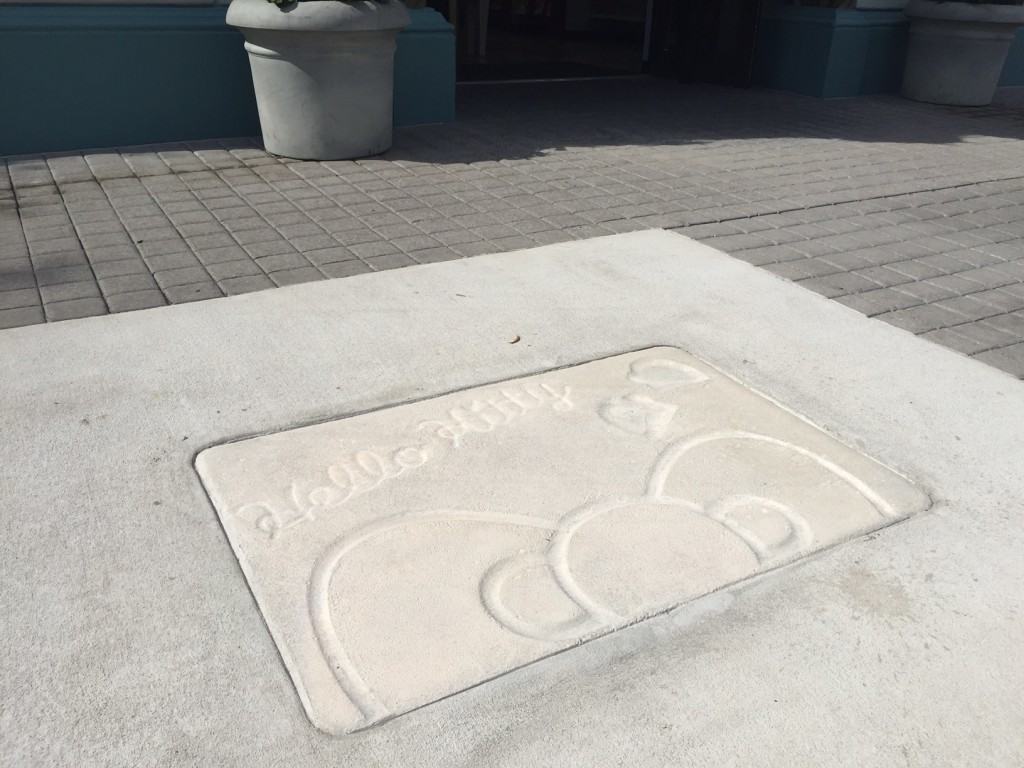 Once inside the bright colors and circular curvy shapes hit like a wall of happiness. I'm a pretty upbeat person, but I think if I stayed in this store long enough I'd get a migraine. The merchandise offers a good selection for little kids, preteens, and adults that are young at heart. It is very apparel focused, but you'll also find toys and a few housewares, especially cups and mugs.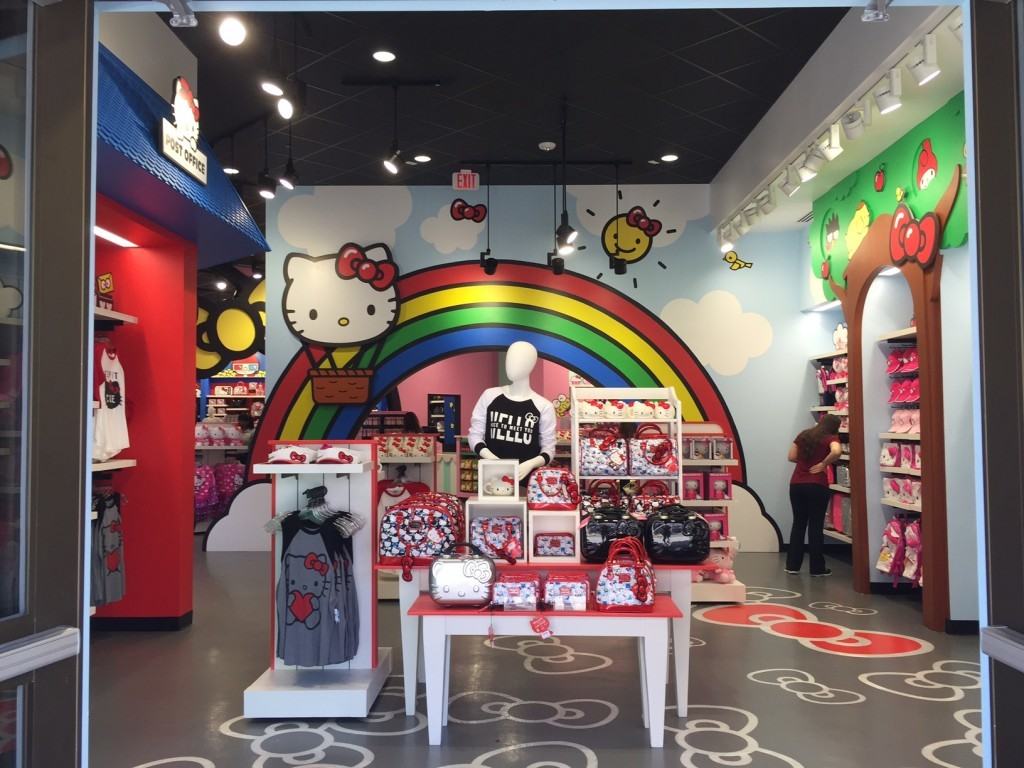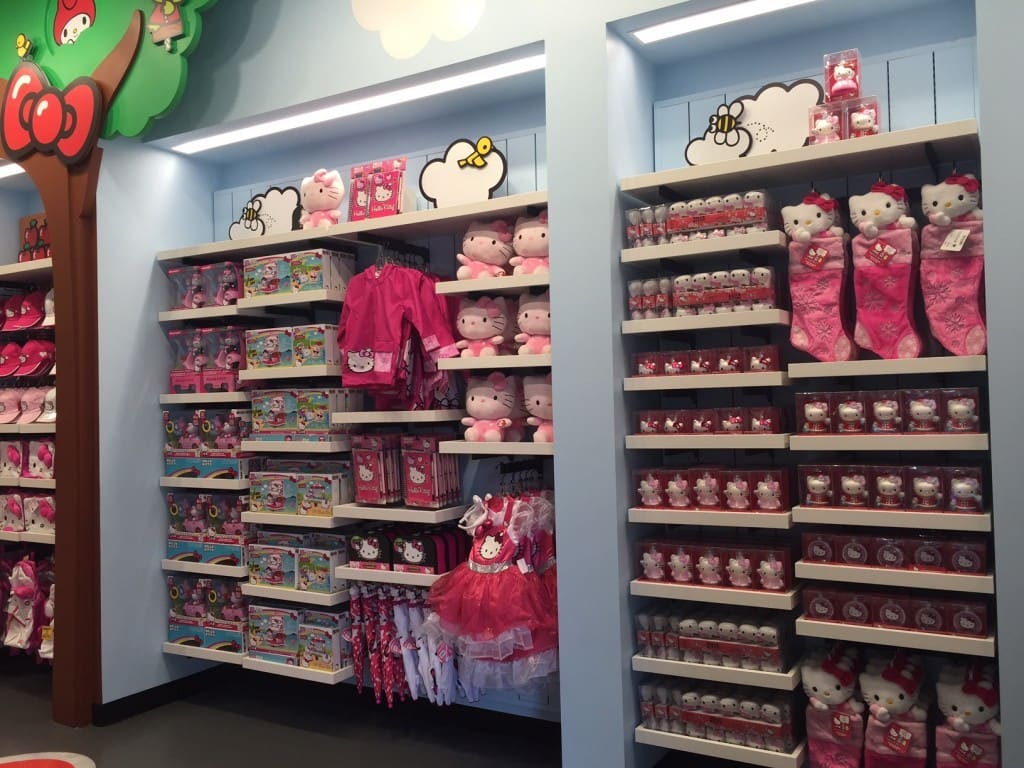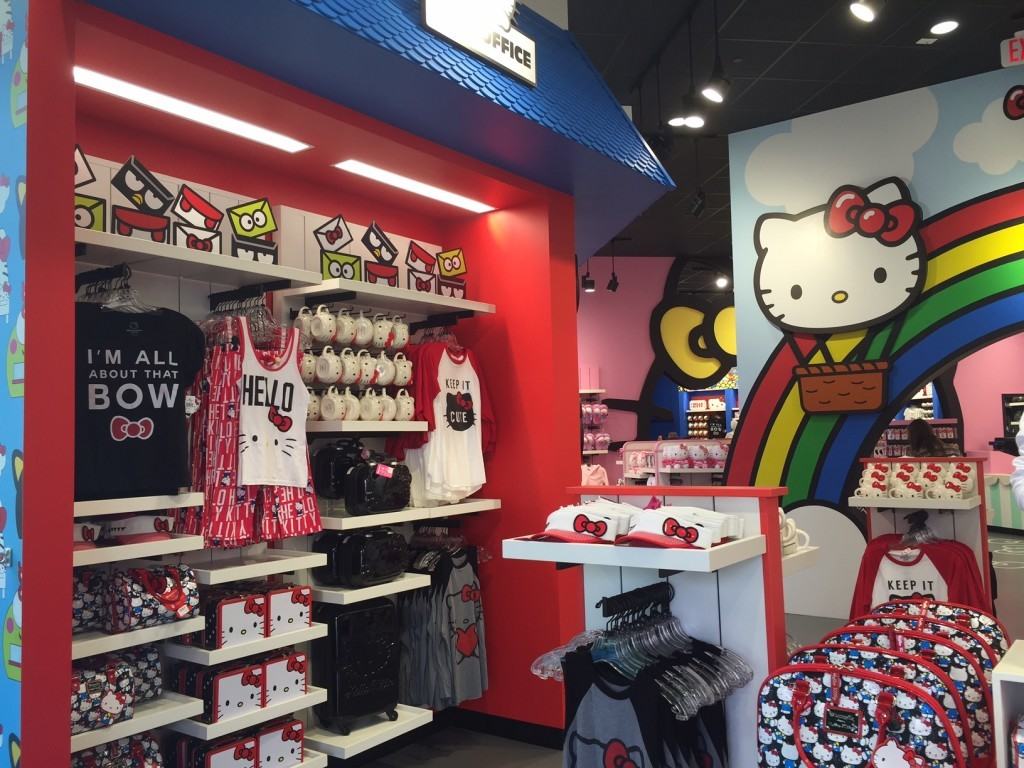 So far there is no merchandise that is exclusive to Universal. Everything on the shelf is something you could find at any other Sanrio store or online. However, I spoke with a manager and he said that Universal Orlando and Hello Kitty mashup merchandise is in development. I continued the inquisition and asked if he knew if the awesome Universal Hello Kitty mashup movie posters would be used as inspiration and he gave me every indication to believe this may be the case.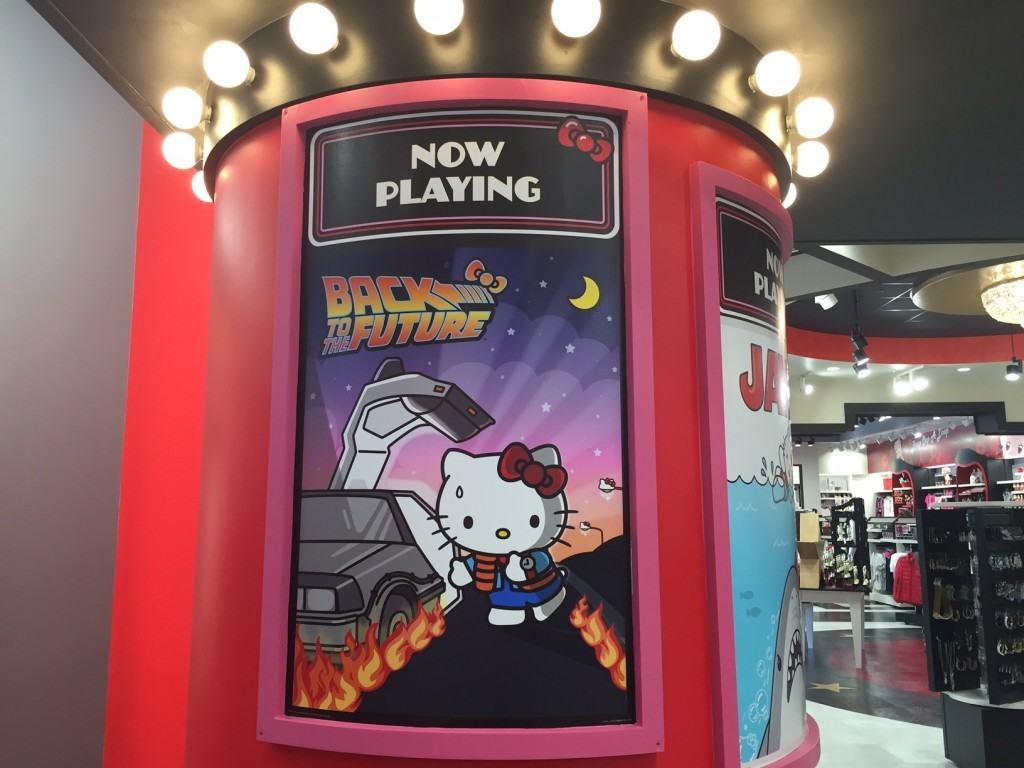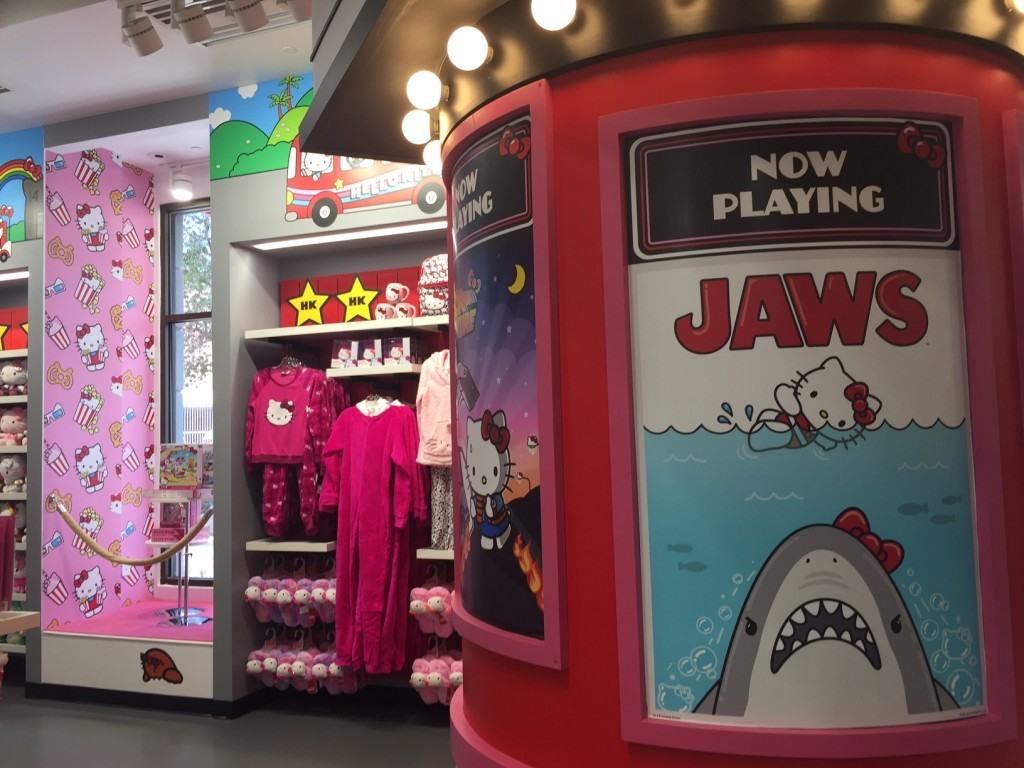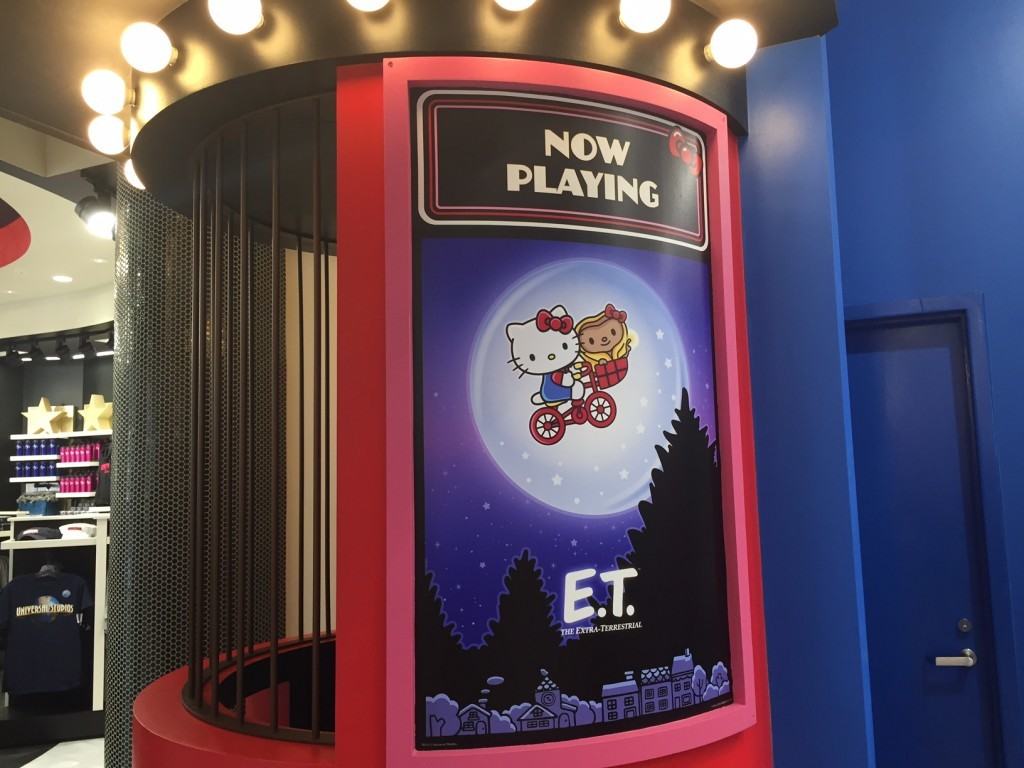 The prices are on the high side, though nothing really out of the ordinary for a theme park store. Especially when you consider that both Universal and Sanrio need to make money off this stuff.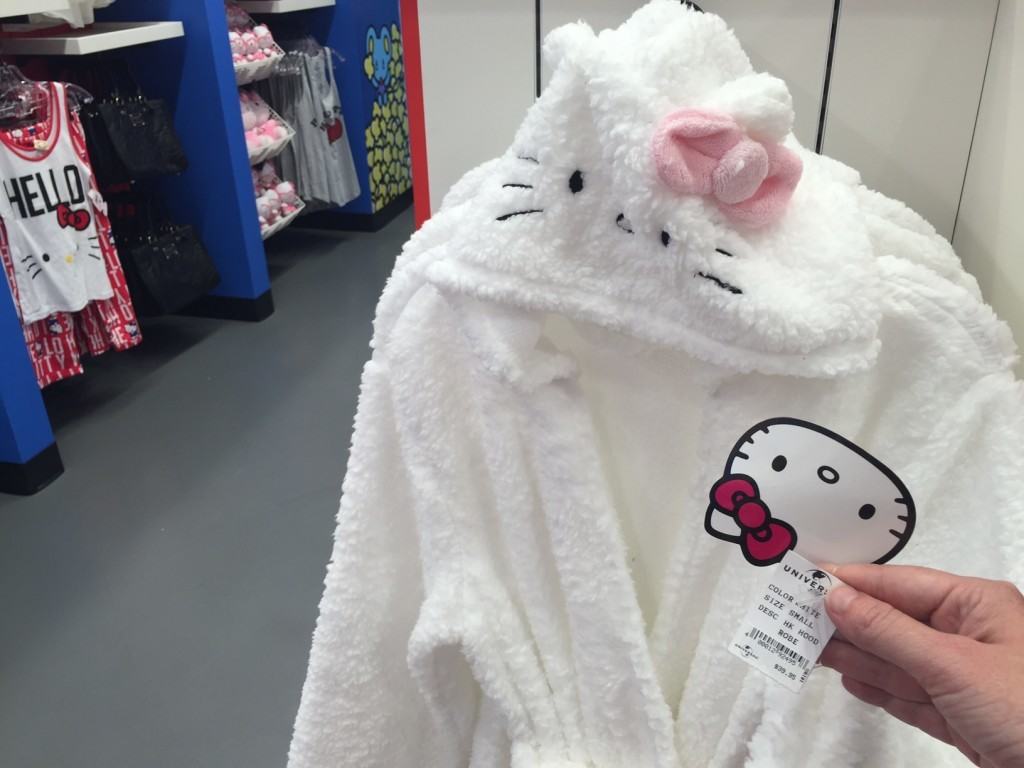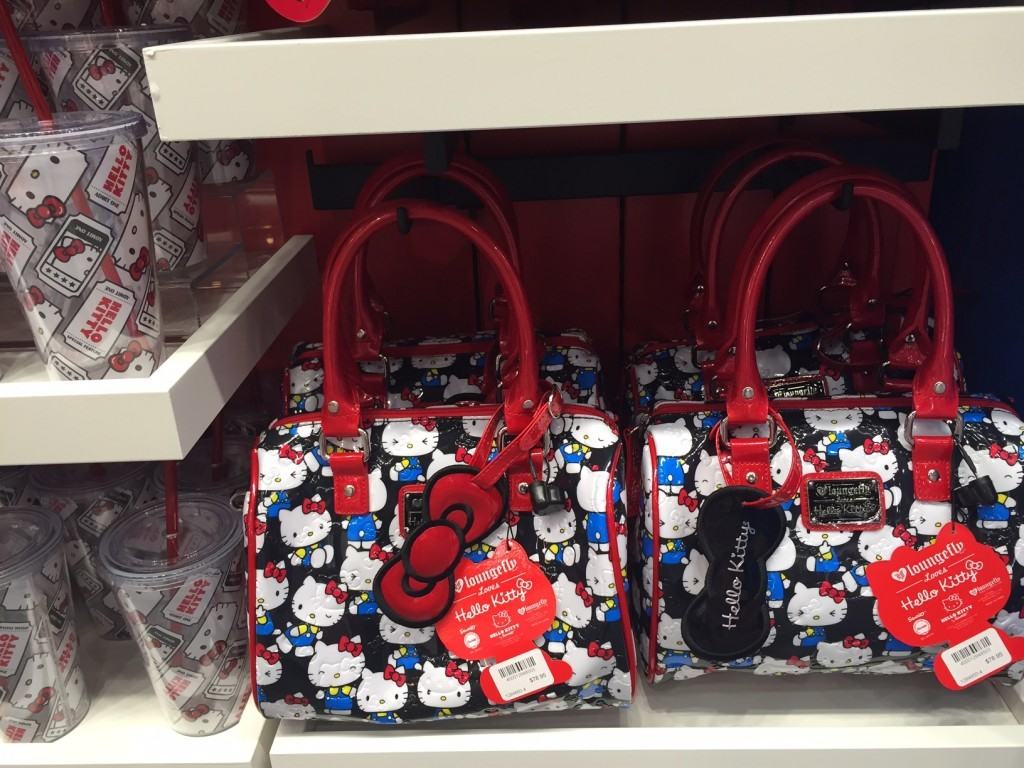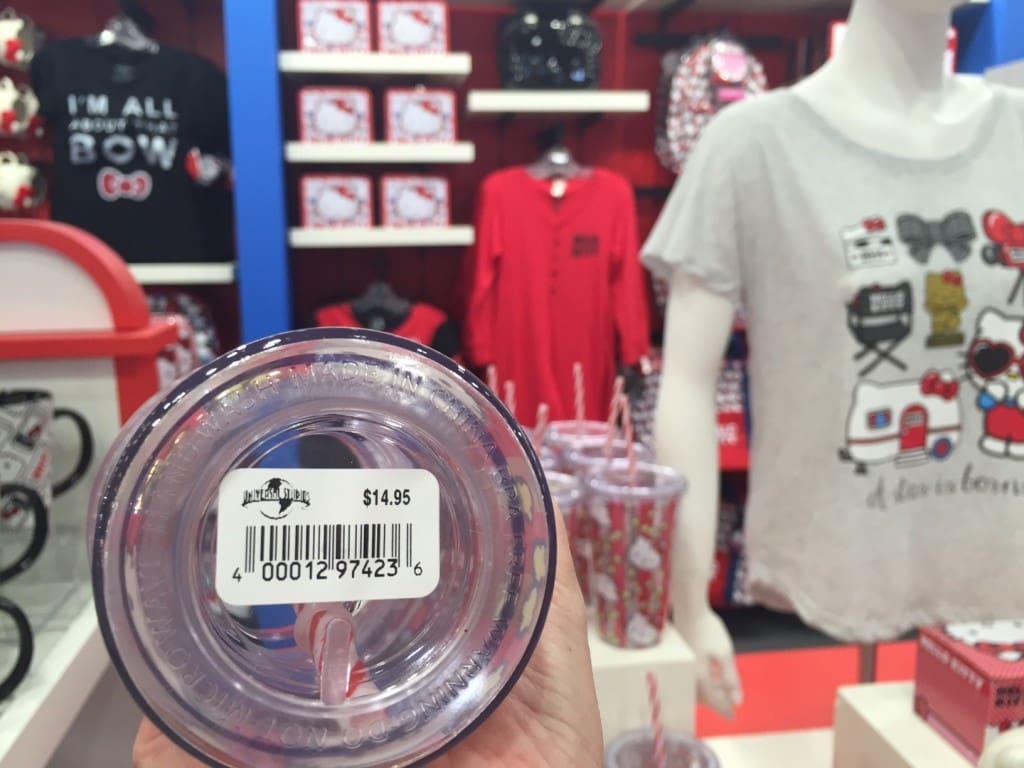 I was surprised to find a case full of Hello Kitty confections at the back of the store. These items are brightly decorated and absolutely adorable. I can see these treats being popular with any fan of Hello Kitty. Prices range from $4 for fudge (the flavor variety is impressive) to $10 for gourmet apples. Each piece of fudge has an adorable Hello Kitty style red bow, simply precious, almost too cute to eat….. almost.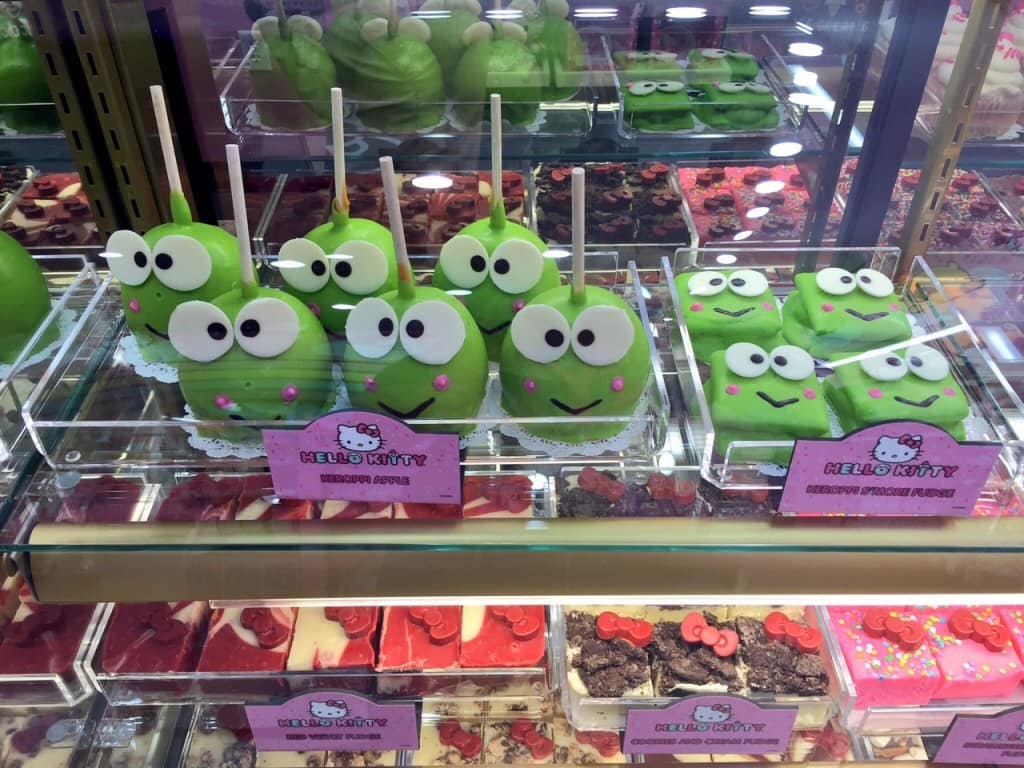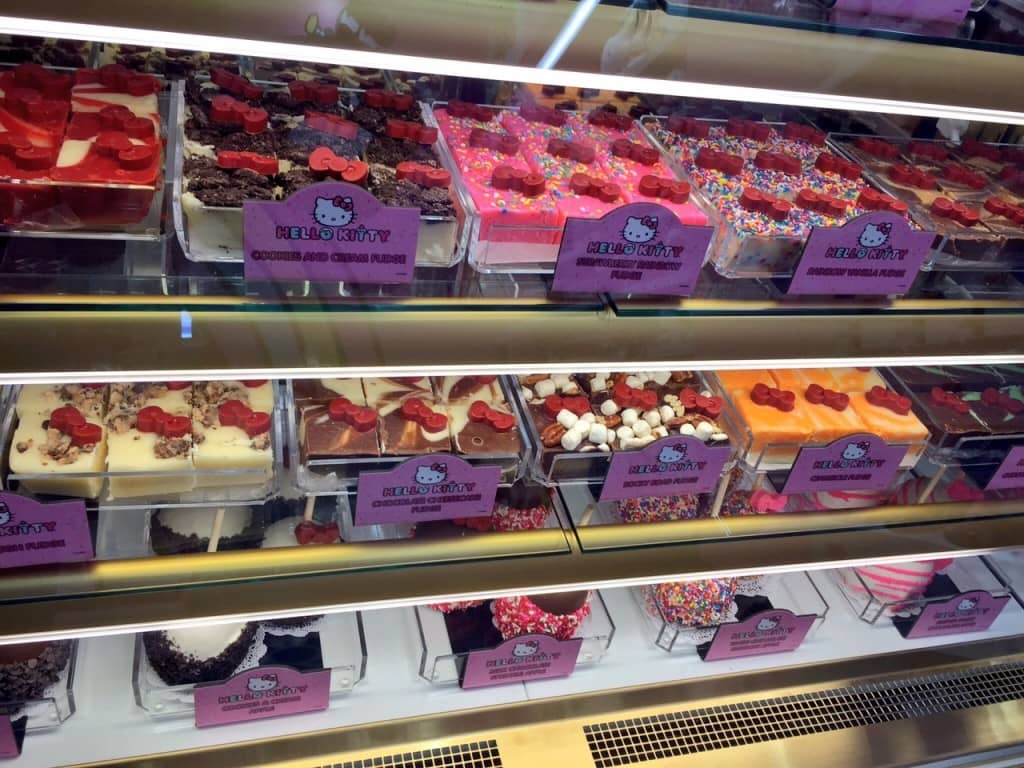 Overall, I can see this store being popular and a big money maker for Universal. The whole space is adorable, friendly, welcoming, and upbeat. I can't wait to see what the Universal + Hello Kitty merchandise looks like!
New Hello Kitty Store – Photo Gallery