Universal sent ride vehicle specifications and related details to select members of the media to publish on Tuesday.
The Skull Island: Reign of Kong ride vehicle will be a 40-foot-long, 17-ton truck that can carry 12 guests per row (72 guests in total). The expedition truck is 13 feet tall with 45 inch wheels. The ride vehicles will not run on a track, instead they will be guided by a sophisticated positioning system.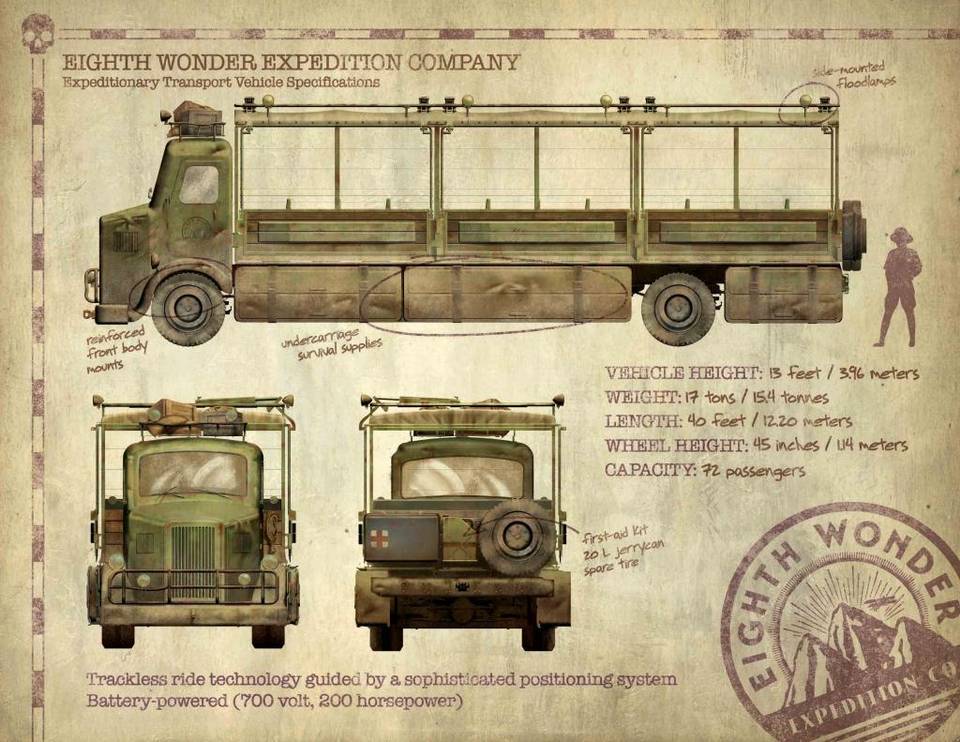 Skull Island: Reign of Kong Ride Vehicle Specifications
"This is Universal Orlando's first trackless ride vehicle," Mike West, executive producer with Universal Creative, says in a video sent to the media and expected to be released this morning. Other parks have already debuted trackless technology, such as SeaWorld's Antarctica: Empire of the Penguin which opened in 2013 with poor marks from guests and industry critics alike.
The trackless technology in Reign of Kong is expected to be more impressive and put to better use, allowing the ride to bypass the outdoor scenes in the event of inclement weather.
West revealed that there will be five different drivers of the ride vehicles. Sources familiar with the attraction tell Orlando Informer these will be audio animatronics behind a glass panel. Each character will have their own expedition truck and different character traits. The characters are:
Becky Callahan: The loose-cannon cowgirl who isn't fazed by the dangers awaiting her on Skull Island.
Will Denham: The fresh-faced, adventure-seeking younger cousin of famed movie director Carl Denham.
Jinks Costanza: A hardened New York City ex-con who is wary of the island's mysteries.
Kalana: A mystical descendent of the natives who first settled on the island.
Charles "Doc" Jordan: A PhD student in paleontology who took time off from his studies to explore the world.
See Mike West talk about the Reign of Kong ride vehicles below:
This is the second in a series of information released on the ape returning to Universal Orlando, last month Resort officials released details of the story and a first look at the temple doors.
Universal has not shared an opening date for the new attraction, but we guessed earlier this week that they may be planning for a June 23rd grand opening.