"This isn't a movie. This is the real deal. [Kong will be] close enough that you'll feel his breath sweep across your skin and his thunderous roar reverberate through every bone in your body," Mike West said in the latest Skull Island: Reign of Kong video released by Universal Orlando on Monday.
Mike West is an Executive Producer with Universal Creative and he's describing the approximately three stories tall King Kong which Resort officials released photos and video of overnight.
King Kong, who has a head larger than an automobile, will exist in the ride in both physical and digital form. The animatronic is 18 feet wide at its shoulders and boasts distinctive scars, likely from battles with Vastatosaurus Rex.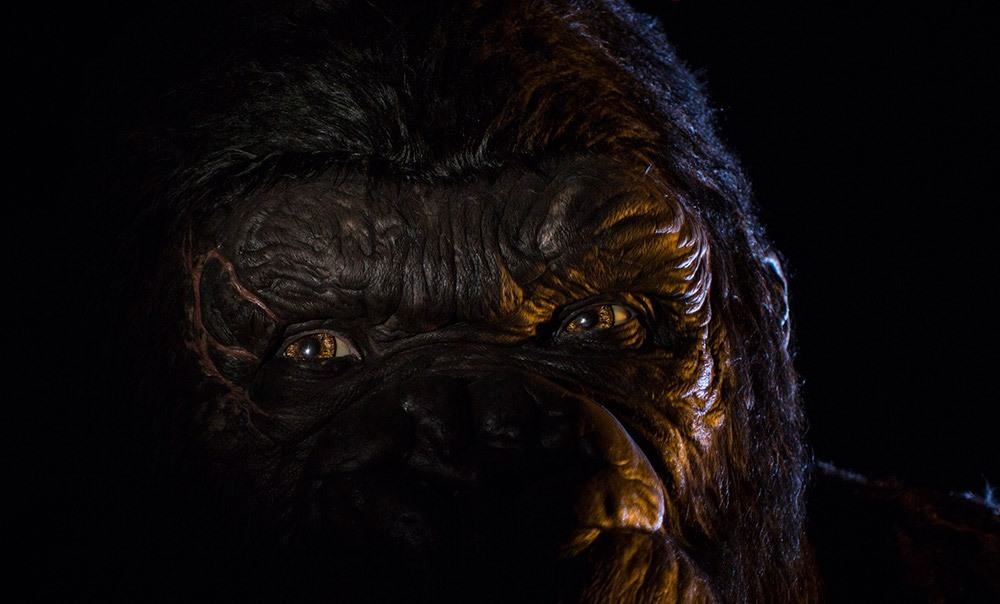 The animatronic detailing was reportedly completed by Global Creatures, the same company that created the King Kong puppet for the multi-million dollar musical production of King Kong. However this version of King Kong is even more lifelike, allowing guests to come even closer.  Universal Orlando describes the face-to-face encounter as "the most visceral encounter with King Kong ever."
Universal also gave guests a vague idea in regards to the direction of the blockbuster attraction's finale. "As they [guests] near the finale of their heart-pounding expedition, the emotional power of Kong will overtake them," read new promotional material for the attraction.
"Is he there to save you? Well, you'll find out when you face this colossal beast in the flesh," added West.
Skull Island: Reign of Kong opens this summer at Universal's Islands of Adventure. Technical rehearsals for the attraction are expected to begin soon, following minor setbacks in the past few weeks. Universal has already sent out invitations to a select group of media (including Orlando Informer) to attend a VIP Media Preview of the attraction from June 22 to June 24.