Yesterday afternoon we heard several reports online that Supply Vault, the gift shop tucked into a corner of the new Transformers building, was open to guests. Since Transformers at Universal Studios Florida is the biggest thing likely to happen at Universal Orlando this year, of course it caught our interest.
So we set out this morning to see Supply Vault for ourselves, and indeed it was open…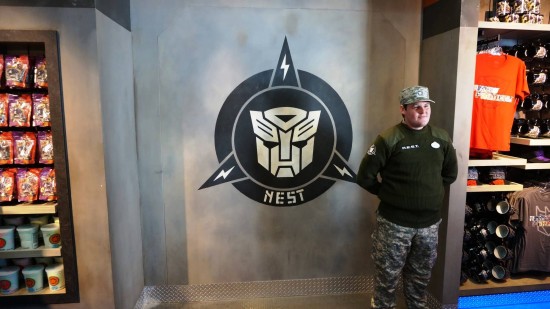 There is something for everyone here: clothing, bags, souvenir cups and coffee mugs, masks, toys, action figures, and even cells from the movies. However, while Transformers shot glasses are available, the famous Energon drink is not yet present. The team member I spoke to said he was uncertain when the beverage, served at Universal Studios Hollywood, might arrive here in Orlando.
The store itself will now be open continuously during regular park hours.
Here are a few more shots.[wptouch target="non-mobile"] Remember, you can click on any image to view it full-screen.[/wptouch]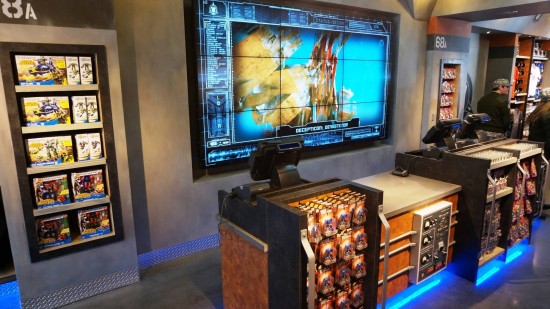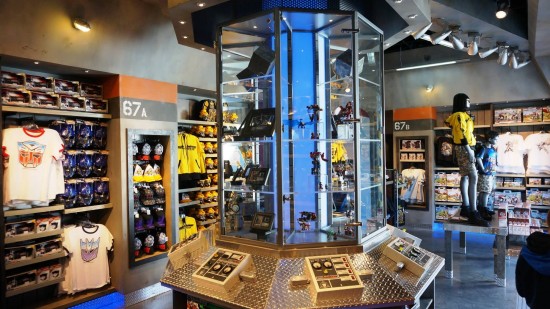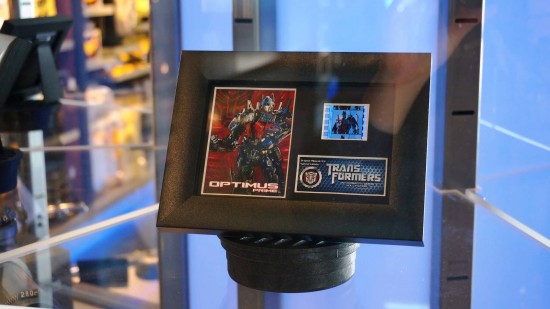 You can see our complete photo gallery below with all 48 full-screen images. We've also included a complete walkthrough HD video.
So now the question is, with the gift shop open, when will the ride open? Universal still hasn't announced an official grand opening date, but here's an interesting tidbit of information: Last year there was a 25 day spread between the opening of Super Silly Stuff, the Despicable Me gift shop, and the first time the new ride opened to the public for technical rehearsals. If you believe in patterns, that would suggest that we might be riding Transformers before the end of March!
Okay, that does seem a little too soon. Nevertheless, most folks tracking this new attraction at Universal Studios Florida seem fairly confident the ride will be open sometime in May. Pretty impressive, considering that this is what the area looked like on July 1st of last year: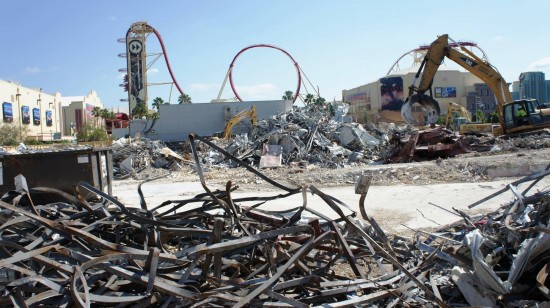 When you are done viewing this post, continue on to our Transformers: The Ride page in the OI Universal Center. There you can view everything we know about the attraction so far and our huge construction photo gallery, which includes 30 images of the building we shot on Friday.
Supply Vault: Transformers gift shop – HD video
Click the play button to start the video. Note: Our videos do not stream in HD by default to ensure fast performance. If you would like to view the video in HD, start the clip and then adjust the bitstream to 720p or 1080p.
[youtube_video]taZhd9yUsek[/youtube_video]
Supply Vault: Transformers gift shop – photo gallery
Click any image to view it full-screen. When the full-screen image is open, click to the right or use the right arrow on your keyboard to advance through the gallery. If several thumbnails are missing, try reloading this page in your browser.