Just in case this morning's big SeaWorld Orlando news – revolving around the family-friendly Ice Breaker roller coaster – wasn't enough for you, the company decided to one-up itself by announcing another new ride, this time coming to Busch Gardens Tampa.
Iron Gwazi is the "evolution" of the original Gwazi, which originally opened in 1999 as Florida's first wooden dueling coaster and which subsequently closed in 2015. SeaWorld is not only aiming to produce the single best coaster experience in the state, but also – just possibly – in the entire world; the new hyper hybrid coaster (so named because it'll be a 200+-foot-tall steel-on-wood monstrosity) will stand at a record-setting 206 feet, go top speeds of 76 mph, and feature a 91-degree drop. This eclipses the previous world-record-holder, the 2018 Steel Vengeance located up at Cedar Point, and it also bests that formidable titan in one other key way: a lower height requirement – just 48 inches to Vengeance's 52, allowing more members of the family to climb on board. (The also-announced-today Ice Breaker at SeaWorld Orlando similarly will come in at 48 inches, which puts these new rides – just for the sake of context – in the same ballpark as Universal Orlando Resort's brand-new Hagrid's Magical Creatures Motorbike Adventure.)
Busch Gardens Tampa's 10th coaster will also fit the company's new mandate of having each new attraction somehow tie into or otherwise be emblematic of its parent company's nature and conservation ideology; in Iron Gwazi's case, its thematic torchbearer is the slender-snouted crocodile, of which there are only a few thousand left in the wild (two were born at the park in 2018, with another two having arrived this year). The dual nature of the croc, which has evolved to become the world's largest living reptile either on land or in the water, will be reflected in the coaster's hybrid identity, of which 40% will hail from the original wooden structure and the remaining 60% will be comprised of the new steel track.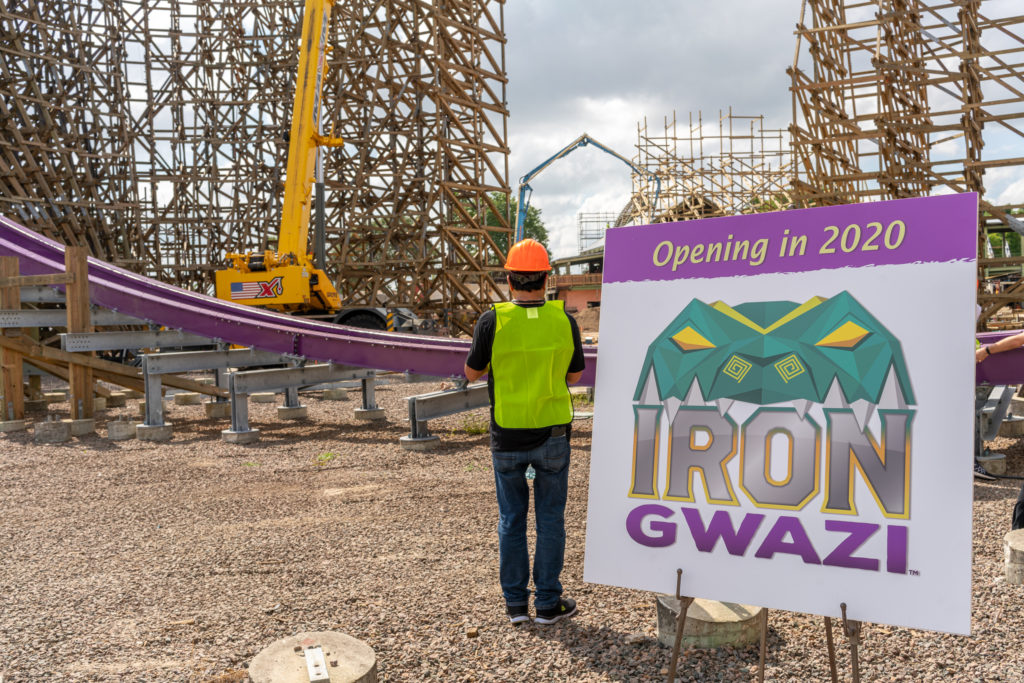 This all-new layout will boast three inversions, 12 airtime hills, and 4,075 feet of track, putting it on the more thrilling end of the family-friendly spectrum (which will allow it to stand in contrast to the slightly-less-intense Ice Breaker).
Just as with the SeaWorld media event this morning, which Orlando Informer was also invited to, the Busch Gardens presser featured one extra bit of news, as well: yet another new attraction, this time coming to BGT's sister water park, Adventure Island. Called Solar Vortex, it will carry the distinction of being the country's first dual-tailspin water slide, careening rafts through "high-banking rotations and rapid descents" at a top speed of 20 mph. In a nifty touch, it'll also use the hot Florida sun to generate different color-swirl patterns on its walls, helping to finish explaining the meaning of the slide's name.
Both Iron Gwazi and Solar Vortex will debut at their respective parks in spring 2020.
–
Excited by Busch Gardens Tampa's new thrilling future? Discuss it with 80,000+ vacation planners and Central Florida enthusiasts in our OI Community Facebook group.
And also follow Orlando Informer on Facebook, Twitter, and Instagram for the latest news and tips at Universal Orlando, Walt Disney World, and other Orlando experiences.