SeaWorld is currently celebrating its "best year ever," starting at the end of 2018 and continuing up until this fall, with the opening of such heavyhitters as the Infinity Falls water ride and the Sesame Street children's theme-park land (and – oh, yeah – let's not forget all the weekly festivals and revamped season pass program). But this hasn't stopped the company from attempting to one-up itself for 2020.
Today at a press conference that Orlando Informer was invited to, SeaWorld has announced a brand-new roller coaster – the sixth for SeaWorld Orlando, and the first to be launched – that will scratch a couple of important itches for the company simultaneously: called Ice Breaker, it'll feature a few novelties, including some that just may also be first-of-its-kind features; integrate into the company's pre-existent Wild Arctic exhibit, meaning it'll feature an integrated message of Arctic and oceanic conservation; and further the park's newfound focus on exciting thrills and family-friendly adventures.
Let's tackle that first point first, as it's easily the most exciting (and the one that SeaWorld is hopeful will fuel a certain level of hype before Ice Breaker's debut). After boarding the coaster and leaving the loading station, passengers will be moved laterally unto the coaster track proper – which will then launch them backwards, then forwards, then backwards and forwards yet again. The process will produce a lot of out-of-your-seat airtime for riders in both directions – making it rather unique right off the bat – and climb up to a top speed of 52 mph.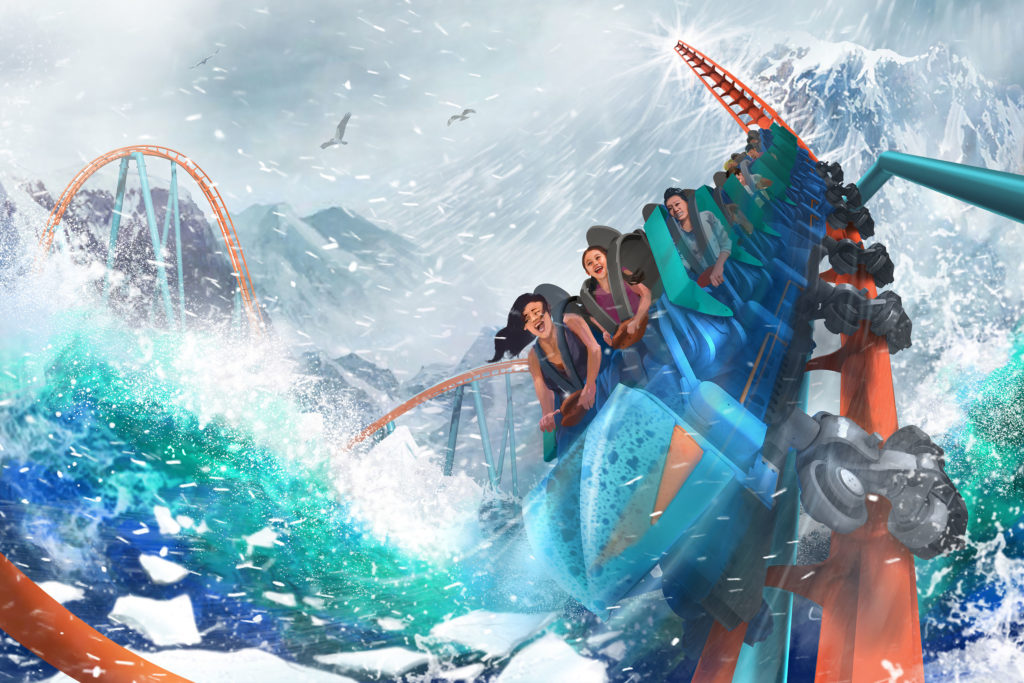 It's that speed that will allow you to escape the launch area and proceed on to the next, main part of the ride; here, guests will rocket up a 93-foot, 100-degree spike (think like the one featured in Hagrid's Magical Creatures Motorbike Adventure, but slightly curved at the top, thanks to its beyond-vertical nature) and traverse even more hills (including an 80-foot one, along with others that are near-vertical) that will, of course, engender more airtime. The idea here, much as with Universal's new Hagrid attraction, is to offer most members of the family an experience that veers towards the thrilling without crossing over into the intense category (much like what one can find at Cedar Point's various mammoth roller coasters) – something which is attested to by both Ice Breaker's and Hagrid's Motorbike Adventure's shared 48-inch height requirement.
Over the course of the short media event, a few other small tidbits of SeaWorld Orlando news were dropped, including the fact that all of 2020's 52 weekends would likewise be filled with such events as the Seven Seas Food Festival, Electric Ocean, and the brand-new Sesame Street Weekends, and that the newly-revamped annual-pass program will be seeing a price increase either later on this year or early next.
Ice Breaker will #BreakTheIce in spring 2020.
–
Excited by SeaWorld's new thrilling future? Discuss it with 80,000+ vacation planners and Central Florida enthusiasts in our OI Community Facebook group.
And also follow Orlando Informer on Facebook, Twitter, and Instagram for the latest news and tips at Universal Orlando, Walt Disney World, and other Orlando experiences.