Busch Gardens Tampa Bay is preparing to soar to new heights in Spring 2023 with its newest attraction, Serengeti Flyer!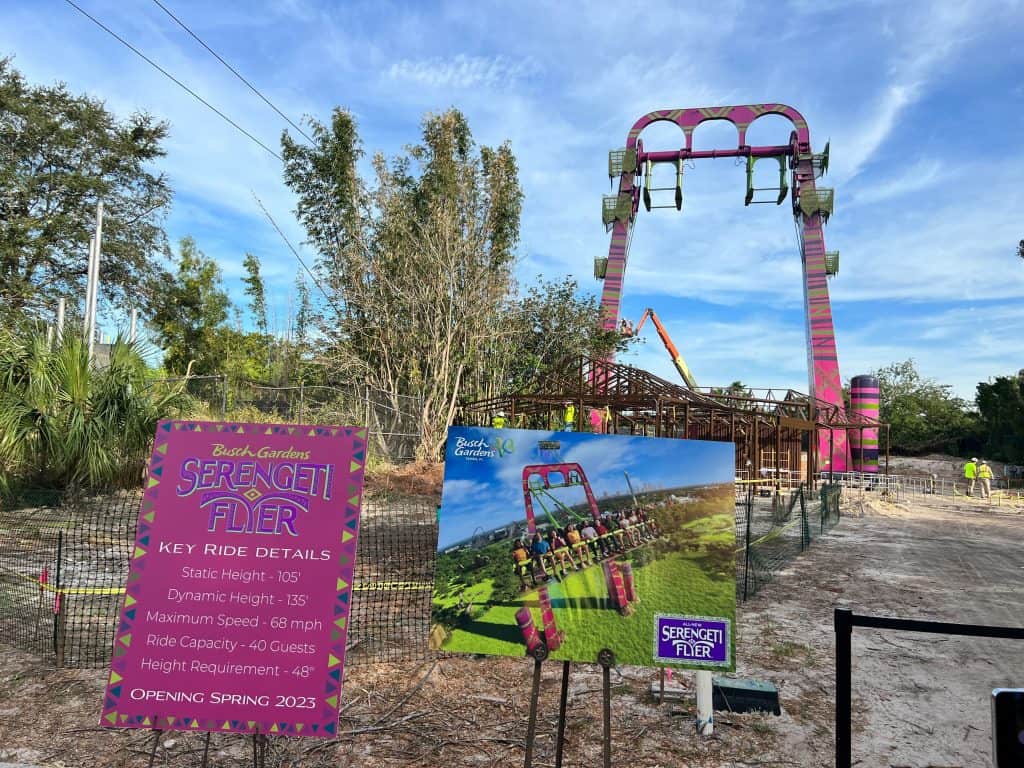 This ride is making its home in the Nairobi area of the theme park and adds to the Busch Gardens skyline standing at 105 feet tall. Serengeti Flyer will have two gondolas, holding 20 guests each, that will swing opposite one another to a maximum speed of 68 miles per hour and reach a height of 135 feet in the air. In this morning's media event, Neal Thurman, Park President of Busch Gardens Tampa Bay, noted that Serengeti Flyer would be the tallest and fastest swing-style attraction with multiple negative-G force moments. With this level of thrill, this high-flying swing will have a 48″ height requirement.
Engineers drew inspiration for Serengeti Flyers from SeaWorld San Antonio's Tidal Surge and thought it would be a fantastic experience to bring to Busch Gardens Tampa Bay guests. Construction on this project began in January 2020 but was halted until April 2022 due to COVID-19. The Busch Gardens Tampa Bay team is ecstatic that this project's development has resumed, as it will allow guests who may not gravitate toward rollercoasters to have the opportunity to experience a thrilling ride in a different format.
We can't wait to experience this ride for ourselves in Spring 2023! Want to have a swinging time at Busch Gardens Tampa Bay and experience the excitement for yourself? Purchase discounted theme park admission through Orlando Informer!