After months of wild speculation, rumors, and anticipation, Busch Gardens today announced what is going to replace Busch Gardens Tampa's long-suffering (and -shuttered) Gwazi wooden roller coaster.
This brand-new, as-yet-unnamed coaster is yet another hybrid coaster from manufacturer Rocky Mountain Company, which has quickly obtained a sterling reputation for laying new steel track over the original wooden one (hence the term hybrid) and, as such, making wooden roller coasters do things that were never previously possible, like soaring to far greater heights and performing all kinds of different types of inversions. Busch Gardens's new entry ups the ante here considerably, becoming the tallest hybrid coaster in North America, and the fastest and steepest one in the world.
Just to place this in a bit of context, Gwazi was not only Florida's first dueling wooden coaster, but also the largest and fastest one in the Southeastern United States, when it debuted on June 18, 1999 (just one month after another major dueling coaster, Dueling Dragons over at Universal Orlando Resort, also bowed). It gained immediate acclaim but also started to quickly accumulate a large amount of wear and tear, which ultimately resulted in a less-than-ideal ride experience; after years of struggling to keep up with its maintenance, Busch Gardens eventually opted, in 2012, to close one of the two tracks in a last-ditch effort to salvage the $10 million ride itself (its attendance continued to drop while its guest dissatisfaction score continued to rise). Just three years later, the second track followed, placing Gwazi in a type of perpetual purgatory ever since.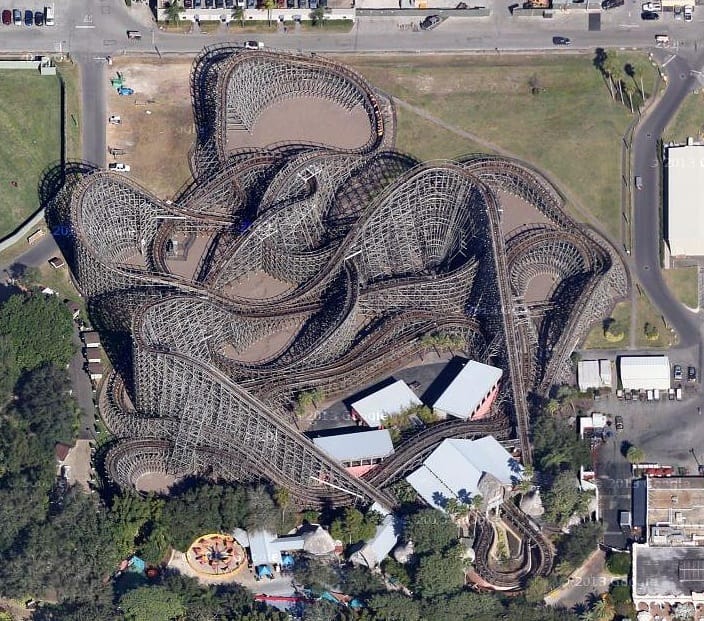 Well, only a sort-of limbo – last September, when Busch Gardens held a press conference for its 2019 coaster addition, Tigris, it teased, in a playfully heavy-handed way, that something was going on with the massive wooden coaster, as well, announcing an opening date of 2020 and all but confirming that Rocky Mountain was going to be behind the new development. Seeing what the company had managed to pull off with such hybrid conversions as 2018's Steel Vengeance at Cedar Point (it broke 10 world records, including being the very first hyper-hybrid ride [a coaster that reaches 200 feet]), the fan community was nothing short of ecstatic – and was left to wait with baiting breath.
From the looks of it, we don't think this new one will disappoint.
Busch Gardens Tampa's unnamed coaster will open in summer 2020, taking over the former Gwazi plot and track.
–
Excited for the thrills that await? Share your passion with our OI Community Facebook group, which is filled with 60,000+ vacation enthusiasts like yourself.
And be sure to follow Orlando Informer on Facebook, Twitter, and Instagram for even more updates on everything Walt Disney World, Universal Orlando, and other Orlando experiences.