What is Shakes Malt Shoppe?
Step back in time to the days when sock hops were all the rage, and the kids would hang at their local soda shop. The creatives at Cabana Bay Beach Resort have produced a new place to gather and dine during your stay at this retro resort. Sip on smoothies, floats, or shakes, or dip your spoon into a sundae, split, or scoop. Whatever you choose, sit back, relax, and enjoy a good conversation or vintage cartoons on the big screen.
Where is Shakes Malt Shoppe located?
Near Bayliner Diner at Cabana Bay Beach Resort, one of Universal Orlando Resort's hotels.
Shakes Malt Shoppe – hours and reservations
Monday – Sunday: 6:30 AM – 12 AM
No reservations are required.
What's on the menu at Shakes Malt Shoppe?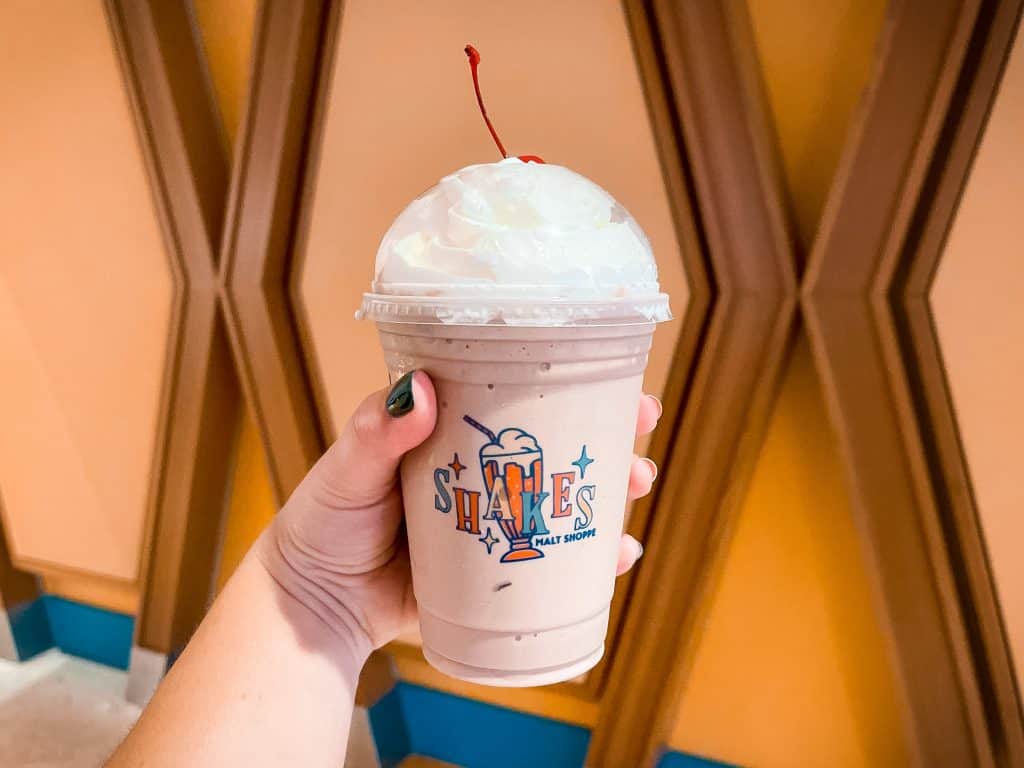 Shakes
Make it a malt +$1
PB&J – $10.50
Vanilla Ice Cream, Peanut Butter Sauce, Strawberry Syrup, Whipped Cream, Reese's Pieces
Classic – $9.00
Chocolate, Vanilla and Strawberry Ice Cream, Whipped Cream, Cherry
Chocolate, PB & Banana – $10.50
Banana Pudding Ice Cream, Chocolate Ice Cream, Peanut Butter Sauce, Whipped Cream, Cherry
Floats
Coca-Cola – $8.50
Coca-cola, Vanilla Ice Cream
Root Beer – $8.50
Root Beer, Vanilla Ice Cream
Creamsicle – $8.50
Orange Fanta, Vanilla Ice Cream
Sundaes/Splits
Classic Sundae – $9
Vanilla or Chocolate Ice Cream, Hot Fudge or Caramel Topping, Whipped Cream, Cherry
Brownie Sundae – $10.50
Better Brownie Batter Ice Cream, Warm Brownie, Hot Fudge, Whipped Cream, Cherry
Banana Split – $13.00
Chocolate, Banana Pudding, Strawberry Ice Creams, Hot Fudge, Caramel, Strawberry Toppings, Banana, Whipped Cream, Cherries
Smoothies
Add Protein +$3 (Choice of Whey or Pea Protein)
Morning Berry – $8.00
Greek Non-Fat Yogurt, Raspberries, Strawberries, Blueberries
Banana Strawberry – $8.00
Greek Non-Fat Yogurt, Banana, Strawberries
Blueberry Banana – $8.00
Blueberries, Banana, Flax Seed, Oat Milk
Daily Boost – $8.00
Greek Non-Fat Yogurt, Orange Juice, Blueberries, Acai Berry
From the Bakery
Donut – $3.50
Bagel – $3.50
Croissant – $4.50
Muffin – $3.75
Danish – $3.75
Warm Filled Puff Pastry – $5
Bread – $1.75
Egg & Cheese Croissant – $7.50
Bacon, Egg, & Cheese Croissant – $9.95
12 oz Coffee – $4
Milk Pint – $3
Orange or Apple Juice – $3
Soda Cup – $4.75
Dasani Water – $3.50
Shakes Malt Shoppe – photo gallery