Skip to: Overview | Location | Hours | Menu | Guest reviews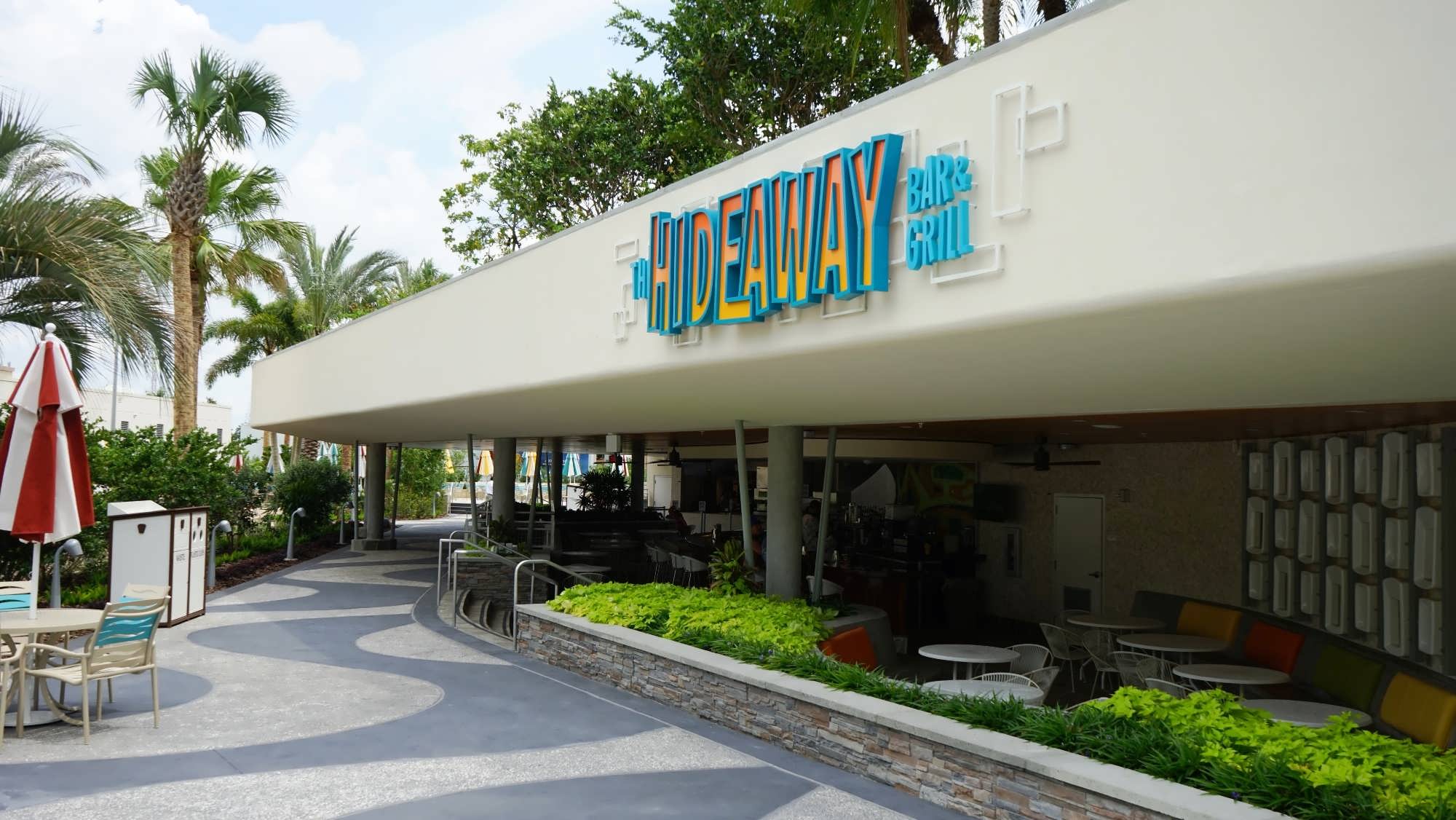 What is The Hideaway Bar & Grill?
If you're searching for the perfect place to get poolside beverages, food, and snacks when you're hanging out by the lazy river at Universal's Cabana Bay Beach Resort, look no further than The Hideaway Bar & Grill. In addition to appetizers, burgers, cocktails, and frozen drinks, Hideaway features specialty hot dogs from the Honolulu Hot Dog Company.
Where is The Hideaway Bar & Grill located?
At Cabana Bay Beach Resort, one of Universal Orlando Resort's hotels.
The Hideaway Bar & Grill – hours and reservations
The Hideaway is open daily from 11:00 am to 10:00 pm.
What's on the menu at The Hideaway Bar & Grill?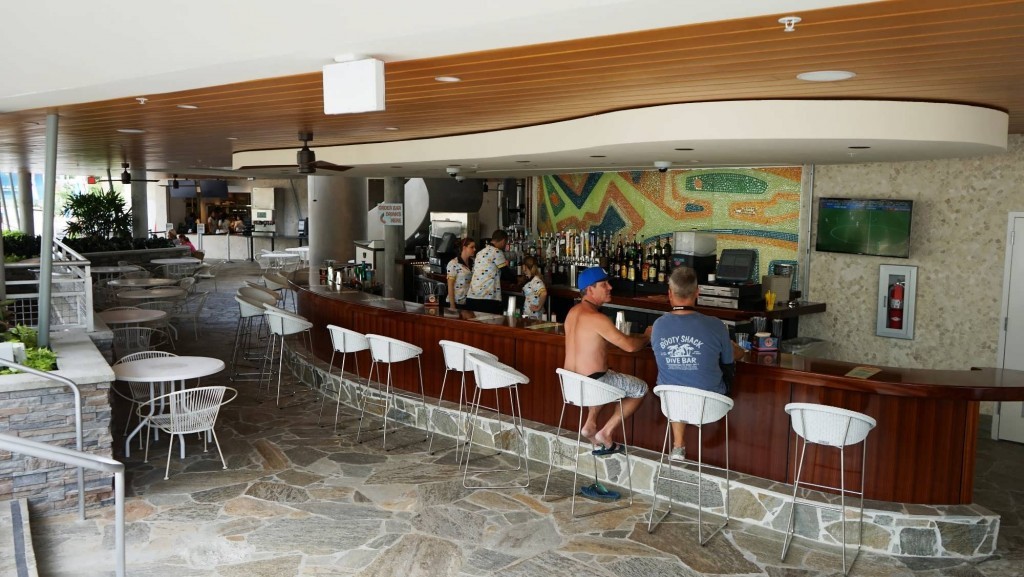 Appetizers and Salads
Chicken wings
Buffalo or BBQ style
Six wings
Twelve wings
Ultimate Nachos
Chicken or beef
Hummus and Pita Bread
With carrots and celery
Hideaway Salad
Mixed greens with tomatoes, cucumbers, carrots, and onions
Cheese Fries – $3.99
Caprese Salad
With fresh basil and balsamic glaze
Caesar Salad
Available with grilled chicken
Chips with Salsa
Burgers
All served with a choice of French fries, coleslaw, or fresh fruit
Classic Burger
Beef patty topped with signature sauce, iceberg lettuce, and vine-ripened tomatoes on a toasted bun
Beyond Burger
Plant-based burger, crisp lettuce, vine-ripened tomato, and onion on a toasted bun
Honolulu Hot Dogs
All served with French fries
The Original Honolulu Hot Dog
Pineapple bacon sausage, passionfruit mustard, and lemon garlic sauce
Big Kahuna Beef Dog
Beef sausage, mustard, and ketchup
Hot Dog Combo
Choice of any hot dog and 16-oz. fountain drink or ice cream
Sandwiches and More
All served with choice of French fries, coleslaw, or fresh fruit
Fish Tacos
Fried grouper and chipotle remoulade, topped with a tomato and cucumber slaw on two flour tortillas
Chicken Tenders
Turkey Club Wrap
Roasted turkey breast, crispy bacon, avocado ranch, lettuce, and tomato
Buffalo Chicken Wrap
Chicken tenders, Buffalo sauce, bleu cheese, lettuce, and tomato
Desserts
Fresh Fruit Salad
Whole Fruit
Ice Cream
Kids' Menu
All served with French fries, carrots, or apple slices, and a drink
Kids' Burger
Fish Bites
Uncrustables Peanut Butter and Jelly Sandwich
Hot Dog
Chicken Tenders
Draft Beer
Yuengling Lager
New Belgium Voodoo Ranger IPA
Stella Artois
Modelo Especial
Bud Light
Caribe Pineapple Cider
Cigar City Jai Alai IPA
Crooked Can Workaholic
Blue Moon
Samuel Adams Seasonal
Breckenridge Avalanche Amber
Central 28 Sunshine Greetings
Ivanhoe Park Toboggan Blonde
Michelob Ultra
Proof Brewing Flamingo Party
Bottled Beer
Angry Orchard
Budweiser
Bud Light
Bud Light Lime
Coors Light
Corona Extra
Heineken
Michelob Ultra
Miller Lite
Bud Light Seltzer
Assorted Flavors
Sparkling Wine
Prosecco
White Wines
Chardonnay
Pinot Grigio
Sauvignon Blanc
White Zinfandel
Red Wines
Sangria, Beso Del Sol
Spain
Cabernet Sauvignon
Merlot
Pinot Noir
On The Rocks
Let it All Hang Out
Larceny Bourbon, Grand Marnier, lemonade
SPF 50
Dragonberry Bacardi, strawberry purée, soda, mint, agave, lime juice
Sink or Swim
Sailor Jerry Spiced Rum, Cointreau, ginger beer
Fun in the Sun
360 Mango Vodka, mango purée, sour, pineapple juice
Aloha Punch
Heroes Vodka, Club Caribe Coco Rum, Aviation Gin, Blue Curacao, pineapple juice, Sprite
Cloud Nine
Bacardi Pineapple Rum, pineapple juice, sour, grenadine, Cruzan Single Barrel Rum floater
Hot Stuff
Tanteo Habanero Tequila, raspberry purée, lime juice, agave nectar, soda
Gin-ger Mojito
Aviation Gin, Barrow's Intense Ginger Liqueur, agave nectar, mint, lime, soda
Frozen Cocktails
Make-a-Rita
el Jimador Silver Tequila, your choice of flavor, house margarita mix
Copasetic
Deep Eddy Lemon Vodka, house lemonade mix, raspberry lava flow, Blue Curacao floater
Funky Monkey
Sailor Jerry Spiced Rum, Malibu Coconut Rum, banana
Hideaway Colada
Bacardi Dragonberry Rum, house piña colada mix, strawberry purée lava flow
The Hideaway Bar & Grill – photo gallery
The Hideaway Bar & Grill – real guest reviews
Hideaway Bar & Grill
Average rating:
0 reviews
Do you have a question about the information on this page or would you like to provide feedback? Please let us know by posting in our
Orlando Informer Community
on Facebook.