Skip to: Overview | Location | Hours | Menu | Guest reviews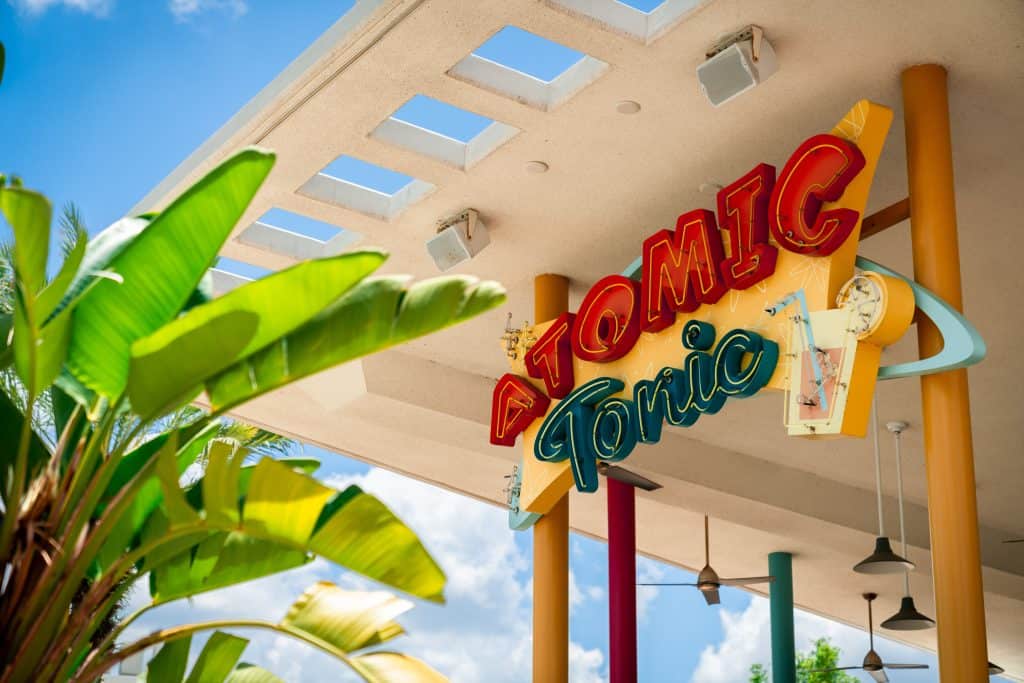 What is Atomic Tonic?
If you're looking for a tasty snack or cooling cocktail while relaxing at Universal's Cabana Bay Beach Resort, Atomic Tonic is the place to be. With some unique libations and good choices for vegetarians, both the food and drink menus are worth a gander during your stay.
Where is Atomic Tonic located?
At Cabana Bay Beach Resort, one of Universal Orlando Resort's hotels.
Atomic Tonic – hours and reservations
Atomic Tonic is open Friday-Sunday from 11:00am until 10:00 pm, with food service available until one hour before closing.
Atomic Tonic – OI fun fact
Several of the drinks at Atomic Tonic pay homage to cocktails that were all the rage in the 1950s, like the tangy Mai Tai. The original Atomic cocktail was popularized in the Las Vegas casinos of that decade, when the city itself was known as the "Atomic City."
What's on the menu at Atomic Tonic?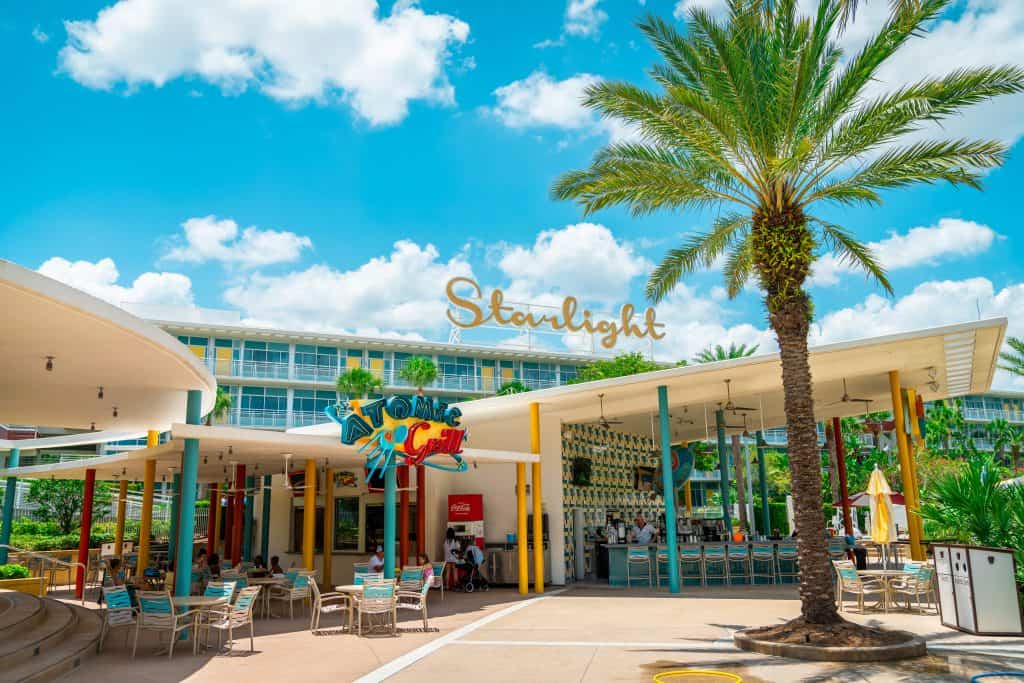 Grilled döner/gyro
Available as a combo with fries, fruit, chips, or coleslaw
Chicken
Beef
Falafel
12-inch Pizzas
Cheese
Pepperoni
Sandwiches & More
All sandwiches come with your choice of fries, chips, fruit, or coleslaw.
Philly-style Hoagie
Beef or chicken
Chicken & Avocado Wrap
5-piece Chicken Tenders
Quesadilla
Beef or Chicken, Cheddar and Pepper Jack Cheeses, Grilled Peppers and Onions
Fresh Salads
All salads come with a choice of dressing: Caesar, ranch, blue cheese, or Italian
Atomic Salad
Mixed lettuce and herbs, tomato, cucumber, carrots, olives, pickles, and pepperoncini
Mediterranean Platter
Hummus, olives, tomato, cucumber, pepperoncini, and feta with pita bread
Caesar Salad
Sides
Cheese fries
Vegetarian
Cheese fries
With choice of chicken or beef
Fries
Hummus & Pita
Coleslaw
Kids' items
Döner/gyro
Beef or chicken
Uncrustables PB&J
3-piece Chicken tenders
Cheese quesadilla
Desserts
Fresh fruit salad
A mix of Ready to Eat Cut Fruit
Chilled Watermelon Cubes
Whole fresh fruits
Assorted ice creams
Cheese Plate
Assorted Cheese with Grapes, Apple Slices, and Pita
Cocktails
On the Rocks
Add a floater of Myers's Dark Rum or 360 Vodka or add a pump of flavored STRIKE FORCE to any On the Rocks cocktails below
High Dive
Bombay Sapphire, orange juice, cranberry, topped with Cavit Lunetta Prosecco
Not So Old Fashioned
Maker's Mark Bourbon, Angostura Bitters, ginger ale, orange, cherry
The Atomic Tonic
Tito's Vodka, melon liqueur, Limoncello, pineapple juice, lemonade
Banana Fo-Fana
Club Caribe Banana Rum, Club Caribe Coco Rum, orange juice, pineapple juice, ginger ale
The Castaway Mai Tai
Parrot Bay Spiced Rum, Myers's Dark Rum, orange juice, pineapple juice, grenadine
Heatwave
Corazón Blanco Tequila, Watermelon Pucker, lime juice, ginger beer
Tango a la Mango
White Claw Mango Vodka, pineapple juice, orange juice, coconut purée, sour
Thunderbird
Deep Eddy Lemon Vodka, strawberries purée, lemonade, soda
Blue Lagoon
360 Huckleberry Vodka, lychee liqueur, blue curacao, and sparkling grapefruit
Frozen
Add a floater of Myers's Dark Rum or 360 Vodka or add a pump of flavored STRIKE FORCE to any frozen cocktails below
Cabana Bay Colada
Club Caribe Coco Rum, Sailor Jerry Spiced Rum, pineapple juice, piña colada
The Orange Blossom
360 Vanilla Vodka, Gran Marnier, splash of orange juice, ice cream mix
Razzleberry Lemonade
Deep Eddy Lemon Vodka, 360 Huckleberry Vodka, lemonade, raspberry
Wine
Sparkling Wine
Prosecco
White Wines
White Zinfandel
Sauvignon Blanc
Pinot Grigio
Chardonnay
Red Wines
Pinot Noir
Merlot
Cabernet Sauvignon
Beer
Draft Beers
Blue Moon
Breckenridge Avalanche
Bud Light
Cigar City Jai Alai IPA
Michelob Ultra
Modelo Especial
Walking Tree Treasure Kolsch
Hidden Springs Bear Lazers IPA
Yuengling
No Mames Mexican Lager
Bottled Beers
Angry Orchard
Budweiser
Bud Light
Bud Light Lime
Coors Light
Corona Extra
Heineken
Michelob Ultra
Miller Lite
Bud Light Hard Seltzer
Black Cherry or Mango
Truly Hard Seltzer
Assorted flavors
High Noon Hard Seltzer
Assorted Flavors
Atomic Tonic – photo gallery
Atomic Tonic – real guest reviews
Atomic Tonic
Average rating:
0 reviews
Do you have a question about the information on this page or would you like to provide feedback? Please let us know by posting in our
Orlando Informer Community
on Facebook.