Skip to: Overview | Location | Hours | Menu | Guest reviews
What is Galaxy Bowl?
Paying homage to the legendary Hollywood Stars Lanes and fitting Cabana Bay Beach Resort's retro-modern chic aesthetic, Galaxy Bowl delivers illuminating day and night bowling experiences. Vintage charm is met with modern technology for out-of-this-world bowling fun, perfect for that "free" night in your vacation itinerary.
Even better, the bowling alley is home to a surprisingly yummy restaurant – the only full-service venue at Cabana Bay.
Where is Galaxy Bowl located?
At Cabana Bay Beach Resort, one of Universal Orlando Resort's hotels, on the second floor.
Galaxy Bowl – hours and reservations
5:00 pm to 11:00 pm daily (subject to change)
How much does it cost to bowl at Galaxy Bowl?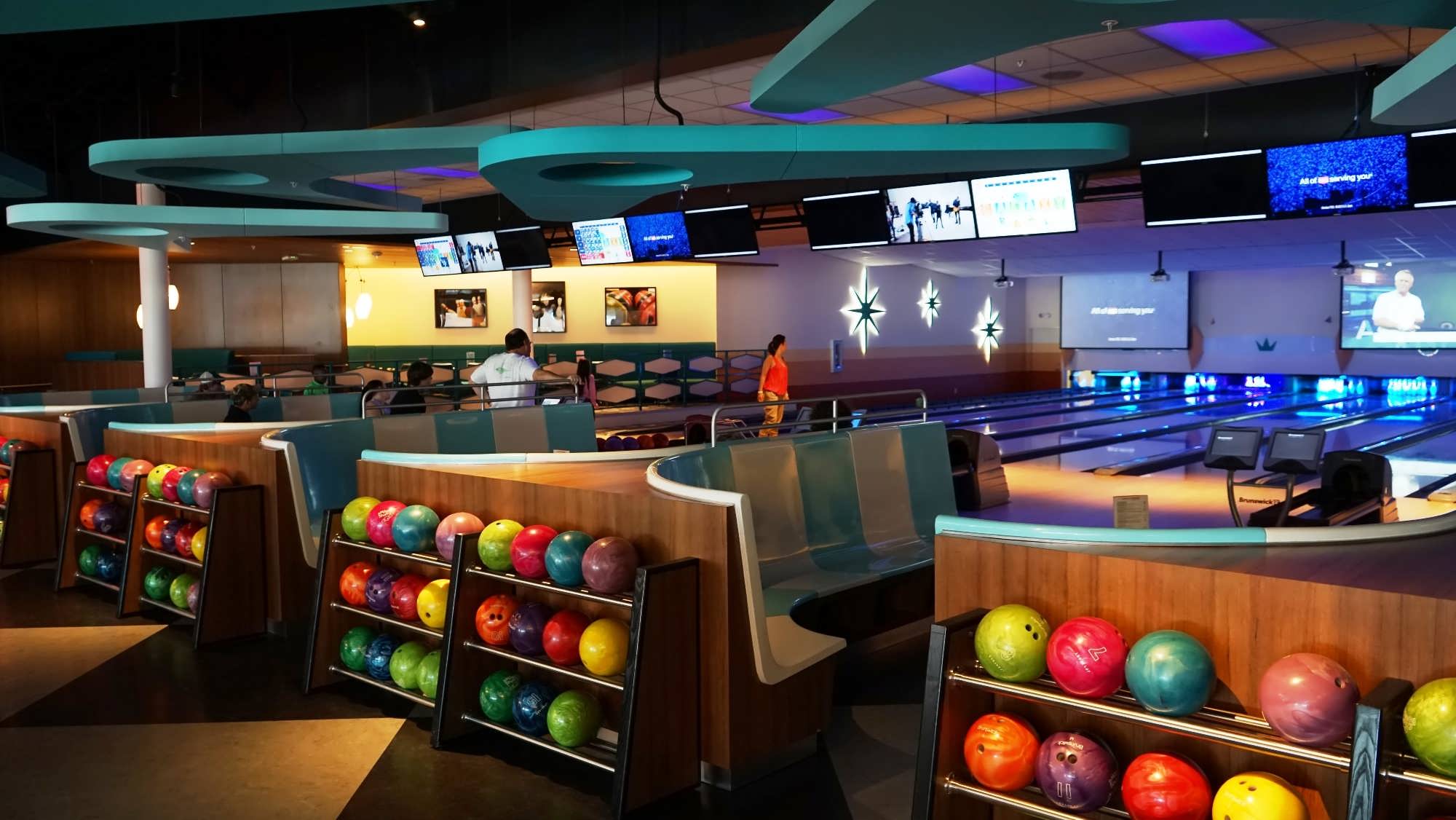 The below pricing is before tax and includes both shoe rental and lane time.
Oh, yeah – speaking of lane time, it's 45 minutes for one to three players, and 75 minutes for groups of four to eight.
Adults – $17
Children 9 and under – $11
(An additional "Speed Bowling" option grants players 20 minutes of lane time for about $9, pre-tax.)
What was Galaxy Bowl's opening date?
March 31, 2014
What's on the menu at Galaxy Bowl?
Bites
Sampler Platter
Mini pretzels, fried mozzarella cheese sticks, and choice of buffalo, BBQ, sweet Thai chili, or teriyaki chicken wings
Chicken Wings
Choice of buffalo, BBQ, sweet Thai chili, or teriyaki chicken wings, served with ranch dressing, carrots, and celery sticks
Fried Mozzarella Sticks
Marinara sauce
Mini Pretzels
Salted soft pretzels with cheddar cheese sauce
Loaded Fries
Crinkle-cut French fries, cheddar cheese sauce, bacon, scallions, and sour cream-ranch drizzle
Mains
Galaxy Classic Burger
Chargrilled burger, lettuce, tomato, onion, and pickles
Add bacon – $0.99
Add your choice of cheese – $0.50
BBQ Bacon Cheddar Burger
Chargrilled burger, crispy bacon, cheddar cheese, BBQ sauce, lettuce, tomato, onion, and pickles
Black & Bleu Burger
Chargrilled burger, crumbled bleu cheese, crispy bacon, caramelized onions, lettuce, tomato, onion, and pickles
Beyond Burger
Plant-based burger, lettuce, tomato, onion, and pickles<
Steak Sandwich
Thinly-sliced steak, Swiss cheese, caramelized onions, and arugula
Turkey Bacon Wrap
Tomato basil tortilla, turkey, bacon, lettuce, tomato, and avocado ranch dressing
Bratwurst Hoagie
Grilled sausage, caramelized onions, and Creole mustard
Grilled Chicken & Bacon Sandwich
Chicken breast, bacon, cheddar cheese, lettuce, tomato, onion and pickles
Greens
Super Power Salad
Spring mix greens, dried cranberries, edamame, toasted almonds, citrus vinaigrette
Grilled Chicken Caesar Salad
Grilled chicken breast, Romaine lettuce, caesar dressing, croutons
Sweets
Coca-Cola Cake
Chocolate cake made with Coca-Cola
Kids Menu
All kids meals include French Fries or apples, and choice of soft drink, juice, or Shirley Temple or Roy Rogers "Mocktail" (non-alcoholic)
Chicken Tenders
Three chicken tenders served with a choice of BBQ or honey mustard sauce
Mac 'n' Cheese
Creamy white cheddar cheese and pasta shells
Grilled Cheese Sandwich
Grilled toasted white bread and Americal Cheese
Galaxy Bowl's full bar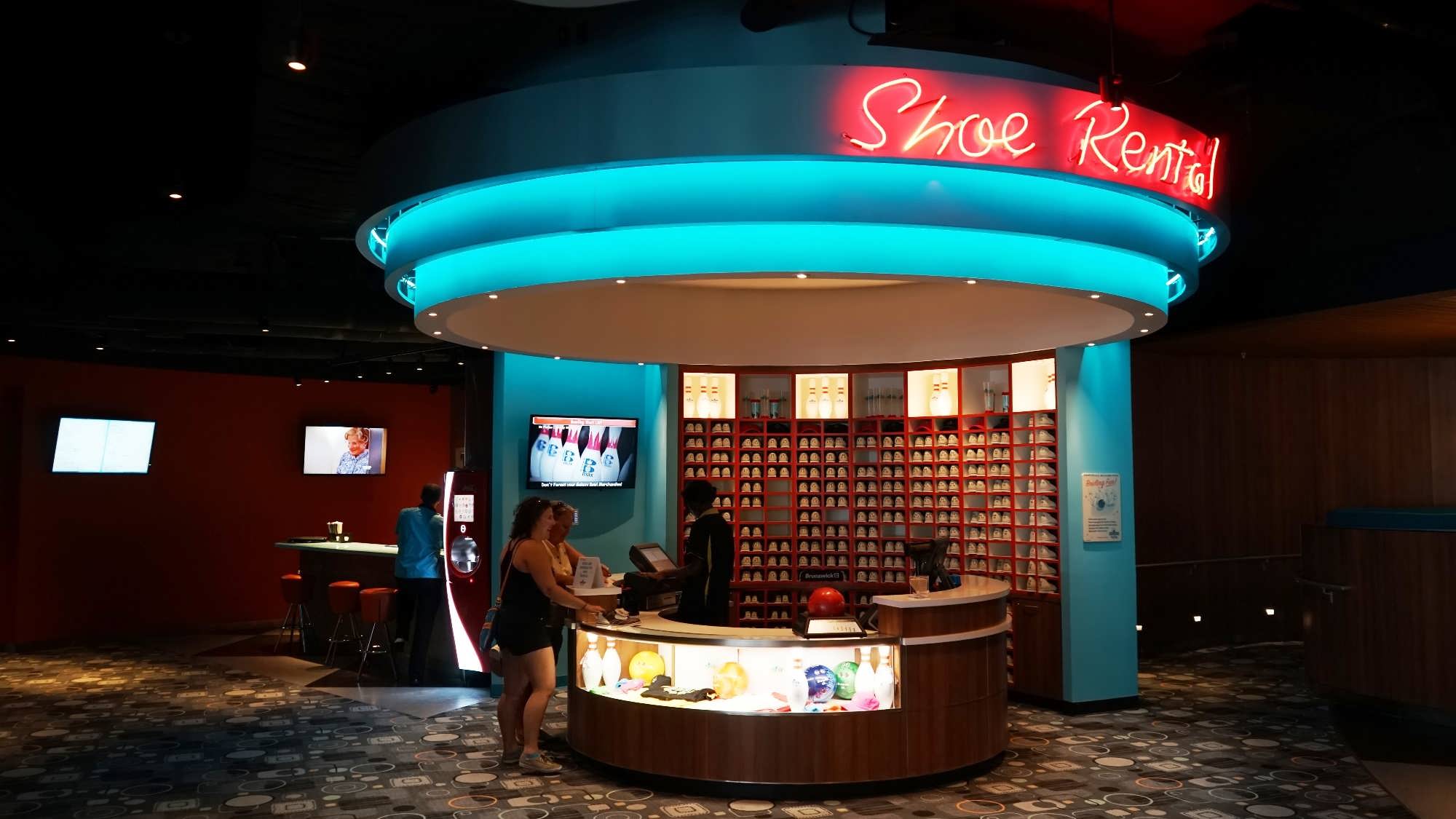 You can happily knock down some drinks while knocking down pins at Galaxy Bowl. The alley's full bar is tucked away behind the service/shoe rental desk, and offers drinks on the rocks or a selection of signature cocktails. The most notable Pin Blaster features one of three signature drinks in a 21-ounce, bowling pin-styled souvenir cup.
Galaxy Bowl – real guest reviews
Orlando Informer
Average rating:
0 reviews
Do you have a question about the information on this page or would you like to provide feedback? Please let us know by posting in our
Orlando Informer Community
on Facebook.