A day at SeaWorld isn't complete without a memorable souvenir. Whether you're looking for stuffed animals, themed T-shirts, or even bubble wands, SeaWorld has you covered. Additionally, these stops are places you can dip in for a cold bottle of water or a bag of chips if needed, or a poncho or umbrella if the weather turns on you.
Entrance
SeaWorld Store
The flagship store at SeaWorld Orlando (located at the entrance of the park), SeaWorld Store is a one-stop shop for all your park needs. Here, you can find Sesame Street toys and clothing, animal-specific apparel, seasonal merchandise, sunscreen, and snacks.
Exit Gifts
One of the last (or first) shops on site, this store is actually located outside the park turnstiles, by the ticket windows. Guests can snag any last-minute items here, or send a member of their party to pick up necessities while the others wait in line to pick up their tickets! 
SeaWorld Rescue Store
SeaWorld's central mission is represented in this store. With apparel and merchandise that raises awareness of SeaWorld Rescue, this is the store that gives back. 5% of all purchases go to help wildlife and conservation efforts through the SeaWorld & Busch Gardens Conservation Fund.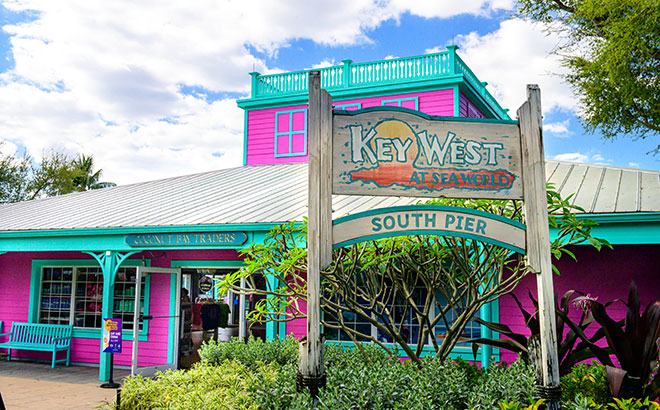 Key West
Build-A-Bear Workshop
Located in Key West, this new Build-A-Bear Workshop allows kids of all ages to come in, select, and personalize their one-of-a-kind animal to remember their trip to SeaWorld Orlando.
Coconut Bay Traders
Located in Key West, this store features dolphin-themed everything. Find souvenirs, jewelry, toys, and more.
Flamingo Pointe
Like the animal in its name, Flamingo Pointe is a colorful, playful shop for guests to pop in and get their tropical gifts. Taking home a souvenir from here will make you feel like you never left Florida!
Shoppes at Waterfront
Guy Harvey Store
World-renowned artist and marine conservationist Guy Harvey works in partnership with SeaWorld Orlando. At this store on the waterfront, guests can purchase Guy Harvey artwork on canvas, in books, and even on apparel.
Simply Southern Store
At this cute and quaint store, guests can shop for quintessential southern apparel. Pastel shirts adorned with cute fonts and designs, comfortable flip flops, and quick-dry shorts are all available at this shop.
Little Miss Matched
Here's where you stop in if you need to get a little something for your little someone. Apparel for boys and girls, as well as tyke-sized flip flops or sandals, are available along with toddler-sized sunglasses and an array of kid-friendly sunscreens.
Under the Sun
In this stretch of the Shoppes at Waterfront, this store is nearest the Dolphin Nursery. Here, you can find an eclectic assortment of gifts and souvenirs. Ornaments, snow globes, and small glass figurines are just some of the things that line the shelves.
Oyster's Secret
An eclectic collection for the islander in all of us – Oyster's Secret is a beautiful shop with specialty gifts and handmade jewelry.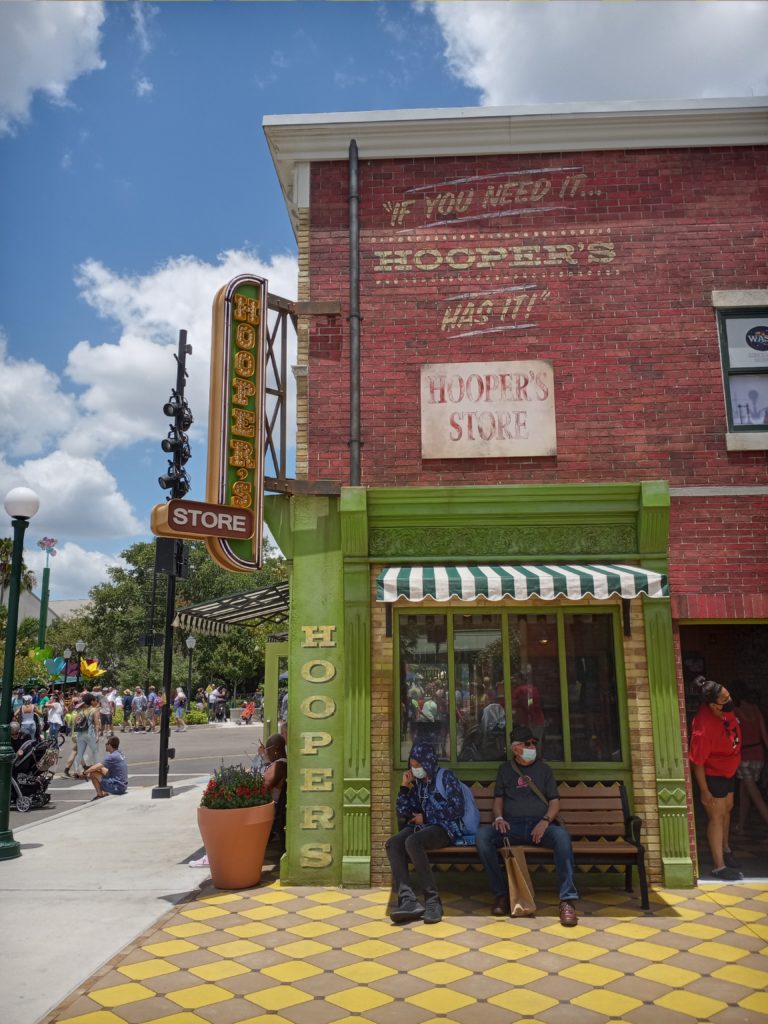 Attraction-Themed Stores
Fins Gifts
Located by Mako, this shop is predictably all things sharks. Guests in search of shark or whale-themed souvenir items (like apparel, jewelry, and toys), should stop by here!
Glacial Collections
Located by Empire of the Penguin, Glacial Collections is a chill spot for you to drop in and cool off. If you've got a penguin aficionado in your group, step in to this store to stock up on all your favorite items.
Golden Seahorse Gifts
After you've braved the Journey to Atlantis, you can brave the racks of brand-name surf and swim apparel (like Roxy, Quicksilver, and Hurley) for a dry change of clothes.
Hooper's Store
Kids can step into the same store they see on Sesame Street, and parents can step into a wave of nostalgia while browsing all things Sesame Street – from Big Bird pillows to toddler tees that feature Count Von Count. In the back of the store is where you can find photo opportunities with these iconic characters.
Kraken Gifts
A smaller stall rather than a full-fledged shop, Kraken Gifts is the perfect place to dip in for a quick souvenir after you get off Kraken and grab what you need before moving on to the next attraction.
Trek Treasures
Near the Turtle Trek and Manatee Rescue, Trek Treasures carries merchandise and memorabilia with those animals featured prominently. You can also pop in here for some light refreshments – sodas, snacks, and bottled water are all available.
Whitewater Supply
After you've braved Infinity Falls, dip into Whitewater supply for souvenirs and merchandise that goes to support global water conservation.
Wild Arctic Gifts
On the far side of the park, near Glacier Bar and Altitude Burgers, you can find Wild Arctic Gifts. Here, guests can select from toys and apparel that feature cute and cuddly things from the Arctic Circle.