Having returned for yet another year of flavor and fun, Busch Gardens Tampa Bay's Food & Wine Festival is now in full blossom, offering over 110 dishes, drinks, and desserts to explore. As natural food-lovers, our team set out with high hopes and empty stomachs to experience this culinary collaboration for ourselves – and we were not disappointed! Not only were we met with creative cocktails, dreamy desserts, and delicious cuisine from all over the world, but we were also able to enjoy some live and unique entertainment throughout the festival area.
Follow along with us below as we highlight some of our favorite sights, bites, and beverages from this year's event! (And then be sure to get your tickets to all the fun here.)
Busch Gardens Food & Wine Festival 2021: the atmosphere
A majority of the Food & Wine Festival's happenings take place in one corner of Busch Gardens Tampa (near Bird Gardens and the Festival Field), which creates a very convenient setup for hopping from venue to venue without walking long distances in between. We particularly enjoyed the ambience at the heart of the festival, located through the arches pictured above, which emulated a tranquil garden. Elegant violin music drifted through the air, and leafy garland strung with cooking utensils zigzagged above us.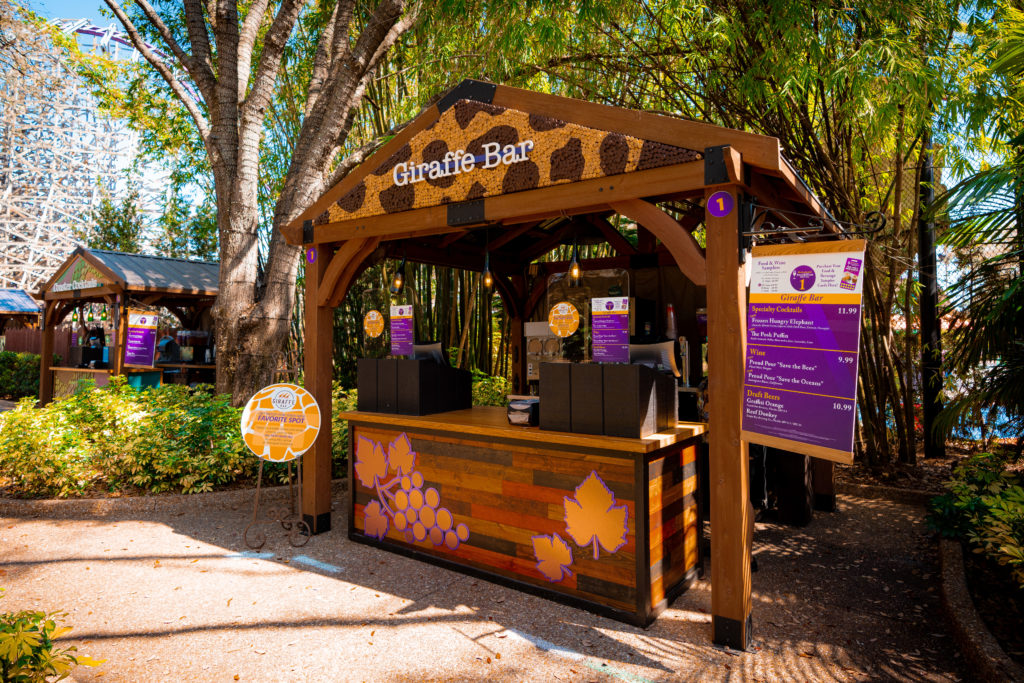 Many of the food and beverage venues we encountered had some sort of light theming – one that particularly caught our eye was the Giraffe Bar, which served up a few speciality cocktails, wine, and beer. Each cabin was individually inspired by cuisine from a geographical location, a sponsored brand, or a specific genre of food. We enjoyed this deviation from the typical "every booth is a different country" setup that is prevalent among most theme-park food festivals today.
Busch Gardens Food & Wine Festival 2021: the food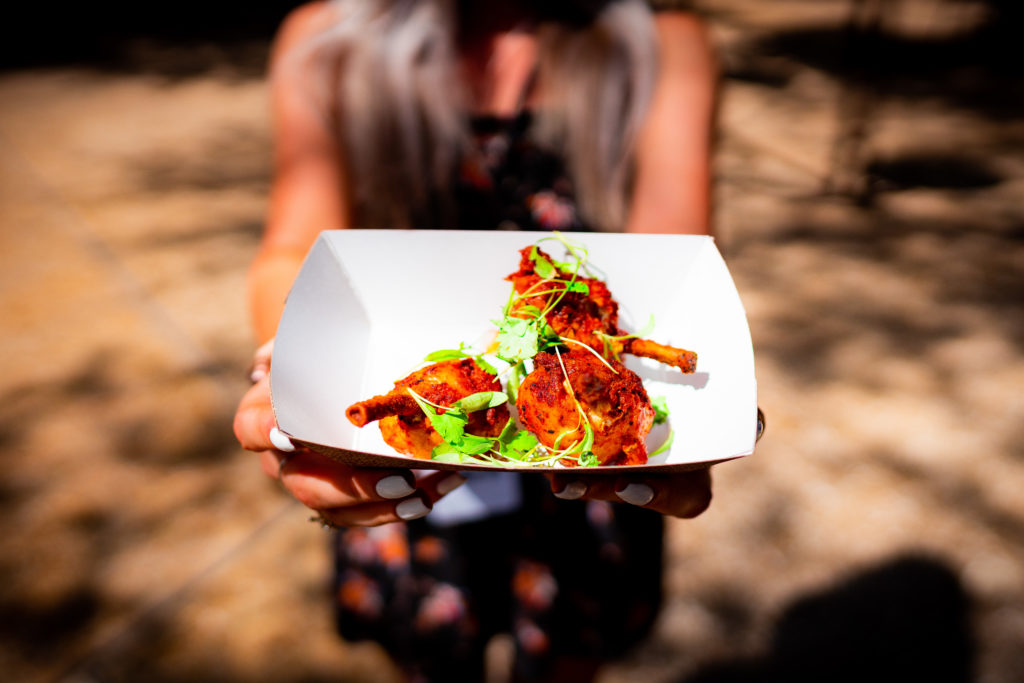 We were notably impressed with the variety of dishes Busch Gardens had to offer this year. A few homestyle classics, such as the Fried Chicken & Biscuit Slider and the Boujee Bacon, returned for the season, while 22 new culinary creations – like the Hummus & Parmesan Garlic Fries and the Drunken Shrimp Tostada – made their debut.
Out of the many mouth-watering foods we sampled, the Lollipop Chicken Drum from the Southern Kitchen cabin was one that really stood out. These savory cuts of chicken were coated in a sticky honey-whiskey glaze, which brought a touch of sweetness to an otherwise fiery dish. We were blown away by just how much heat and flavor these little bites brought us – a must-have for spicy food-lovers.
Another honorable mention is the Korean BBQ Pork Ribs from the Hog Heaven booth, which are slow-roasted and fall-off-the-bone tender, glazed with tangy BBQ sauce, and topped with daikon slaw. As someone who is not a huge fan of pork or slaw, I enjoyed this dish a lot more than I assumed I would and would recommend it to anyone looking to treat their taste buds with something different.
Of course, we had to indulge in a few desserts along the way, of which the choices were many. We saw more than a few creative twists on classic treats, such as the Kahlua and Cream Strawberry Waffle Cone Sundae and Drunken Bread Pudding. There was also a surprising variety of cupcakes, doughnuts, and milkshakes this year, which turned the festival into a sweet-tooth's personal heaven.
Our favorite indulgence was the Señorita Sangria cupcake from Sweet Sips, which boasted decadently thick icing and carefully placed fruit atop a fruity, vanilla cake base. "Yummy" would be an understatement.
Busch Gardens Food & Wine Festival 2021: the drinks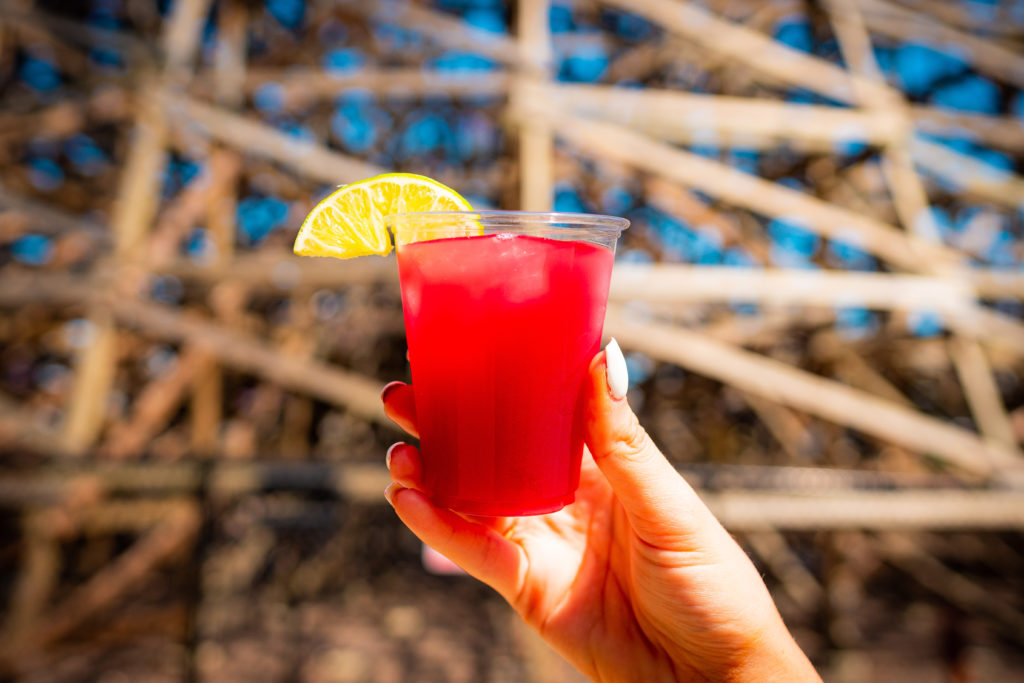 Alongside this year's plentiful plates were over 50 different wines, beers, and seltzers to sample, ranging from small, local brands to originations from across the globe. Those of us who enjoy a refreshing cocktail rejoiced at the 20+ hand-crafted mixologist recipes available, including innovative concoctions like the Frozen Hawaiian Pineapple Express or the Puffin Punch, which comes in a pouch that you can wear around your neck.
Our top-rated mixed drink of the day was the Iron Gwazi Gimlet from Coaster Cocktails (which has awesomely named libations, by the way). This ruby-red refresher – featuring Hendrick's Gin, pomegranate juice, and a splash of pineapple – was pleasantly tart and fruity without being overly sweet, and quite easy to sip on.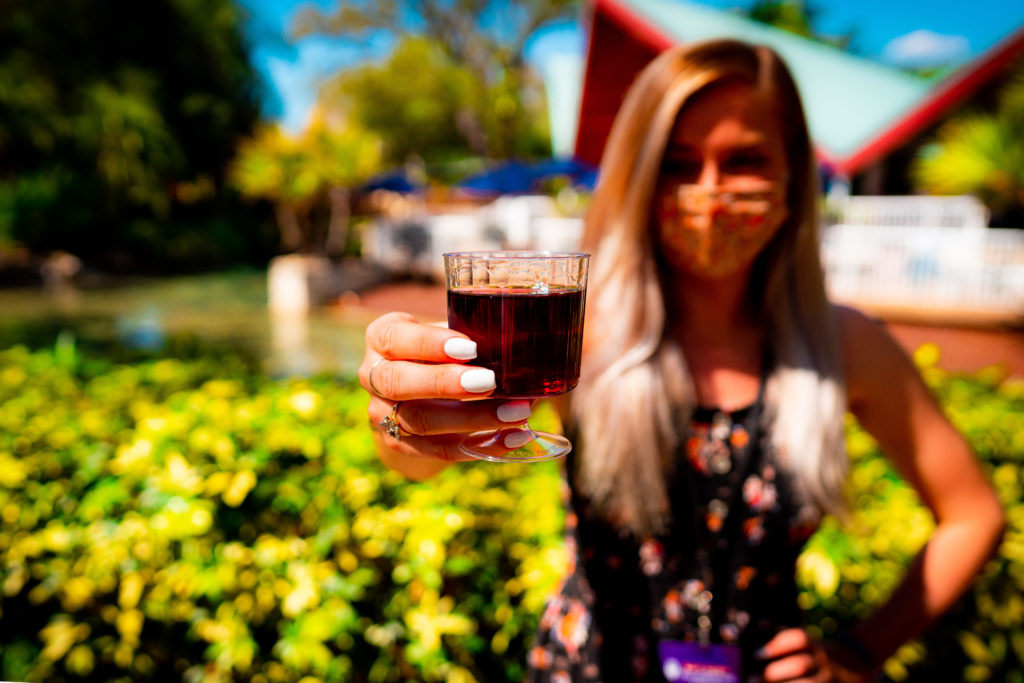 Don't worry – we didn't forget about the "wine" part of the Food & Wine Festival! Bottles were abundant and carefully selected from all over the world. Some of the finest varieties could be found at the Napa Nook and Vino, Vidi, Vici booths, which specialized in wines from Italy and California, respectively.
The sample that stole our heart was the Proud Pour "Save the Bees" Pinot Noir, a beautifully balanced red that was rich with cranberry and black-cherry notes. To make it even more special, this wine comes with the added benefit of helping 3,600 native bee species across the country. Each bottle goes towards saving their habitats and replanting wildflowers on local farms!
We also made sure to explore the vast beer offerings around the festival, many of which were from local breweries. Everything from dark, chocolatey porters to fruity blonde ales could be found. One of our top picks was the Graffiti Orange from the Giraffe Bar, a creamsicle wheat beer with a vanilla base and a fruity twist. Its crisp flavor and subtle tang made it a real crowd-pleaser.
Busch Gardens Food & Wine Festival 2021: the entertainment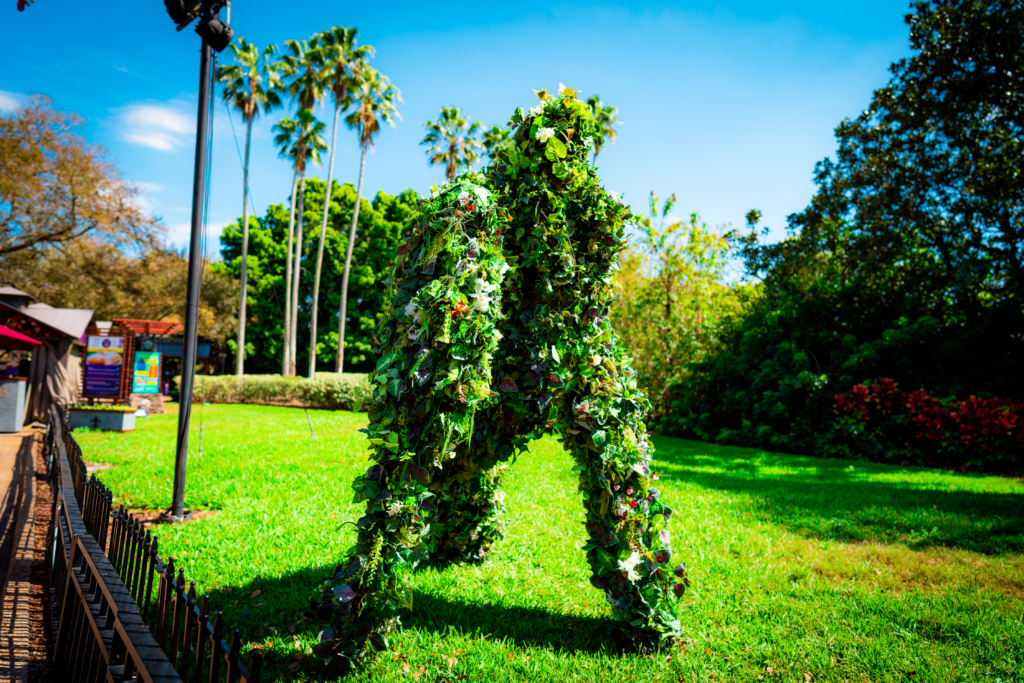 Scrumptious food and beverages weren't the only highlights of this event – the live entertainment, including stilt walkers and music from local bands, made for the perfect backdrop to our tasting experience. Although we didn't attend on a concert date (concerts take place every Saturday on the Festival Field Stage), we were still able to enjoy all-day performances by various music artists at the Coke Canopy.
The biggest surprise of the day ended up being the tall, leafy performers we found in a grassy area near the Living Fountain. These unusual-looking figures slowly took on various shapes and poses to the sound of ethereal music, creating a strangely mesmerizing performance. They served as yet another unexpected and unique contribution to the great experience we had overall.
---
Do you plan on joining in on the foodie fun at Busch Gardens? Which menu items from this year's Food & Wine Festival have your mouth watering? First secure your tickets, and then share your must-have dishes and drinks with 150,000+ other theme-park lovers in our Orlando Informer Community on Facebook.
Finally, be sure to follow Orlando Informer on Facebook, Twitter, and Instagram for the latest news, tips, and more at Universal Orlando, Walt Disney World, and other Orlando attractions.