With Busch Gardens Tampa Bay's Food & Wine Festival now completed for 2021, it's time for the park to start gearing up for the summer. And just today, Busch Gardens announced that it's doing exactly that – starting on Friday, May 28 (just in time for Memorial Day weekend), the theme park will begin rolling out its "biggest and brightest" summer celebration yet.
There is a whole umbrella of new experiences coming to Busch Gardens Tampa, and one can't help but notice the recurring usage of the words "ignite," "spark," and "electrifying" all throughout their descriptions – language which isn't too dissimilar from SeaWorld Orlando's own summer initiative, actually, which also got revealed today. The descriptors are meant to convey a certain level of energy and a visual motif both, and it would seem that the company is – so far, at least – successful on both fronts.
Everything starts with the so-called Pre-Party on the Festival Pathway, which inundates the titular Festival Pathway with glowing lights that are strung throughout the trees. When combined with the live music that will be performed here, Busch Gardens promises that this "stunning visual journey […] will spark the spirit of summer in everyone." And going hand-in-hand with this music will be DJ Block Parties, transforming the area into a giant dance party come nightfall. The company wants you to think of this as a type of pre-game, a warm-up to the big event that is to come later in the night.
Before we get there, however, we first need to eat. Luckily, Busch Gardens has us more than covered here – a new summer seasonal menu, inspired by backyard cookouts, is also set to descend during this period. Look for both old and new locations to pop up throughout the park, including the first-ever Giraffe Bar, which will be located on the second floor of Serengeti Overlook and which seems to be the perfect spot to take in the sunset and all those strung lights. Even better than the views, however, will be the food itself: the company will serve up snacks, desserts, a "walkable take" on grilled classics, and, of course, libations. (Speaking of which, one of the most intriguing new items at Busch Gardens Tampa Bay this summer is a brand-new range of glow-in-the-dark cocktails, which sound like they just may become the de facto accessory to have for the nightly proceedings, helping guests to ignite their inner sparks.)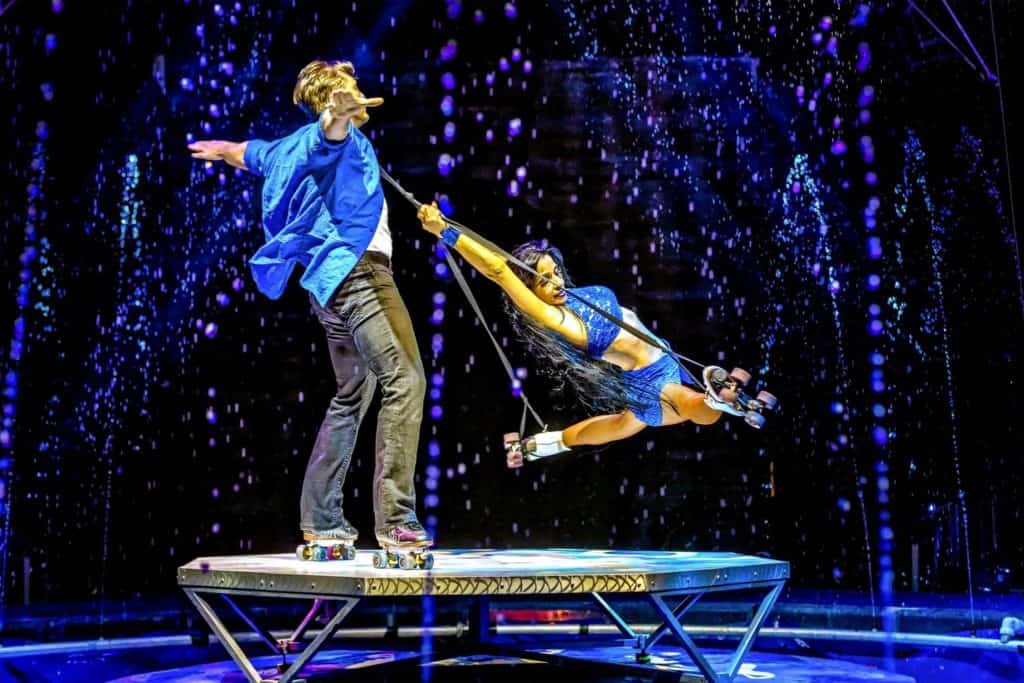 There's one last feature to check out before we can send out the summer night in style. Called Cirque Electric, it's an exclusive production, designed specifically for Busch Gardens, that will combine acrobatic stunts with a "fascinating act on wheels that cannot be missed." It will debut on May 28 at the Stanleyville Theater, and amongst all this talk of death-defying feats of balance and strength, it sounds as if it will be one of the highlights of the theme park's new seasonal proceedings.
Finally, we arrive at the crux of the summer fun-filled evening: an epic- and unique-sounding nighttime show that is the biggest in Busch Garden Tampa's history. Spark! A Nighttime Spectacular will boast an "explosive" amount of fireworks and other pyrotechnics, along with a whole host of supplemental special effects, ranging from pulsating lasers to water elements. Expect this to run every weekend, and a few other select dates, at 9:15 pm.
Guests will be able to experience all this – along with a slew of returning favorites, including the Turn It Up! Ice-skating show and open-air block parties – for over 100 nights this summer, which come replete with extended hours. But in order to go, you'll first need to secure your tickets – and we can help you with discounted admission right here.
---
Which new summer offering are you most excited for? Compare your electrifying thoughts with other die-hard vacation-planners in our newly formed SeaWorld Community on Facebook.
And be sure to follow Orlando Informer on Facebook, Twitter, and Instagram for the latest news, tips, and rumors at Universal Orlando, Walt Disney World, and other Orlando attraction