February 14th – arguably one of, if not the, most contentious commercial holidays around. If you're in a relationship, it's a day filled with expectation and pressure; if you're single, it's a day of irritation and bitterness. Regardless of what side of the rose you fall on, though, you can still have an amazing day.
So whether you're in a relationship or running solo this year, let's take a look at the seven ways you can have your best Valentine's Day at Walt Disney World. 
For the lovebirds
If you're in love and looking for a day sure to impress, these three ideas will knock your partner's socks off.
1. Dinner at California Grill
Nothing says "take their breath away" quite like dinner at the Contemporary Resort's most notable restaurant. Taking up the 15th floor, this exclusive restaurant is only accessible via private elevator. It features a seasonal menu, with noteworthy sushi and an impressive wine list.
However, the true magic lies in the view. Schedule your meal wisely, and you could finish just in time to catch Magic Kingdom's Happily Ever After fireworks extravaganza (if you have an earlier reservation, you can always come back with your receipt). It's a view that will make you fall in love, in more ways than one.
2. Wine Walk at Epcot
Have some extra time (and cash)? Epcot offers guests the opportunity to travel the world and experience a variety of cultures for one price in the Epcot Wine Walk. For $32, a guest is given a passport that entitles her to six two-ounce pours of wine across three participating locations: Germany's Weinkeller, Italy's La Bottega Italia, and France's Aux Vins de France.
Can't finish all of your entitlements in one day? As the French say, pas de soucis (no problem) – you can always come back to drink them up later.
3. Stroll along the Disney Boardwalk
The Disney Boardwalk provides you with a choose-your-own-adventure-style of experience. Consisting of dining and entertainment options (such as bike rentals) that are all set around an intimate lake environment, the Boardwalk can easily become a half-day excursion. Walk along the waterfront hand in hand, grab a drink at AbracadaBar and dinner at Cape May Cafe, and wrap up with dessert at Beaches and Cream – it's a night that will ooze romance all by itself.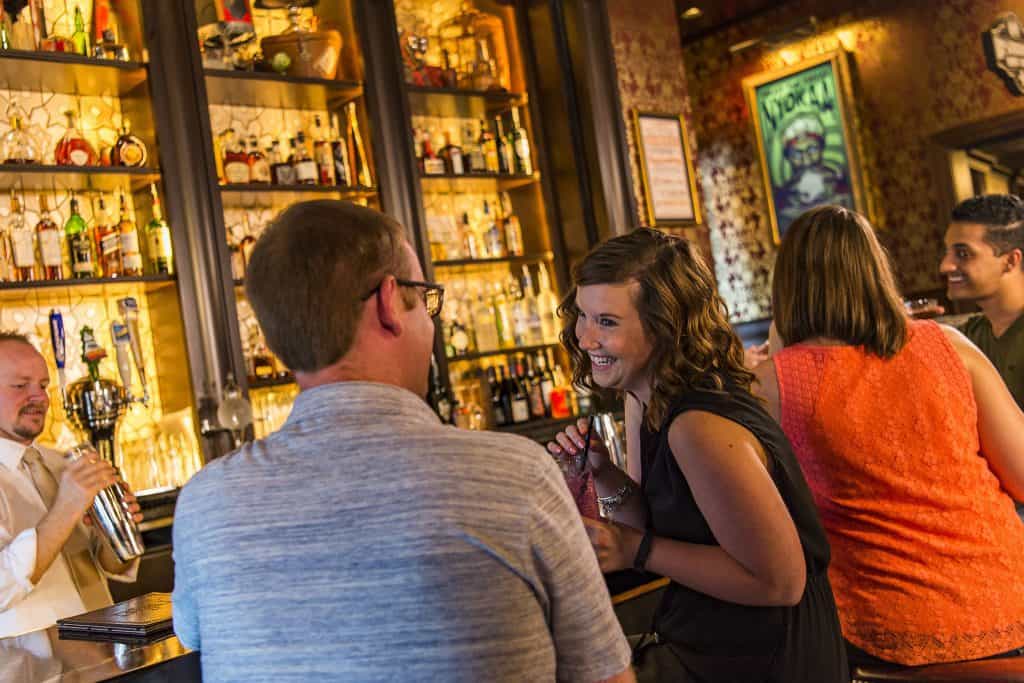 Ice cream too vanilla for you? End the night with dancing at the Atlantic Dance Hall or finish up with a cocktail at Jellyrolls, Disney World's only dueling-piano bar.
For the bachelor and bachelorettes
Today isn't just for those in love – it's also a great excuse to get out and have some fun.
4. Bongos at Disney Springs
Immerse yourself in the Cuban spirit at the Disney Springs cafe owned by Gloria and Emilio Estefan. Enjoy live entertainment, dancing, and an authentic menu while sipping on a Luxury Mojito. From there, you can take a stroll around Disney Springs and catch all the live music, or hop across the street and take in a movie at AMC Disney Springs.
5. Community table at Trader Sam's Grog Grotto
Inspired by the "head" salesman that can be found on the world-famous Jungle Cruise, Trader Sam's Grog Grotto at Polynesian Resort is arguably the best-themed bar on property. The bar stools sink, each specialty drink comes with its own gag, and the bartenders are as personable as the attraction's skippers.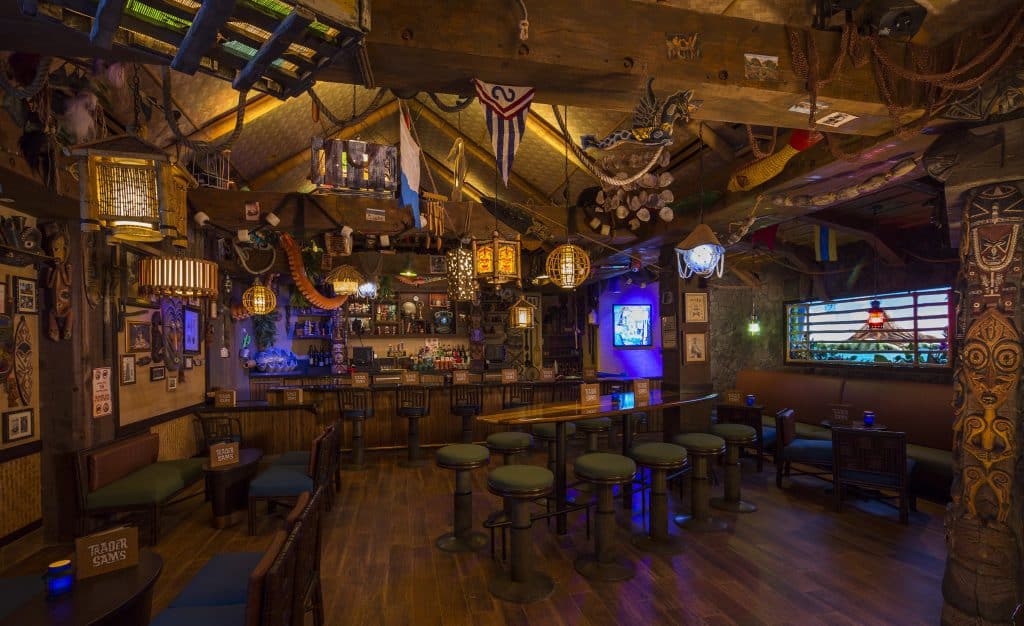 One of Sam's best-kept secrets is actually its biggest – the center table. Most people consider that a table for large parties looking to relax when, in fact, its primary purpose was to serve as a community table for multiple parties. So, instead of swiping right, actually turn to your right and introduce yourself to the person sitting next to you. It'll make for an interesting – dare we say extraordinary? – night.
6. Drinking around the (Epcot) world
This should be your break-glass-in-case-of-emergency plan, and, in all good consciousness, we can't recommend this one unless you're with friends. Drinking around the world at Epcot has been a challenge that many have attempted and few have completed. However, if done responsibly and properly, it could go down in history as one of your best Valentine's Days ever. Eleven countries, 11 drinks… think you're up for the challenge?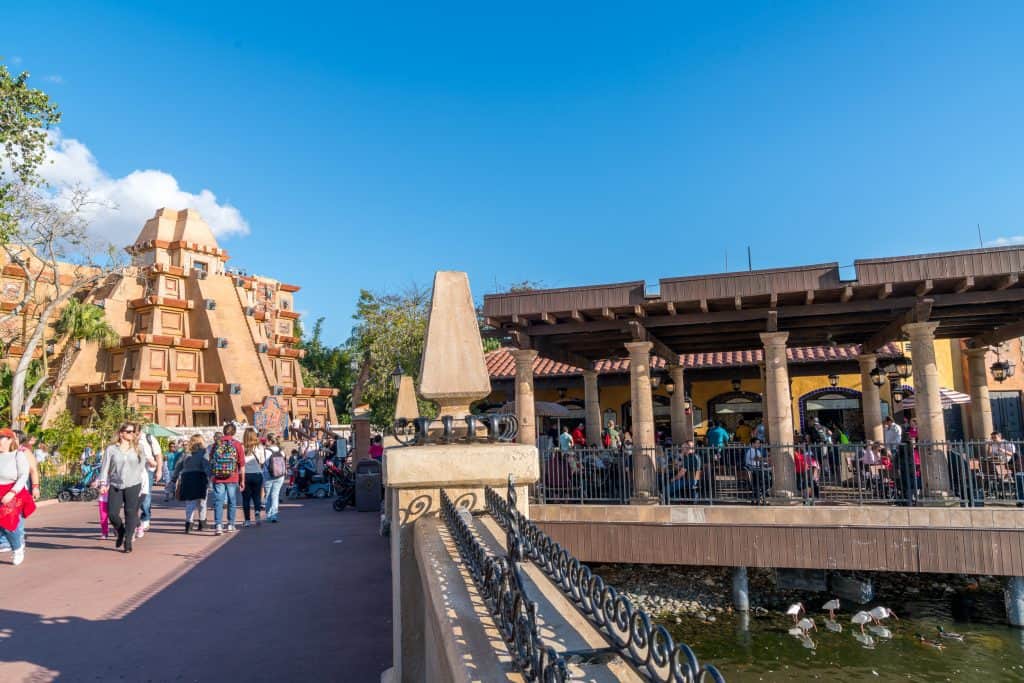 (That's a trick question – Valentine's Day is on a Wednesday this year. If you're seriously considering this, wait until Saturday and text your friends. Unless you're on vacation – in which case, go nuts… but please drink responsibly)
Fun for anyone and everyone
Whether you're with that special someone or with a bunch of special someones, there's always one thing that brings everyone together:
7. Splitsville at Disney Springs
It doesn't matter if you're single or taken – bowling is a social activity that works for most. Splitsville is a restaurant, bar, and bowling alley all rolled into one, which could cover all your bases at the same time. Not feeling the menu? Enjoy an hour on a lane and then head down the road to one of Disney Springs's newest restaurants.
–
Be sure to follow Orlando Informer on Facebook, Twitter, and Instagram for more on Walt Disney World, Universal Orlando, and other Orlando attractions.