Be the first to know about when the Dark Arts show opens in Orlando by signing up for email updates!
Inserting a projection-mapping show in The Wizarding World of Harry Potter – Hogsmeade is, arguably, one of the most clever developments we've seen come out of Universal across the past several years, if not longer – it not only constitutes yet another way that new Harry Potter experiences can be injected into the parks without having to build new infrastructure, it also shows how technology can almost literally transform a pre-existing building (in this case, the beloved Hogwarts Castle) into something new and different, thereby breathing new life into an older area.
There's also the little fact that these shows can be interchanged at will, providing a potentially infinite depth of value for just the one-time investment of installing the projectors around Hogwarts. And now we've seen Universal do just that, introducing a new production each and every year that the projection-mapping numbers have gone online – including today's big announcement regarding yet another new performance.
But we're getting ahead of ourselves here – let's first take a look back at how we got to this point.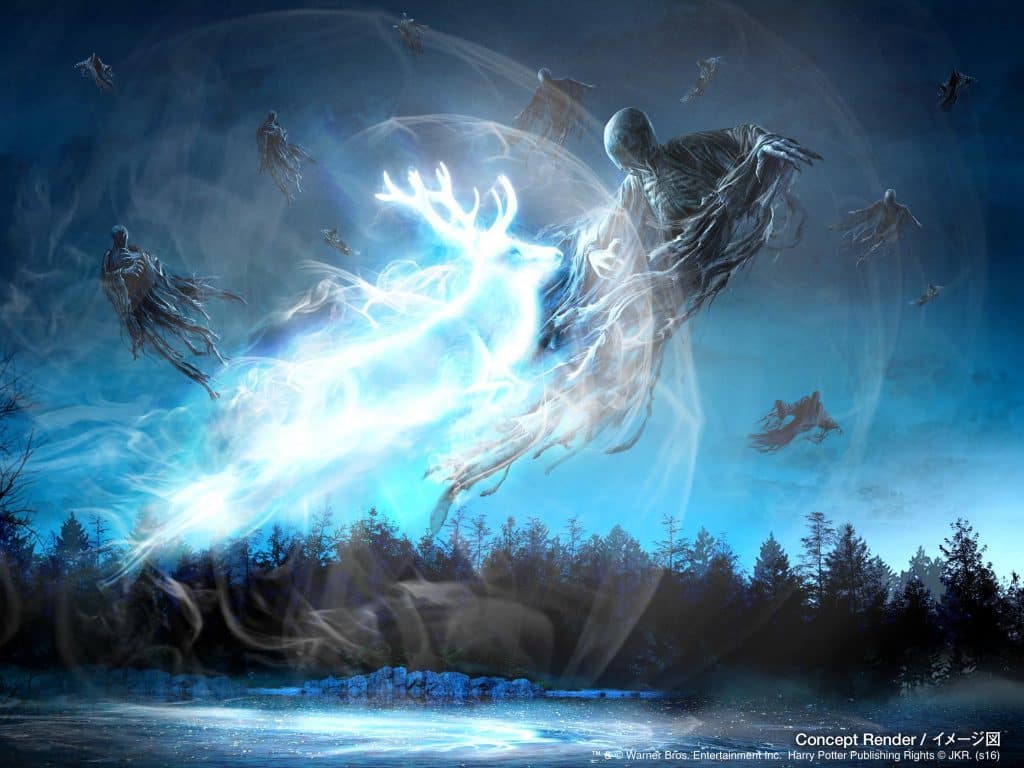 On March 16, 2017, Universal made the first pronouncement in this series, revealing for the very first time that a projection-mapping show was in the works – called Dementors Attack, it would debut the following month at Universal Studios Japan and incorporate several elements that are still, to this day, unique to it, including live actors and drone-controlled Dementors. An even more sweeping revelation also landed in April, revealing a holiday-themed version of the production for Universal Orlando Resort – entitled The Magic of Christmas at Hogwarts Castle, of course – that would debut alongside a whole set of other yuletide-themed experiences that were formally dubbed Christmas in The Wizarding World of Harry Potter. (Quick aside here: although this would constitute the very first time that the holidays would be celebrated at Universal's theme parks Stateside, the practice of acknowledging Christmas [and Halloween] started the year before in Japan [which we wrote all about in our in-depth feature].) And Hollywood followed suite just the following month, announcing on May 18 that it would be getting a third experience, called The Nighttime Lights at Hogwarts Castle, which would kick off in June.
Even though, on first blush, it seemed that each of these three parks was getting a projection-mapping show exclusive to it, that perception was dispelled in practically no time at all – on June 5, 2017, it was revealed that Orlando's yuletide festivities would also be arriving at Universal Studios Hollywood for that Christmas (not to mention The Magic of Christmas at Hogwarts Castle's subsequent arrival in Osaka, as well). January 11, 2018 saw the news that Islands of Adventure would be importing the West Coast's Nighttime Lights, with Japan making a similar announcement only recently, on November 27, 2018.
(Yes, Asia's Dementors Attack remains the sole production to be exclusive – an effect, we think, of its multimedia nature, which is afforded by Japan's unique topography; it's the only Hogsmeade in the world to feature an actual Black Lake next to Hogwarts Castle, which provides the perfect area for drones to safely fly, without fear of malfunctioning and crash-landing on any guests below. At this rate, we fully expect the production to solely remain in Japan permanently, perhaps providing even more incentive for American tourists to make the trek out to what is the most different Wizarding World on the globe.)
All of which brings us, at long last, to Dark Arts at Hogwarts Castle, the third projection-mapping experience to bow domestically (and the fourth globally). Designed to be a more "intense" show, highlighting the dark side – obviously – of the Harry Potter mythology, it'll debut first at California before eventually making its way eastward to land here in Florida. This eight-minute exploration of Lord Voldemort's followers and subordinates sounds tantalizing, but don't take our word for it – our sister site, California Informer, has the full scoop on what to expect and when to see it.
Dark Arts at Hogwarts Castle will premiere on April 13 at Universal Studios Hollywood, and then subsequently arrive at Universal Orlando Resort at some point later on in the year.
–
Still can't get enough Potter? See how we would implement the newest movie into the parks in our full feature, and then check out our complete insider's guide to the Wizarding World.
And be sure to follow Orlando Informer on Facebook, Twitter, and Instagram for the latest news and tips at Universal Orlando, Walt Disney World, and other Orlando destinations.