It should go without saying that Club Villain is a popular new idea at Disney's Hollywood Studios. Currently residing at the Sunset showcase right by the entrance to Rock 'n' Roller Coaster Starring Aerosmith, this entertainment experience was originally only supposed to last until the end of February, was then extended until the end of March and is now set to go on until sometime this Summer. Club Villain seems like a fever dream of a concept; stick a bunch of characters people love with a new show that can't be seen anywhere else and wrap it all together in a package that can only be described as a Bar Mitzvah on steroids and wait for the money to roll in.
But is this mish-mash of concepts any good? Your intrepid reporter visited the club to answer this question for you to answer this question.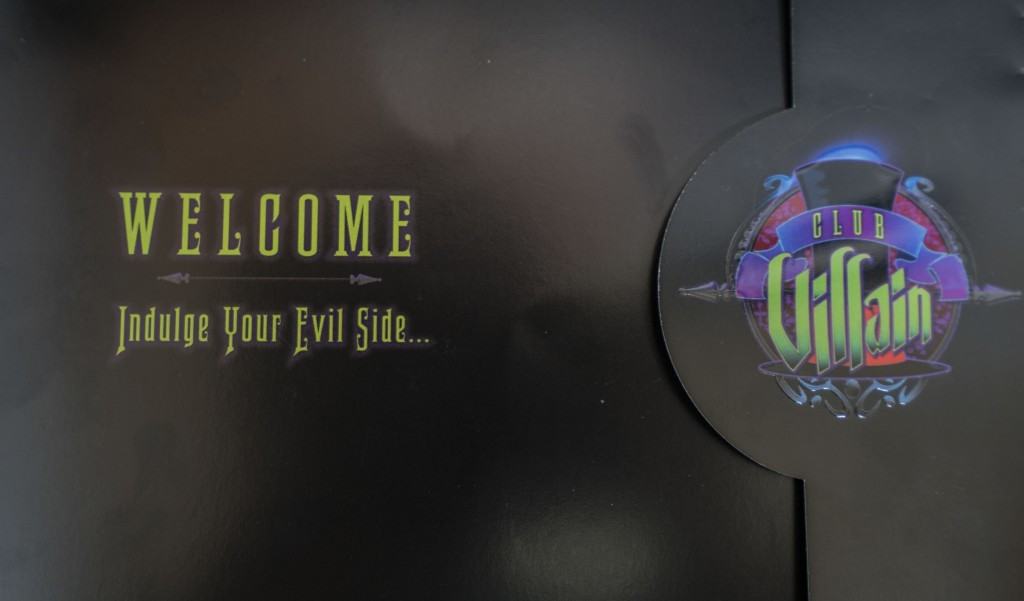 The Front of the Welcome Packet for Club Villain
In a word, yes. Club Villain is an experience like no other anywhere on Disney property, and it all starts the moment you check-in.
After making my way past the gate that leads into the private courtyard for Sunset Showcase, I arrived at a simple podium that beared the Club Villain logo. After checking in with the hostess out front, I went to go thank her by using the name on her nametag. That's when I noticed: her nametag wasn't the typical Walt Disney World nametag we've all seen countless times everywhere else at the resort. This nametag was a simple black tag with the Club Villain logo and a strange-sounding name. (I would later learn all the tags have names from the bayou. Apparently the Shadow Man likes to create jobs for his hometown folk.) Immediately I felt like Disney wanted to get me out of the pixie dust mindset and slip into something a little more… sinister. That idea was immediately reinforced when I received our welcome packet.
Inside this was our menu for the evening and signatures from Doctor Facilier and the four guests of honor. On the back was my table assignment and our assigned times to meet Cruella de Vil, the Queen of Hearts, the Evil Queen, and Maleficent herself. After checking in, some of the waitstaff came around with flutes of champagne for anyone who wished to indulge.
After some light drinking and waiting, we were let into the Sunset Showcase about 15 minutes before the scheduled start of the event. Once inside, you are surrounded by a massive amount of delicious food, two bars, a stage with a great DJ spinning some pretty great tracks, and a giant dance floor with a mirror poisoned apple hung above. In every corner was a special area set up for the four evils, each with their own themed space including an elaborate throne. Somehow this massive space felt intimate, electric, and very cool.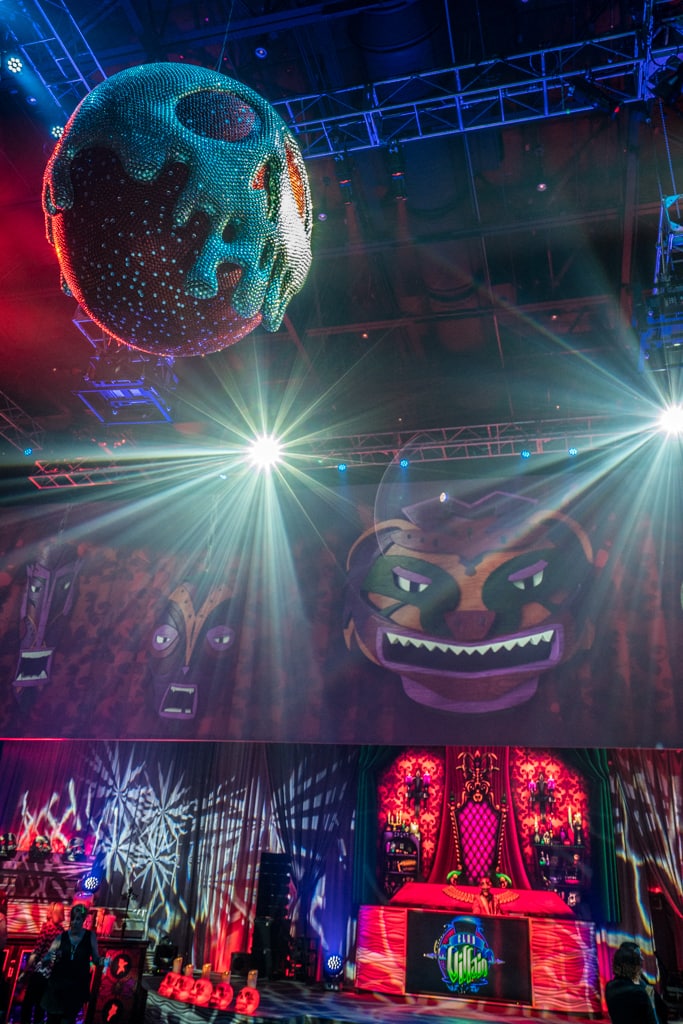 The Mirror Ball and Stage for Club Villain
So, with a few minutes to spare before the festivities officially kicked off, my friends and I did what any normal person would do: find our table, put our stuff down, and rush to take pictures of us sitting in all of the thrones. We had a blast going from throne to throne, having these spaces almost all to ourselves (everyone else was in line to get either their food or drinks), and essentially doing mini photo shoots in them.
I'm particularly proud of my time spent in Cruella's swanky pad. Now, the villainous divas won't always be by their thrones during the night, so if you want to get some of these pictures for yourself you can also get them during the event proper, but we found with all the eating and dancing and actually taking pictures with these villains, we were really glad to have gotten a few minutes before everything wound up to go around doing this when we did.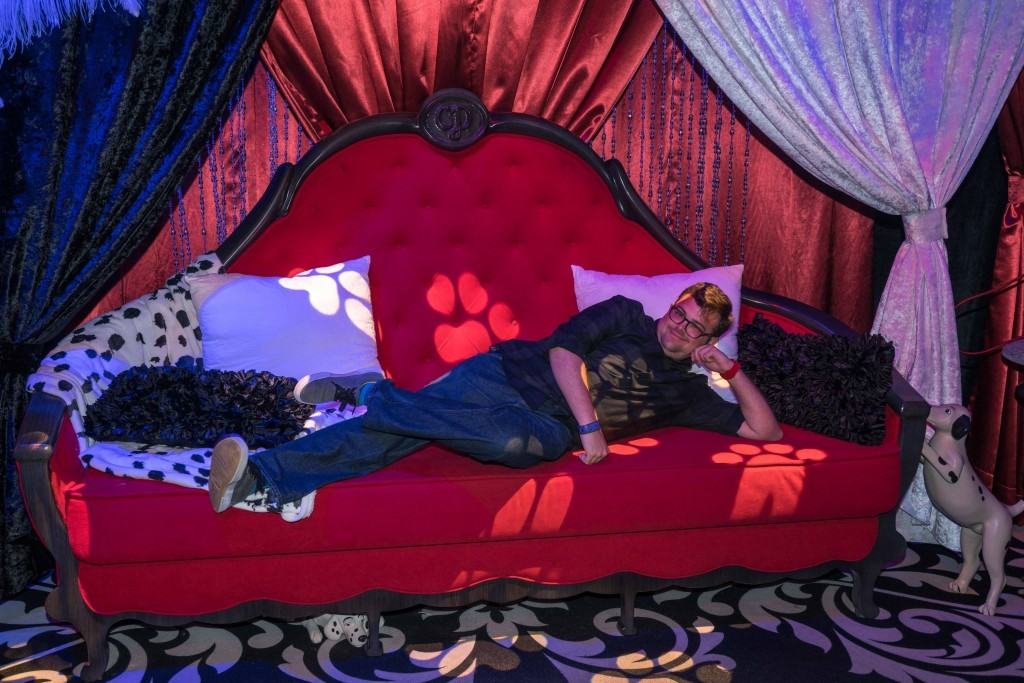 Me lounging on Cruella de Vil's Sofa
Just as we had finished our little jaunt around the club, the main festivities were about to start. We get introduced to Kanzo, an entertainer like no other, and then the Shadow Man himself arrives to bring in the other villains. After an incredible number, the villains take their place on their thrones, and guests are free to go and grab some more food and drink, and at their appointed time go meet the divas themselves.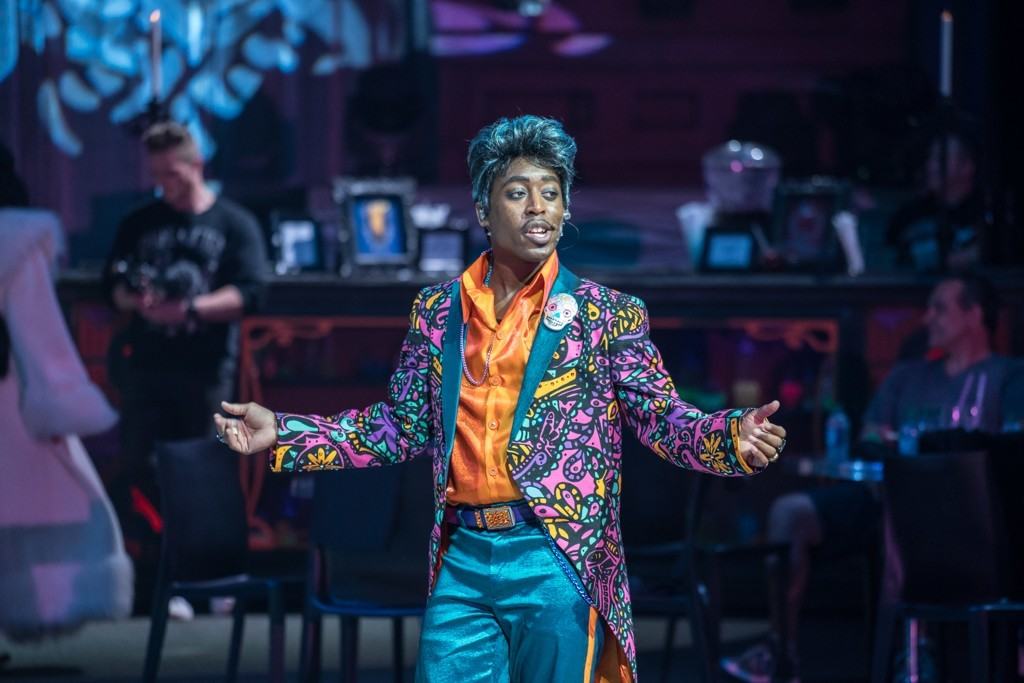 Kanzo at Club Villain
And when I say diva, I mean it. These women seem to have been given almost free reign to be as deliciously evil in their interactions. Cruella is obsessed, the Evil Queen is a masterclass in passive-aggressiveness, Maleficent is regal and cold, and the Queen of Hearts takes crazy to a whole new level. Each interaction feels so unique and intimate and special, and each villain had a completely different conversation with every member of my group (and there were five of us, so that's saying something). These women know they're the star of the show, and they put on a hell of a performance.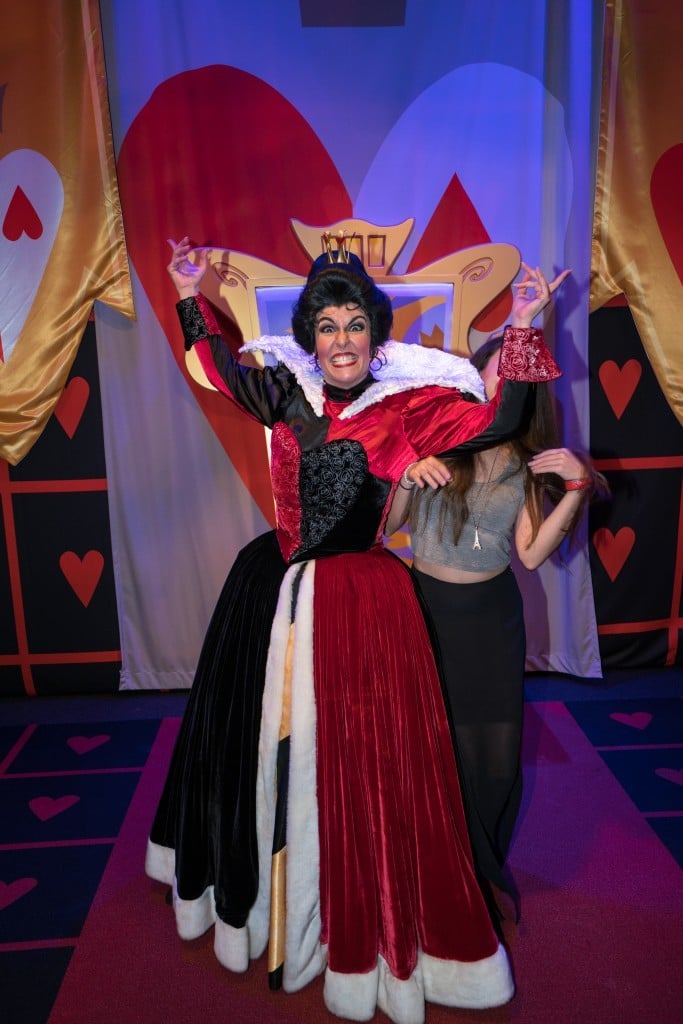 The Queen of Hearts Posing with a Guest
Even though these mistresses of mayhem may be the main draw of the evening, Kanzo absolutely steals the show. The quality of vocals is Broadway-caliber and his charisma is electrifying. Once he starts performing, you can't take your eyes off of him, and his numbers will have you speechless. Honestly, my biggest negative of the night was not seeing Kanzo out mingling with guests after his performances. I really wanted a picture with him.
As for the food, if you like New Orleans style chow, you're gonna love what Club Villain has to offer. From scrumptious sticky pig wings to a bourbon bread pudding "beignet" that can only be described as sinful, the food here is absolutely top notch, and worth going back for seconds, and thirds, and maybe even more. That doesn't even begin to take into account the desserts, where each evil has a table set by their area with two themed desserts each. They also each have their own specialty alcoholic beverage that can be acquired at the bar closest to them.
On top of all of this, between the numbers by Kanzo and Doctor Facilier, the DJ is spinning some great tracks to dance to. I'd love to tell you how much fun I had hitting that dance floor, but my group honestly didn't have time to dance with everything else there was to do. Maybe if the club was open just a bit longer, we could have found the time.
Overall, Club Villain was an amazing time that I can't stop talking about, and that means I would wholeheartedly recommend it, but only for adults. The price is $130 per person no matter how small you are, and the content as a whole is presented in an incredibly adult fashion, and is probably the closest Disney has come to PG-13 in the parks since Alien Encounter all those years ago. Kids will have fun meeting the villains, but the younger they are, the less likely they're going to enjoy the event for what it is.
Over 21, though? Run to the Sunset Showcase as fast as you can, you won't regret it.
Club Disney is currently scheduled through select dates through Summer 2016 and reservations can be made online and through the phone through Disney's reservation network.
Disney's Club Villain – HD Photo Gallery
Are you planning to experience Club Villain? Comment below.