Everyone loves going to Universal Orlando Resort for vacation, and everyone loves saving money. Therefore, what could be better than doing both? I'm not great at math, but there are more than a few ways to save a little cash while visiting Universal, including not only staying at one of the many Universal hotels, but also upgrading to club level at the three premier resorts: Royal Pacific Resort, Hard Rock Hotel, and Portofino Bay Hotel.
Let's first take a look at how staying at these three properties can keep more of that hard-earned cash in your pocket. Then, let's move on to the club-level question, specifically – after all, it's always a good thing to get more for your money while on vacation, particularly in such areas of food, transportation, and time.
Why stay at the three premier hotels?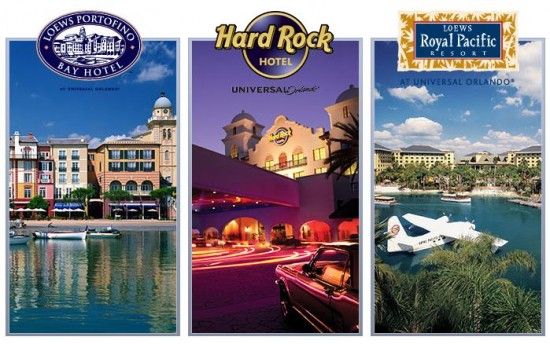 As you can probably gather, Orlando, Florida has more than a handful of hotels for you to choose from – well over 150,000 rooms! So why should you stay at a premier Universal Orlando property instead of one of the many, possibly cheaper options?
For starters, staying at Portofino, Hard Rock, or Royal Pacific is less expensive than you may think – often not even as expensive as some of their direct competitors for a comparable room (looking at you, Disney). In fact, with a Florida resident or annual passholder discount, they can be surprisingly affordable on their own. But some people forget that price, even at a discount, is not really the singular bottom line; with so much to see and do, time is of the utmost essence, and staying at Universal can help with saving time as well as money. Let's take a look.
One of the best methods for getting more from your vacation overall is by doing more and waiting in line less. That's where Express Passes come in. The basic variety, which allows you to skip the regular lines one time per participating attraction, starts at $69.99 per person, per day, while the unlimited version starts at $89.99 (though both of these prices can shoot up to $139.99 and $169.99, respectively, during the busy seasons). Again, math is not my forte, but the passes, plus tax, add up really quickly.
However, if you stay at Royal Pacific Resort, Portofino Bay, or Hard Rock Hotel, you will get free Unlimited Express for your entire party, which saves you a lot of cash and time. Better yet, those passes are valid from your check-in day through to your check-out date – so, for example, if you are staying three nights at one of these respective hotels, then you would actually get four full days of Express access all for the low, low price of "free and included." Bonus!
Another big consideration for staying at one of Universal's hotels as opposed to off-property is in the areas of transportation and gas. One of my favorite things about Universal Orlando is that you drive to your respective resort and park your vehicle, and that's really the last time you see it until (sadly) it's time to leave. Between the beautiful and scenic garden walkways, shuttle buses, and – best of all – relaxing water taxis, you will save not only on gasoline and mileage, but, maybe equally importantly, be spared the aggravation of driving the often-congested Orlando roadways. I can't overstate this benefit, especially when it comes to the water taxis.
(And let's not forget Early Park Admission, which will allow you to enjoy an extra hour at the theme parks for that day. Although all seven on-site hotels [soon to be eight, with the opening of Endless Summer Resort – Dockside Inn and Suites in 2020], along with the off-site ones, offer up this perk, it's the most advantageous for Royal Pacific, Hard Rock, and Portofino guests, given their extreme proximity to the parks.)
Join the club!
With all those reasons and benefits, I think it makes sense to stay at Universal Orlando's top three hotels. But does it make financial sense to upgrade to their club level, which will often run you roughly $100 more a night than a standard room? Well, depending on how you and your family, friends, or loved ones like to vacation, the answer could be a surprising yes!
We all know that Universal has some great restaurants, but nothing can drain your budget like eating (and drinking!) out for all your meals – and here's where you can save money with a club-level stay. The three hotels that offer club-level rooms – those are, again, Portofino Bay Hotel, Hard Rock Hotel, and Royal Pacific Resort – each feature a distinctive club-level lounge that provides a range of complimentary food and beverage items throughout the day. Their names are Portofino Club Lounge, Rock Royalty Lounge, and Royal Club Lounge, respectively, and their hours are, approximately, from 7:00 am to 9:30 pm.
Here are the varied offerings they serve club-level guests:
Complimentary coffee, assorted teas, and soft drinks throughout the day
Continental breakfast (7:00 am – 10:00 am)
Afternoon snacks (12:00 pm – 3:00 pm)
Hot and cold hors d'oeuvres and complimentary beer and wine (4:30 pm – 6:30 pm)
"Sweets Hour" each night (8:00 pm – 9:00 pm)
So, if you were to stay club level, you could enjoy breakfast in the lounge before you head over to your first theme park for early admission. Then you could have lunch out wherever you want in the parks or CityWalk (bonus tip: order a kids' meal for a smaller portion or split a dish with someone, which saves both calories and money!). Return to your hotel and hit up the lounge to create dinner out of the varied hors d'oeuvres that are accompanied by beer, wine, and soda. Head back out to have some fun, and then, finally, return to the lounge one last time to end your night with a sweet dessert.
If done this way, savings can easily be had. In fact, given everything we just went over, you definitely have a few options to live it up at the premier resorts without necessarily breaking the bank.
–
What are your thoughts on the three premier hotels and their club levels? Discuss it with 80,000+ other vacation-planners in our OI Community Facebook group.
And be sure to follow Orlando Informer on Facebook, Twitter, and Instagram for the latest news and tips at Universal Orlando, Walt Disney World, and other Orlando experiences.