The third annual A Celebration of Harry Potter has come and gone, more successful than ever.
Taking place from January 29 – 31, 2016, this year's event featured an impressive lineup of celebrities, intriguing panels, and plenty of creative cosplaying.
Meeting the stars
The celebrity lineup of A Celebration of Harry Potter 2016 did not disappoint. Potter alumni that attended included Rupert Grint (Ron Weasley), Bonnie Wright (Ginny Weasley), Katie Leung (Cho Chang), Matthew Lewis (Neville Longbottom), and Evanna Lynch (Luna Lovegood).
On both Saturday and Sunday, the Harry Potter talent participated in a 45-minute question and answer session which was open to all park guests. Additionally, guests who had purchased one of the (sold out) premium A Celebration of Harry Potter vacation packages had the opportunity to meet and receive autographs from select talent.
Finally, members of the media were able to participate in a private question and answer session with all of the film talent in attendance. The session held plenty of insight and showcased the ever-present passion of the Harry Potter stars.
"It makes me feel so proud to be apart of this and just to see that people are still really excited about it," Rupert Grint said when asked about the fans' passion for the franchise. "People still really care about these characters and this world. It's just a really special thing to be apart of it."
Watch the full media interview:
The Harry Potter Expo
Located in Soundstage 33, this special expo amassed long waits throughout the event. The Harry Potter Expo was home to booths for various Harry Potter related brands.
One of the most popular areas of the expo was the Universal Orlando merchandise area, which exhibited the variety of special A Celebration of Harry Potter merchandise. This merchandise was more popular than ever before, marking the first year that almost every item sold out before the event's end. Merchandise included lanyards ($10.95), tote bags ($28.95), pins ($14.95), keychains ($12.95), iPhone cases ($36.95), coffee cups ($14.95), and a variety of shirts ($24.95-32.95). Pictures of all of the merchandise can be found in the photo gallery at the bottom of this page.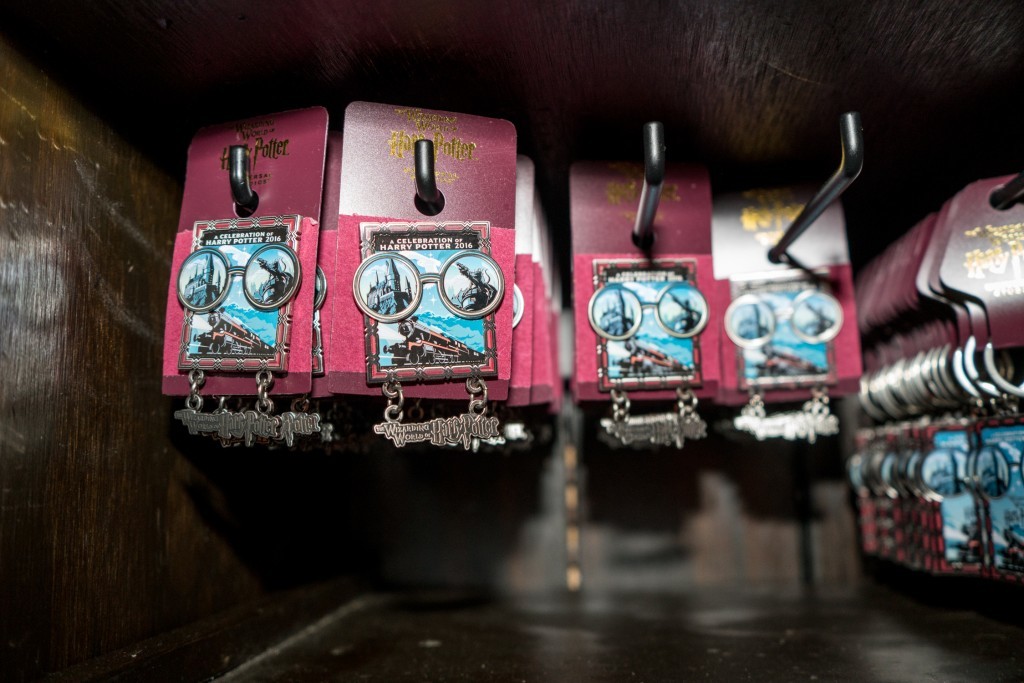 A Celebration of Harry Potter 2016 pins.
Muggles at the expo had the chance to write what Harry Potter means to them on a large canvas that was already completely full after just a few hours of the expo being open. Numerous guests took the opportunity to write a short thank you or tribute to Alan Rickman, who played Professor Severus Snape in Harry Potter and had passed away just days before the event.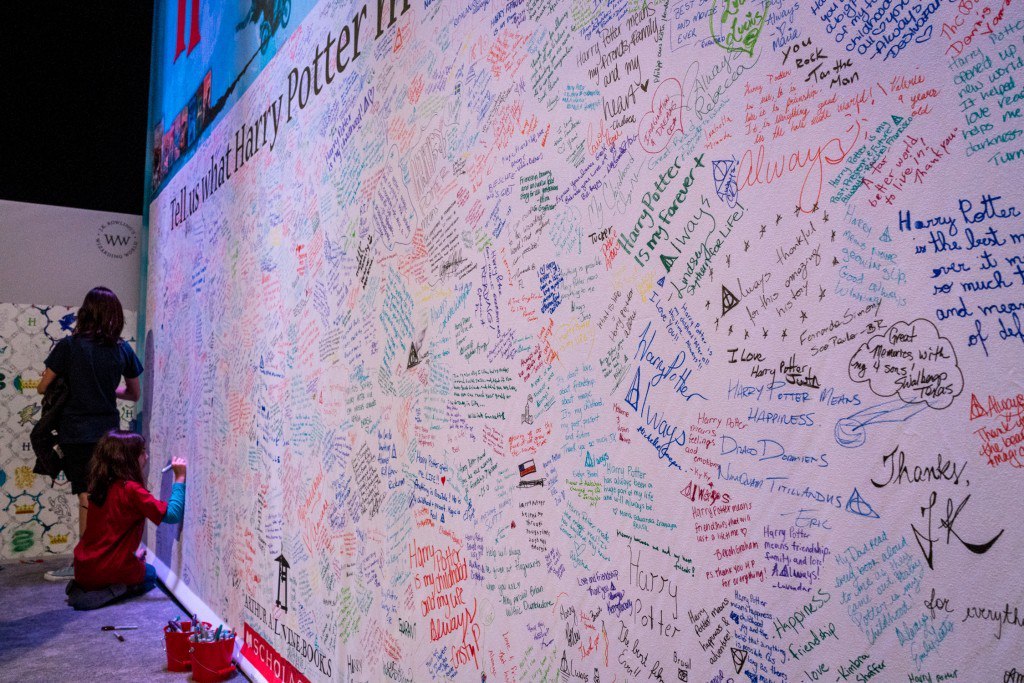 A young guest writes what Harry Potter means to her at A Celebration of Harry Potter.
Another extremely popular portion of the A Celebration of Harry Potter 2016 expo was the Warner Bros. Studio Tour. This miniaturized version of the actual Warner Bros. Studio Tour in London provided guests a first-hand look at the creation of the prop wands used in the films, examples of some of the makeup and prosthetics utilized on the actors, and a face-to-face encounter with a Death Eater.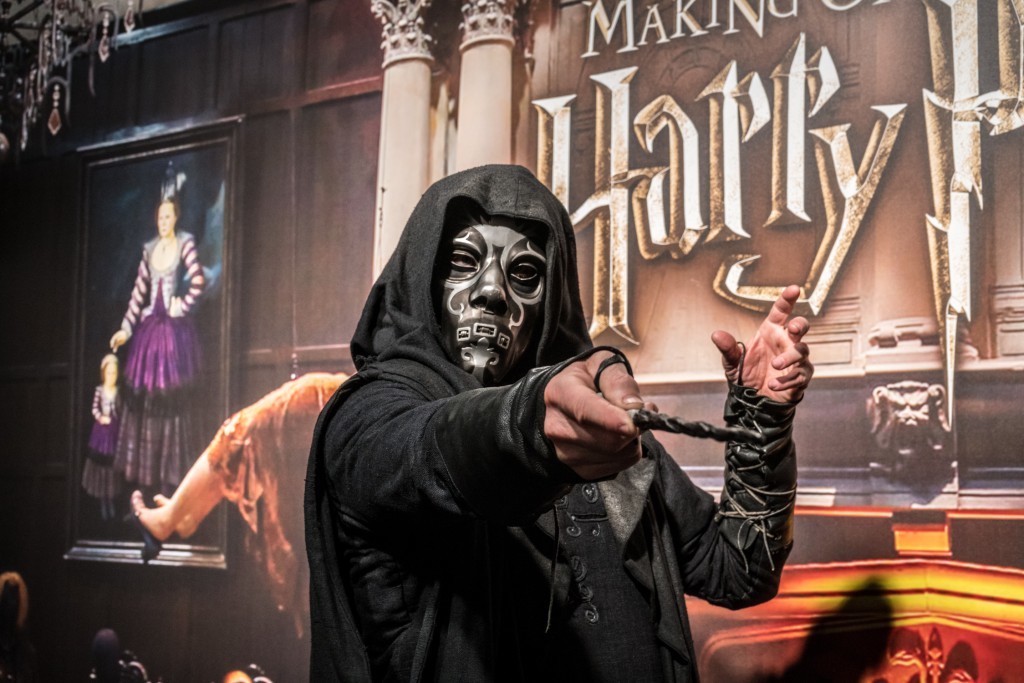 Death Eater at A Celebration of Harry Potter.
Other exciting offerings of the expo included free coloring sheets and posters from Scholastic, an oversized poster for the play Harry Potter and the Cursed Child Parts I & II (opening summer 2016 in London), a look at Harry Potter: The Exhibition, new and interactive content from Pottermore, and The Sorting Hat Experience.
Watch an overview of the expo:
Panels and announcements
From a surprise opening night fireworks ceremony to learning to dance like a Beauxbatons, A Celebration of Harry Potter 2016 was three days of interesting panels and announcements.
The weekend kicked off with the opening night event, where never-before-published details of the Wizarding World written by J.K. Rowling were shared by Evanna Lynch. The actress, who played Luna Lovegood in the films, revealed that there are a total of 10 other wizarding schools outside of Hogwarts.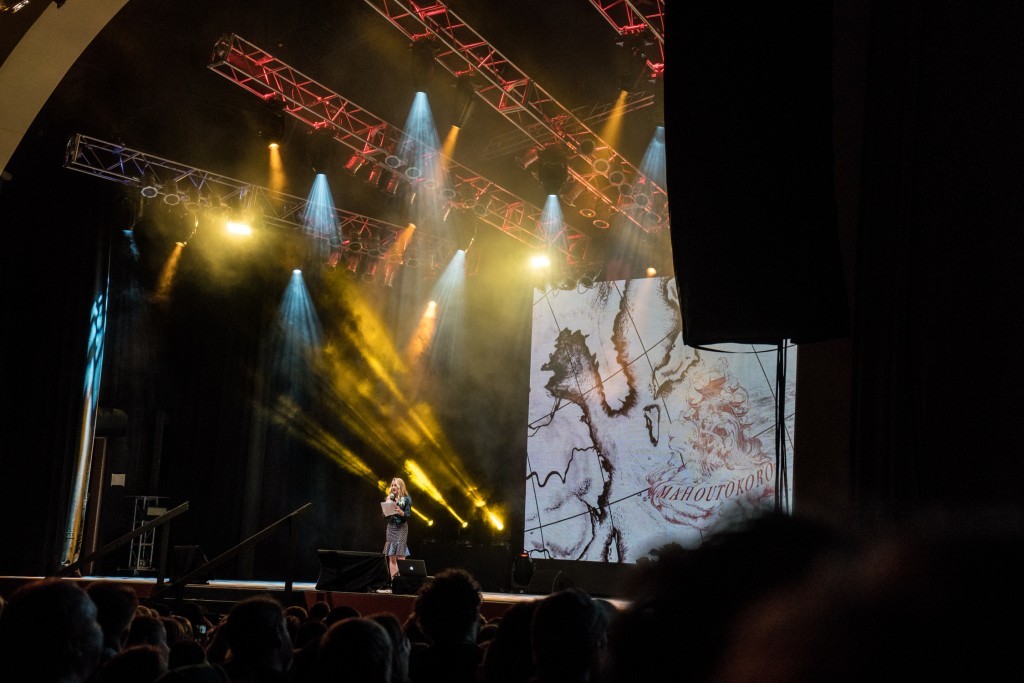 Evanna Lynch reveals details of other wizarding schools at A Celebration of Harry Potter.
The crowd heavily cheered as Lynch shared details of wizarding schools in Africa, Brazil, Australia, Russia, and North America. Another big announcement that took place at the opening night event was announced by Matthew Lewis, who shared that Harry Potter: The Exhibition would open on June 30 in Brussels, Belgium.
Watch the full opening night event here.
On Saturday, members of the media were able to attend a private session with Pierre Bohanna. who was the head prop maker for the Harry Potter films. Bohanna described process of creating the prop wands in the later films, which entailed creating 5 different styles of wands and then allowing the actor to choose. The head prop guru shared that the original Goblet of Fire was one of his favorite props he has created. The prop, which was made mostly of wood, took about four weeks to create.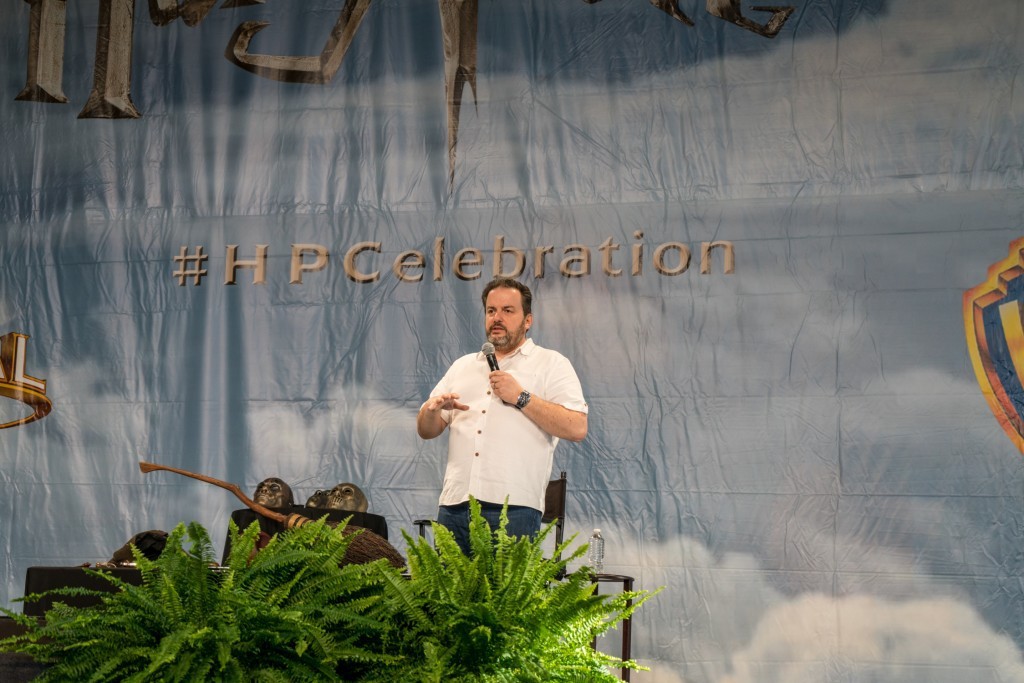 Pierre Bohanna speaks with the media at A Celebration of Harry Potter.
Bohanna disclosed that the brooms were one of the largest technical challenges when creating props for the films. By the final film, the prop team was using titanium and other military grade materials to create the brooms. "The whole film was made from great passion… [we] put a lot of heart into it," Bohanna said to the gathered media. Pierre Bohanna is currently working on Fantastic Beasts and Where to Find Them.
The second night of A Celebration of Harry Potter 2016 ended with a special film tribute. In addition to once again hearing from all of the celebrities, this evening event ended with two exciting videos. The crowd was treated to an update video on the Harry Potter play coming to London later this year and a new trailer for Fantastic Beasts and Where to Find Them.
Time for expansion?
A Celebration of Harry Potter 2016 was a roaring success. Despite the occasional growing pains, the third rendition of this event gave guests yet another inside look and celebration of the beloved Harry Potter franchise.
What complaint did we hear the most? Guests wishing that the event lasted longer. This leads us to think that maybe it's time for A Celebration of Harry Potter to expand into multiple weekends. An expansion into an additional weekend or two within January would not only distribute crowds and more time to check out all the event has to offer, but it would also allow for Universal to practice operating the event flawlessly.
No matter what A Celebration of Harry Potter 2017 may bring, we're looking forward to experiencing it. Did you attend this year's celebration? Let us know what you thought of it in the comments below.
Miss the 2016 celebration but can't wait to visit The Wizarding World of Harry Potter? We've got you covered with our Insider's Guide for everything you need to know.
A Celebration of Harry Potter 2016 – Photo Gallery