We now pick up Maureen's "A Celebration of Harry Potter" trip report at the beginning of Day 3. If you missed our post covering Day 1 & Day 2, you can view it by clicking here.
A Celebration of Harry Potter – Day 3
On Sunday, January 26, the third and final day of the Harry Potter Celebration, I planned to attend as many panel discussions as possible, and knew I needed to get to the park as early as possible to make the first panel scheduled for 10:00am.
I arrived at the Islands of Adventure turnstiles around 8:30 and the park opened to guests at 9:00. I scurried to the panel discussion queue at the Toon Lagoon pavilion and was able to get in line fairly close to the front of the general admission queue. The first panel discussion was Bringing the Harry Potter films to the Theme Park – Set and Prop Design, and I was able to get a good seat close to the stage.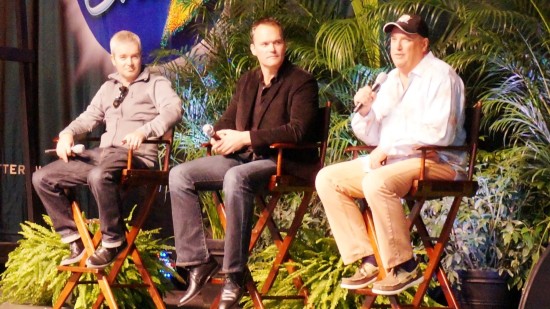 Alan Gilmore, Supervising Art Director, Bryn Court, Lead Sculptor for the Harry Potter films, and Eric Baker, Senior Prop Manager for Universal Creative, discussed the different props and sets used both in the movies and re-created for the theme parks. They explained that everything inside the Wizarding World parks must look like it does something or makes sense. They said Diagon Alley is actual size. Baker said, when observing guests at WWoHP, he noticed the guests' attention to the details – they took photos of everything. Baker said they dedicated themselves to provide more details than ever in Diagon Alley. They stressed the fact that Hogsmeade was perfect, but in order to take it up a notch, the details created in Diagon Alley are not to be missed. They emphasized that guests need to look up, look down, and look everywhere because each person will see some new detail during every visit. I am so looking forward to seeing all this detail mentioned about Diagon Alley.
Several props from the Diagon Alley expansion were on display during this panel discussion, including the Vanishing Cabinet that will be in Borgin and Burkes in Knockturn Alley and a suit of Troll Armor. Also, James and Oliver Phelps made a surprise appearance to the delight of the audience, showing off a few props from the new Weasleys' Wizard Wheezes store.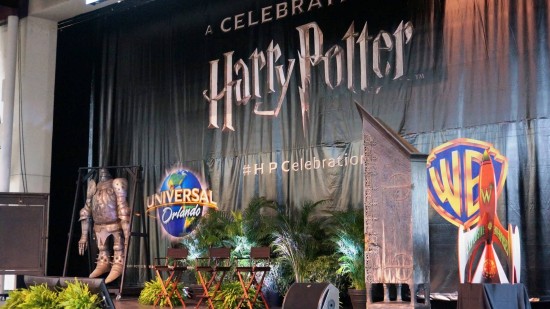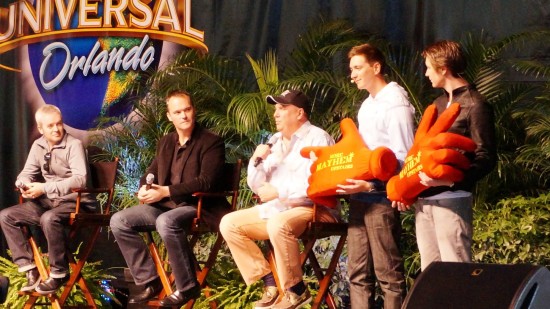 [wptouch target="non-mobile"]Remember, you can click any image to view it full-screen. And don't miss the complete photo gallery with over 70 new full-screen images at the bottom of the post.
[/wptouch]
During the question and answer period, Bryn Court said that the biggest challenge with the sets for the movies was Dumbledore's office. Eric Baker said that the Chinese Licorice Man, located in Honeydukes, was one of the most complicated props created for WWoHP. I really enjoyed this panel discussion and was captivated by some of the props presented on stage.
After the panel discussion ended, I immediately proceeded to get in line for the Dueling Demonstration and Wand Combat Masterclass with Paul Harris scheduled for 11:30. Since I was further back in line due to the fact it was 11:00, I was concerned about getting into the ampitheatre for the next session. I did make it inside, but I was in the upper level rather far from the stage.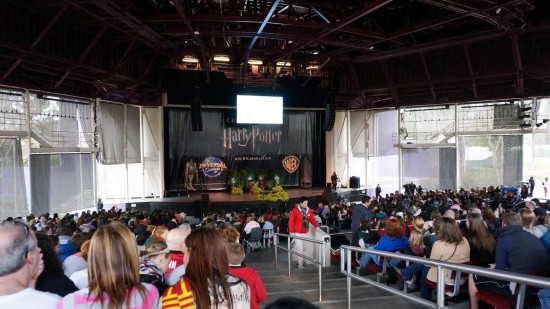 Paul Harris was introduced via a video about the Warner Brothers Studio Tour London. The video showed many of the features of the London tour, including the great hall and wand lessons with Mr. Harris, similar to what was at the Expo but on a larger scale.
After the video finished, Harris appeared on stage and began throwing out items to random audience members near the stage. In addition, assistants gave out souvenir items to random audience members, even in the upper section of the stadium. Paul Harris was very personable with lots of energy. He first explained how he became the only Choreographer of Wand Combat in the world. Afterwards, he began teaching the entire audience the five attacking positions. The audience was very enthusiastic in learning the positions. Mr. Harris had several audience members come up on stage and proceeded to teach them the positions along with blocking.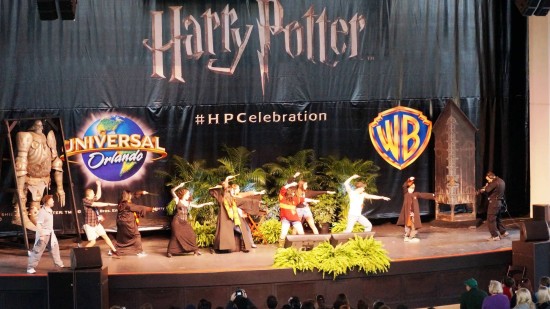 Mark Williams, Arthur Weasley in the Harry Potter films, made a surprise guest appearance on stage to the delight of the crowd.
Williams was interviewed by Harris for a short time and explained that the wands he used in the early movies were made of wood and by the end of the series they were highly guarded by prop managers and kept in a locked box. Harris asked Williams if he still had his wand. Williams said that the first thing they learned in the Ministry was to never be unarmed. To the joy of the audience and with great flourish, Mark Williams pulled out his wand.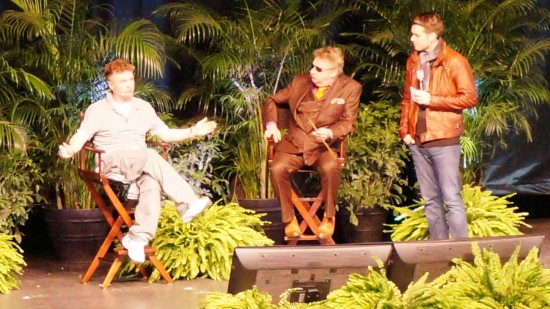 Williams and Harris, each with half of the trained audience members as their own army, proceeded to demonstrate a very entertaining and hilarious wand battle against one another on stage.
After the Wand Demonstration panel finished, I ate lunch and walked around the park to investigate wait times for the popular attractions. Jurassic Park River Adventure had a posted wait time of only 5 minutes (mostly because of chilly weather), Forbidden Journey had a posted wait time of 60 minutes, Flight of the Hippogriff had a posted wait time of 30 minutes and Dragon Challenge had a posted wait time of 10 minutes. The lines for the butterbeer carts were expectedly long.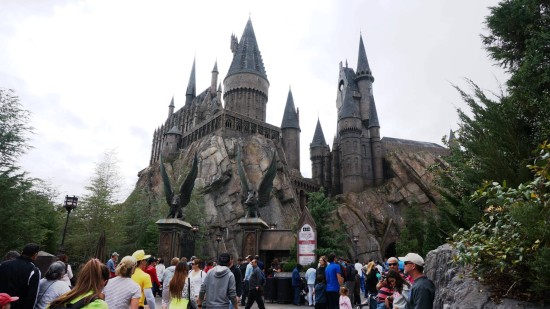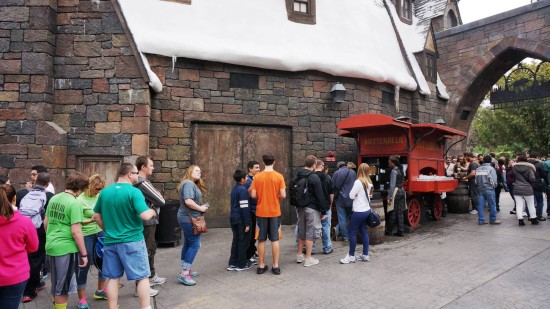 Based on my previous experience with the queues for the panel discussions, I thought I would be safe if I were in line prior to 1:30pm to see the Graphic Design of the Harry Potter Films with MinaLima at 2:00.
When I arrived, the queue for the Toon Lagoon amplitheater extended past the restrooms into Super Hero Island. I got in line and asked if this was the queue for the 2:00 panel discussion. The person in front of me explained that the 2:00 panel discussion was already full and this was the queue for the 3:30 panel discussion, My Life on the Harry Potter Film Set: Talent Q&A's, that I had missed on Saturday due to long lines. It was only 1:30 and the queue for the 3:30 show extended to Spider-Man.
After the 2:00 panel discussion began (I was not able to get in), our line moved forward and we eventually sat down in the queue. I did remark positively on Twitter that at least it wasn't 95 degrees with all of us sitting in the sun.
The stars from the Harry Potter movies walked out around 3:00 and waved to all of us queuing. The crowd went wild, cheering and yelling for the actors who were part of the panel discussion.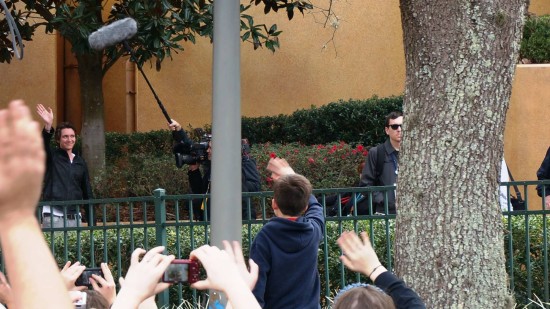 We continued to wait in the queue, and, at approximately 3:25, I entered the pavilion and was seated in the upper level toward the very back of the pavilion.
Austin Romero hosted the panel discussion and introduced the Harry Potter Tribute video that was played on screen Friday night. The crowd was very enthusiastic and cheered at nearly every scene of the video. It was an electric atmosphere, especially since this was the final discussion panel of the weekend. To thunderous applause, Austin Romero then introduced Evana Lynch (Luna Lovegood), James and Oliver Phelps (Fred and George Weasley), Devon Murry (Seamus Finnegan), and Matthew Lewis (Neville Longbottom).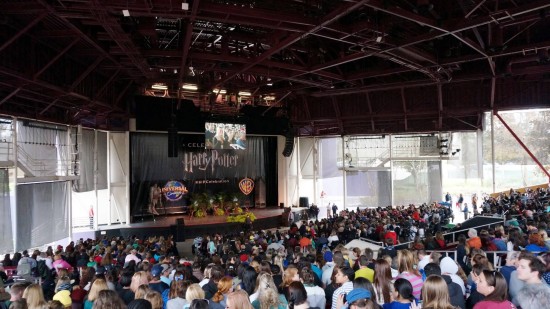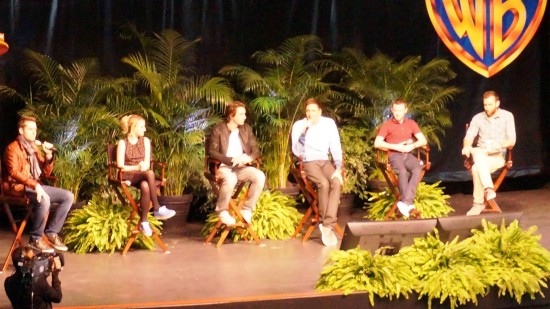 Various predictable and also unique questions were asked by audience members, including, if they could "accio" anything right this minute, what would it be? Devon Murray said a toilet because he had to wee. Oliver Phelps said a wall to place between he and Devon. Evana Lynch was very endearing and definitely a fan-favorite. It was apparent that the fans were thrilled to see the actors and hear their responses. After the panel discussion ended, fans swarmed to the bottom of the stage and the actors signed autographs for about 15 minutes.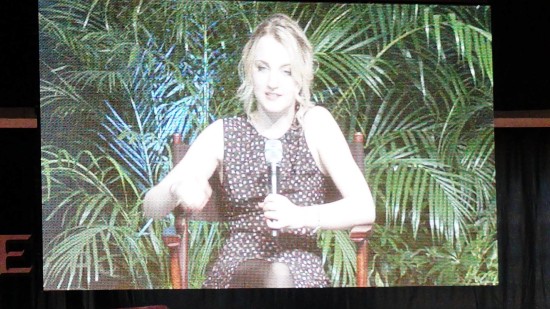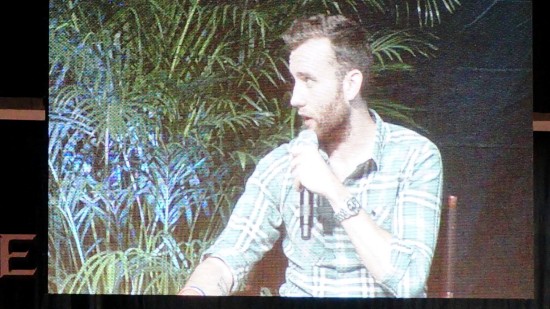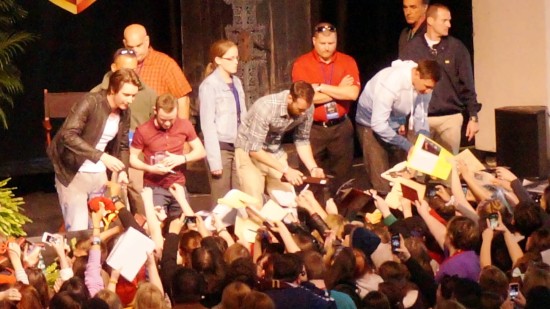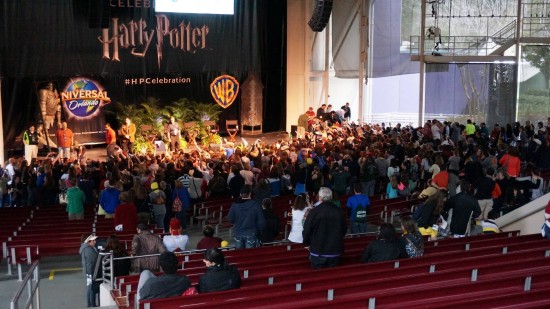 Being a part of the audience for this last panel discussion with the actors was a great way to end a splendid weekend.
I was able to take a few photos of fans who were very creative with their own costumes and others who were lucky enough to get Evana Lynch's autograph. I enjoyed talking with many different fans from all over the United States throughout the weekend.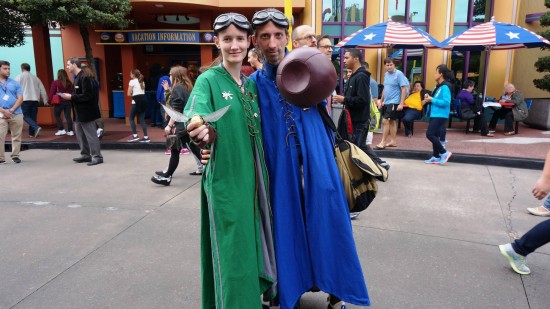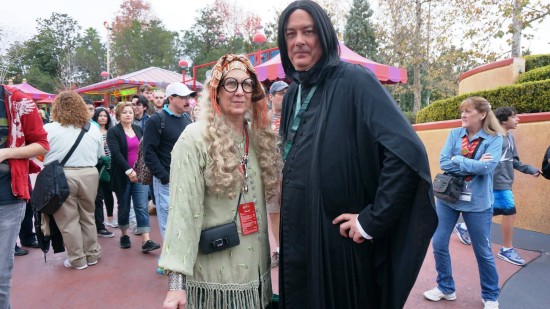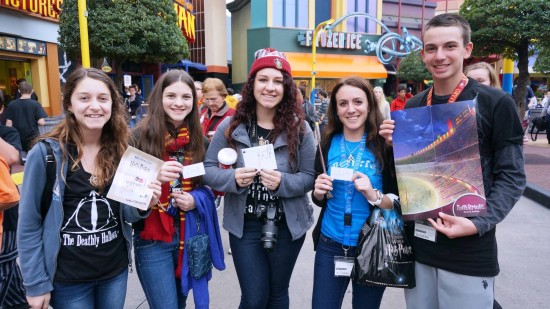 I felt that Universal was clear in their publications that general admission to the events was made on a first-come, first-served basis, and that there was no guarantee of admission. I remembered the news showing the long queues of enthusiastic fans when the Harry Potter books were published, and I realized that there were thousands of fans out there who were willing to wait for hours to get a book, let alone the possibility of seeing stars from the movies and other related Harry Potter memorabilia up close. If guests had the special VIP passes, it was an advantage over those with general admission because they were guaranteed admission to every event and could participate in a special reception on Saturday night. The authorized media had an even greater advantage over any attendees in that, not only were they guaranteed admission to every event, they were able to get up close and interact with the stars and other key persons throughout the weekend.
That being said, I think being part of the general admission guests let me experience the "magic" and camaraderie with other Harry Potter fans that I otherwise might have missed. I chatted in queues with very diverse groups of people, and yet we all had a common factor of simply being a fan of Harry Potter and his amazing story. I was very glad to be able to participate in the events this past weekend, and I knew that it would be difficult to get into some of them. In fact, I was surprised and very pleased at the number of sessions I was able to attend.
In conclusion, I'm excited that I was able to be part of the Harry Potter Celebration weekend. It was a fantastic celebration and a great lead up to the opening of Diagon Alley this summer. I hope that you were able to enjoy the Harry Potter Celebration, if not in person, at least through this trip report. I also hope to see you at the grand opening of Diagon Alley this summer!
Criticism of the event
The remainder of this post is written by Dan Hatfield and contributing fans.
We are very happy that Maureen enjoyed her time at Universal's Harry Potter Celebration. Unfortunately, he positive experience was not unanimously shared, particularly with many guests who purchased the special vacation package and were expecting VIP treatment.
In order to provide you with the whole story, we would like to share two letters we received from VIP guest. Keep in mind these guests paid well over a thousand dollars for their full packages (in contrast to local Annual Passholders, who paid no additional cost at all).
From Sarah:
My girlfriend and I were given VIP tickets to the Harry Potter Celebration for Christmas. We booked a flight from Canada to Florida for a 10 day trip purely for this weekend. We were so excited for all the events and to meet the cast.

When we got there, everything took a quick turn for the worse. Friday night wasn't so bad, although there weren't any directions indicating were to go for the film tribute – so we wandered around for ages trying to figure out where exactly in Universal it was to be held. But when we finally arrived, there was reserved seating for the people with VIP passes, and the actual film tribute itself was very nice though.

Saturday was when things really started to go downhill. We arrived at the park around noon and immediately had to ask about four different people for directions to the Toon Lagoon amphitheater in order to see the cast Q&A. Once we finally got there, we walked up the stairs and showed our VIP passes, which were supposed to give us reserved seating for all events. No such thing existed. The first rows of seats at the very front of the amphitheatre (supposedly to be reserved for those with passes) were filled with people, most of whom we noticed at no VIP passes. We had to sit in the second-to-last row, at the very back of the Amphitheatre, even though we had paid a lavish amount of money for "reserved seating".

With our VIP package, we were given a free complimentary breakfast for Saturday morning at 10:00am. However, my friend woke up with food poisoning, and we couldn't make it to the breakfast. After she recovered, we visited the Three Broomsticks for lunch where we explained our situation to a woman working there, asking if we could use the pass for lunch, or even get breakfast for the next day. The woman, without apologizing, said that they couldn't do anything about it, but that we'd have to speak to the "hotel" in order to reschedule breakfast for the following day.

At this point we simply wanted to leave, but figured we should kill time by shopping before the special private event at 7:30pm, which promised an intimate party with food and drinks, during which we'd be able to meet the actors and other guests. We were told that merely 200 people were given VIP passes. False. A couple of thousand other guests were there, herded like sheep to the Marvel area of the park in order for them to set up.

After walking across the park, we weren't told exactly where to line up. We ended up speaking to a small family who were just as confused and disappointed as us, and we stood around aimlessly, completely unaware of what to do. We spoke to many other different people there who also received similar treatment throughout the day, and many said that everyone they spoke to about the special event had no clue as to what was happening.

At 7:30 the reception finally began. It consisted of long lines to get a small variety of food and drinks and not much else. There were performances of the Triwizard Spirit Rally and the Hogwarts Choir, which had already happened more than once that day. We asked multiple workers if there would be a chance to meet the actors, as previously described in the event package, or merely if they were going to show up. None of them knew for sure, except one security guard who said there would be a photo opportunity at the end of the Triwizard Spirit Rally. Elated, we headed over to the stage area, very excited that we'd finally get to meet the wonderful actors, some of them idols and role models from when we were just kids. But once again, we were very misled. The "photo opportunity" meant that the actors stood on the stage for about a minute, and we all got to take photos of them through the crowd. You can imagine my 5-foot girlfriend waving her camera over the heads of many, trying to catch a glimpse of the actors we'd been so excited to see since Christmas morning. But that was it. A private evening with the stars?  Nah. We paid thousands of dollars with the promise of meeting the actors and receiving special VIP treatment, all simply to see the actors from afar – we could have just saw that on YouTube – and get treated pretty much as though we were regular visitors to Universal.

Many people we talked to had the exact same complaints. Some had gone to Universal's Harry Potter special event back in 2011, and they said it was so amazing that they came back this year, only to be incredibly disappointed.

Universal Orlando had extremely false information and advertising on their website. They treated VIP guests, who paid an arguably unaffordable amount of money, like trash, and left most people extremely sad and disappointed. My friend and I both felt extremely let down after being so eager to get to Florida for such a long time.

While some good things did happen (the shopping, the Pygmy Puff adoption ceremony, and the food, notably), VIP access to the Harry Potter Celebration was nothing but a huge rip off, and I truly believe people who paid as much money as we did for the special passes should get it all back. I cannot believe the way everyone was treated, and it will be a long, long time before we return to Universal.
From Brandi:
I have been a fan of Harry Potter from the beginning, since I was nine years old. I've never been able to make a trip like this because of either school or work and then the money. However, I was able to talk my mom into getting me and her a VIP package for Christmas, and she, being a HP fan as well, was all for it.

We had our packages bought in the first 20 minutes after they came on sale. $1700 for both of us. Five months later, I had the time off work and made a 15-hour drive to Orlando.

Friday's film tribute was awesome. We finally got to see the cast in person, which was such an overwhelming feeling, since I've waited 13 YEARS for that moment. Saturday, we waited in line for two hours for the Q&A's. At both, we had 3rd row seats, so that was fine too.

We left the park early Saturday and missed the master wand class to go get dressed up for the "Private Event".

We came back to the park, the only two dressed up in dresses, and somebody said there was a line. So I got in line behind about 30 people. Then people started lining up on the other side of the street as well. Around 7:00pm, people completely crowded towards the front, which was a joke.

We got lead back to the Wizarding World and entered the event a little after 7:00pm. The four of us walked in and just stood there, like, "What the hell is this…?" They had the rides going and shops open and free drinks and desserts. I stood towards the front, and just leaned up against a light post… I was expecting something completely different than just the Wizarding World opened late with a few free drinks. Then I overheard one of the workers tell someone that the cast wasn't officially scheduled to be there, so they may or may not show up.

I started crying. I was so upset, and the Hogwarts Conductor walked over and asked what was wrong. My mom explained to him that we were under the impression that we were going to meet the cast. He walked over to the same lady I overheard before, talked to her a few seconds, then came back over to us and told us to go to the stage near Hogwarts Castle.

We made our way over there, and it had already had a large crowd around it. We stood there a few minutes watching the Triwizard Spirit Rally. Then, finally, the cast came out on stage. They just stood there and waved for about 90 SECONDS, then disappeared. Apparently, they went to a patio area behind the three broomsticks.

We all moved over toward the back entrance to Three Broomsticks, but it had been blocked off by a black curtain and a security guard. I stood there, hoping ONE of them would at least try to make an effort. But they didn't. Finally, we went and sat inside Three Broomsticks and watched them leave around the park. At this point, we just went ahead and left.

Universal described on their FAQ page that the event was going to be special and told us to make sure we brought a camera to capture their memories. It was so crowded and there was absolutely NOTHING special about it.

In my opinion, Universal gave us false hope, and if I knew I wasn't meeting the cast, I wouldn't have spent all the time, money, and emotional distress on this event.
We'll learn what we can from Sarah and Brandi's words, and, should Universal's Harry Potter Celebration become an annual event as many are hoping, we'll do our best to incorporate their experiences in our advice.
What are your thoughts about how Universal handled the Harry Potter Celebration? See what others are saying and share your own opinions in the comments.
As a final note, we do not wish to give the impression that this event was not successful. Indeed, I think it was successful for many guest, including OI contributor Maureen. The letters above provide us with a clear path as to how Universal can make it even better (by assuring greater access to package guests or, perhaps, making the entire event separately ticketed like Halloween Horror Nights), and all of our coverage this year will serve to make any future vacation planning advice that much stronger.
A Celebration of Harry Potter – videos
For those of our readers who would like to seen an extended look at the Harry Potter Celebration activities from Day 3, we've provided these YouTube videos of the various panel discussions:
[youtube_video]Zc70sRWELik[/youtube_video]
[youtube_video]3oTohifdFbI[/youtube_video]
[youtube_video]vSPKyK8Zxzs[/youtube_video]
A Celebration of Harry Potter – photo gallery
Click any image to view it full-screen. When the full-screen image is open, click to the right or use the right arrow on your keyboard to advance through the gallery.
Day 3: Panel discussions
[sws_author_bio user="MaureenDeal" size="105″ authorposts="More OI posts by Maureen" name_format="About the author"] [/sws_author_bio]