Universal has just announced a Christmas Celebration at Universal Orlando's Wizarding World of Harry Potter, an event that has long been rumored.
Although the details are, as of this moment, rather sparse, what information has been provided is nothing short of exhilarating. We have very little doubt that this will prove to be one of the most successful experiences in the resort's history – maybe even managing to creep up on Halloween Horror Nights's popularity and nationwide impact.
Want news like this sent directly to you? Message us "subscribe" on Facebook to receive a daily message with the latest news, tips, and rumors! 
A very merry wizarding Christmas
Taking place in both Hogsmeade and Diagon Alley, the new holiday festivities will consist of four parts.
First up is the décor. When Hogsmeade first opened nearly seven years ago, Potter creator J.K. Rowling was very strict in issuing a no-holiday-decoration ban, even though both Halloween and Christmas featured prominently in her stories. In the years since, that edict has been slowly, slightly lessened in Orlando, with the occasional small wreath popping up on Hogsmeade shop doorways – and has been blown completely wide open at Universal Studios Japan, which received its own holiday parties (yes, for both Halloween and Christmas) just last year. Now, Universal is promising that each store in both parts of the Wizarding World will be getting their own unique decorations, which will complement their specific architecture and, presumably, wares.
The event's new food offerings have also been presaged by Universal's tinkering with its wizarding lineup; hot Butterbeer was added to the menu – albeit only seasonally – starting way back in the fall of 2014. Although no specifics were mentioned about what guests can expect to enjoy during the new yuletide proceedings, there was the tantalizing tidbit in the press release that all the new dishes (and, possibly, drinks) will be taken directly from the novels and films.
Then there's new live entertainment, which we know will mean new songs performed by the Hogwarts students' Frog Choir but which is left mysteriously open after that. Our best guess would have the street buskers that perform outside King's Cross Station in Diagon Alley also getting in on the action, and sources familiar with the matter already tell us that the singing banshee herself, Celestina Warbeck, will be, as well.
But the real heart of the new Christmas celebration is a projection-mapping show that will be held at Hogwarts Castle back in Hogsmeade. We originally broke down this nighttime show last year, although it seems that Universal has changed it from a summer to a Christmas event. Footage released by the company shows some truly beautiful festive imagery, along with the promise of "incredible visual moments inspired by the films." We can't wait to see more.
Other new announcements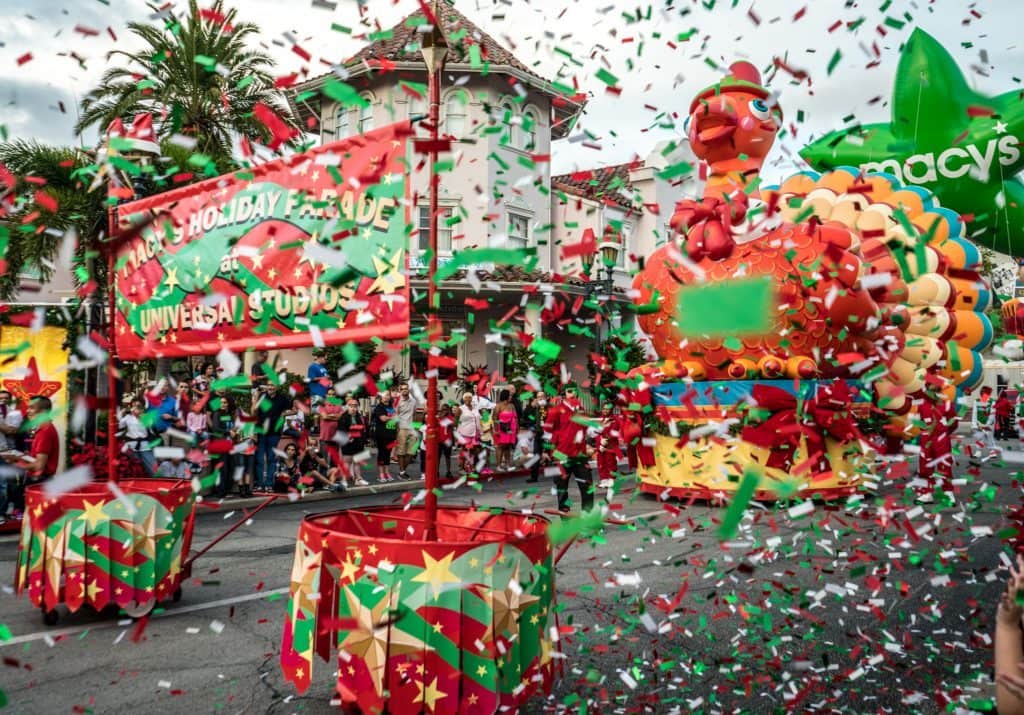 Interestingly enough, Universal has used this wizarding occasion to reveal even more holiday-related news. The stalwart Macy's Parade will be getting its long-rumored makeover; now called Universal's Holiday Parade, it will still feature Macy's balloons but will now also have additions from the company's extremely popular Minions and recently-acquired DreamWorks Animation properties.
Even more excitingly, however, there's this rather enigmatic remark made in Universal's announcement: "there's more to come with Harry Potter later this year." We here at OI HQ have very little doubt that this is a reference to Dragon Challenge, the dual roller coaster that has been purported to be on the chopping block ever since last summer; expect it to close as early as this September and to be replaced by a new attraction sometime within the next few years.
All of the new holiday events will kick off on Saturday, November 18, 2017, and run through Saturday, January 6, 2018.
–
Be sure to follow Orlando Informer on Facebook, Twitter, and Instagram for the latest news, tips, and more at Universal Orlando, Walt Disney World, and other Orlando attractions.