I'd heard so many great things about Summer Nights at Busch Gardens from last year that, this year, I jumped at the chance to go. Since Summer Nights entertainment doesn't start until late in the night, we decided to take our time, and we arrived at Busch Gardens in the early afternoon (amazing how short the lines are to enter the park at that time of day).
As we walked through Busch Gardens trying to figure out what to do first, we saw a sign we couldn't believe – Rhino Rally had reopened! After all this time of waiting for it, we of course moved quickly into the line and discovered – no line! We hopped right on the truck that was sitting there waiting for us.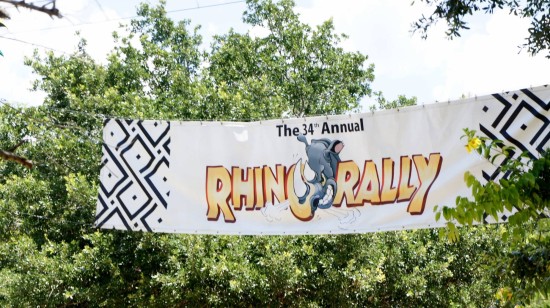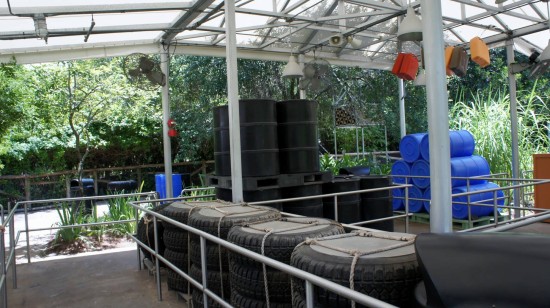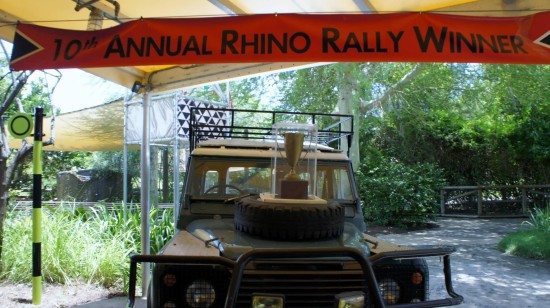 As the bumpy ride started, we saw the elephants, and then we got to see a water buffalo actually in the water (much to our guide's delight). After passing the Invisible White Rhino (that's what the guide called it – and since we couldn't see the rhino, we chose to believe her), we reached the end of the rally.
All in all, it was a short ride, but we're very pleased to see it back again.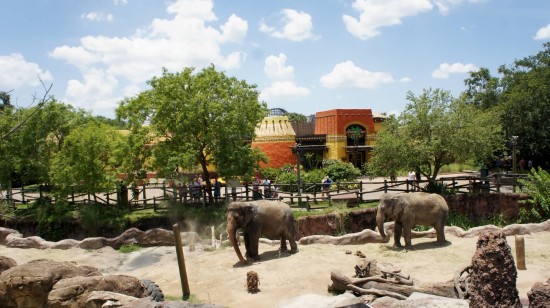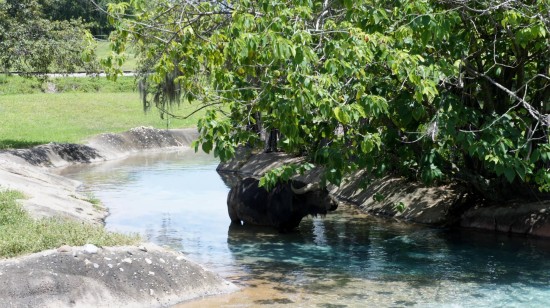 We headed over to Pantopia to check out the construction progress on Falcon's Fury, and we found another surprise – the walls were down around the queue, so you can see all the way up to the ride itself now. And they even have a test seat out now, which, of course, my husband had to check out.
While news has come out that the ride won't be open until late this summer, they have started to paint the tower itself with a flame-like pattern. I've heard rumors that the final painting will resemble a sunset in its coloring, so we're excited to see the final result.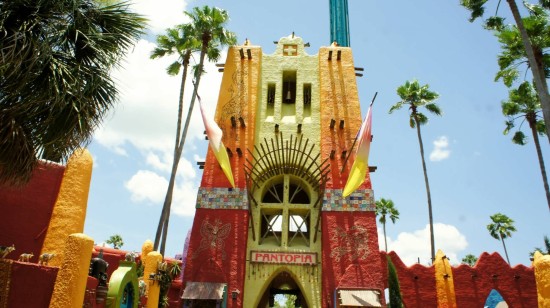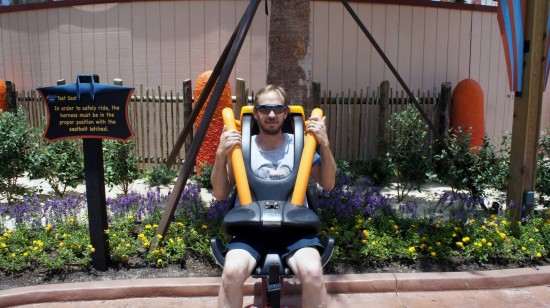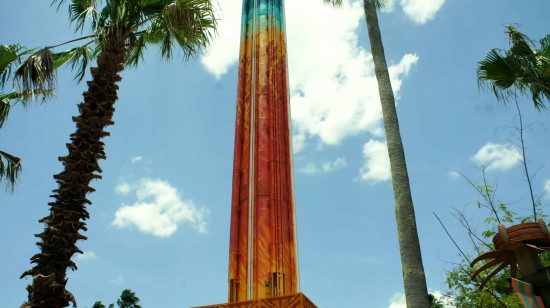 We strolled around the park riding the Montu (there was a small delay because someone lost their shoe – really, people, how many times do they have to tell you to take them off?), walked through the Edge of Africa exhibit (saw the cutest baby deer-like animal… with no sign, we had no clue what kind of animal it was, but it was really adorable), and watched as gorillas seemed to defy gravity while sleeping.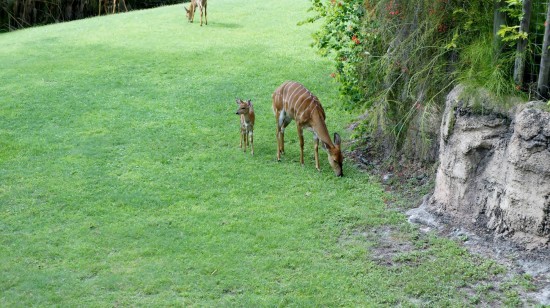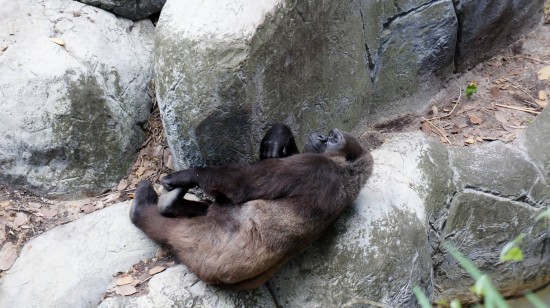 Finally, as sunset approached, the Summer Nights activities throughout the park began to kick off. Various DJ booths enticed kids to hula hoop in one of the most unusual hula hoop contests I'd ever seen (the small kids didn't understand "you're out," so it was a hysterical, never-ending contest where, finally, they declared everyone a winner). In between the contests, the DJ played crowd-favorites for everyone to dance to ("Cha Cha Slide," "Cupid Shuffle," etc.) and really got everyone's party energy started.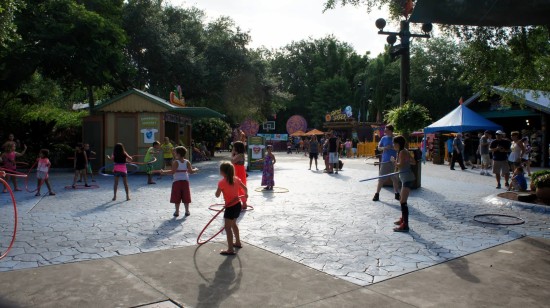 At 8:00pm, they opened the gates to Gwazi Field, where the main Summer Nights festivities were being held. Lots of food and beer booths lined the pathways, as well as vendors with squid-like hats (not sure what they had to do with summer or Busch Gardens, but they were everywhere you turned) and an assortment of light-up wands, necklaces, and headgear.
For some reason, though, they only had two of the food booths open. We'd planned on having dinner from the food here at the field, so we were highly disappointed by the lack of selection and ended up just getting popcorn to get us through the show (all the other restaurants in the park had already closed, so that wasn't an option, either). When I asked about the food booths, I was told it was just a miscommunication that night and that they weren't staffed to have the booths opened. They said that wouldn't be an issue on any other night.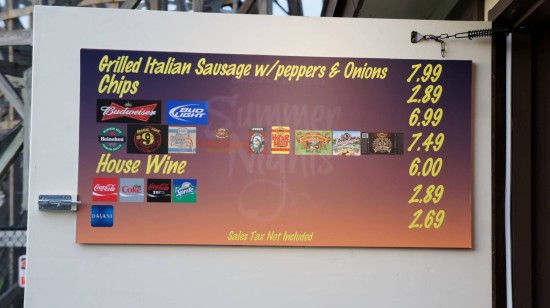 As we moved in to find our seats for the show, the pre-show had already started. There were people in Summer Nights outfits dancing throughout the audience, and a DJ with a wireless mic walking through the crowd. To continue the party that was started outside the gates, they again played "Cupid Shuffle," "Cha Cha Slide," and other party favorites to get everyone psyched up for the "Kinetix" show to come.
This pre-show kept every kid entertained – and with an hour wait and lots of children around, it obviously worked very well, because I didn't hear one child complain about being bored while waiting.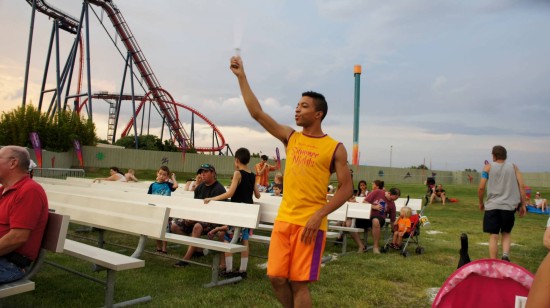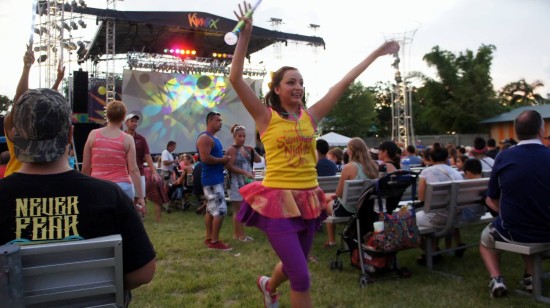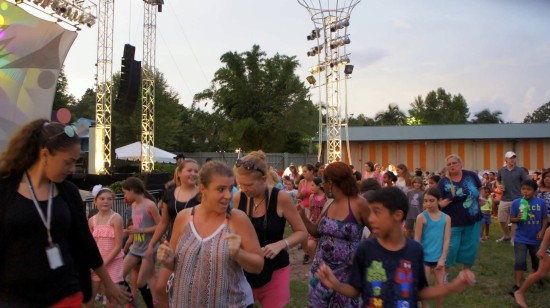 After the Summer Nights group danced their way off the field, a countdown began… and then the "Kinetix" show began. I'd never seen this before and was excited to see if it lived up to all the hype I'd heard about it. Within the first five minutes of the show, I could see that "Kinetix" exceeded the hype. High-energy acrobatics set to energizing rock songs – and even a man that balanced on a stack of chairs. I can't imagine anywhere else that you could get a combo like that in one show. It was amazing and mesmerizing.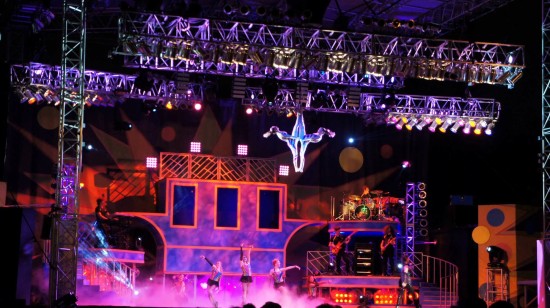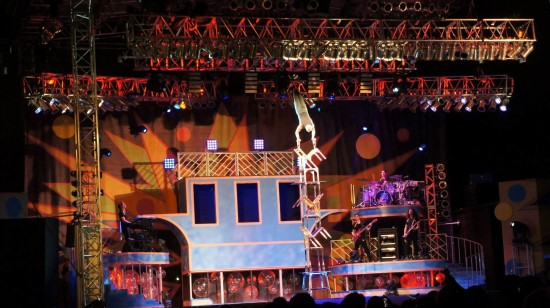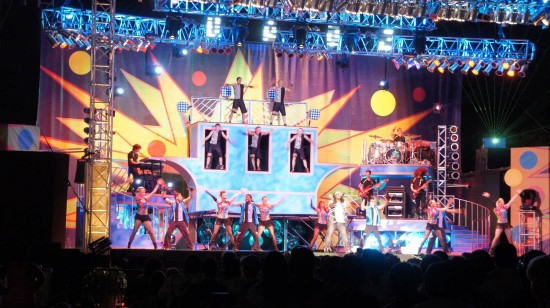 And right on cue, as the show ended, the fireworks began right behind us – big, booming fireworks, perfectly timed to the music booming through the speakers. And the finale, while very short, was blindingly good.
The high-energy music and fantastic shows kept us dancing and talking all the way to the car. This was our first Summer Night celebration at Busch Gardens, but it won't be our last.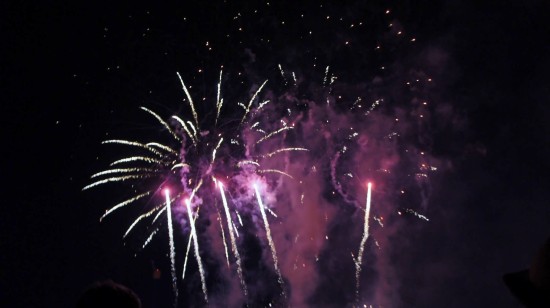 Thanks for reading my trip report! To continue learning about Busch Gardens Tampa, check out the BGT archive on the OI Blog. Or you can catch up on all our trip reports.
Busch Gardens Tampa trip report – photo gallery
Click any image to view it full-screen. When the full-screen image is open, click to the right or use the right arrow on your keyboard to advance through the gallery.