Amidst all the shopping and preparing for Christmas, I chose to add a new tradition to the mix this year: Busch Gardens Christmas Town. Since it's a separately ticketed, after-regular-park-hours event, before spending the money to take the whole family I went by myself to see if the event was all it was hyped up to be. Fearing the parking and crowds would be overwhelming, I arrived several hours early to ensure I was near the front of the line.
I got to the Busch Gardens two hours before the daytime scheduled closing time, only to find that I had grossly overestimated the crowds on this weekday night (this was Thursday, December 12). The parking lot was mostly empty, and the park wasn't crowded at all. Not wanting to waste daylight, I hurried over to check the progress on the construction for Falcon's Fury, Busch Gardens' new 335 foot drop tower that will plunge guests to the earth face-down at 60 miles per hour.
[youtube_video]y4uKOsogphs[/youtube_video]
The plastic covered fencing surrounding the construction area has been removed, and sturdier wooden walls are now in their place. But even those walls can't hide the fact that Falcon's Fury is rising into the sky! Three tower pieces have now been installed, and roughly 100 feet of steel has risen. It's already casting shadows on the nearby palm trees, and yet it's only one-third of the eventual height. It's clear that this ride will tower over everything at the park. A few workers were present, but no construction was being performed when I was there. Still, it was quite a thrill to see the ride taking shape.
UPDATE: Busch Gardens published a new construction video to YouTube, which you can see directly below this text. It's followed by two of my photos shot during my visit last weekend.
[youtube_video]TfjEq8kxw0k[/youtube_video]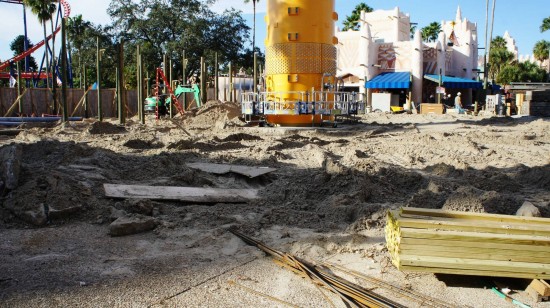 [wptouch target="non-mobile"]Remember, you can click any image to view it full-screen. And don't miss the complete photo gallery with 44 new full-screen images at the bottom of the post.
[/wptouch]
With an hour left until the park closed to transition to Christmas Town, I found myself in an unusual position – time to kill in a nearly empty park. What to do? Ride the coasters with non-existent wait times, of course! I stored my stuff in a locker (only 50 cents per use with no time limit) and rushed over to ride my favorite coaster in the park – Cheetah Hunt. After an amazingly short five minute wait, I was off and racing at Cheetah speeds. After that, I raced to the Montu, where I was able to walk on the coaster with no wait at all.
Another welcome surprise came with the park closing announcement. Turns out, if you have a Christmas Town ticket, you don't have to leave Busch Gardens for the hour time gap; you can simply visit one of the designated locations to wait. With no rush to leave, I wandered around. It was a surreal feeling walking through such a large amusement park with what seemed like only a hundred other people. No lines anywhere, no crowds, and plenty of opportunities to enjoy the Christmas lights coming on as the sun was setting.
Snow World, the first part of Busch Gardens Christmas Town that I explored, opened up early at 5:30pm, and I was among the small crowd that was let in just as the gates opened.
This is the first place I've seen in Florida where you can play in the snow – REAL snow, not the bubble snow usually found this time of year that my family commonly refers to as "Florida snow". There are targets that you can throw snowballs at, slides where guests race fellow park-goers on tubes, and an area for just playing in the snow. How they manage to get all that snow in one tent and not have it melt quickly in the unseasonably warm temperatures we're having is a mystery to me – but watching the kids play like they're really at the North Pole made me completely forget that I'll start sweating again as soon as I step out of the tent.
Important tip: They do not allow flip flops or sandals in the snow at all due to concerns of frostbite (it's real snow after all). However, they offer a "shoe exchange" program where they'll loan you a pair of boots while they hold your warm weather shoes — and all for no extra charge!
The Christmas lights and music everywhere got me in such a Christmas spirit. Every area of Busch Gardens has its own Christmas-named theming: Timbuktu becomes Holiday Hills, Nairobi becomes Penguin Point (complete with African penguins), and Bird Gardens transforms into an overload of neon pink that anywhere else would be considered tacky – but here is breathtakingly beautiful. (Turns out those new flamingo statues I admired last month are actually part of the Christmas lighting.) Every Christmas "town" even has their own themed music. I couldn't help but sing along and dance to the music as I walked through the park.
Feeling so festive, at this point I suddenly had an overwhelming desire to go visit Santa at his house.
The magic of the house is so uplifting that I found myself smiling and giggling as I talked to Mrs. Claus while waiting to see Santa Claus. And I didn't even have my children with me!
Along with the beauty of all the lights, there are lots of specialty Christmas shows during the Christmas Town event. I chose to see "Angels on Ice" – a mix of ice skating and aerial acrobatics. While that might seem like an odd mix, it turns out that mixing them ends up with an impressive display of talent.
I also got to enjoy the Carol of the Bells light show with fantastically timed lights to an awesome arrangement of Carol of the Bells that I've never heard before. After the two photos below, see the full 5-minute show in my video.
[youtube_video]ku44MGOXsZc[/youtube_video]
Roughly two hours after the official Christmas town opening, the crowds were really starting to pick up The entire park isn't open during the event, and the limitations on available walking paths became quite obvious as more people arrived to experience the winter wonderland. The park started to implement a waiting list and pager system for the more popular attractions (Snow World and Santa's House), reinforcing what I'd noticed myself – the crowds were getting much heavier as the evening progressed.
I opted to keep the joy of the event fresh in my mind and leave before the crowd levels became frustrating.
My time at Busch Gardens filled me to the brim with the holiday spirit, and with a determination that next year I'll bring the whole family to experience this magical event.
Official website for Busch Gardens Christmas Town 2013
[youtube_video]OI4us_nuCAA[/youtube_video]
[youtube_video]VwUIguV9kes[/youtube_video]
Thanks for reading my trip report! To continue learning about Busch Gardens Tampa, check out the BGT archive on the OI Blog. Or you can catch up on all our trip reports.
Busch Gardens Tampa & Christmas Town 2013 – photo gallery
Click any image to view it full-screen. When the full-screen image is open, click to the right or use the right arrow on your keyboard to advance through the gallery.
[sws_author_bio user="SalinaBristor" size="105″ authorposts="More OI posts by Salina" name_format="About the author"] [/sws_author_bio]