When we asked my daughter whether she wanted a party for her birthday or to bring a friend with her to Busch Gardens, she only hesitated a moment before deciding to take a trip to the park. So Sunday was our day to honor that request, and we took her friend along for her first-ever Busch Gardens visit.
Since we had arrived in time to hear the National Anthem (all SeaWorld parks start their day with the National Anthem), we made a dash for Cheetah Hunt as the rope dropped. It turned out to be a great call, as we only waited five minutes before we got our chance to ride.
After the thrill, it was time to introduce our friend to the birds of Lory Landing… and they didn't disappoint us at all. The two girls had a blast as the birds hopped back and forth between them to drain their cups of nectar.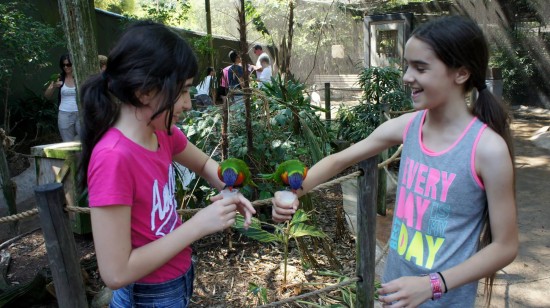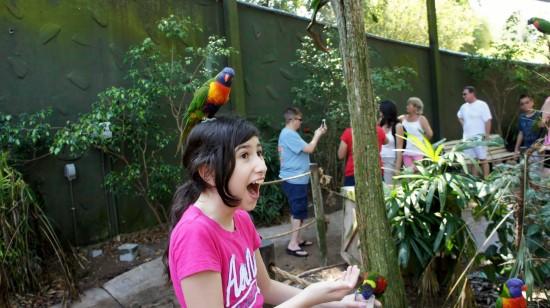 [wptouch target="non-mobile"]Remember, you can click any image to view it full-screen. And don't miss the complete photo gallery with 37 new full-screen images at the bottom of the post.
[/wptouch]
As we exited Lory Landing, we noticed maintenance workers standing on the top hill on SheiKra. Obviously the ride had some sort of issue, and we wondered how long it would be before it was fixed.
As we waited, we explored the new Refresh Market that had opened adjacent to the Stanleyville train station. We found they serve several different types of flavored lemonades (they even had a watermelon lemonade) and different Gold Peak Teas (finally – diet sweet tea in an amusement park!)… and they all work with the 99-cent souvenir cup program.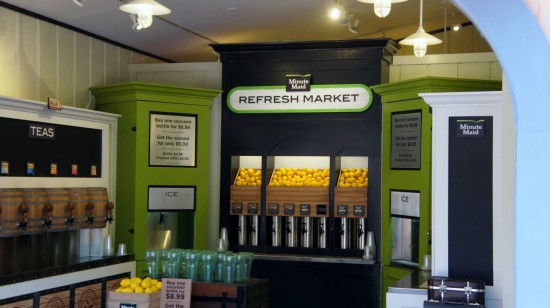 As we oohed and aahed over the new flavors, they began to run empty cars through SheiKra. The girls decided the lemonade hadn't cooled them off enough and that it was time to cool off in the water spray from the coaster's empty cars. (It's amazing how wet you can get just by standing there!)
Since the wait dragged on for the coaster to allow riders again, and since the girls were already wet, we opted to take a quick, no-wait ride on the nearby Stanley Falls Flume, which is a classic flume ride with one short and one big drop. The girls came off complaining they didn't get very wet – and I got off absolutely drenched. Just more proof that you never know how wet you're going to get on a flume ride.
After I made the parental decree that everyone was wet enough, we decided to take a quick Skyride over to the other side of the park to get some lunch at Crown Colony. Our chicken fingers and pizzas were quickly scarfed down as we enjoyed the view of the Seregenti Plain.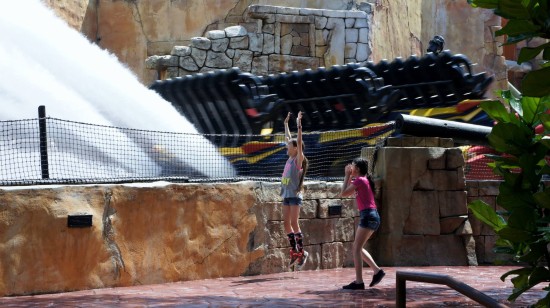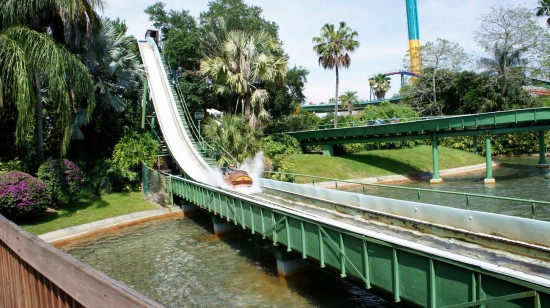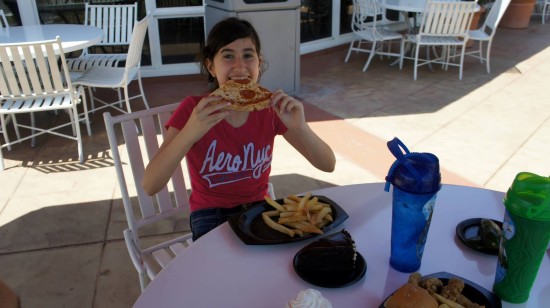 After lunch (and since we were mostly dry at that point), we decided to go see "Iceploration." In all the times we've been to the park before, we always said we wanted to see it, but we'd just never managed to actually do it. Wow – what we had been missing!
Ice skaters, acrobats, and actors all blend this show together wonderfully. The live animals that pop up from time to time in the show (real huskies pulling an actual dogsled across the ice, for instance) just make it that much more exciting. And, afterwards, we got to meet some of the cast that came out front and even got to pet one of the sled dogs!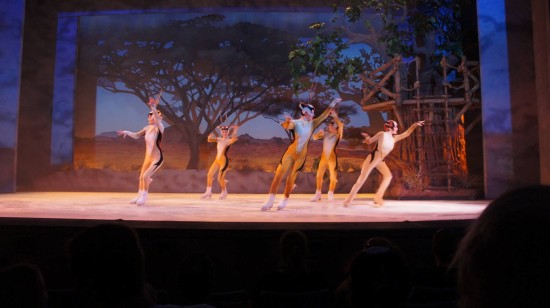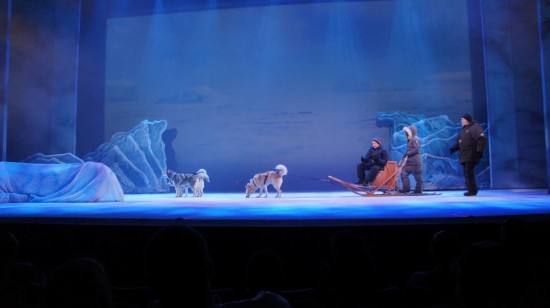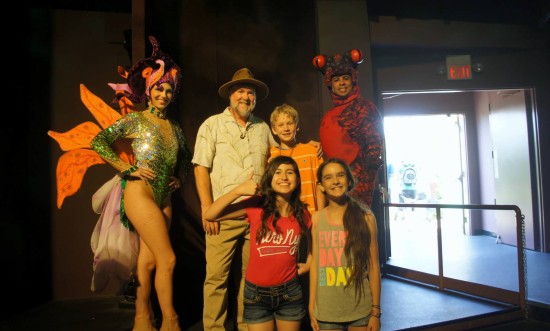 We went from "Iceploration" to check out the changes in Pantopia (the area formerly named Timbuktu). With the land having an official opening date of May 1 – Falcon's Fury is delayed, but everything else is still on track – we weren't disappointed in the amount of changes since our last visit. Everything has bright new colors, and lots of little details have been added throughout the area. Signs are changed out (Desert Grill has become Pantopia Grill, Timbuktu Photos is now Pantopia photos, etc.), and murals and artwork abound.
There are still many construction walls at this point, but it does look like the area should hit its opening date without a problem.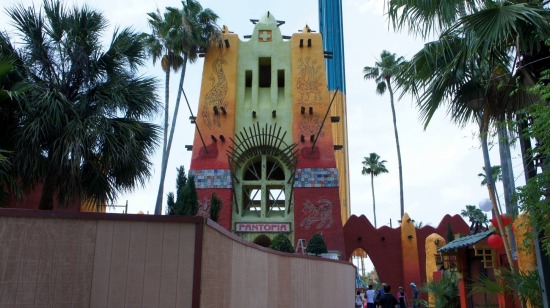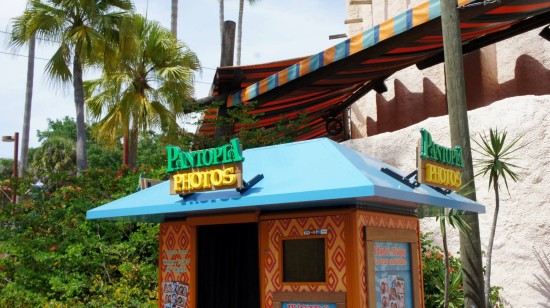 The biggest change we noticed is in the centerpiece of Pantopia – Falcon's Fury. The construction walls still surround this massive structure, but there are quite a few peepholes where major changes can be seen. Signage is in place (including the rules of the ride), and I was even able to see their testing dummies strapped into the seats!
While the ride opening has been delayed due to some technical issues (we did overhear one park employee say they were shooting for a mid-May or early June opening date), I knew test runs had been happening for several weeks now. So while the children went off for carousel rides and a trip down the Sand Serpent, I waited and hoped for a test run… but no luck.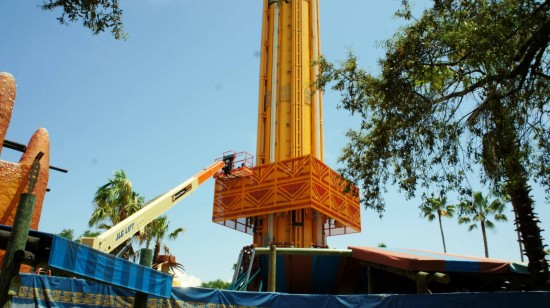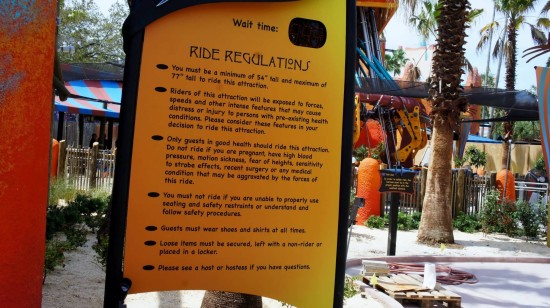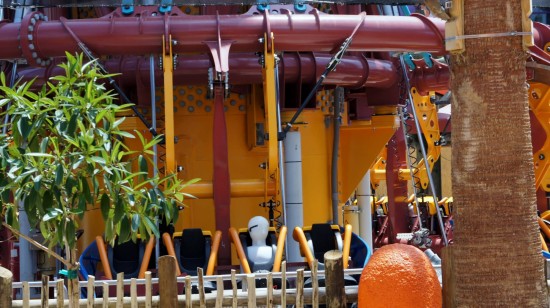 Having seen how much our friend was enjoying the animal exhibits, we decided she had to ride the Serengeti Express train. Giraffes and zebras came so close, the train had to stop.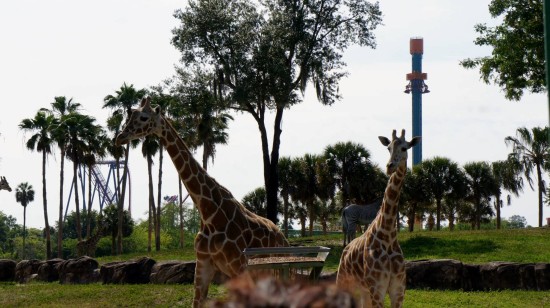 But the biggest attraction came when, in the distance, we could see Falcon's Fury rising for a test run. The animals were quickly forgotten as most of the train was mesmerized by the new attraction.
The seats rose slowly to the top, at which point an obvious bounce was seen as they locked into place. A few seconds later, they were plummeting towards the earth. The train as a group let out a very loud "Oh!" in appreciation for just how quickly this drops, and ended up startling the nearby animals. We all got to see two such drops – an exhilarating surprise on this otherwise uneventful train ride!
Curious (or terrified of) what this experience will look like for the riders? Thanks to Busch Garden's newly published point-of-view video, you can see exactly what it'll be like:
[youtube_video]4FkqKZQL__c[/youtube_video]
As we left the park after trying once more to ride SheiKrah (it had come back up and was accepting riders earlier but had stopped running again due to more mechanical issues), our friend just gushed on and on about how wonderful Busch Gardens is, and how she really hoped to come back again sometime to see the things we just simply ran out of time to do… and to ride Cheetah Hunt once more, of course.
To continue learning about Busch Gardens, check out the BGT archive on the OI Blog. Or you can catch up on all our trip reports.
Busch Gardens Tampa trip report – photo gallery
Click any image to view it full-screen. When the full-screen image is open, click to the right or use the right arrow on your keyboard to advance through the gallery.
[sws_author_bio user="SalinaBristor" size="105″ authorposts="More OI posts by Salina" name_format="About the author"] [/sws_author_bio]