The first time I wrote about Fun Spot America, they just had their grand re-opening. Almost a year has gone by since then, and I am pleased to say that Fun Spot is still adding all kinds of goodies and specials to enhance your visit. I am also very happy to say that White Lightning is running just as good as it was the day it opened.
The new additions include a face-painting booth, trapeze school, a renovated kiddie ride area, and a pavilion/shaded seating area to protect you from the Florida sunshine (and rain!).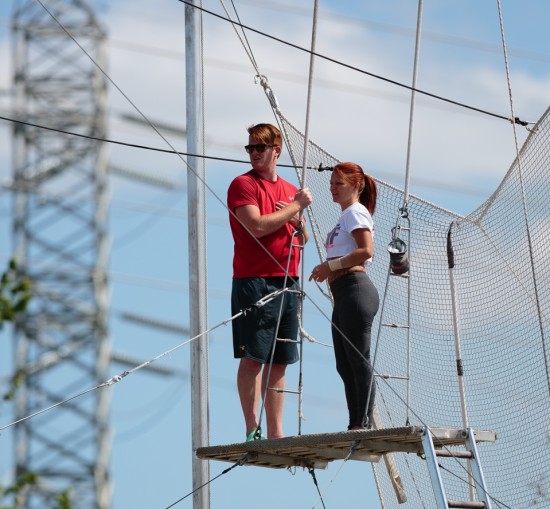 There's also an expanded range of tasty treats. Before you even enter Fun Spot, you will be enticed by the sweet aroma coming out of the newly-opened Sweet Spot. Be sure to take a look inside – here you will find Fun Spot-themed chocolates, caramel apples, and a variety of candy to sooth your sweet tooth.
And if you have a really big sweet tooth, you'll want to check out the Freedom Flyer treat cart inside the park. This is where you'll find deep-fried Oreos, candy bars, and funnel cakes, including red velvet funnel cakes – yum!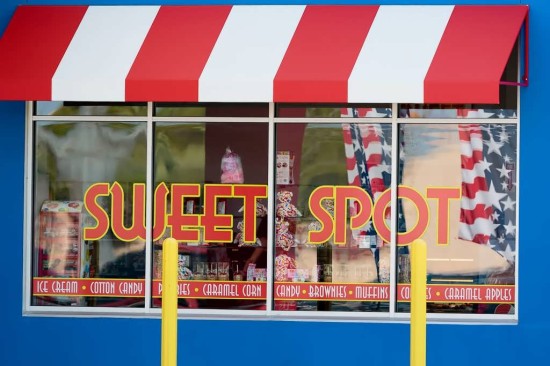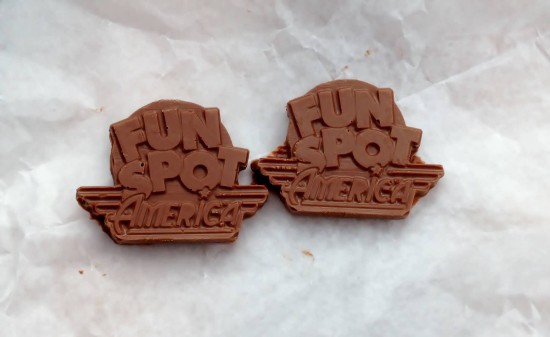 If it's a real meal you're looking for, and not just dessert, Sky Diner is the main dining hub within the park. Its menu items include burgers, pizza, chicken strips, wraps, salads, hummus, cakes, cookies, and ice cream – and, also, the refreshing and ever-popular Dole Whip. For the adults, there is also a nice selection of bottled and draft beer, plus a nightly Happy Hour that runs from 8pm to 9pm and again from 10pm to 11pm. Drink pricing is quite reasonable any time of day, though.
The outdoor seating area that is perched above the Sky Diner is a great place to enjoy your meal. I love the view from up there, especially at night. It has become a tradition to visit the park in the evening, grab a cup of Dole Whip, and relax at one of the many seating areas around the park, especially this one.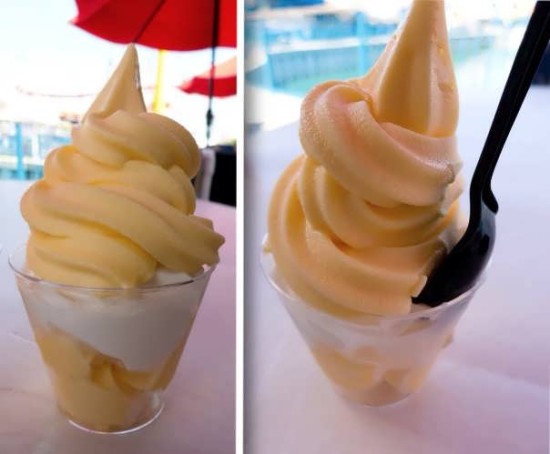 For a complete listing of all of Fun Spot's dining options, follow this link (PDF file).
One great perk about this park, besides its culinary offerings, is that you can make your visit as long or as short as you want. You can easily spend hours enjoying the arcade, flat rides, rollercoasters, and amazing go-kart tracks – but, on the other hand, you can also make it a quick visit for when you're short on time. There are not many amusement or theme parks, especially in Orlando, where you can park, get your wrist band, take a few laps on a wooden rollercoaster, and be back in your car in less than half an hour. You can really do it all in 10 minutes if you only ride one time (although it's very hard to ride just once!).
I also really love how they're open until midnight. Once all of the other area parks are closed for the day, the fun can continue at Fun Spot.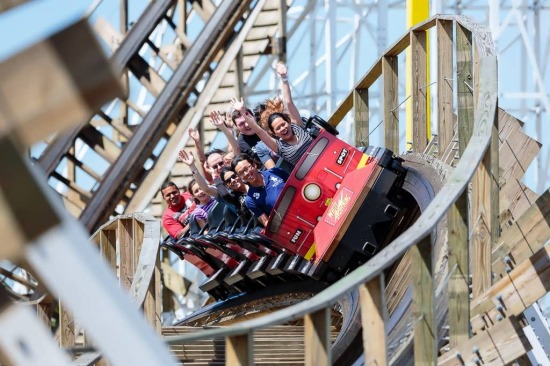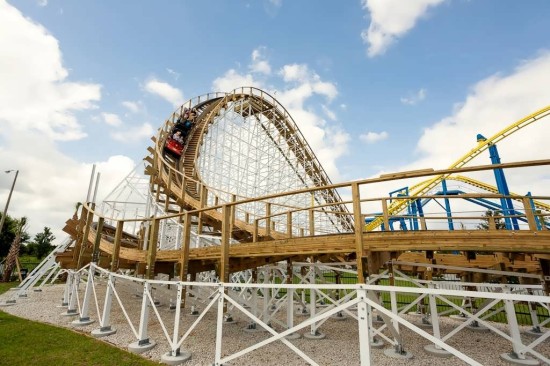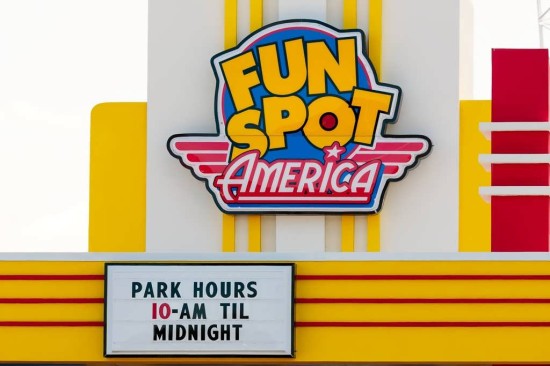 Fun Spot has quickly become one of my favorite places to visit. Along with having the only wooden rollercoaster in Orlando, White Lightning (which is my favorite coaster), another thing that really stands out is their super-awesome employees. Be it the smiling faces that greet you at the ticket booths or the go-kart employees and ride ops who add their own flare to make each ride extra fun for the whole family, all of the employees at the park are there to ensure your visit is full of "Safe, Clean, Fun!" – the Fun Spot motto.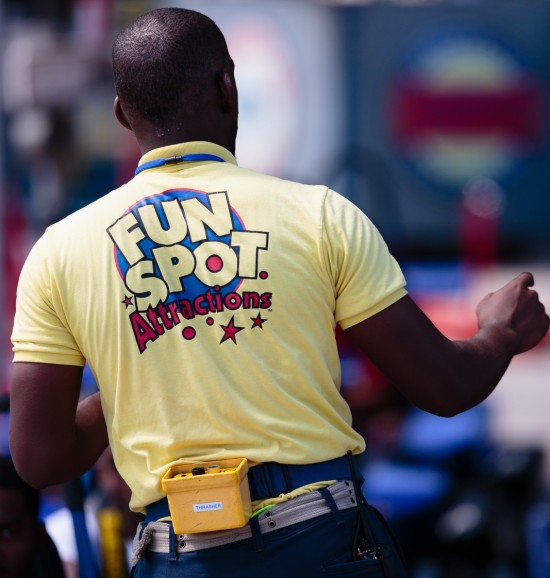 Remember, Fun Spot has free parking and no gate fee. So stop in, take a look around, and grab a Dole Whip while you're at it!
If you're thinking about visiting Fun Spot, be sure to check out these deals:
Fun Spot has new SkyCoaster t-shirts! If you purchase a ride on the SkyCoatser, you can get a video and a t-shirt for just $15.00 extra. You must purchase this add-on before you fly.
Don't throw away those Fun Spot-marked Diet Pepsi cans! Bring them to the park and get a free ride on White Lightning. (One ride per person, per day. Valid through May 31, 2014.)
Buy a popcorn cup for $6.00, and your first refill is free!
Buy a souvenir drink cup for $6.00 and get free refills all day!
Annual Passholders get a 10% discount off Unlimited Armbands for up to six people!
Save 10% on admission by purchasing in advance online.
For updated specials, check this page.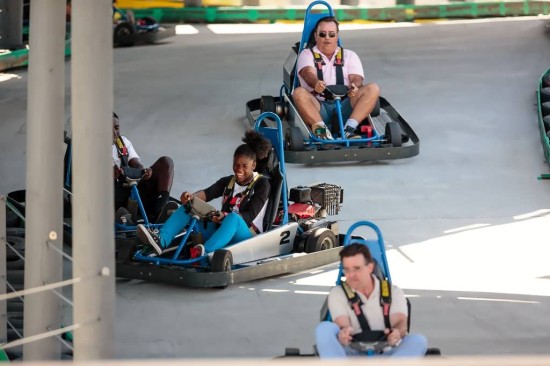 If you liked this article, you can see all of our blog posts about Orlando's attractions or activities on I-Drive.


Fun Spot America – map
Click any marker to display the attraction or venue name. To scroll or zoom, use the controls on the bottom-right of the map. You may also switch to different map views by using the buttons on the bottom-left of the map.
Fun Spot America – photo gallery
Click any image to view it full-screen. When the full-screen image is open, click to the right or use the right arrow on your keyboard to advance through the gallery.
[sws_author_bio user="jewels" size="105″ authorposts="More OI posts by Julie" name_format="About the author"] [/sws_author_bio]