My love affair with The Rocky Horror Picture Show came late in life, and by late I mean that I only just discovered it in its entirety at this past year's Halloween Horror Nights. Honestly – and almost embarrassingly so – I never gave it the attention it deserved at previous Horror Nights.
Then, while we were walking around Universal CityWalk a few months ago, I noticed RHPS was playing at the AMC Cineplex. I had never really seen the entire movie, so I was intrigued… and wondered what a movie that was nearly 30-years-old was still doing in the theaters. That is when I found out about the Rich Weirdoes.
The Rich Weirdoes are a shadow cast-acting troupe that – as you may have guessed – acts out the entire movie while it is playing, and rumor has it that they are one of Orlando's best-kept secrets.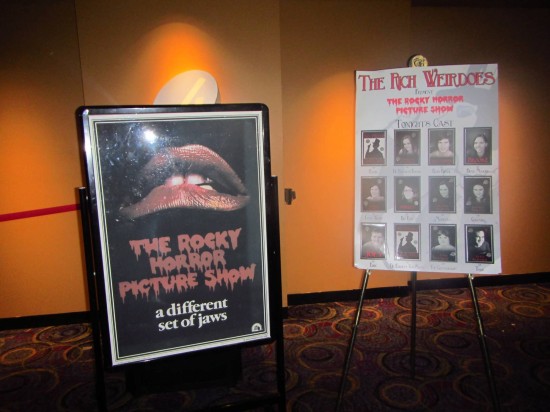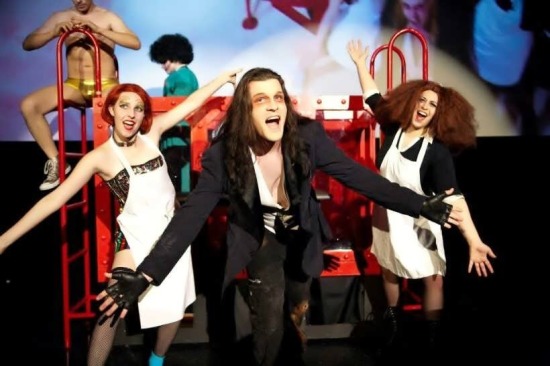 Finally, last Saturday we ventured over to the Cineplex, not knowing entirely what to expect. The Rich Weirdoes perform RHPS every second and fourth weekend of the month at Universal CityWalk's movie theater, on Fridays and Saturdays. Showtimes begin at midnight, and tickets are $11. If you happen to be a Universal Team Member or Annual Passholder, you can score a discount!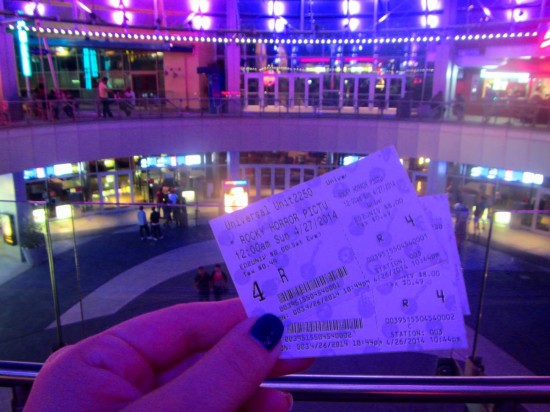 They warn you at nearly every chance you'll give them that this is not a show for families, children (in fact, you must be 18+ to attend without a parent), the easily-offended, and even, sometimes, the not-so-easily offended… because when they say they get offensive, they mean it.
There are curse words, nudity, more curse words, sexual situations, sexual jokes, and sexual comments that go far beyond innuendo. The evening involves the throwing of rice, a virgin initiation for audience members who have never attended a shadow cast of RHPS, and so many call-out lines that you'll never possibly be able to catch them all – and you'll want to pay attention to them as much as possible, as many are Orlando- and pop culture-based. These call-out lines are just a taste of Rocky lore, as I've heard there are books filled to the brim with them, and they are always ever-changing.
For our experience, the night began as we entered to find our seats while Rich Weirdoes cast members mingled with the audience. They playfully tease, toy, and all-out flirt with every- and anyone who walks in. Something to keep in mind: race, creed, size, sexual orientation, gender, and so much more just don't matter when you're a member of this audience. There truly are no limits here.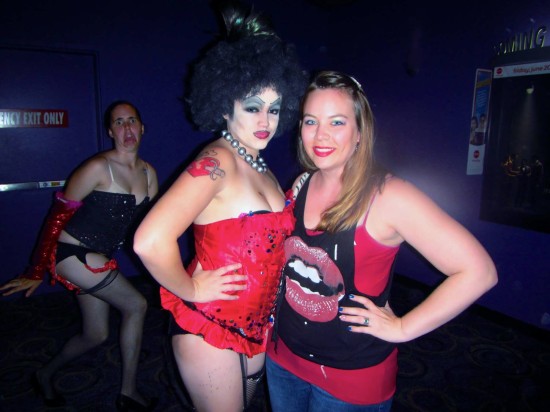 The pre-show includes cast interactions, introductions, and rules on what props can and cannot be used, while another member roams the audience, seeking the virgins and marking their foreheads with a "V" in red lipstick. After this, the virgins were asked to come up towards the front of the theater, where six were selected to participate in a game, with the winners being given RHPS prop bags.
These prop bags are pretty fun and are sold by a cast member before the show begins. They cost $5 for one or $8 for two and also include a list of when to use these props during the performance. The Rich Weirdoes also sell t-shirts, $15 for one and $25 for two. Both the prop bag and t-shirt sales help the Weirdoes with the costs of production and costuming, so it's a great way to help support them!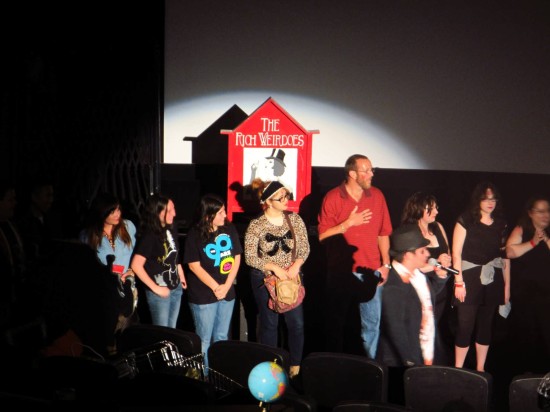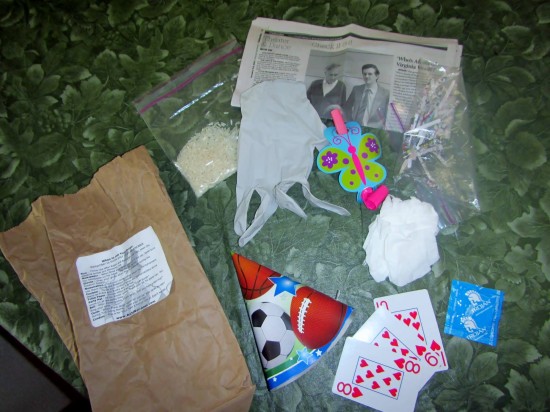 From beginning to end, the show is interactive, hilarious, and entertaining. The minutes fly by, song after song and call-out after hysterical call-out. I loved that we decided to buy a prop bag, which only provided more laughs and entertainment throughout the night as I juggled the props, trying to figure out what was next before realizing that it was whatever item was getting tossed at me. Whereas in a traditional movie experience you're supposed to be quiet, reserved, and practically invisible so as not to disturb another patron's movie viewing, it's the complete opposite here.
If you are a true Rocky Horror fan, then this is totally an experience that you cannot afford to miss! If you've never seen the movie, I'd suggest checking it out prior to going to the interactive show just so you know what's going on and potentially what to expect. If you're easily offended, not into cursing or nudity or the outlandish antics – then sit this one out. It is really as easy as that. This show is exactly what they say it is, so there are no surprises on that front.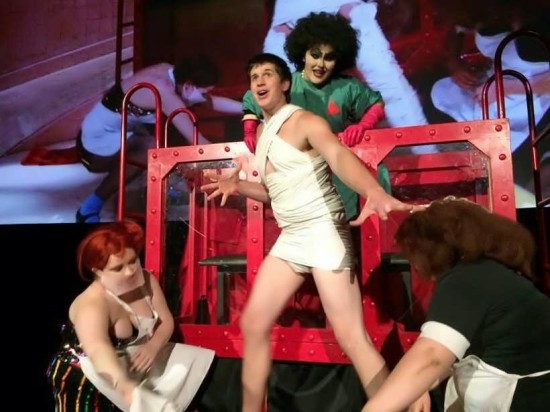 I had a phenomenal time getting to let loose and openly Time Warp, sing, and toss some rice at complete strangers. I thought the cast was extremely dedicated and really passionate about their performances, and I loved how it is all about just owning who you are, having a blast, and not worrying about stereotypes or "knowing all the words" – it's absolutely just about being there. I would definitely recommend these shows to friends who could handle them and look forward to returning myself for another Rocky Horror Picture Show performance.
Next time, I think I would like to go out for one of their infamous themed nights (where the cast members dress as their characters, but perhaps as a zombie or pirate version of those characters) and, of course, bring a large group of friends along with us, which I think would only enhance the overall RHPS festivities.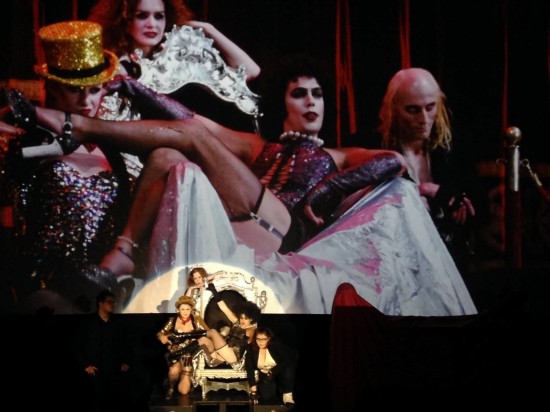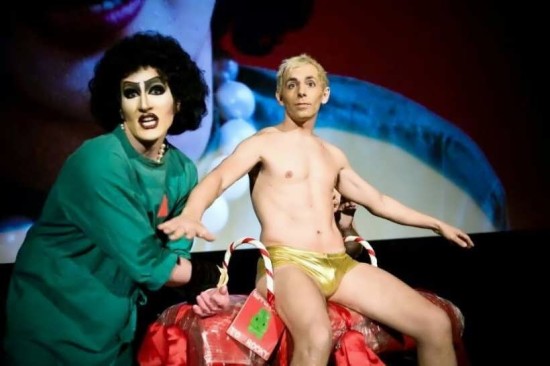 Other points to note: The Rock Horror Picture Show has the potential to sell out, so it's advised to purchase tickets in advance or get there early – especially around Halloween. Also, while they certainly encourage you to dress to the liking of your favorite RHPS character – or nearly as crazy as you'd like – it's important to note CityWalk's strict dress code, so be sure to cover up if you're planning to fly your freak flag.
In general, perhaps you should check out the Rich Weirdoes' website to ensure you've got everything figured out before heading over. Oh – the Rich Weirdoes also welcome new members, so if being a part of a Rocky Horror shadow cast is on your bucket list, now's your chance to become involved!
Check out more articles on Orlando's nightlife and live entertainment offerings, or you can read up some more on Universal CityWalk.
The Rocky Horror Picture Show at Universal CityWalk – photo gallery
Click any image to view it full-screen. When the full-screen image is open, click to the right or use the right arrow on your keyboard to advance through the gallery.
[sws_author_bio user="CasieShimansky" size="105″ authorposts="More OI posts by Casie" name_format="About the author"] [/sws_author_bio]