As a lover of rides and shows, one of the first things I do on any trip to the Orlando area theme parks is race toward the "headliner" attractions. However, as an Orlando resident and Pass Holder of many of the parks, doing this repetitively can get old without some variation. That's why, on my recent trip to SeaWorld, I was in search of experiences that many (including myself) often walk past — and what I found was truly refreshing!
Not far from the main entrance, my first stop was at an icon that I could easily see before even reaching the SeaWorld parking lot. The WaterFront is home to the soaring, 400 foot Sky Tower.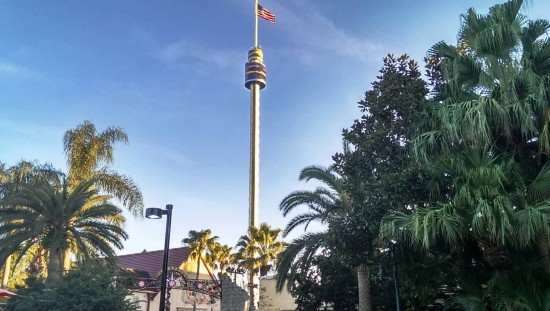 The Sky Tower is an opening-day attraction, dating back to 1973. At first sight, this ride can seem quite intimidating, judging by the height of it. However, unlike other tower rides at our local theme parks, this ride gently lifted its passengers up to the sky and brings them back down just as smoothly.
During my ride, I quickly forgot about the actual height and was able to focus more on the panoramic views.
[youtube_video]GYuV5JrqKR8[/youtube_video]
From this vantage point, the views continue for miles. And since the Sky Tower is a constantly rotating, it is easy to not only see the entire park (including backstage areas for many of the animals), but also much of the Orlando area. The best part of it all is that the Sky Tower is now included in admission for all guests — it used to be an upcharge to ride — and it accepts SeaWorld's Quick Queue.
Not too far from the Sky Tower lies a SeaWorld classic that I thoroughly enjoyed: Shark Encounter! When I first heard the name years ago, I thought it might be a crazy version of JAWS at Universal Orlando. But a quick glance at the park map that it's an exhibit.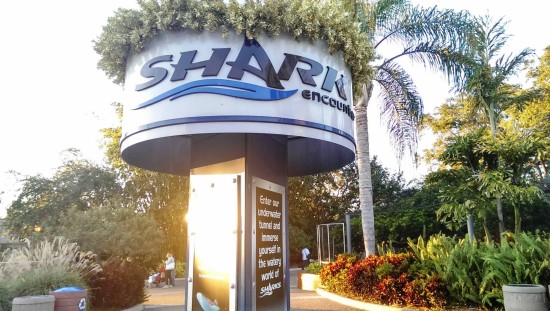 Within the first few steps of entering the show building, guests are surrounded by a giant aquarium filled with hundreds of diverse fish swimming all around. The sight is so awe-inspiring that, after many visits, I still stop near the beginning to appreciate the moment — and remember that this is just a small sample of the millions of animals found in the sea!
Continuing through the exhibit this time, I saw a number of other smaller aquariums, including the Barracuda exhibit, which is one of my personal favorites. Seeing such a slender fish with dangerously sharp teeth proves that sharks are not the only creatures in the sea who can deliver a profound bite.
Upon stepping onto the moving walkway, I was instantly immersed into the world of sharks! If it were possible, I could easily see myself just sitting down and letting time go by while I marvel at the different shark species.
[youtube_video]AUq2N9VIcQk[/youtube_video]
Seeing them swimming so close helps me develop a renewed appreciation and respect for one of ocean's mighty beasts. Observing the rows of teeth, gills, eyes, and fins really puts into perspective the unique nature of our ocean's lifeforms. Once experienced, this exhibit easily becomes a family favorite and one of the highlights of any SeaWorld visit.
When I exited the Shark Encounter plaza, I remembered that, while I was on the Sky Tower, my eyes were drawn to a line of flamingos on the main SeaWorld lagoon. Now I headed that way, and I discovered that there was one clear difference between the flamingos on the lake and the variety found at the front of the park: the ones on the lake were actually Paddle Boats!
During designated hours (weather permitting), the paddle boats are available to guests to take a leisurely 20-minute excursion in the lagoon.
Trust me when I say that this has to be one of the most relaxing, peaceful, and enjoyable experiences at SeaWorld for anyone in the family! The cost is $5.00 per person or $4.00 per person for Pass Holders.
[youtube_video]4bzDaOslZK0[/youtube_video]
If you ever get the opportunity and just need a little break, definitely check these "flamingos" out. You will not regret the decision.
I hope you enjoyed making these SeaWorld discoveries with me today. Now let's take a look at the parks new event starting this Saturday…
New "Wild Days" event gets you closer than ever
Connect even deeper to animals and the wonderful world we share during Wild Days, an all-new event at SeaWorld Orlando happening weekends January 11 through January 26. Families can enjoy three weekends of interactive shows and up-close animal encounters and meet the leaders in the world of animal rescue and rehabilitation, celebrate penguins, and immerse themselves in what they love about SeaWorld – the animals!
Wild Days includes:
January 11 – 12: Jack Hanna Weekend
Join "Jungle Jack" for a wild weekend of furry and feathered fun. Recognized around the world for his boundless enthusiasm for animals and conservation, Jack Hanna helps us share in his wondrous connection to wildlife and the world we share.
January 18 – 19: Sea Rescue Weekend
Meet the leaders in the world of animal rescue and rehabilitation as they share incredible stories that have been featured on the national show, Sea Rescue. SeaWorld's Animal Rescue team is on call 24/7, 365 days a year to help ill or injured animals, and for nearly 40 years the team has rescued more than 23,000 animals. Featured animal rescue stories will include: turtles, flamingos, manatees, pilot whales and dolphins.
January 25 – 26: Penguin Lovers' Weekend with Julie Scardina
Penguin Lovers of the world unite! Don't miss this refreshingly fun and educational weekend centered around penguins. Join SeaWorld Animal Ambassador Julie Scardina as she shares her lifelong love of animals and the parks' commitment to wildlife conservation and as well as tell stories of her trips around the globe from continent to continent.
At Antarctica: Empire of the Penguin, to celebrate the weekend, penguin lovers will have the special chance to virtually dance like a penguin, walk side by side with a penguin colony, and star in shareable Antarctica photo opportunities at the coolest "ice" block party.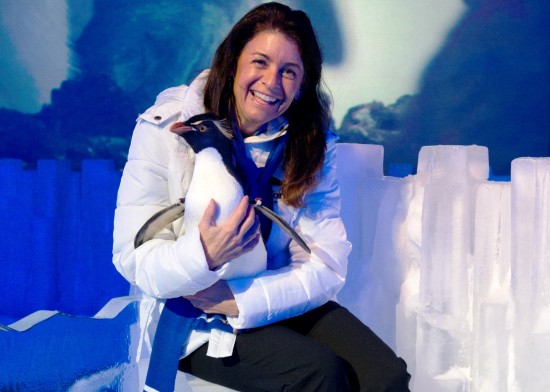 All Wild Days shows are included with park admission with show times at 11:00am and 2:00pm at SeaWorld's Nautilus Theater. Seating is on a first-come-first-serve basis. Shows and times are subject to change without notice.
[sws_author_bio user="ShaneClarke" size="105″ authorposts="More OI posts by Shane" name_format="About the author"] [/sws_author_bio]