If you're reading this page, you likely know that Diagon Alley at Universal Orlando Resort, scheduled to open summer 2014, will be one of the biggest things to happen in Orlando this decade. You probably know, too, that it will have the Leaky Cauldron, Gringotts Bank, King's Cross Station, and the Hogwarts Express (among other features). This is going to be an unparalleled theme park experience, both in its meticulous theming and in its inventive use of space and technology, that will surely be the new gold standard in theme park entertainment.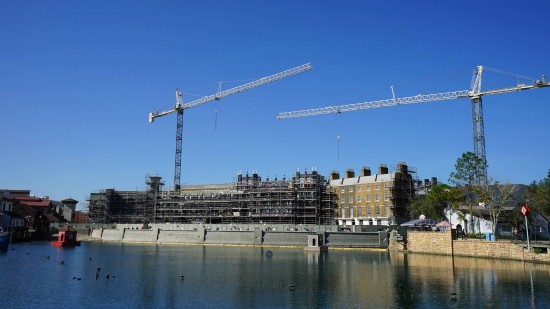 But what you may not be as aware of regarding Diagon Alley — and what you won't find reported on any other website — is how to best plan your visit to Universal Orlando next year, so you can have the best experience possible at the Wizarding World of Harry Potter – Diagon Alley.
In today's BIG 5 blog post, we begin the preliminary work of providing you the world-class vacation planning information and insight for USF's new area, just as we've done for the original Wizarding World of Harry Potter, now officially called WWoHP – Hogsmeade.
Without further ado, here are our top five tips for planning your 2014 visit to Diagon Alley and Universal Orlando:
#5 – Buy a Park-to-Park ticket
While chatter seems to go back and forth as to what will be required to ride the Hogwarts Express — the real train that will transport guests between Universal Studios Florida (Diagon Alley) and Islands of Adventure (Hogsmeade) — Universal has been very clear: you'll need a Park-to-Park ticket.
This was made crystal clear in the May 8, 2013 "invitation" email sent by Universal.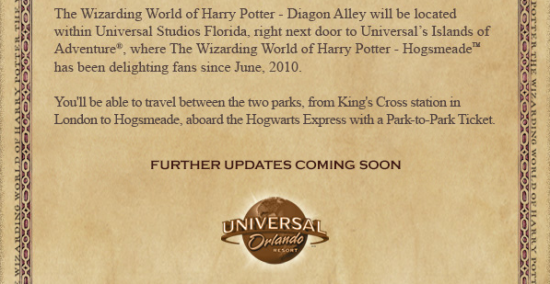 So do yourself and your family a favor and pay the premium for Park-to-Park tickets in advance. Sure, Universal will very likely provide a way for guests to upgrade their one-park tickets at the train stations. But with everything else that will be happening as you first visit Diagon Alley and the Hogwarts Express, do you really want to get in another line just to pay for a ticket upgrade?
One more tip: Traditionally all of Orlando's theme parks raise their ticket prices in the spring; last year Universal did this on May 18. With Diagon Alley opening this summer, I see no reason for Universal to break from this tradition. In other words, if you want to save a little bit of money (around $5 to $10 per person), buy your tickets now before the price increase hits. And remember, the parks never announce these increases ahead of time. Instead, one day the prices will be at 2013 levels, and the next day they'll be more.
#4 – Plan on at least three days
If you were to ask me what is the "ideal" number of days to visit Universal before Diagon Alley opens, I'd say three days. That's one full day for each park, then a third day to visit your favorites again, spend some time by the pool, explore CityWalk, etc.
Once Diagon Alley opens, this "ideal" number will be the "required" number for anyone wanting to see all of Universal Orlando. For planning purposes, you'll need to think of Universal as having three theme parks: the Wizarding World(s) of Harry Potter, the rest of Universal Studios Florida, and the rest of Islands of Adventure. And to experience everything, you'll need one full day for each "park".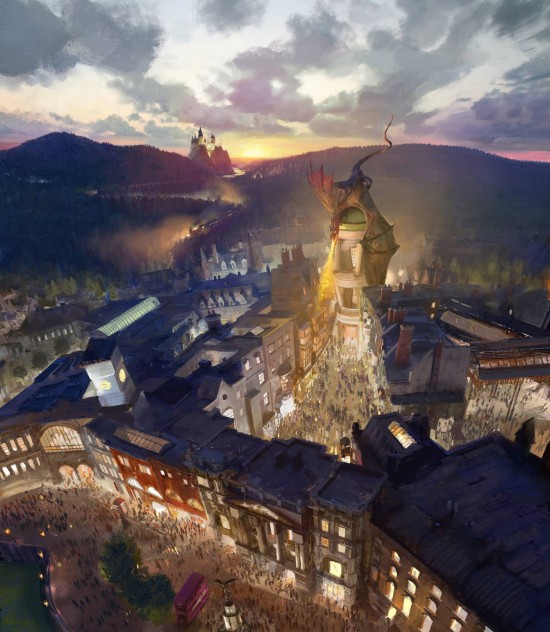 Just to dispel any possible confusion, the Wizarding World(s) of Harry Potter are not their own theme park; they are part of Universal Studios Florida (Diagon Alley) and Islands of Adventure (Hogsmeade). You won't need separate admission from your regular Universal Orlando park tickets. This point was a large source of frustration when the original Wizarding World of Harry Potter opened in June 2010, and Universal marketed it as a "theme park within a theme park".
But getting back to our discussion, yes, please plan on three full days in the parks if you want to experience everything. Now, in what order should you visit the attractions at Universal during those three days? Defining that will be our primary objective in 2014, once Diagon Alley opens and we can get a better sense of crowd flow.
Another tip: Remember that Universal announced their largest expansion ever to Universal CityWalk. With eight new venues to be added during 2014, you might just want to add a fourth or fifth day to your Universal vacation, depending on what's open when you visit and how much you like the idea of eating at some of the coolest concept restaurants in Central Florida. You can learn more about the CityWalk expansion in this blog post.
#3 – Express Passes aren't going to help, early admission might not either
There are several reasons why, as we just explained, you are going to want three full days for your Universal Orlando vacation. One of the biggest is the fact that Universal Express Passes aren't going to be much help for guests wanting to experience Diagon Alley. While Universal hasn't quite confirmed this yet, the two major attractions coming online with Diagon Alley — the Hogwarts Express and Gringotts Bank coaster — are not expected to offer Express Pass access (at least not for several months, possibly years, after they open).
This is nothing new for just-opened attractions at Universal Orlando. Harry Potter and the Forbidden Journey, the signature attraction at Hogsmeade, still doesn't offer Express. Similarly, Hollywood Rip Ride Rockit and Despicable Me Minion Mayhem didn't offer Express when they opened. It was only Transformers, in the list of recent major attractions to open, that offered Express from day one.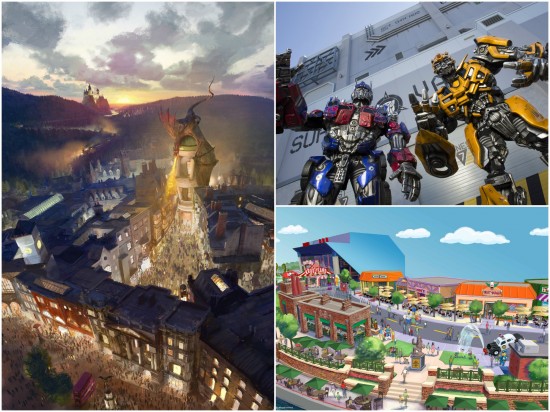 Well, at least on-site guests will have early admission so they can experience the area with minimal crowds, right? Unfortunately, I'm afraid that might be a wrong assumption too.
In conjunction with the opening of Diagon Alley, Universal will open the largest hotel currently under construction outside of China, the 1,800-room Cabana Bay Beach Resort. And while Cabana Bay guests will have to settle with not getting unlimited Express Pass access as an on-site benefit (the most lauded benefit of staying at one of Universal's deluxe on-site hotels), all 3,000+ Cabana Bay guests will have access to Early Park Admission at Universal Orlando.
For planning purposes, this means that early admission should get you an extra morning hour inside Diagon Alley, but it won't be just you and a few other families exploring the area — it'll be you and up to 10,000 other on-site guests clamoring to make use of the extra time.
This brings us back to the previous point: Plan on at least three days for Universal Orlando trip once Diagon Alley opens.
#2 – Budget big
We recently asked our fans about their spending habits regarding theme park souvenirs. The overall results were nothing too surprising, but one common thread came out of the discussion that ensued: fans had the "typical" amount they spend on souvenirs, then they had a much larger number for the amount they spent during their first visit to the Wizarding World of Harry Potter.
Don't think this simple fact has escaped Universal's notice. Indeed, the incredible developments happening at the resort now, including Diagon Alley, have at least partially been made possible because of the incredible amount of cash Universal has made selling wands, robes, and chocolate frogs.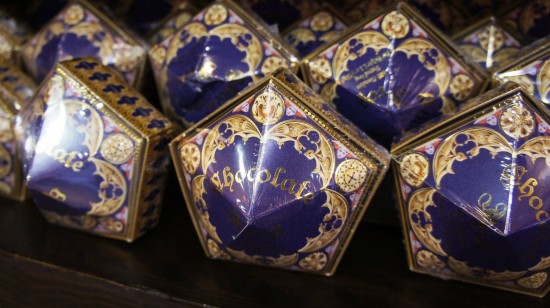 Expect Universal to take "souvenirs" to the next level when the streets of Diagon Alley open next year. Among other rumored features, Diagon Alley will have interactive objects that will be triggered by RFID wands — think Potter meets Disney's MagicBands — so purchasing a new wand will be a must for almost all fans. It's also expected that guests in line for Gringotts Bank coaster will be able to exchange muggle money for bank certificates that can be used to purchase special merchandise after the ride. (How brilliant was it for Universal to set their E-ticket Diagon Alley attraction inside a bank!) Then we have Leaky Cauldron and Florean Fortescue's Ice Cream Parlour, where you know you're going to want to try everything on the menus. These are just three examples of how Universal will take theme park spending to the next level at Diagon Alley.
Add to these the planning tips I've already offered — buying Park-to-Park tickets and planning on at least three days — and you can come to no other conclusion: Budget big for this trip.
#1 – Focus this vacation on Diagon Alley
Considering everything we've discussed so far, here is our biggest recommendation for anyone planning to visit Diagon Alley during its debut year: Focus your trip on Diagon Alley and Universal Orlando.
To do it right — and to have a positive experience — you'll need to commit multiple days and a huge budget to this trip. Once you're actually on-site, it is going to be an exhilarating vacation like none other (one that is likely to bring fans to tears, as has happened to so many the first time they visited the original Wizarding World of Harry Potter), but in several ways it is going to be a very taxing vacation. Crowds will be record-breaking, wallets will be empty, legs will be sore from standing in lines, and frustrations may boil high in the summer heat and humidity.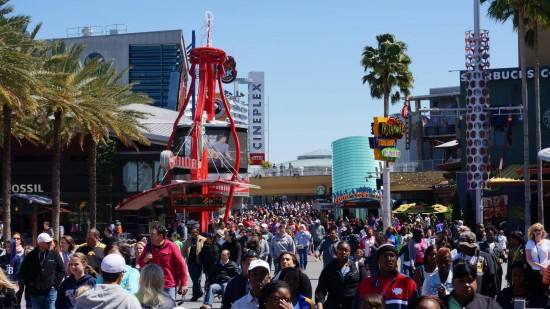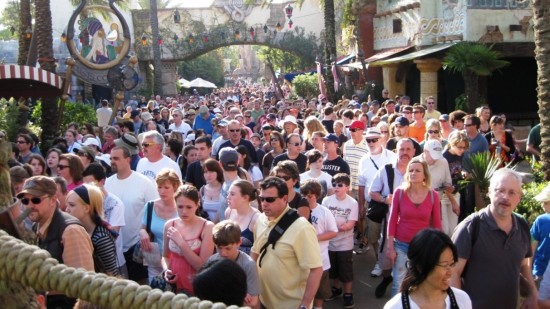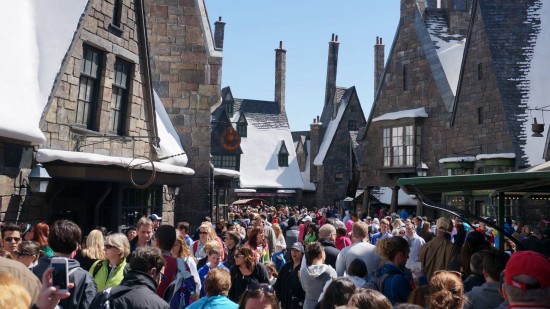 After you've had your sense of amazement and your tolerance for crowds pushed to their limits by Diagon Alley, the last thing you will want to do is bring the family to Disney World. This is in no way a slight against Disney. I'm making this recommendation because Disney will have their own record-breaking crowds and new attractions, including the Seven Dwarfs Mine Train, which makes me struggle to suggest that you put yourself up to the challenge of conquering Diagon Alley and any part of Disney World during the same vacation.
(After next spring's price increases, it will likely be over $100 per person plus tax to spend the day at Magic Kingdom — is your budget big enough to take that after your kids' vaults are full of Diagon Alley merchandise?)
So break the mold of going to Disney and adding on a day or two at Universal and make this your Harry Potter trip. If you do indeed have extra money in your budget set aside for Disney, spend that on upgraded hotel accommodations, so you have a relaxing place to call home after your daily conquests in the Wizarding World.
Honorable mention – OI is your friend, 2014 guidebooks already outdated
We do one thing: offer our readers the world's best Universal Orlando vacation planning resource. When we opened almost three years ago, Orlando Informer was the first website to focus primarily on Universal vacation planning, and we are still the only website to do so.
With over 500 "daily updates" to our vacation planning information in 2012, and over 500 more updates in 2013, we have proven that our free website is truly a one-stop-shop for Universal news and expert advice. (And those numbers don't count the 1,000+ blog posts we've also published, almost half of which cover Universal too!)
As 2014 begins, we will stay fast in our commitment to ensuring your family has the best possible experience at Universal Orlando. Remember, there are some good guidebooks out there, but all of the 2014 editions are finalized at the end of 2013, well before Diagon Alley opens. This means, even with the most talented authorship, the books simply won't be able to help you plan Universal Orlando right for 2014 once the Harry Potter expansion opens.
Stick with us — we'll be here every step of the way to help!
Start vacation planning now:
Stay informed:
The opening of DIAGON ALLEY is going to be like going to the SUPER BOWL of theme parks: an extreme level of excitement and astonishment, with the crowds and concerns of such a major event to match.
Countdown to Diagon Alley
This post has now become the first installment of our new series Countdown to Diagon Alley, as we prep for Universal's January 23 full reveal. While we wait for that date, check out these posts:
Compete telling of the Gringotts Bank ride experience
Four burning questions we still have about the new Wizarding World
New details on Diagon Alley – story, food, actors, previews & the name of the Gringotts Bank attraction
How Harry Potter is defining the next-generation theme park experience
After the webcast: Step-by-step guide to EVERYTHING we now know about Diagon Alley
After the webcast: Six incredible Diagon Alley secrets that weren't mentioned in the webcast
And, of course, to start back at the very beginning and review everything we know about the Harry Potter expansion at Universal Orlando, visit the Diagon Alley page in the OI Universal Center.